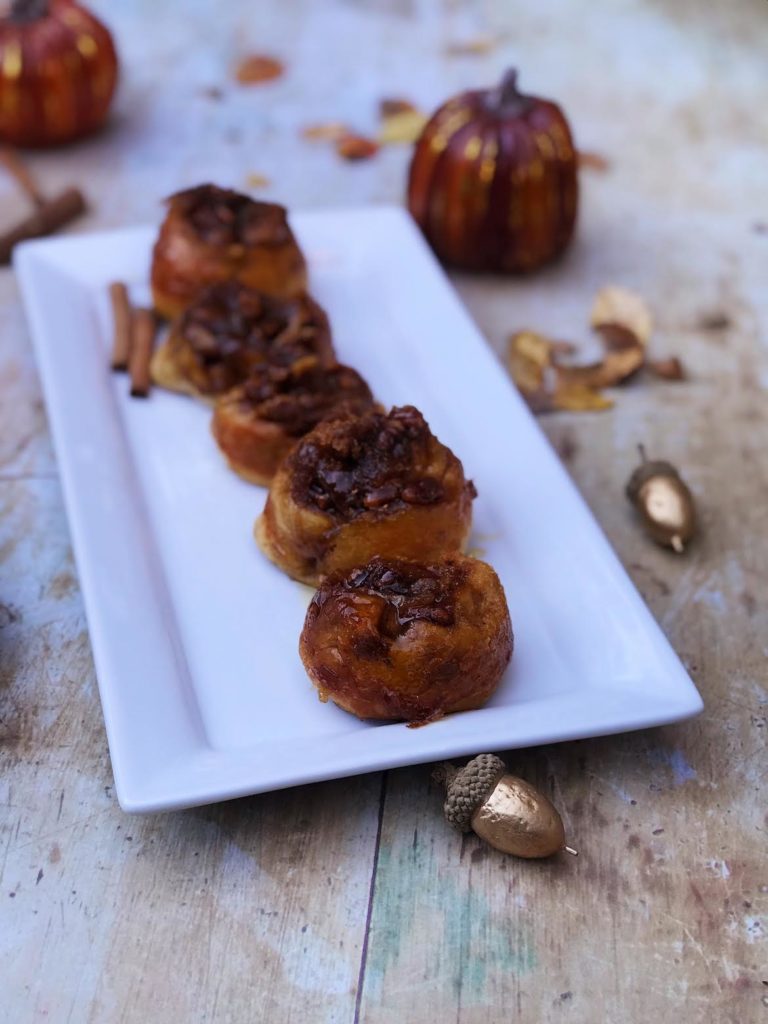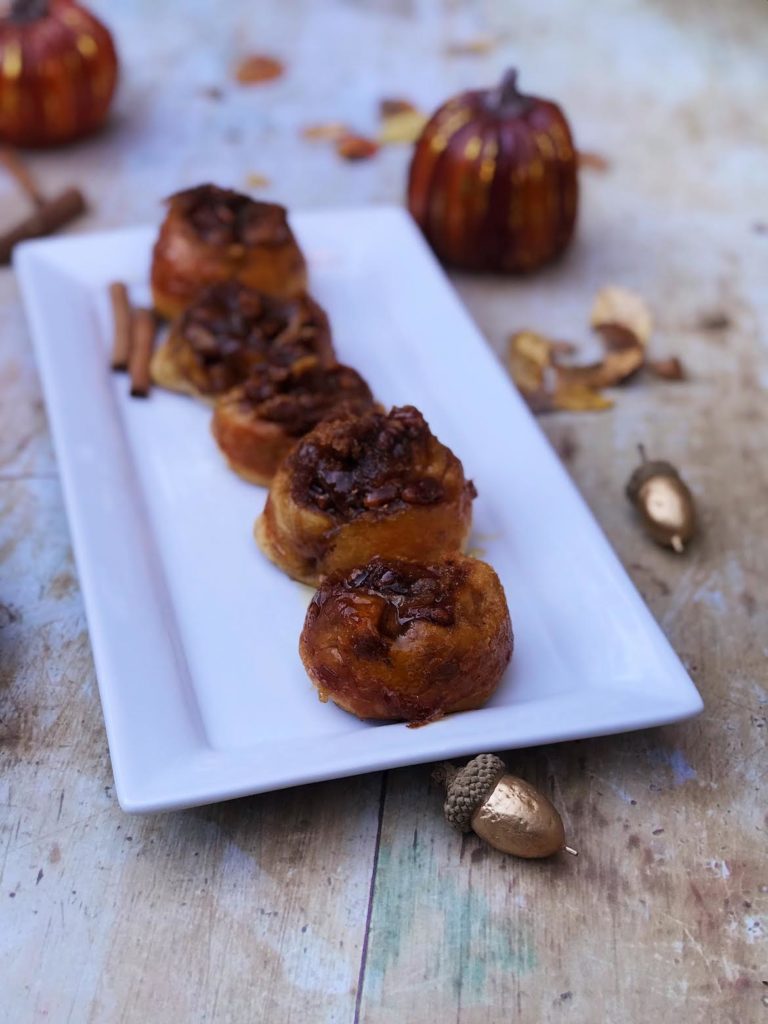 This is the season when my Mom starts her "yeast baking," as she calls it.  This involves a very complicated (or so it seems to me) process of making the dough, punching it down, letting it rise, punching it down again and letting it rise a second time.  The recipe is my great grandmother Nea's and it's been a family favorite for generations now.  It's also the stuff of legendary Wallace family lore….My grandmother, Ronnie, would make her mother Nea's yeast recipe for coffee cake (the base is what she also used for her famous cinnamon rolls.) Apparently, over the years, friends and family would comment to Ron: "Well, your coffee cake is delicious, but it never quite tastes like your mother's." This infuriated Ronnie, since she was a total perfectionist in the kitchen!  She'd say, "But I'm using her recipe!  Why would it taste any different?"
It stumped her for years.  Until one day, the phone rang.  It was Nea.  She was calling Ronnie from her apartment upstairs in their Connecticut home. (Nea had moved in with Ronnie and my grandfather in her later years).  The phone conversation went something like this between mother and daughter:
Nea: Betty, I'm dying!  Come up here right away!
Ronnie: Mother, what's wrong?  What's going on?
Nea: I need to give you the REAL yeast dough recipe!
Ronnie: *Phone drops. 
Yep.  Nea was so protective of that recipe, she left out some key ingredients so no one would replicate it.  Not even her own daughter!!!  Well, Ronnie finally did get the real recipe– and Nea passed it down to her before she ended up passing away.  Of course, Nea was very dramatic, and she wasn't DYING that day or for years after that.  This is the same lady who when someone would ask her, "Nea, how are you?"  she'd say, "Still alive."  #dramaqueen!
Suffice to say, I do have the "REAL" recipe from Ronnie's cookbook, but it's really time consuming and it's a process that I not only don't have the patience for, I don't have the skill for it.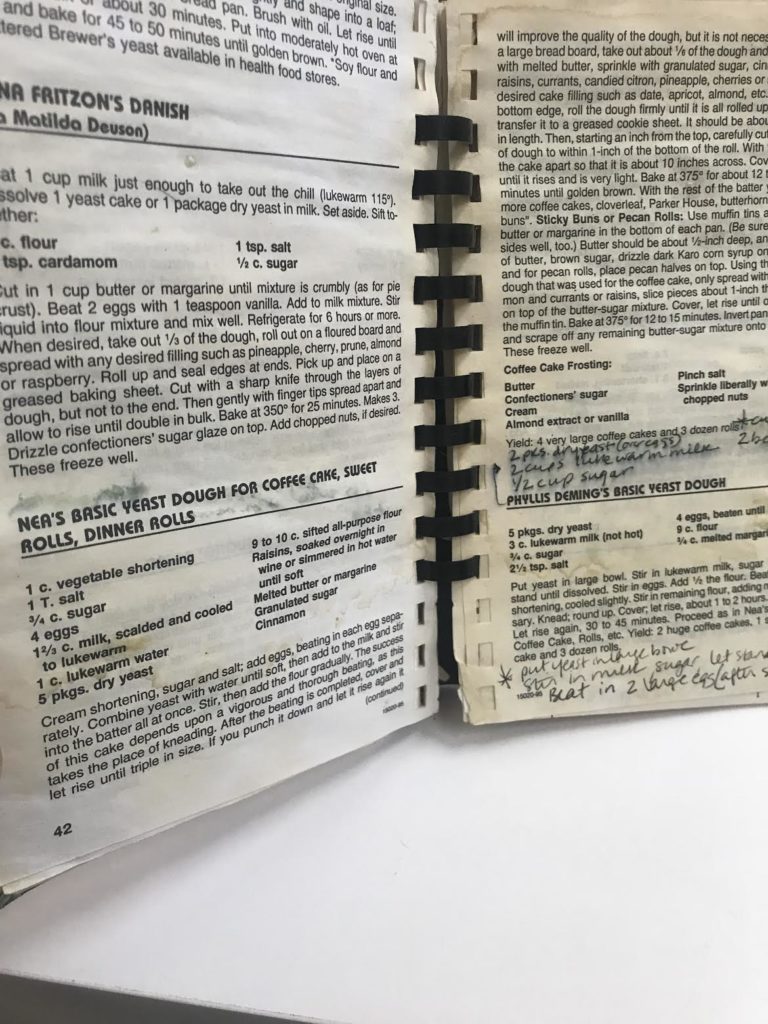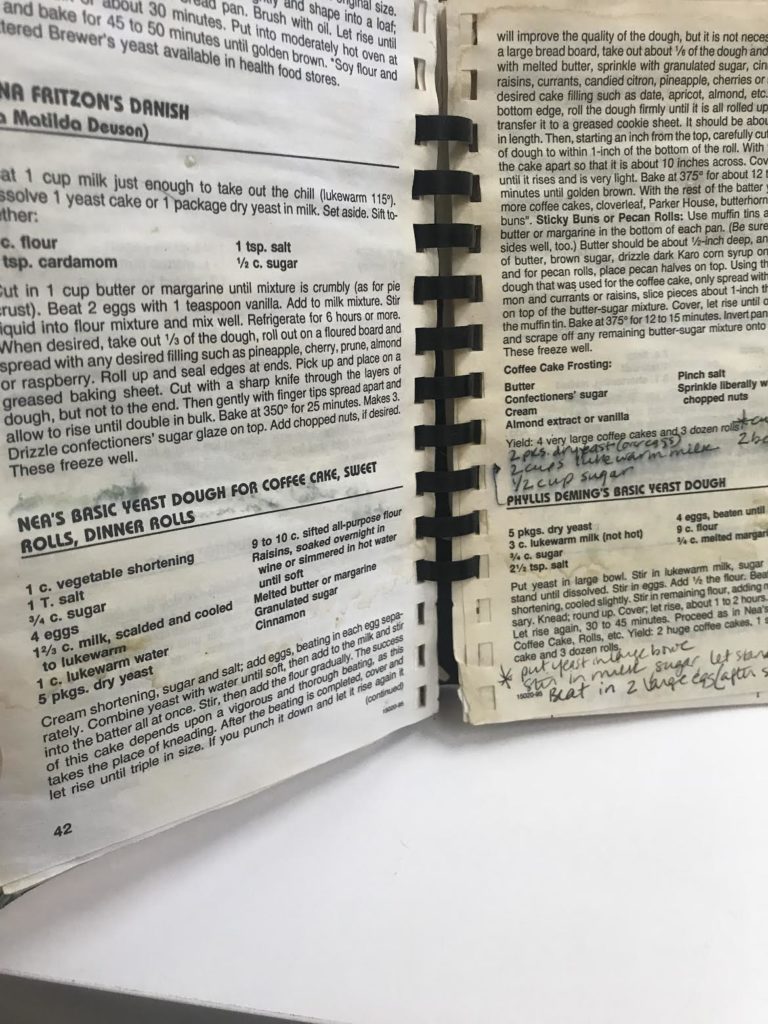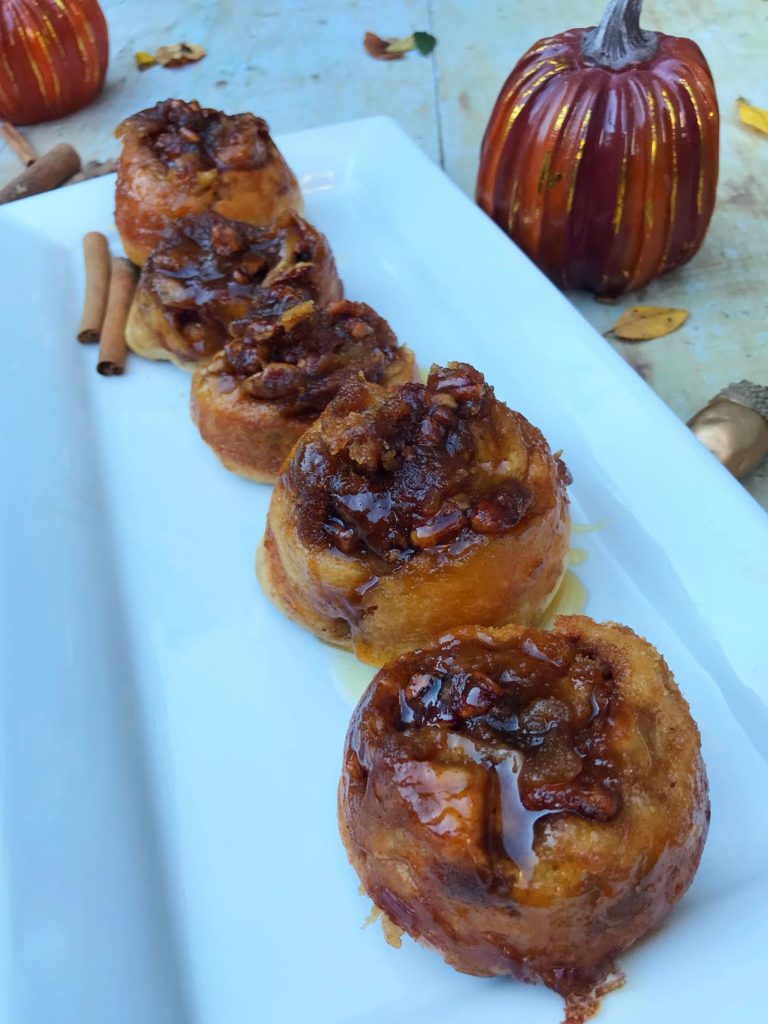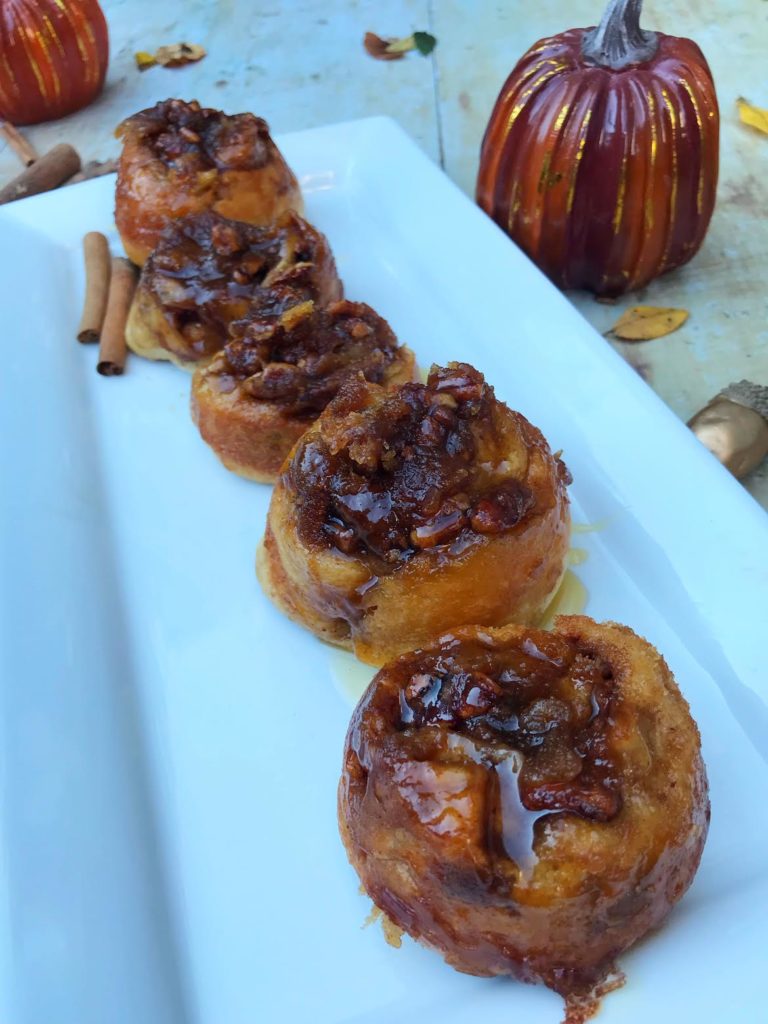 Baking is such an exact science and I'm the "throw in a little of this and a little of that" kind of cook.  So, I make the cheap, dough in a can version, while still incorporating the style of the recipe with the pecans, the brown sugar, the butter and the cinnamon.  It certainly isn't as delicious, but in a pinch, it works just fine when you're craving that sticky, brown sugary, pastry delish.
First, roll out the Pillsbury dough sheet and brush with melted butter.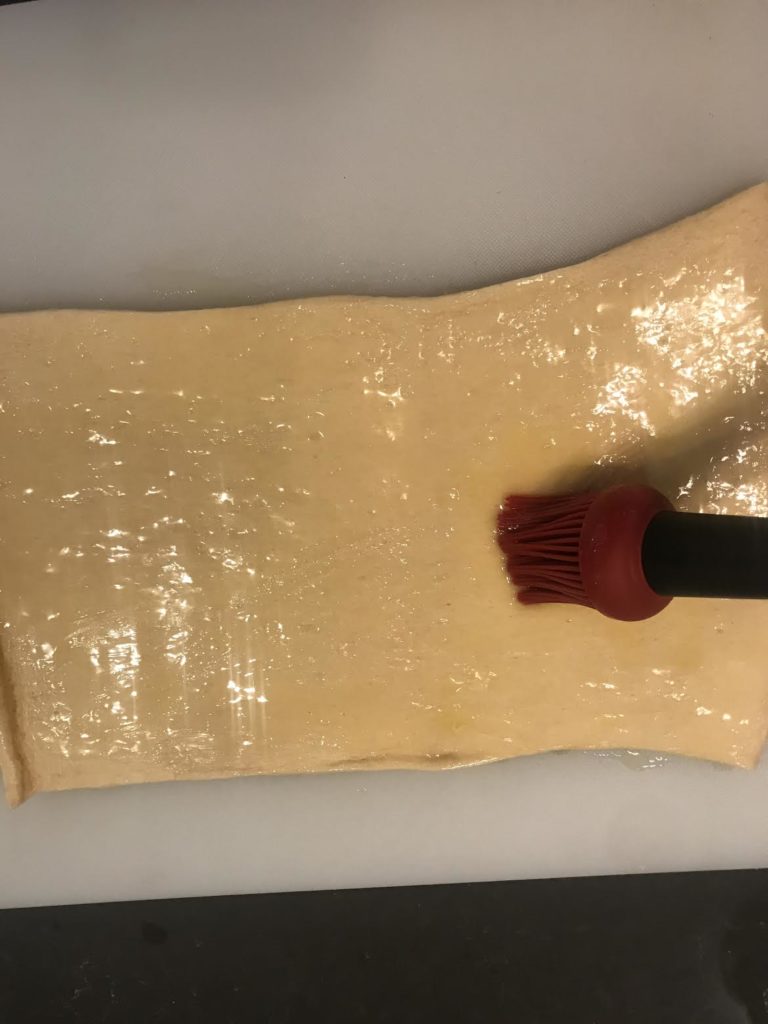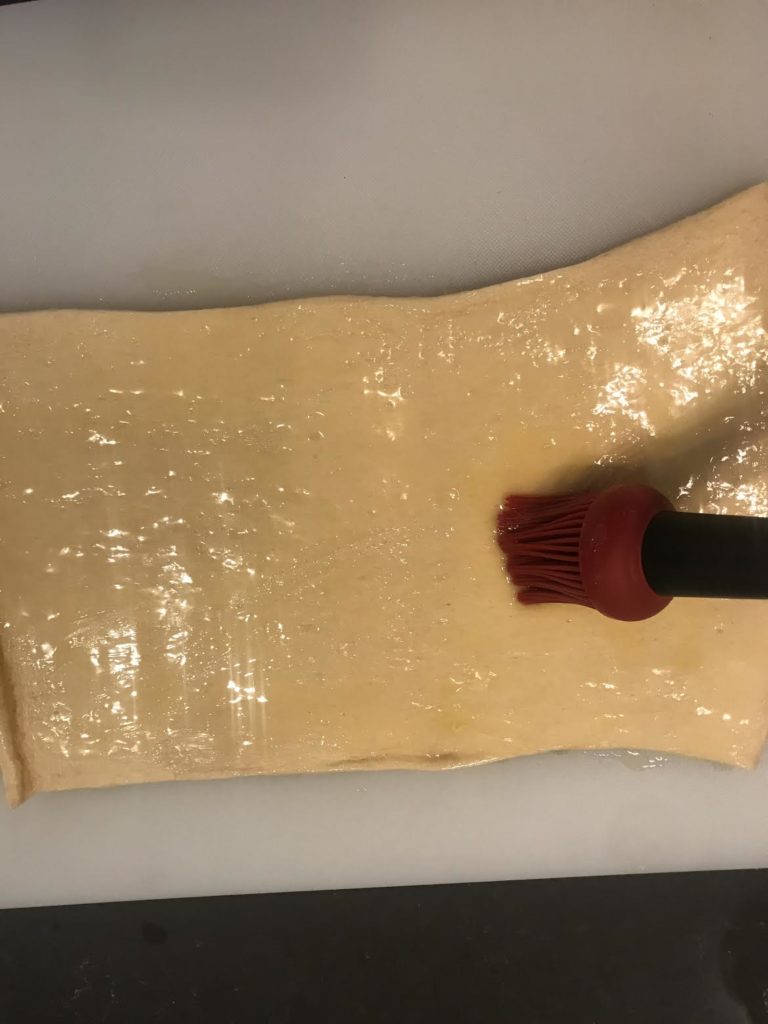 Then, sprinkle with the cinnamon-sugar combo and some of the glaze pecans .  Roll the dough up and slice into 6 portions.  Spoon a tsp of butter, brown sugar and a few pecans in the bottom of each cupcake cup.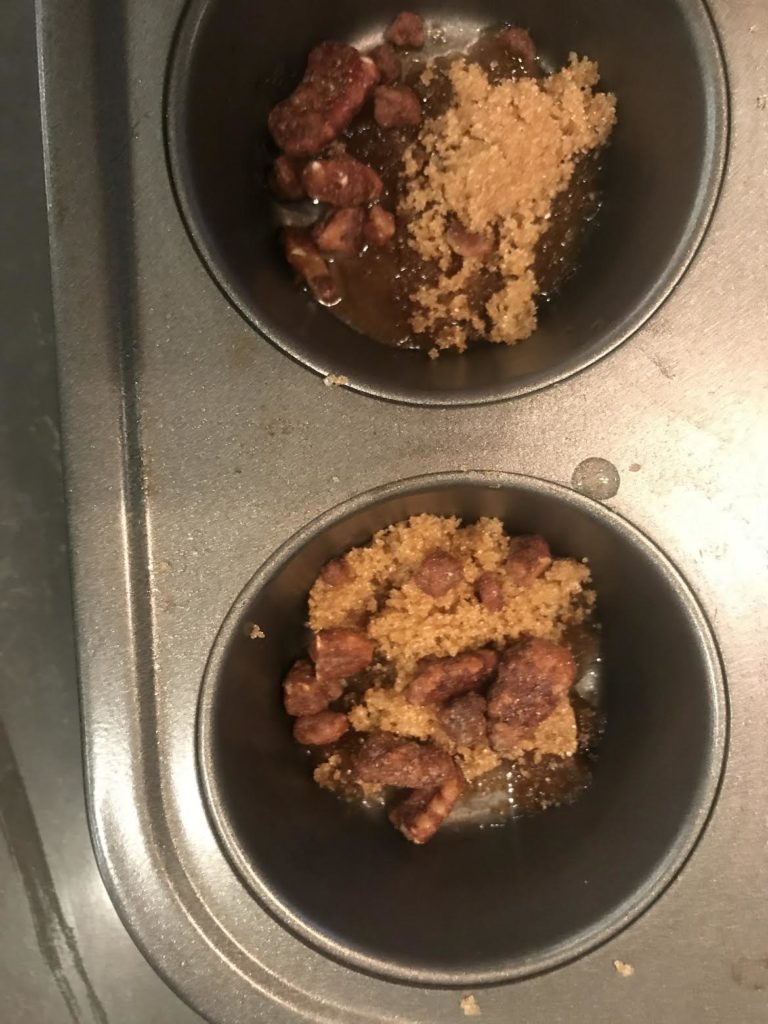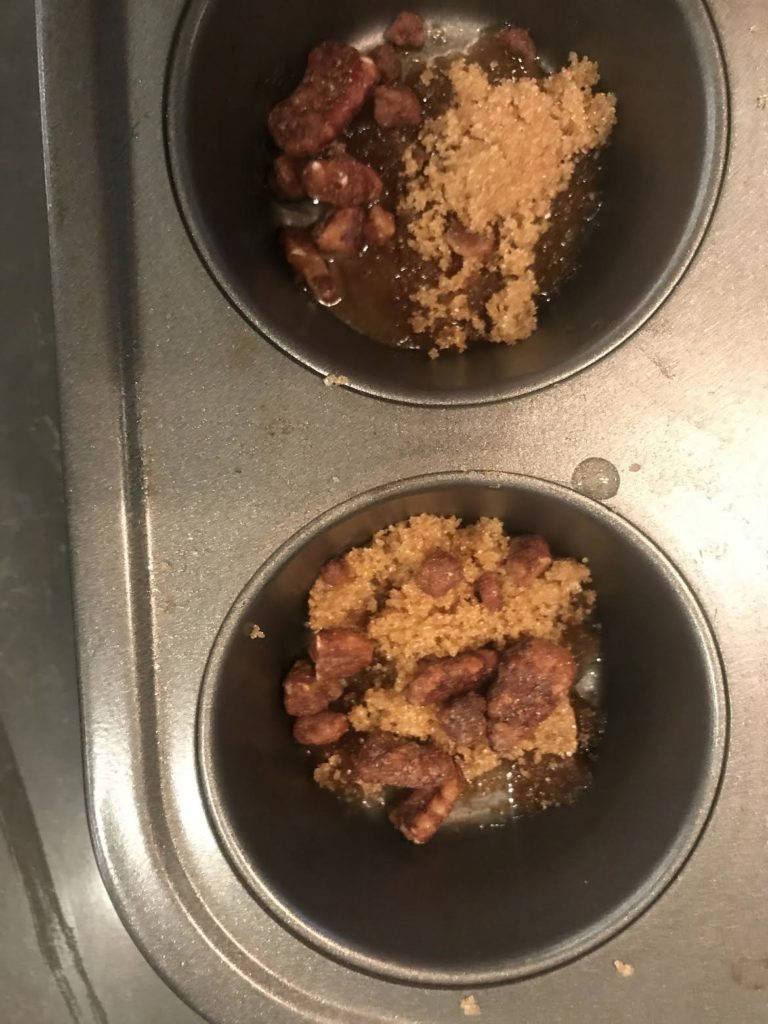 Then, stuff those individual dough wraps into the cups.  Drizzle with maple syrup and you're ready to bake!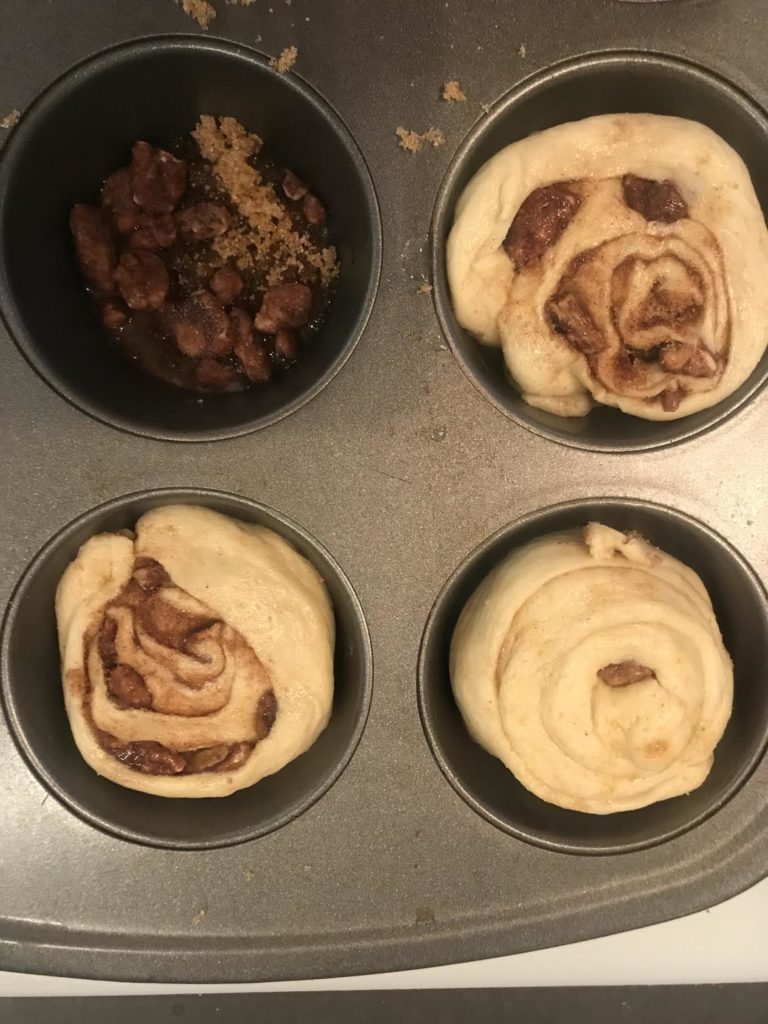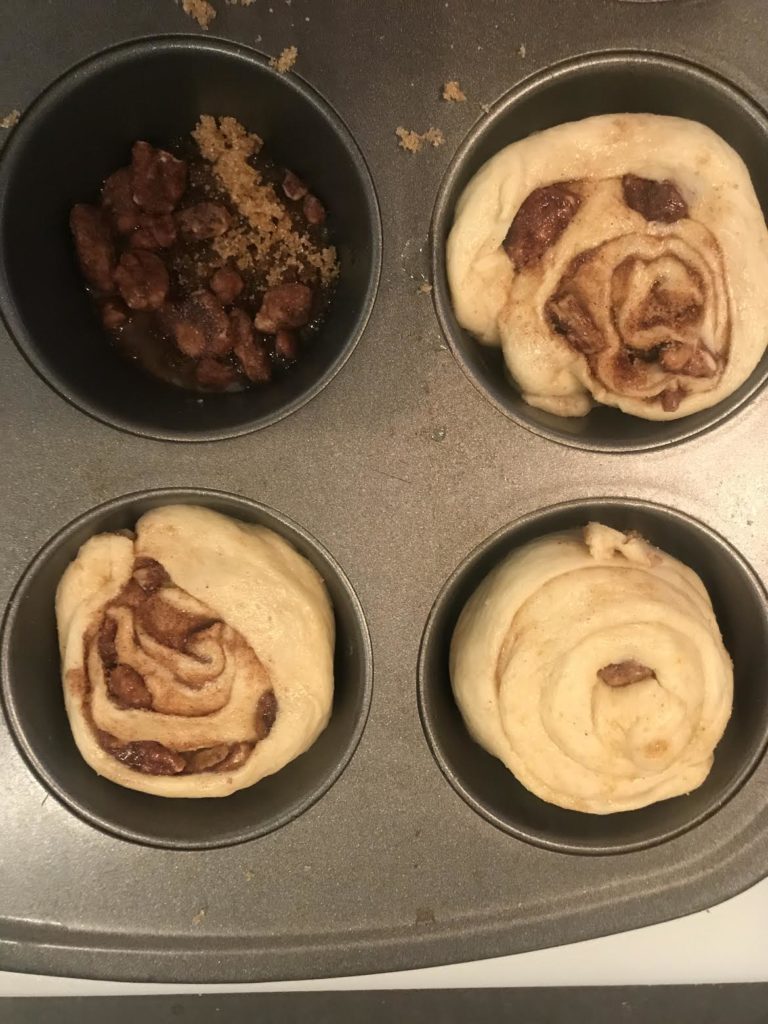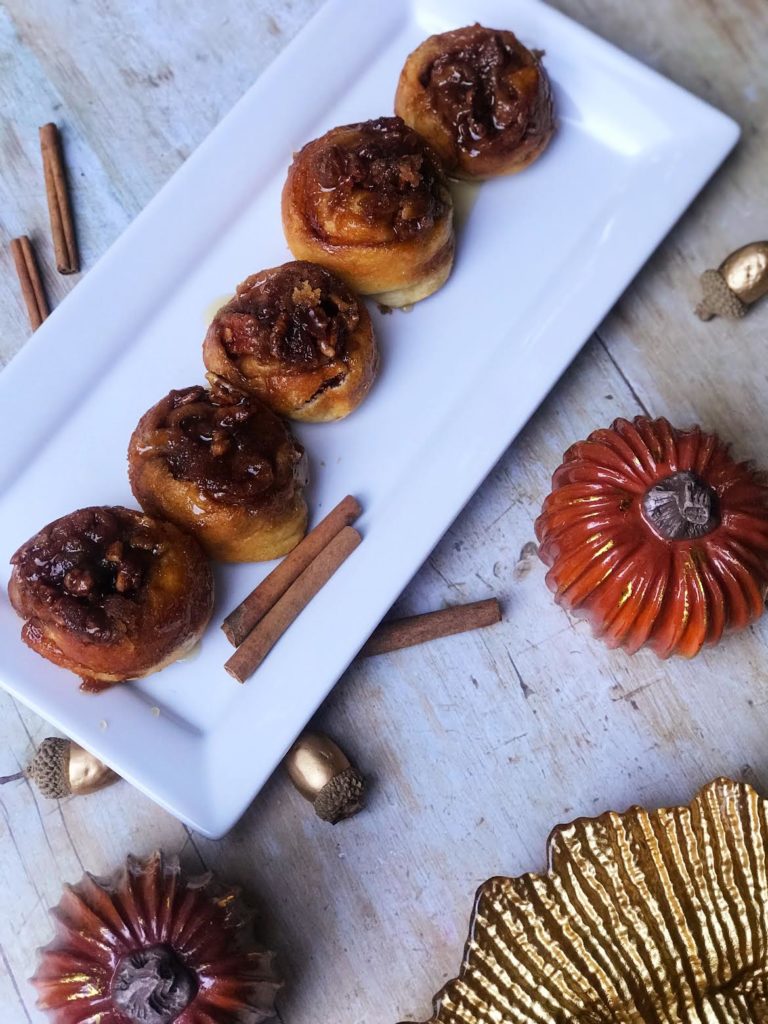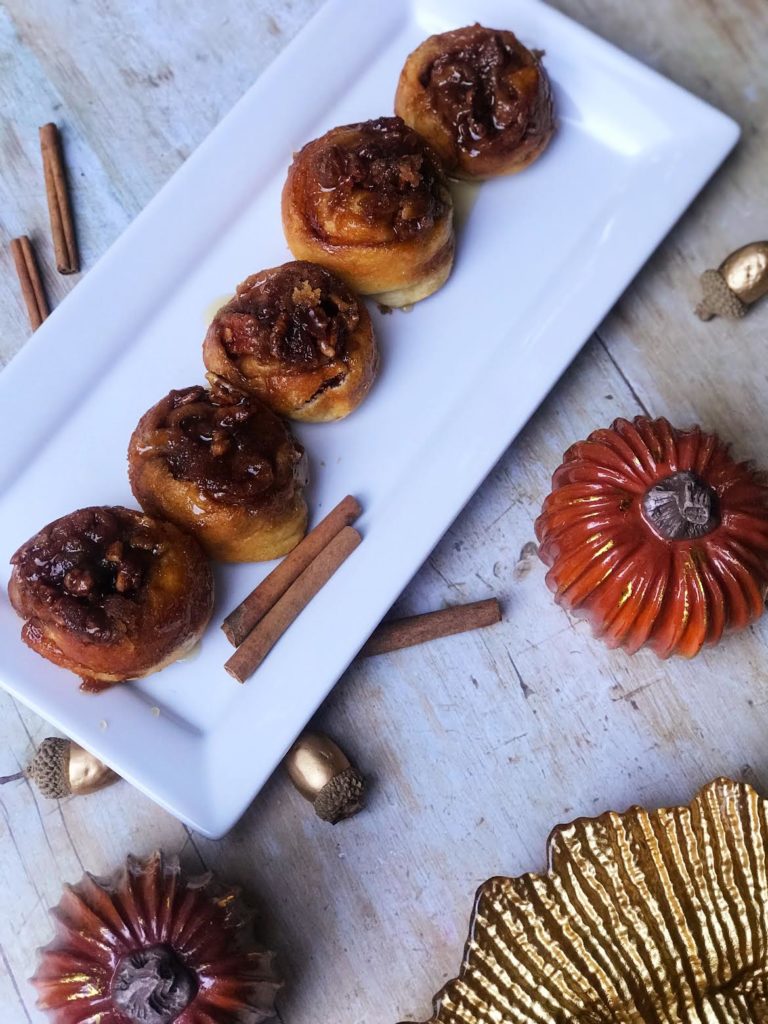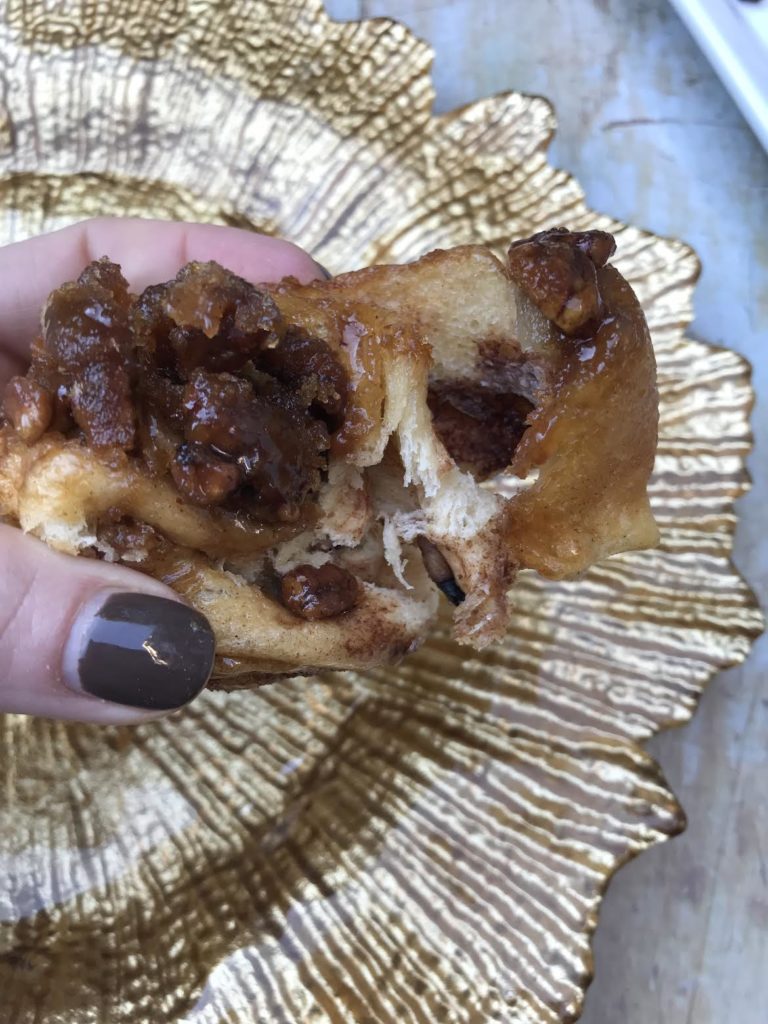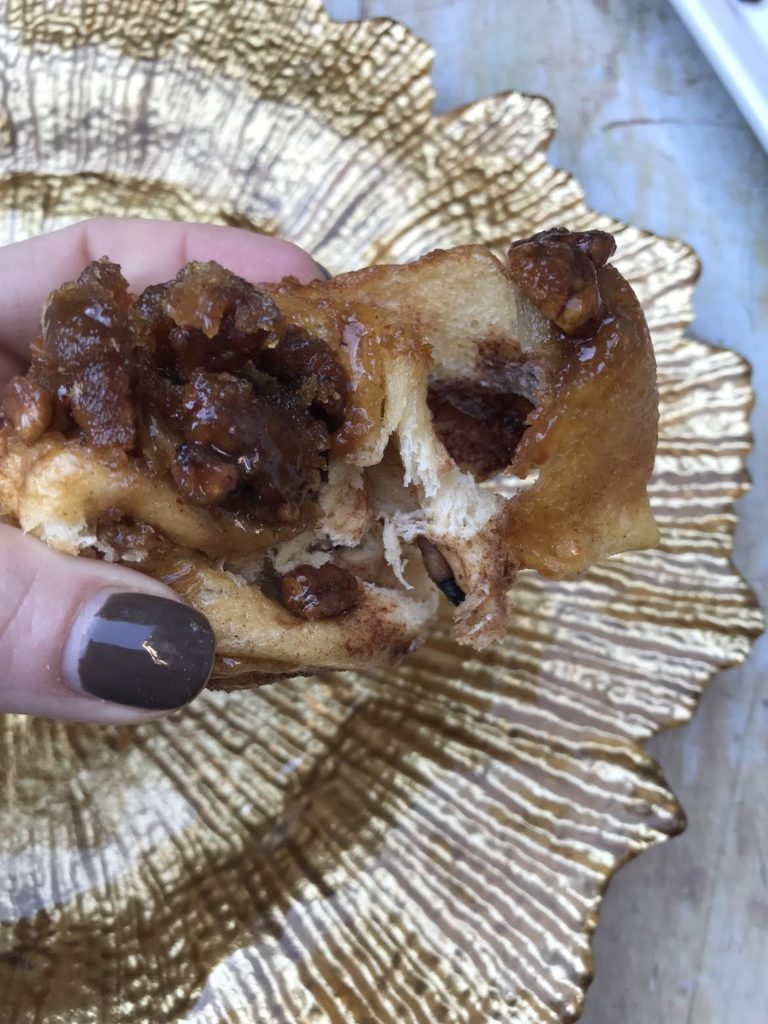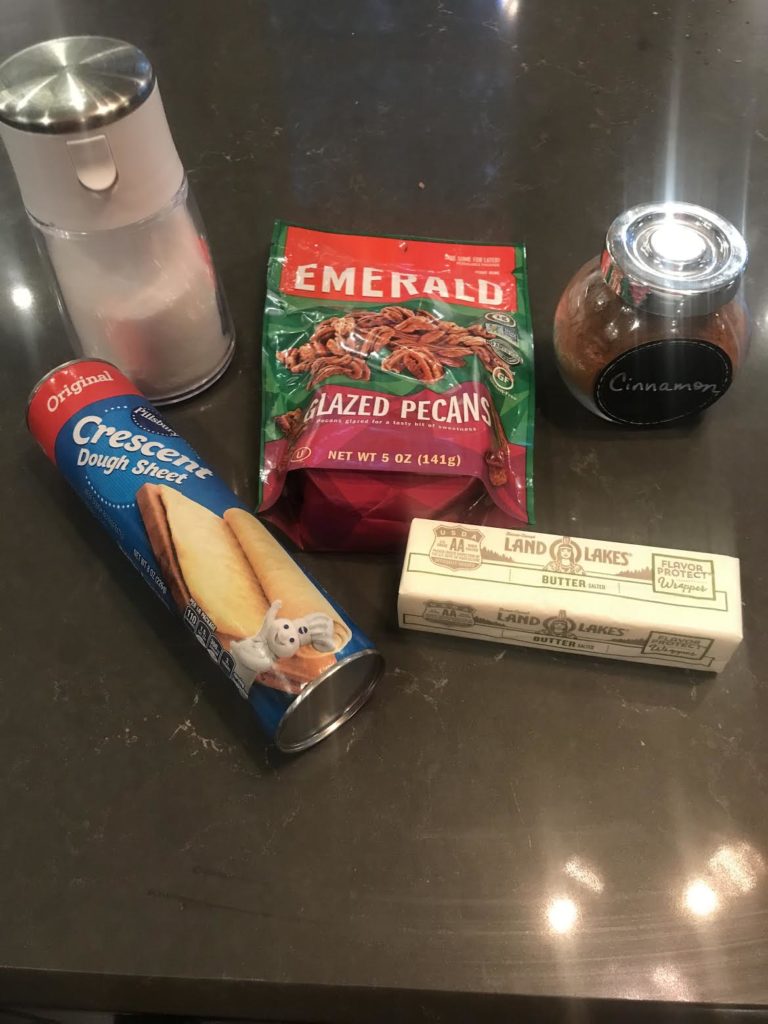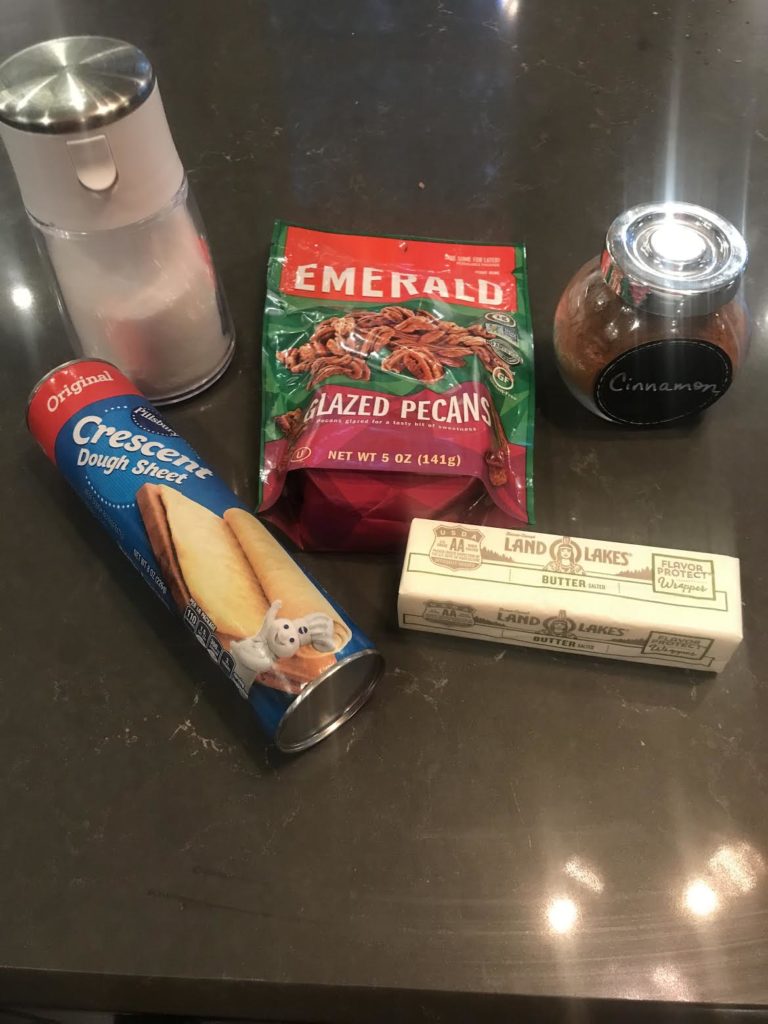 FYI- forgot the maple syrup in the pic above…. But they taste just fine without it!  I picture Ronnie and Nea looking down from Heaven shaking their heads as I pull out the store bought dough!  Wait, was that an angel giggling?!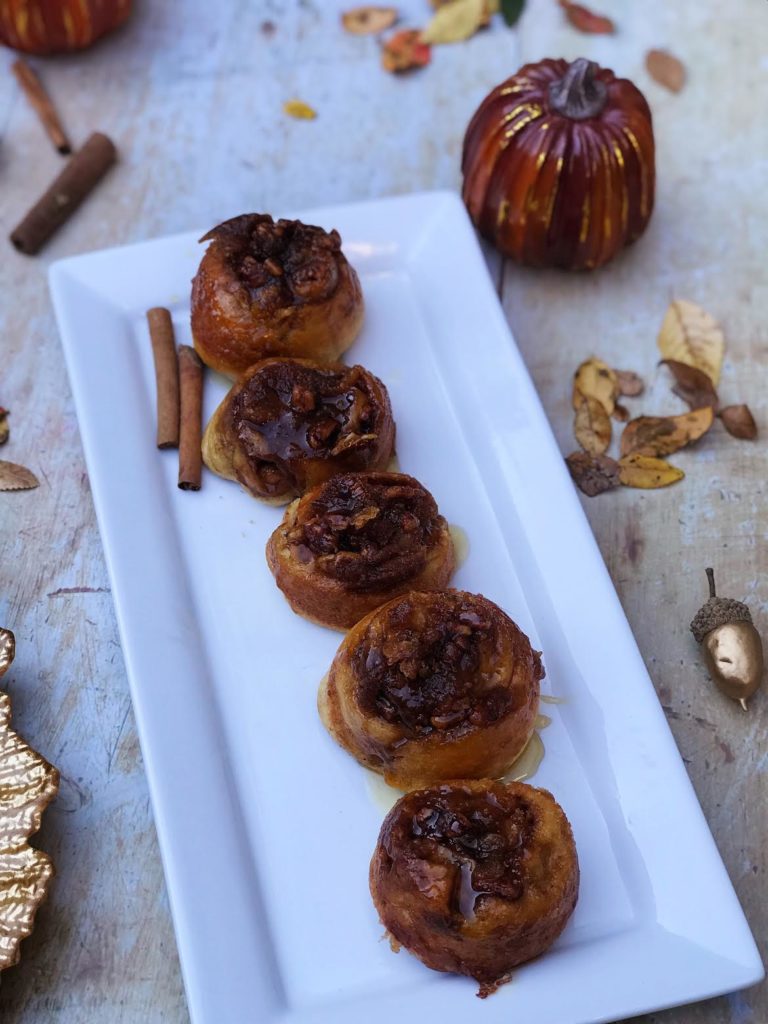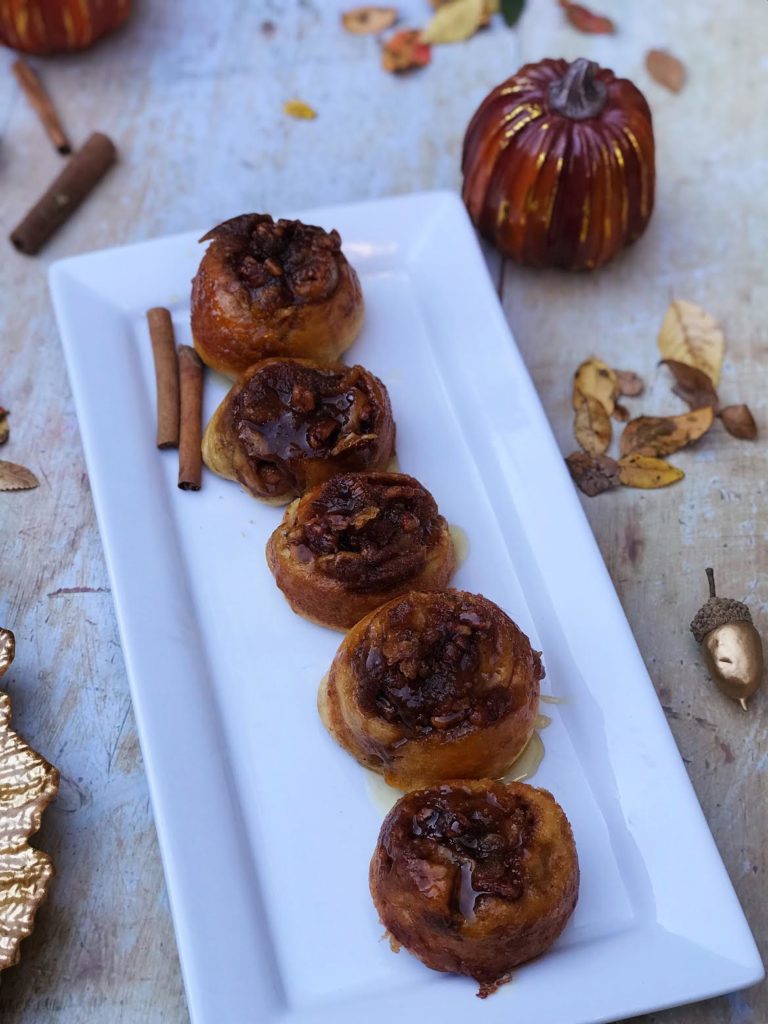 Nutrition Facts
Sticky Maple Pecan Rolls
Amount Per Serving
Calories 492
Calories from Fat 279
% Daily Value*
Total Fat 31g 48%
Cholesterol 32mg 11%
Sodium 347mg 14%
Potassium 32mg 1%
Total Carbohydrates 51g 17%
Protein 6g 12%
* Percent Daily Values are based on a 2000 calorie diet.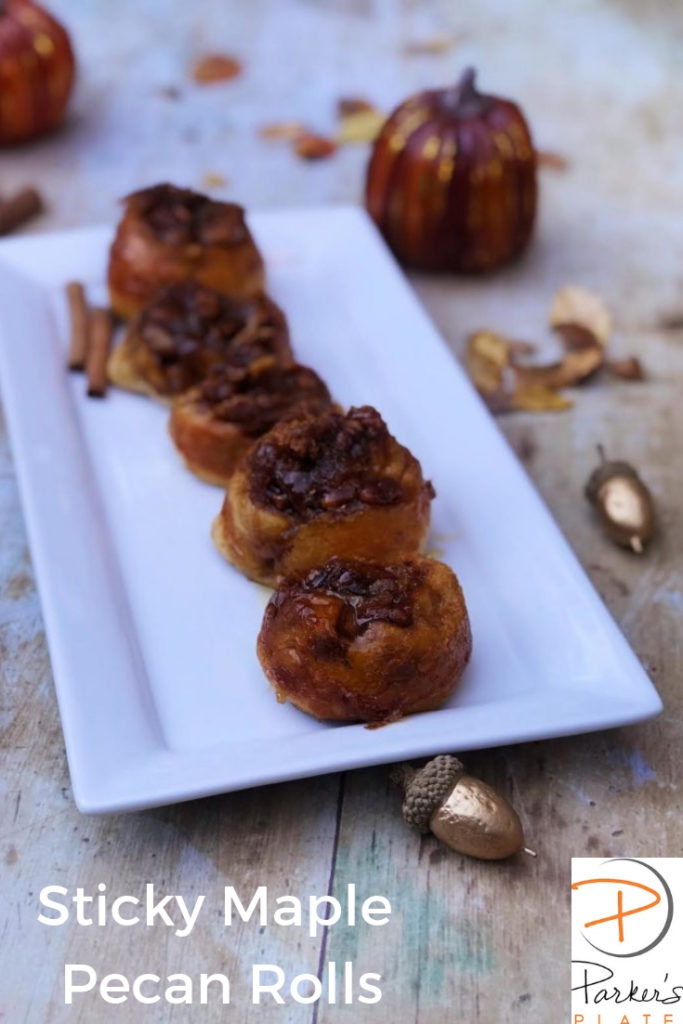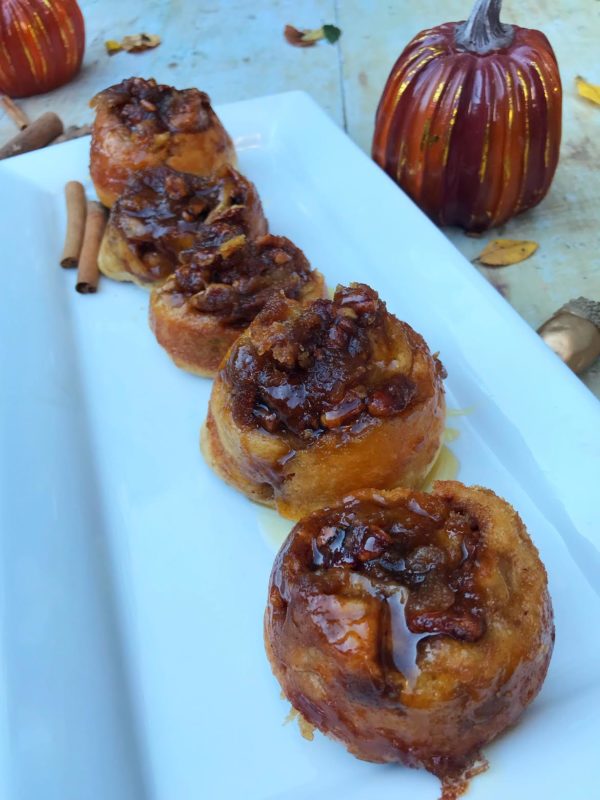 1

package

Pillsbury Crescent Dough Sheet

4

tsp

sugar

1

tsp

cinnamon

6

Tb

butter

1

cup

glazed pecans

I used Emerald brand

6

tsp

maple syrup

6

tsp

brown sugar
1

package

Pillsbury Crescent Dough Sheet

4

tsp

sugar

1

tsp

cinnamon

6

Tb

butter

1

cup

glazed pecans

I used Emerald brand

6

tsp

maple syrup

6

tsp

brown sugar
Preheat oven to 375. Melt the butter in the microwave or on the stove top. Unroll Pillsbury Dough Sheet and brush with butter.

Combine sugar and cinnamon and sprinkle on top of the buttered dough sheet. Then add some of the pecans on top of the cinnamon sugar.

Roll up the dough sheet lengthwise and slice into 6 portions.

Add a tsp of melted butter to a tin of 6 cupcake cups Then add the brown sugar and a few pecans. Stir to combine so the brown sugar gets moist from the butter. Add the rolled dough to each of the 6 cupcake cups and press down so it adheres to the brown sugar/butter mixture. Drizzle with a tsp of maple syrup in each cup and bake for 10-12 minutes, or until lightly browned.