Usually when I'm traveling alone, breakfast is a handful of almonds and too much coffee since I'm running to a TV station to set up, go live with the latest segment and then rushing to the airport to fly out.  Typically, I don't have a real meal until later in the afternoon when I can finally come up for air (and sustenance!) So, it's always a treat for me when I can luxuriate over a decadent breakfast with a bit of bubbly.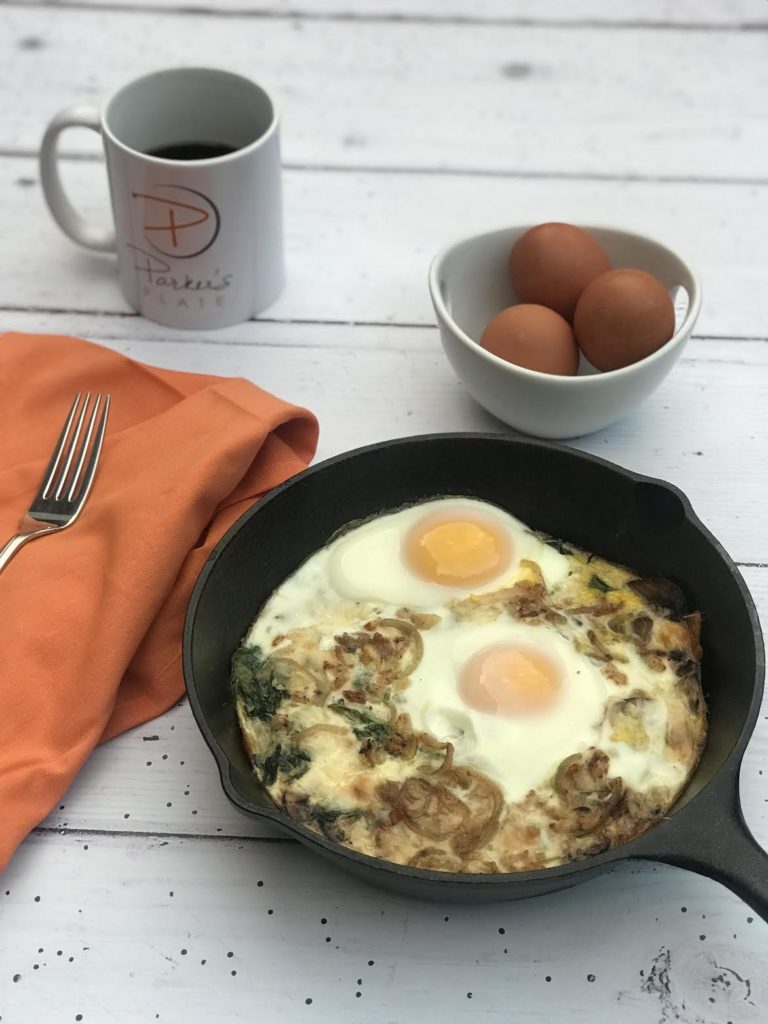 Last weekend in New York, the girls and I went to a trendy Mediterranean spot on the Upper West side called Ella Kitchen and Bar, and I was inspired to recreate what I had for brunch.  They served individual portions of egg dishes in mini skillets and I loved the presentation! It took me back to when I was a teenager when my friends would head to the local Pizza Hut after school for those Personal Pan Pizzas served in those little round skillets.  My allowance was always blown on food — shocker! But, I digress.  These little cast iron skillets were loaded with flavor: combination of cheese, egg, veggies and the runny egg on top that would drip down and cover it all in delish!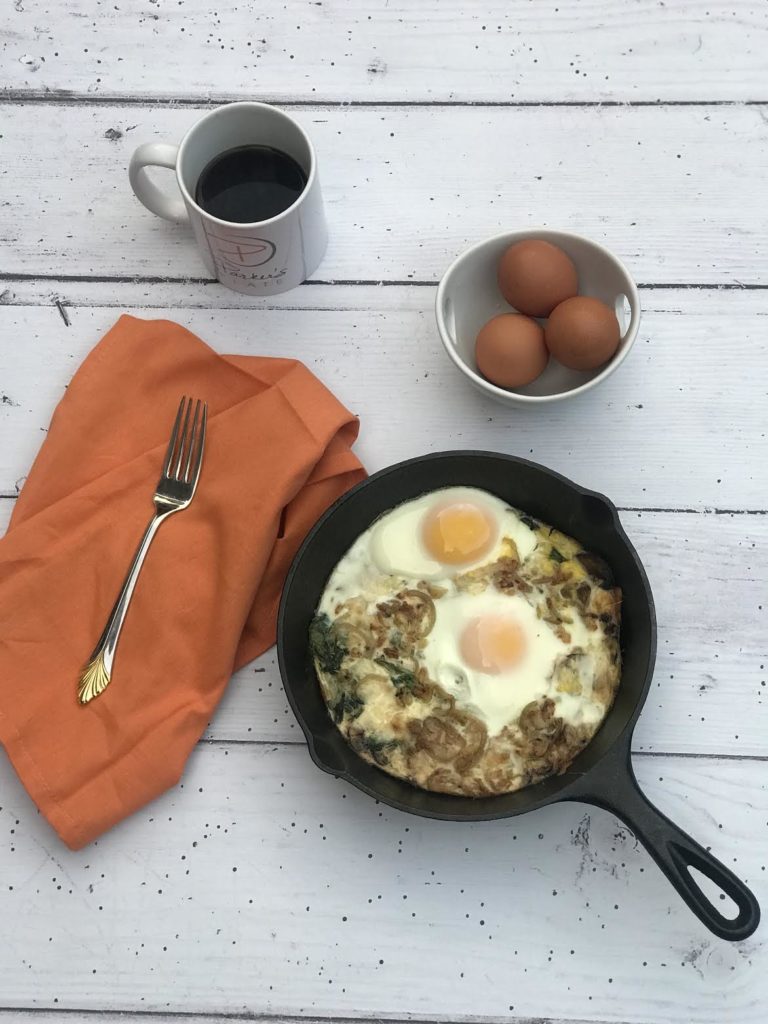 The key to this dish is adding some savory ingredients, like mushrooms and spinach, then folding in egg whites, heavy cream and parmesan.  But the secret to the 'just baked eggs on top' is to take the skillet out 5 minutes before cooking time, crack those bad boys on top and then bake off another 5 minutes to just get that sunny side up, but not too runny consistency.  JP calls them, "Dippin' Eggs.' I call them perfectly portioned breakfast perfection.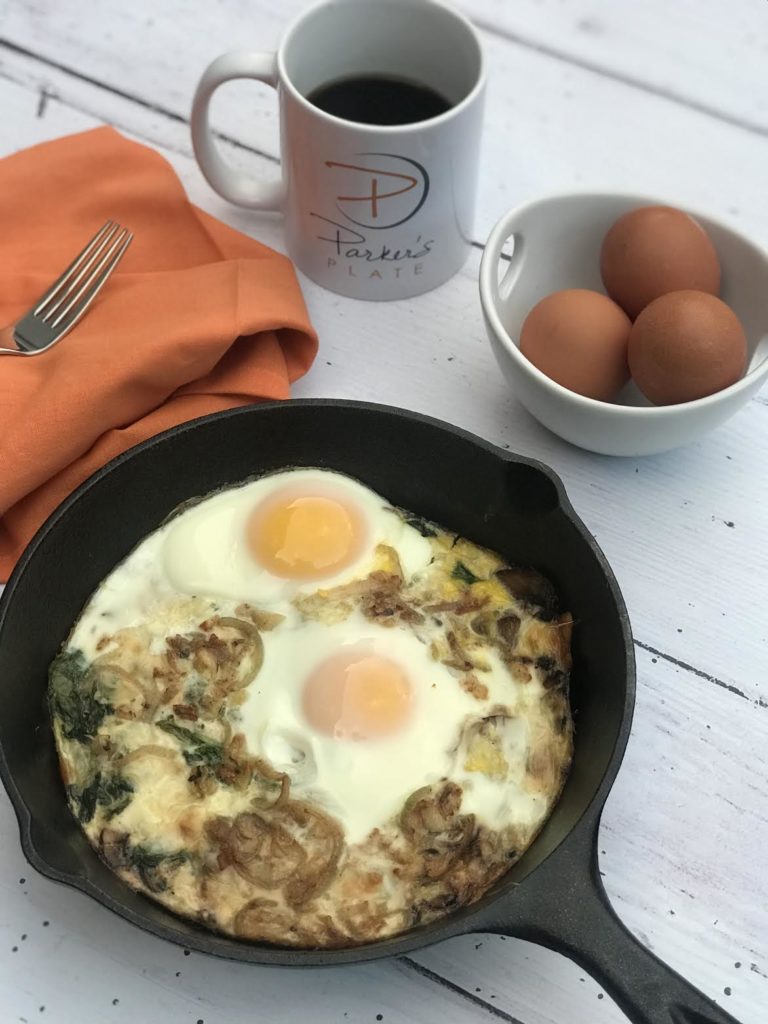 Now I'm kicking myself that I didn't snap a pic of the yolk cascading down into the skillet….guess y'all will have to make it to see for yourselves!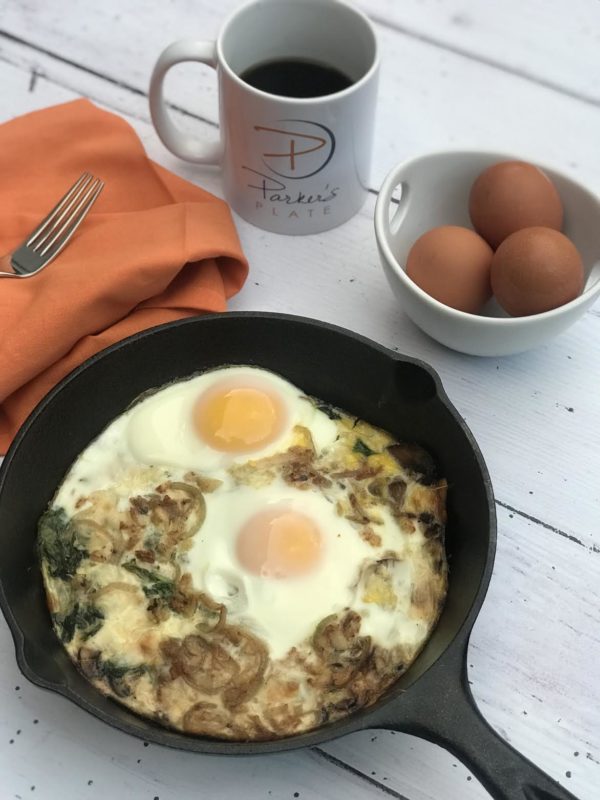 | | |
| --- | --- |
| | |
Preheat oven to 400. In a mini cast iron skillet, saute mushrooms in olive oil for 3-4 minutes until some of the water has been released from them and they start to lightly brown.

Add garlic and shallots and continue sauteeing for another 2-3 minutes until fragrant.

Add spinach and saute until wilted, another minute. Add butter while skillet is still hot and let it melt into the veggies while you separate the eggs.

While veggies are resting in the skillet, separate 2 egg whites in a bowl, add 1/4 cup heavy cream, parmesan and whisk lightly to combine. Pour the egg white/cream mixture into the skillet, over the vegetables.

Dot with goat cheese and sprinkle a pinch of kosher salt and cracked black pepper on top.

Bake for 10 minutes. Remove skillet and crack 2 whole eggs on top of the baked egg whites and veggies. Put skillet back in the oven and bake for another 5 minutes. Remove skillet and let rest for 5 until eggs are done. If you don't like runny eggs, bake for a few minutes longer.
Nutrition Facts
Keto Spinach and Wild Mushroom Breakfast Skillet
Amount Per Serving
Calories 821
Calories from Fat 639
% Daily Value*
Total Fat 71g 109%
Cholesterol 564mg 188%
Sodium 981mg 41%
Potassium 557mg 16%
Total Carbohydrates 13g 4%
Protein 36g 72%
* Percent Daily Values are based on a 2000 calorie diet.