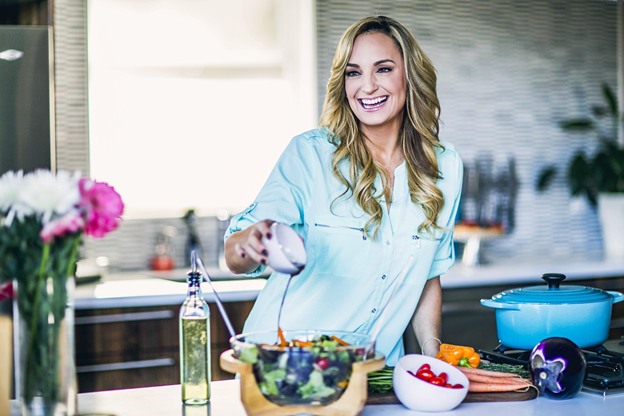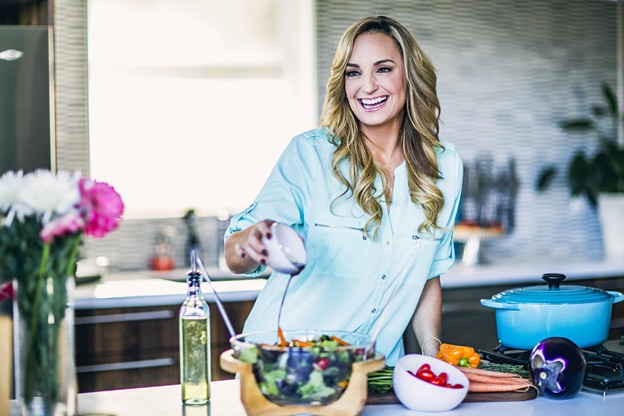 I like to call myself a "Culinary Goddess," because it sounds way better than "Food and Lifestyle Expert," and conjures up an image of the perfect woman in an immaculate kitchen making some sort of airy soufflé. Some of the time, I get that role just right: see the above photograph with the gorgeous kitchen backdrop, the stunning colors in that perfect salad, and the spotless shirt I'm wearing. That's actually not my kitchen (or my real eyelashes, for that matter), but I did make the salad. And it was, in full disclosure, really good!
Beautiful, Delicious Mess
Most of the time, I'm just stoked I cooked a freaking awesome meal that everyone loves, asks for seconds, and then asks for the recipe. More than likely, there's a disaster left behind in the kitchen, with pans piled up in the sink and sauce that's spattered all over me (and the wall above the stove). Yep. After all these years, I still haven't mastered the art of "cleaning as I go." But my motto is "leave the dishes till tomorrow so you don't miss out on the party tonight!" And by "party tonight," I mean the kind of dinner party where the guests polish off all the wine and open up the homemade moonshine stashed in the freezer. Then, I whip up an impromptu key lime pie at 2 AM. True story, by the way!
Table Manners and Memory Makers
For me, food is more than making a good recipe—it's a lifestyle. A great meal should be an experience, tell a story, and be a memory maker. People ask me all the time about my "food philosophy." I have no idea what that should sound like or what that is supposed to mean—I just love to create meals that make people so happy that they utter guttural sounds of sheer delight at the dinner table—burping is fine, too. But, "OOOOHHHHHHHHYYYEEEEESSSS, ParkerThisIsSoAmazingICan'tStopEating, OOOOHHHHHHHHYYYEEEEESSSS" is preferred.  
My grandmother, Ronnie, taught me the most important culinary lesson of all: Cook with love. Everyone will taste it. And I do. And they do. It's become my mantra in the kitchen and in life. All that energy, passion, laughter, and love is seared, baked, broiled, and Southern Deep Fried into every meal I make.  Ronnie taught by example; every person who experienced her roast chicken dinner or tasted her famous chocolate cake felt wrapped in her affection. She barely topped out at 5 feet tall, but her spirit was enormous.  I miss her every single day.  I just wish she had lived to see me turn out to be half the cook she was.
Organic, Low-Carb, Gluten-Free, What?
I don't prescribe to one style of cuisine or preach a certain method of eating. Shifting to a low-carb, gluten free diet helped me drop some major lbs and get into a bikini at 40, but carbs are a welcome and delicious part of this site! I wish I could say I "only buy organic," but, frankly, sometimes it's not convenient—or it's too expensive.  When I first started posting recipes, I tried to make these fancy, "chef inspired" type dishes that had like 117 ingredients and usually involved a rich sauce and a pastry shell. Then, I talked to friends who were juggling kids and soccer practice and busy job deadlines and I realized that most people just want simple, easy, healthy dishes that taste really good.  My goal is to create more of those kinds of recipes– that simplify your life and inspire you to try more of them.  I'm usually sipping wine while I'm recipe testing—a practice I highly recommend!
Family & Work
My man, JP, and my 2 pit bulls, Tom and Jerry, are my world. JP is my rock, my recipe taster, and my biggest fan who regularly breaks into a 'happy dance' when he tastes my meals.  Let's be real, though:  Boyfriend is eating me out of house and home, so I've got a number of budget friendly, pantry staple recipes and videos here! The "pibbles" are my fur angels who inspire me everyday to fulfill my dream of becoming a stay-at-home Dog Mom. You can find some yummy pup treats here.
Oh yeah, and I have a dream job making a living by creating really scrumptious recipe and lifestyle content for brands…but you can find out more about that and how to work with me by clicking here.