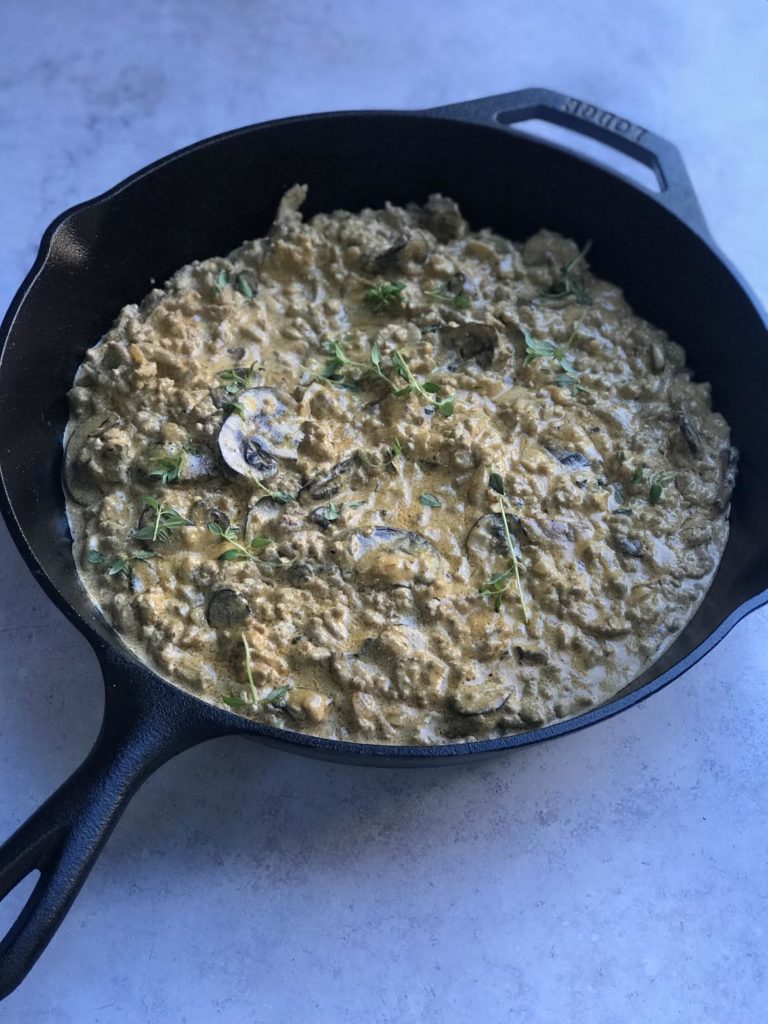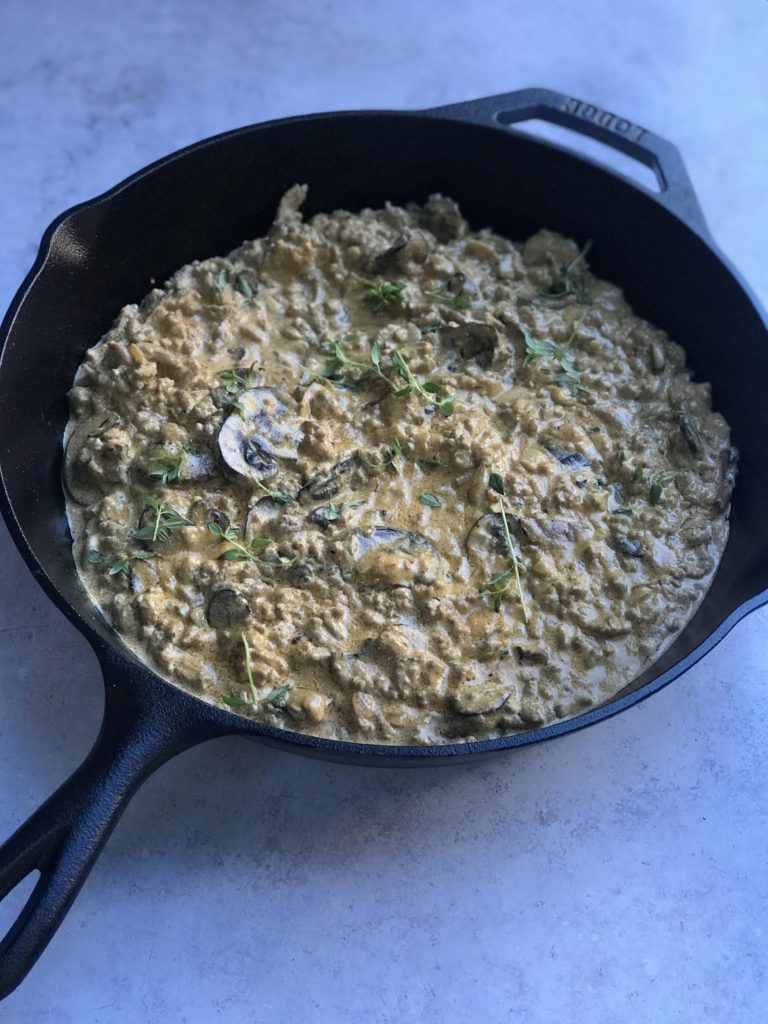 It's creamy.  It's dreamy.  It's low carb perfection.  And it happened by accident– I thought I had steak in the fridge but I was wrong.  I had ground turkey, though.  Sometimes the best recipes come from working with what you have on hand.  I actually much preferred the texture of the ground turkey which absorbed all of that rich, creamy mushroom sauce.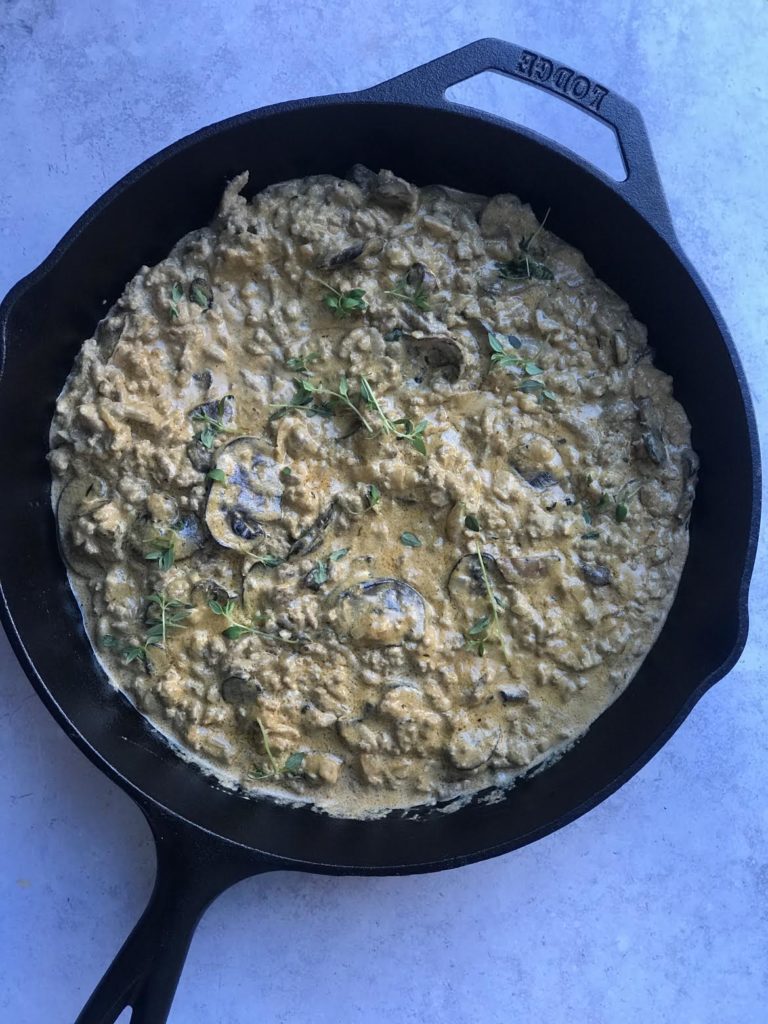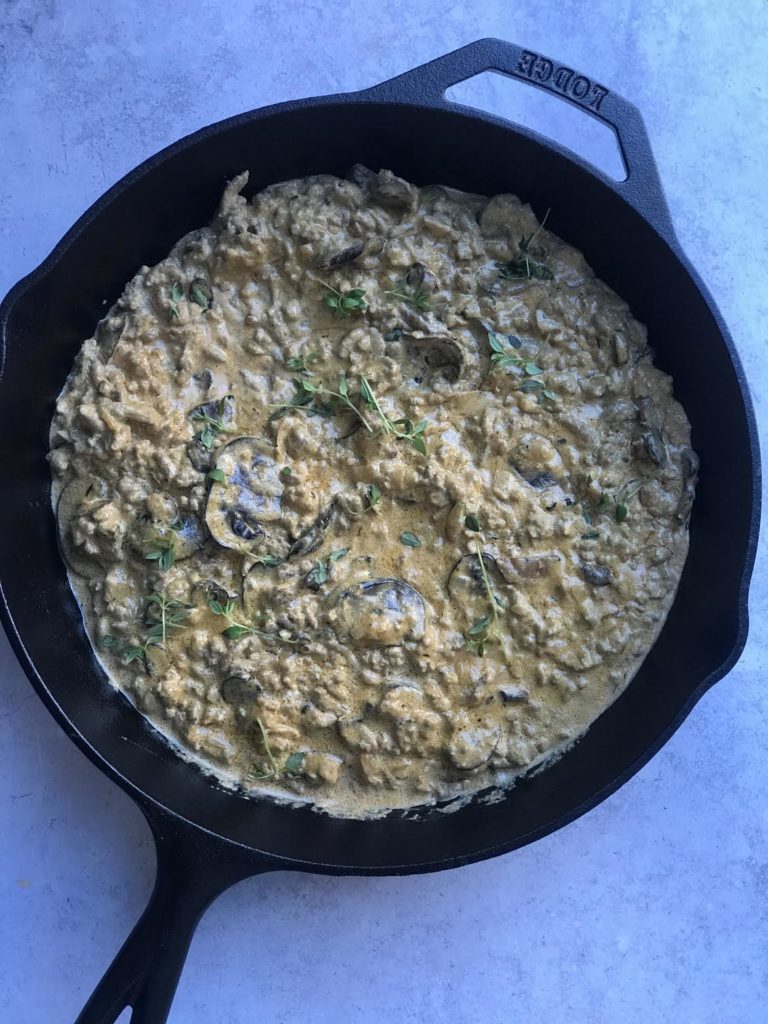 Some stroganoff recipes call for flour to thicken the sauce, but this is simply heavy cream with sour cream and it thickens beautifully on its own.  I like seasoning the turkey with some paprika and that turns the sauce a little pink-ish, so I added in a bit of Gravy Master to enrich the color (and flavor).  Perfect!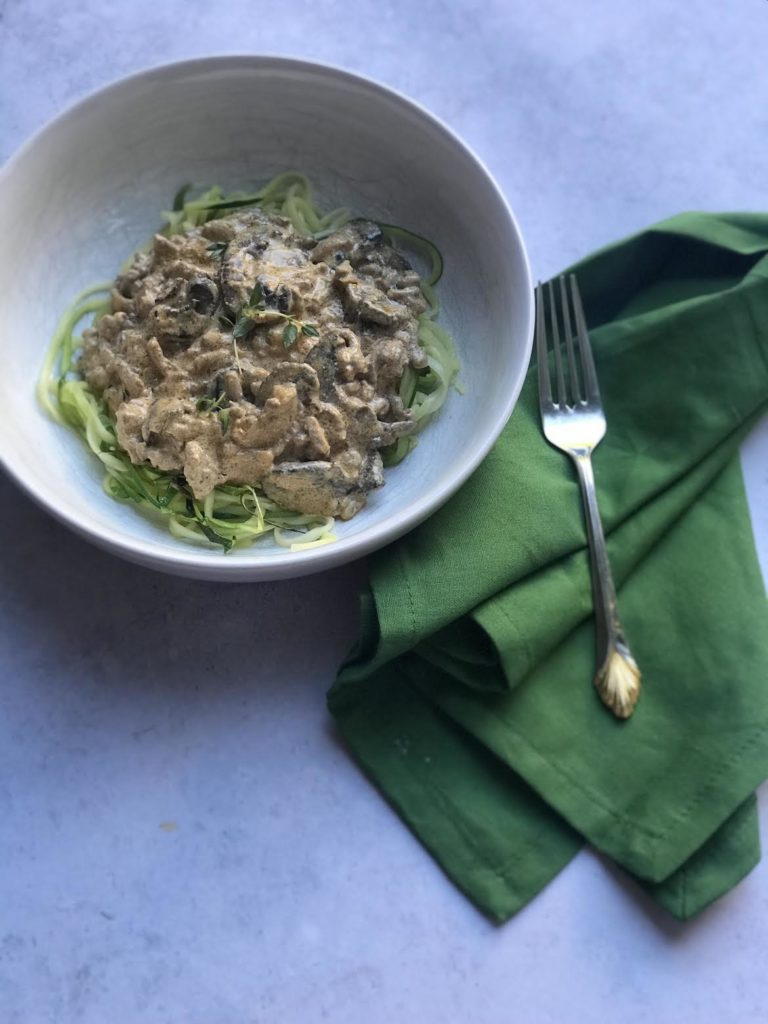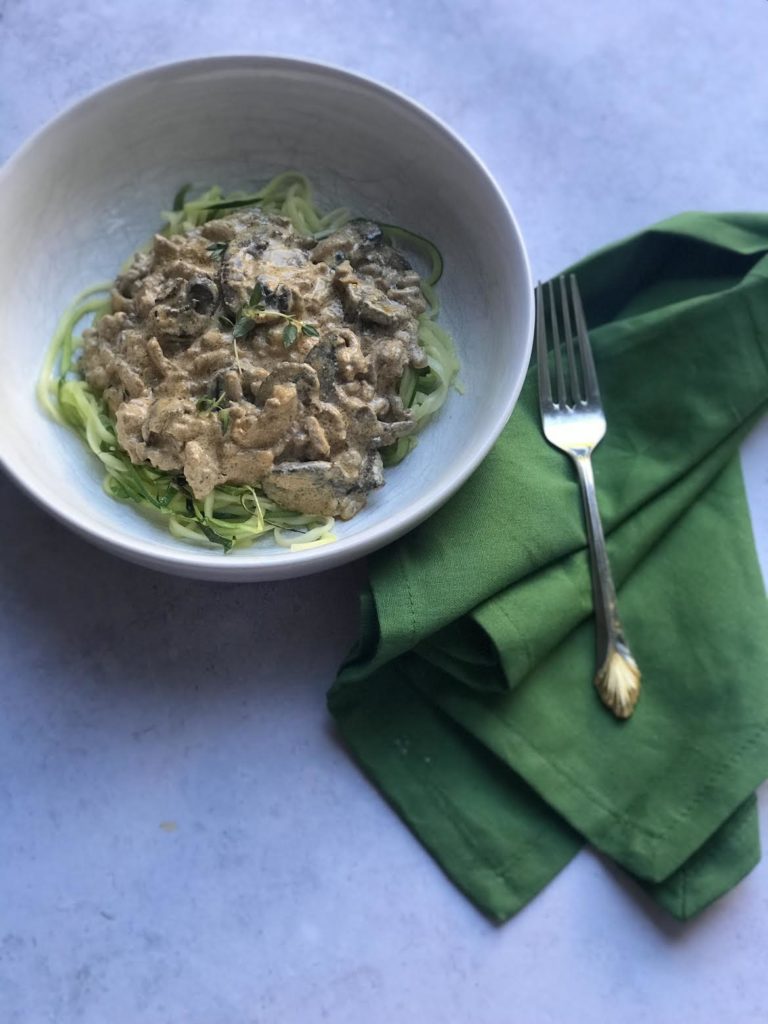 I swapped out pasta for zucchini noodles and Boom.  Dinner is served!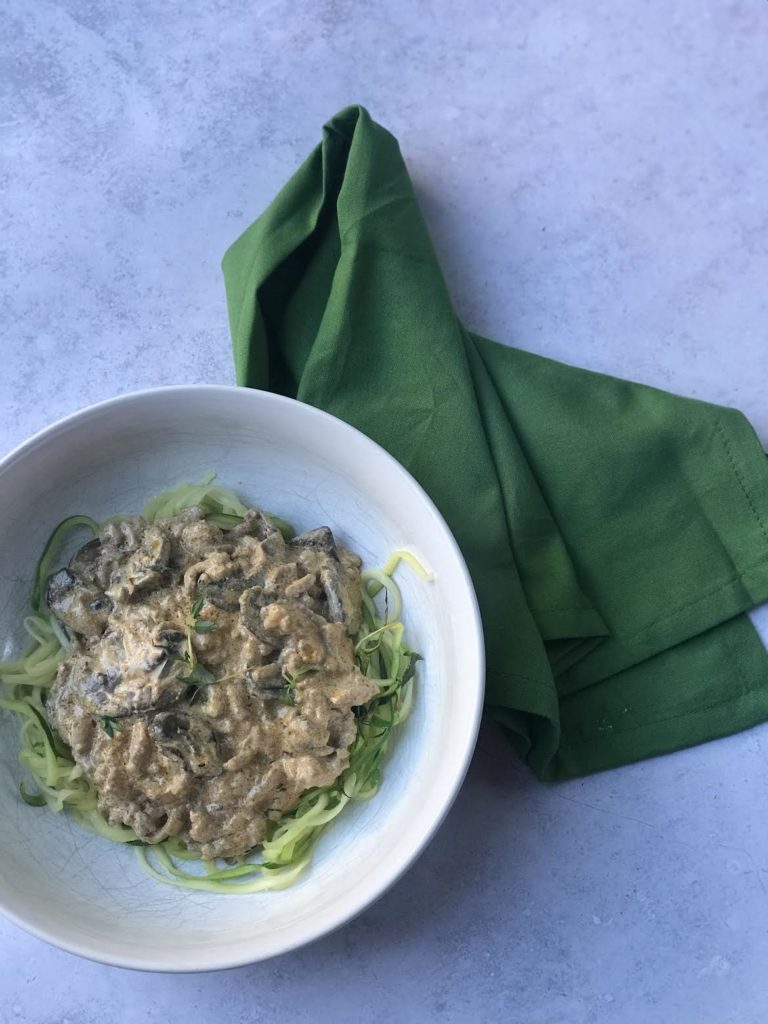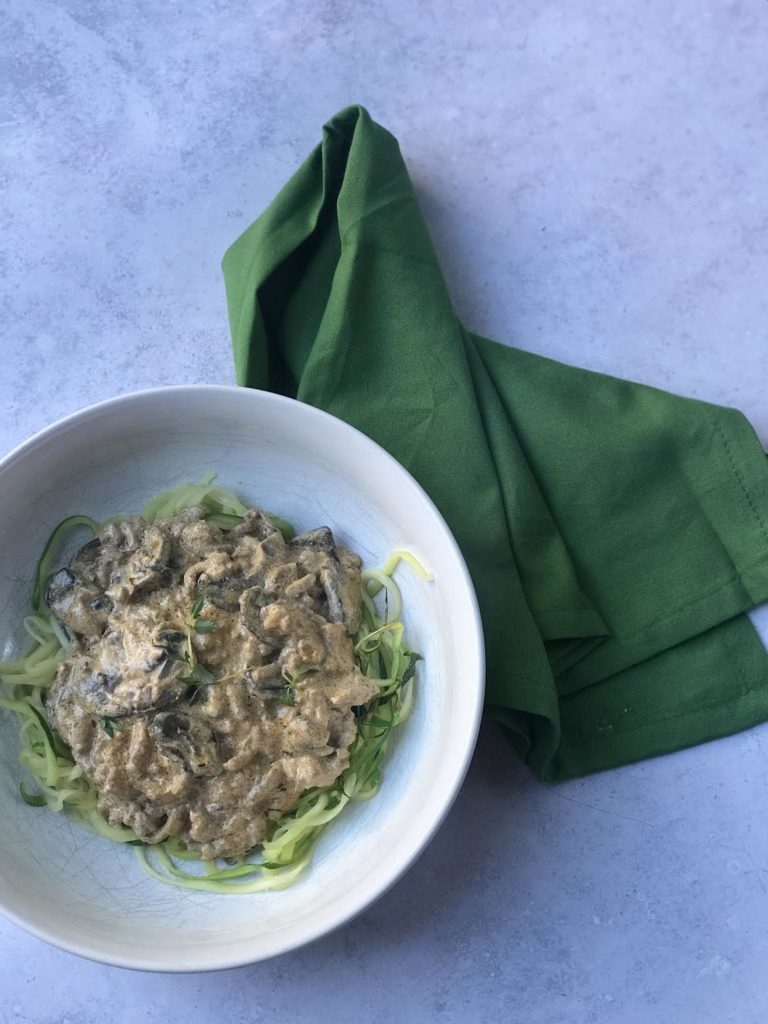 Nutrition Facts
Creamy Ground Turkey Stroganoff
Amount Per Serving
Calories 612
Calories from Fat 405
% Daily Value*
Total Fat 45g 69%
Cholesterol 178mg 59%
Sodium 943mg 39%
Potassium 180mg 5%
Total Carbohydrates 18g 6%
Protein 36g 72%
* Percent Daily Values are based on a 2000 calorie diet.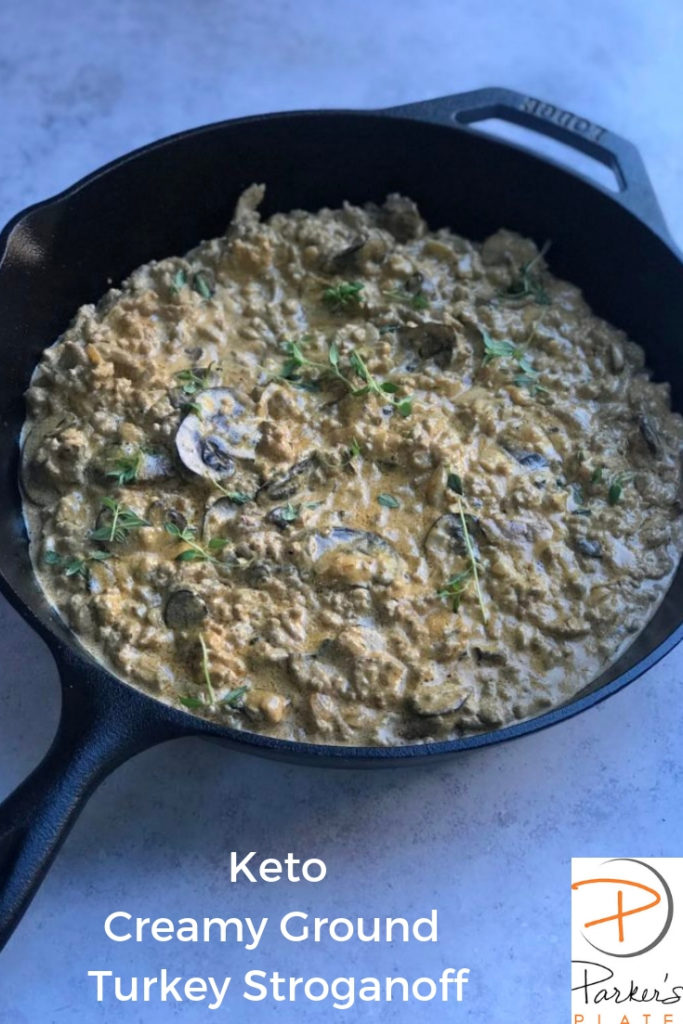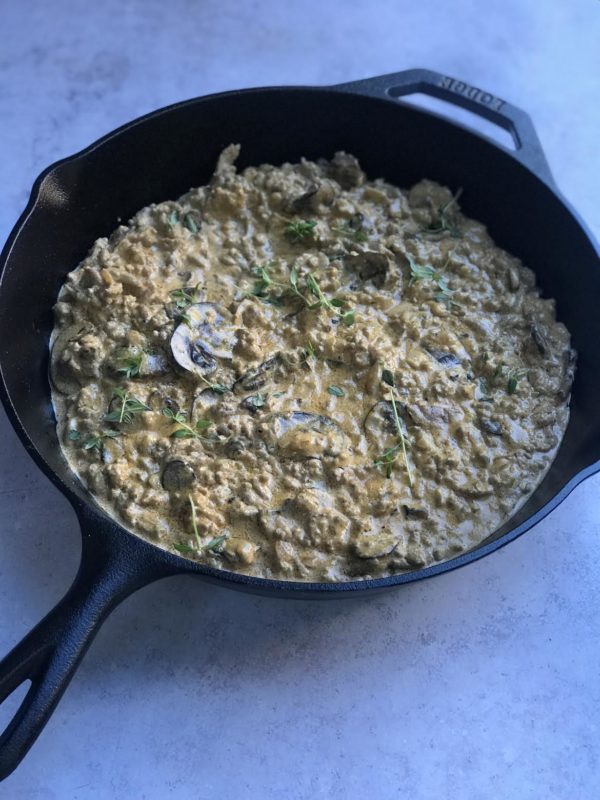 1.3

pounds

ground turkey

1

onion diced

1

box

mushrooms

about 1.5 cups

1/4

cup

Dry Sherry

1

Tb

butter

2

Tb

olive oil

1

Tb

garlic powder

1

tsp

paprika

1

tsp

kosher salt

1

tsp

black pepper

1/2

cup

heavy cream

1

cup

sour cream

1/4

cup

beef broth

1

tsp

worcestershire

1

tsp

Gravy Master

1

tsp

dried thyme

fresh thyme

for garnish

2

cups

zucchini noodles

2

cloves

garlic
1.3

pounds

ground turkey

1

onion diced

1

box

mushrooms

about 1.5 cups

1/4

cup

Dry Sherry

1

Tb

butter

2

Tb

olive oil

1

Tb

garlic powder

1

tsp

paprika

1

tsp

kosher salt

1

tsp

black pepper

1/2

cup

heavy cream

1

cup

sour cream

1/4

cup

beef broth

1

tsp

worcestershire

1

tsp

Gravy Master

1

tsp

dried thyme

fresh thyme

for garnish

2

cups

zucchini noodles

2

cloves

garlic
In a large cast iron skillet, saute turkey in 1 Tb olive oil and 1 Tb butter and add garlic powder, paprika, dried thyme, salt and pepper. Continue to saute until cooked through.

Add heavy cream to ground turkey and bring to a bubbling simmer. Continue stirring for 5 minutes until cream begins to thicken.

Add sour cream and beef broth and stir to combine. Bring to a simmer again and then turn heat down to low and continue to let the sauce thicken.

In a separate skillet, add 1 Tb olive oil and saute mushrooms until they are fully sweated, and begin to brown, about 5 minutes. Add diced fresh garlic and continue to saute for another 2 minutes.

Add 1/4 cup of Dry Sherry to the mushrooms. (You'll find Dry Sherry in the wine section, NOT the oil and vinegar section of the grocery store-- do not use "Cooking Sherry"-- always get THE REAL DEAL Sherry.) Crank up the heat and cook down the sherry until reduced by half, about 3 minutes. Then add the mushroom and garlic mixture to the creamy turkey skillet. Stir to combine. Add 1 tsp of Gravy Master (you'll find that in the soup section near the jarred gravies).

Garnish with fresh thyme and season with additional salt and pepper to taste. Serve over zucchini noodles. (I boil my zoodles for about 2 minutes, then saute them in a little butter so they still taste "al dente.")