I've said this before, but I'm not a "salad girl."  Like, show me a menu where there are burgers and wings and well, bourbon ,(obvi) and I go for the meat and the cocktail.  All.  Day.  Long.  You'll never hear me saying, "I'll just have a salad."  I mean, not judgement here, but even Eddie Murphy complained about those kinds of girls years ago…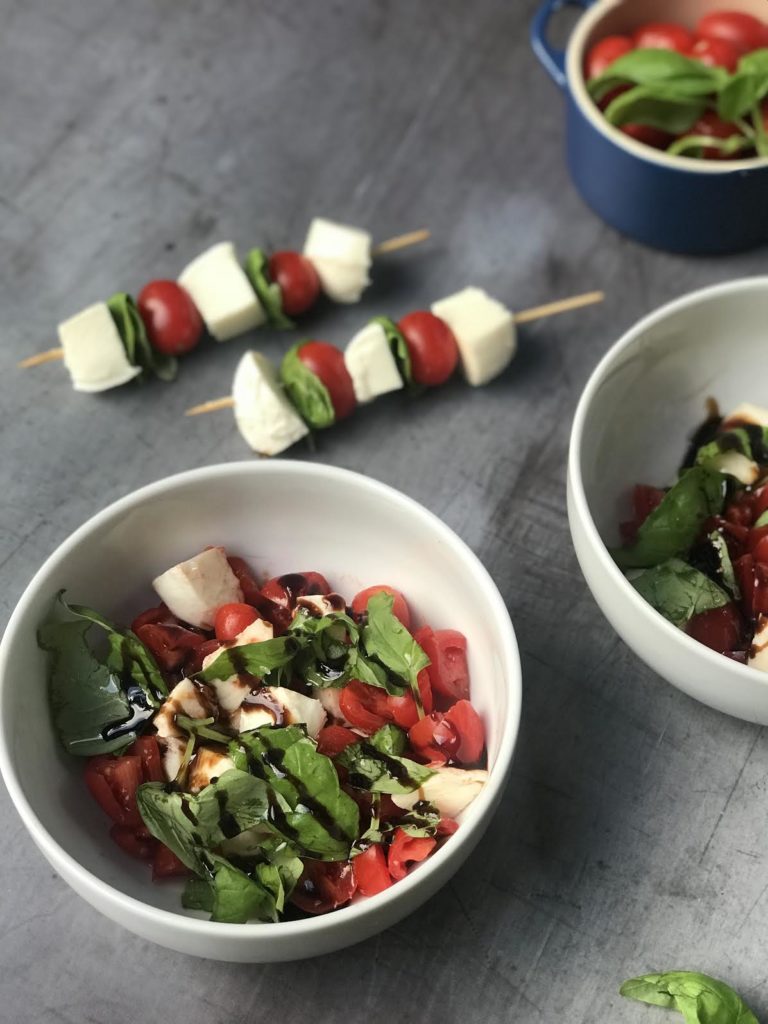 What I won't complain about though, is when you add fresh mozzarella, basil, cherry tomatoes and drizzle that with some balsamic reduction.  Sign me up!  My good friends are snickering as they read this, saying, "Yeah, well, put cheese on it and she'll eat it!" The fancy name for this salad is Caprese.  While I was on a commercial shoot making this salad last year, I wanted to double check I was pronouncing it correctly.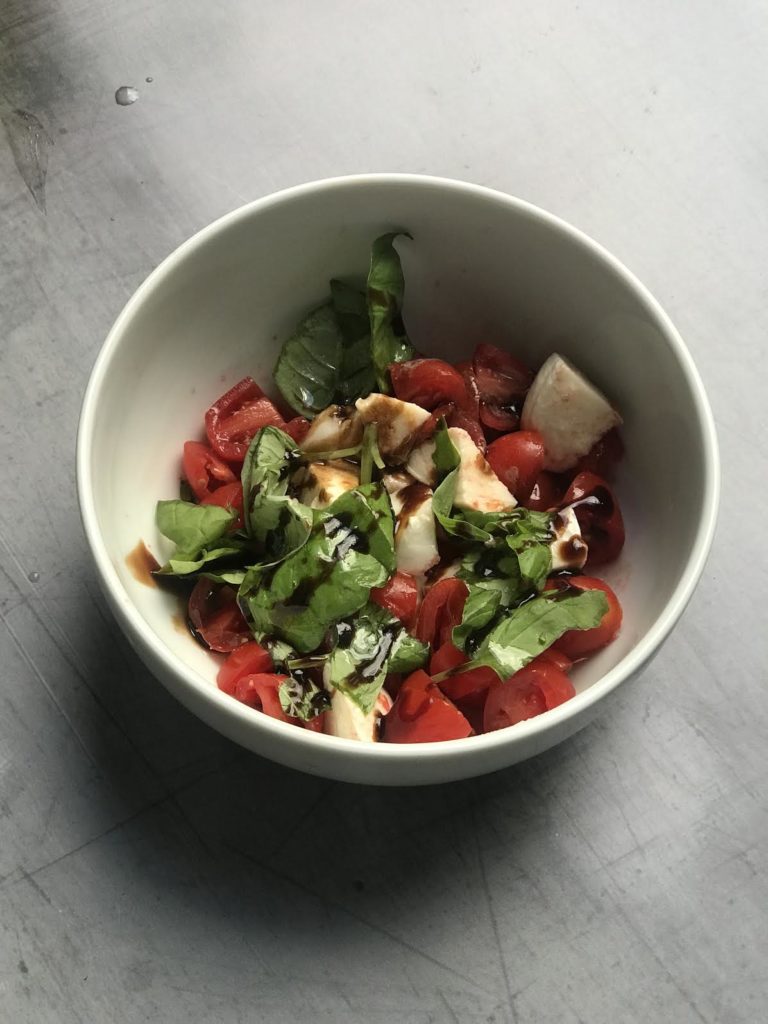 While this might be considered a summer dish, I serve this all year round.  I find that when I'm serving a rich dinner, this is the pop of fresh flavor that balances the meal perfectly.  The colors are stunning– and that balsamic glaze.  OMG.  You can make it yourself by simply boiling down balsamic vinegar until it gets syrupy, but the consistency changes quickly as it cools and it can get real sticky and messy.  So, to keep it easy, I go to the vinegar section of the grocery store and there's usually an already bottled glaze that works beautifully.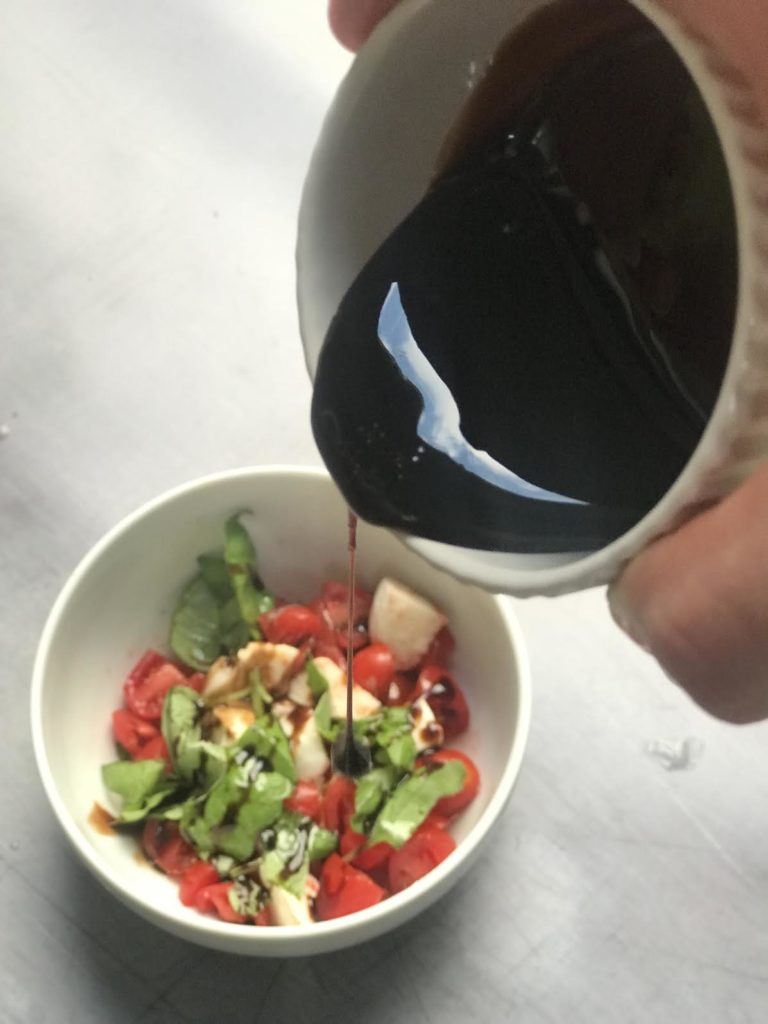 Serving the caprese on mini skewers is always a hit when I have parties, since people can walk around with their own personal skewer.  Now you can officially call me a,  "Salad on a Stick" kinda girl!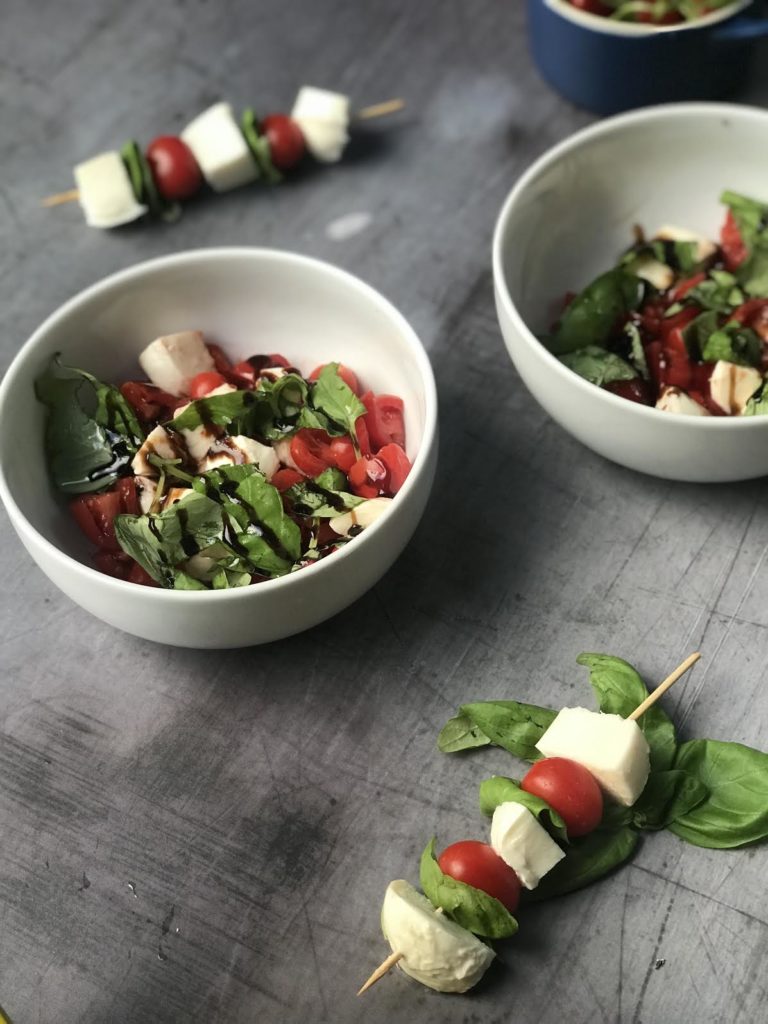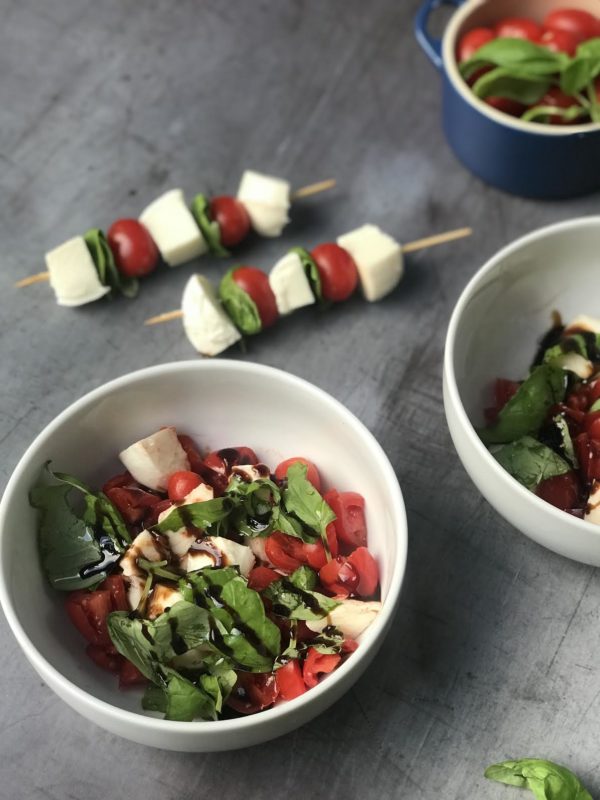 | | |
| --- | --- |
| | |
Chop tomatoes, fresh mozzarella and fresh basil and toss together. Drizzle olive oil and balsamic glaze on top. Sprinkle with a pinch of kosher salt. If using mini skewers, keep cherry tomatoes whole and alternate between mozzarella, tomatoes and basil on skewer. Serve with balsamic glaze on side.
Nutrition Facts
Caprese Salad and Skewers with Balsamic Glaze
Amount Per Serving
Calories 348
Calories from Fat 243
% Daily Value*
Total Fat 27g 42%
Cholesterol 45mg 15%
Sodium 82mg 3%
Potassium 156mg 4%
Total Carbohydrates 12g 4%
Protein 19g 38%
* Percent Daily Values are based on a 2000 calorie diet.