2 cookie recipes in one week?  Wha-what?  Yep.  Inspired by a gluten free sugar high!  I don't have much of a taste for sweets, but my sweetie, my better-sugary half certainly does.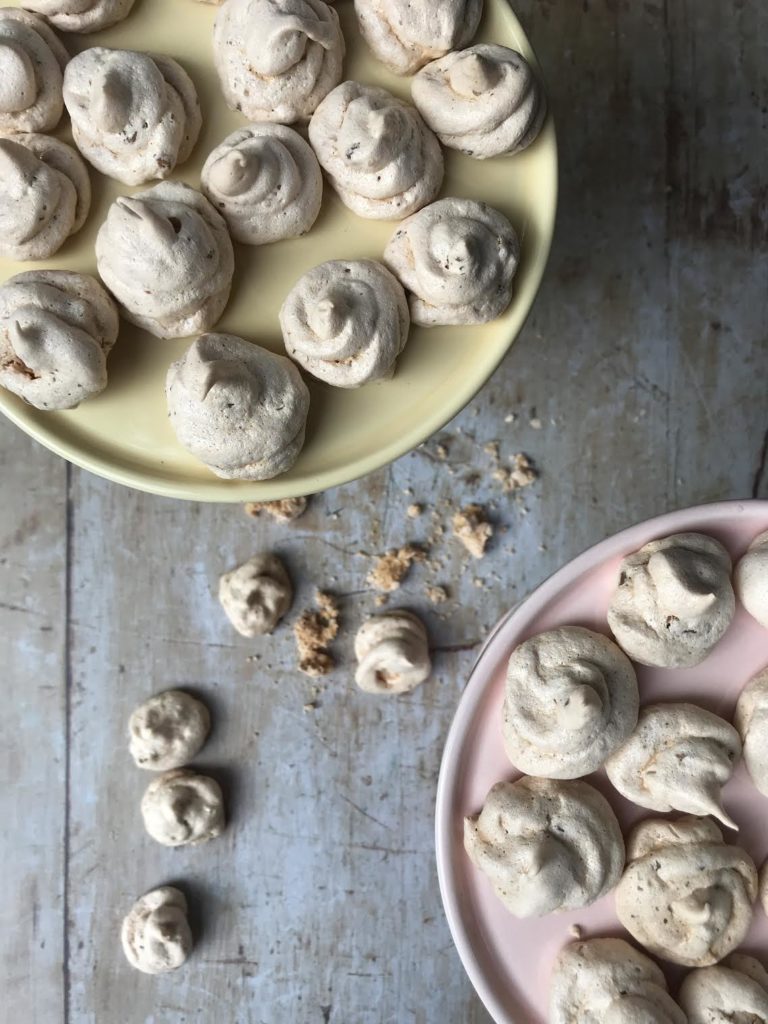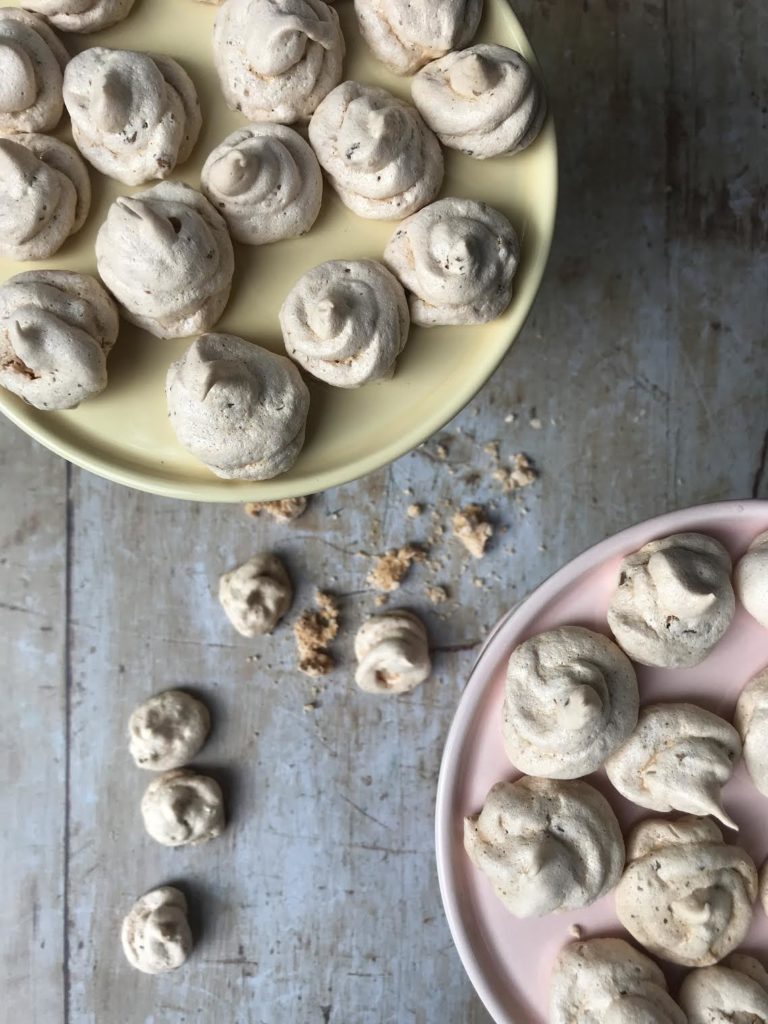 Inevitably, I hear the refrigerator door open between 2-4am as JP scavenges for a sweet treat.  I call them his "night feedings."  For a while, he was actually making my chocolate peanut butter bombs which he calls "chocolate delight," on his own!  Now, he's gotten in the habit of bringing home not-so-good-for-you store bought crap or vending machine nonsense, so I decided to experiment with a new bite size morsel of delish.  These mini almond praline meringues are the perfect size to get a little sugary fix without riding off the diet rails.  I mean, you guys, they're only 12 calories each!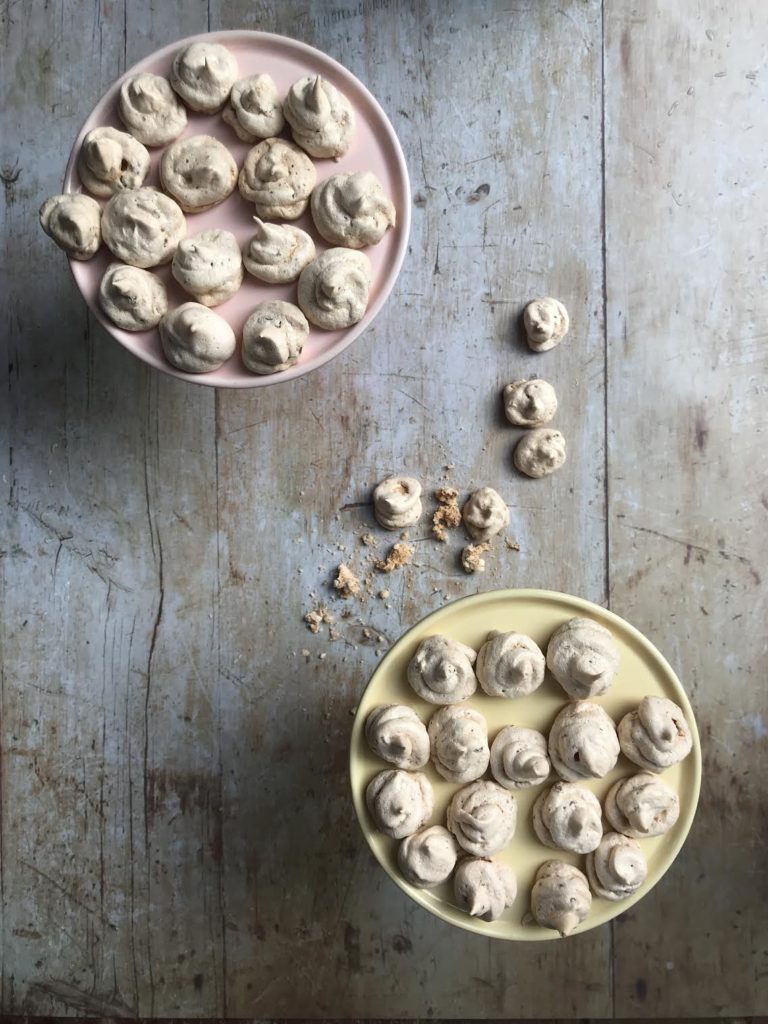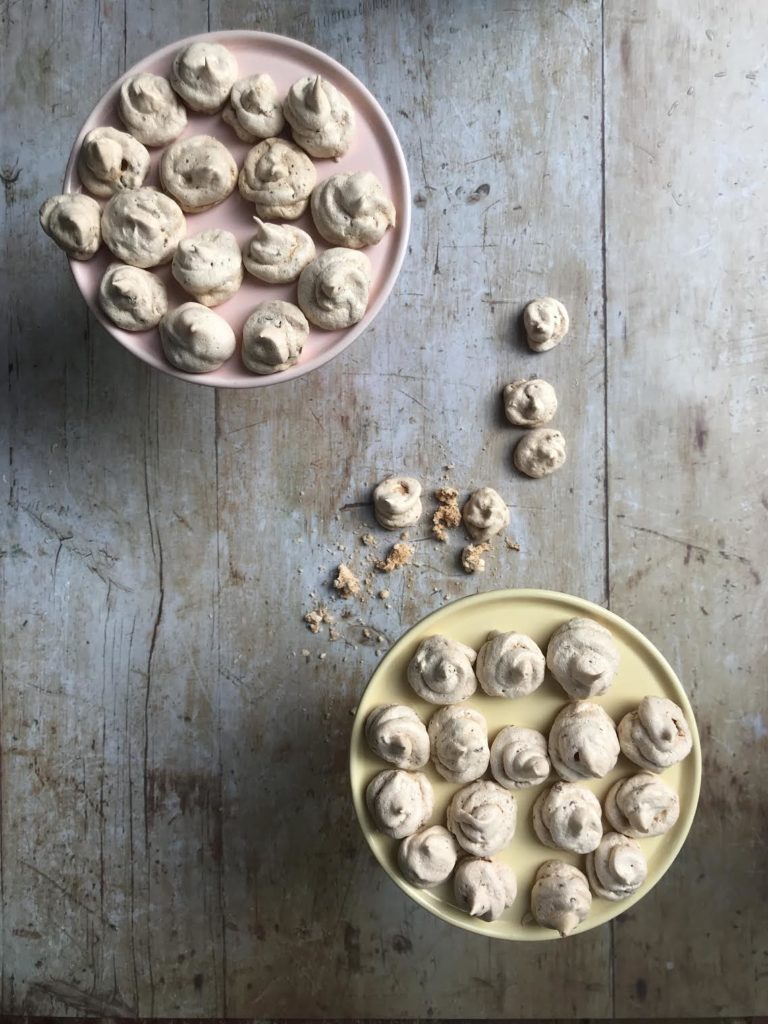 I did use real sugar in this recipe, but will definitely want to experiment with Truvia here.  I think they're super sweet and I even cut out 1/4 cup sugar from my usual recipe.  What's great about these meringues is that you can flavor with any extract– vanilla, orange, lemon, etc.  You can also add in toppings or fold in chocolate chips.  For these, I used JP's favorite, praline crunch.  Boyfriend loves himself some crunchy, sugary cookie magic.
The key to this recipe's success is making sure you beat those 2 egg whites within an inch of their lives!  You want those peaks stiff and glossy, babies!  It usually takes around 5 minutes with a hand held electric beater.  Then, when you fold in the sugar, make sure you beat them back up again for another minute or two.
I just spooned the meringue batter right into a large Ziploc bag and then cut the corner so I could squeeze them out swirly — but let's just state the uncomfortably obvious.  They actually ended up looking like white poop emojis, but who's judging?!  I blame my sleepless mania on all bad design decisions.  I baked them for 25 minutes at 300 degrees and then turned the oven off and left them in the oven overnight.  I like my meringue crunchy and crispy.  But, if you're partial to the crispy on the outside, chewy on the inside, then take them out of the oven and let them cool in the kitchen.  Baking them on parchment paper is also key.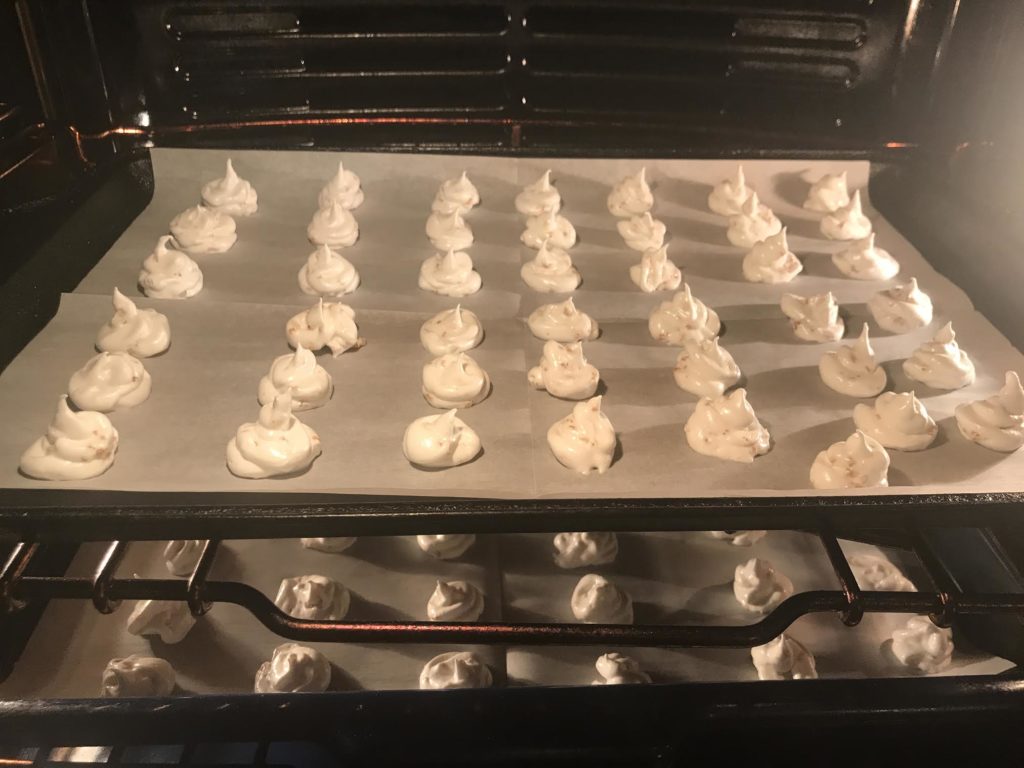 Shhh….I hear a night feeding going on right now….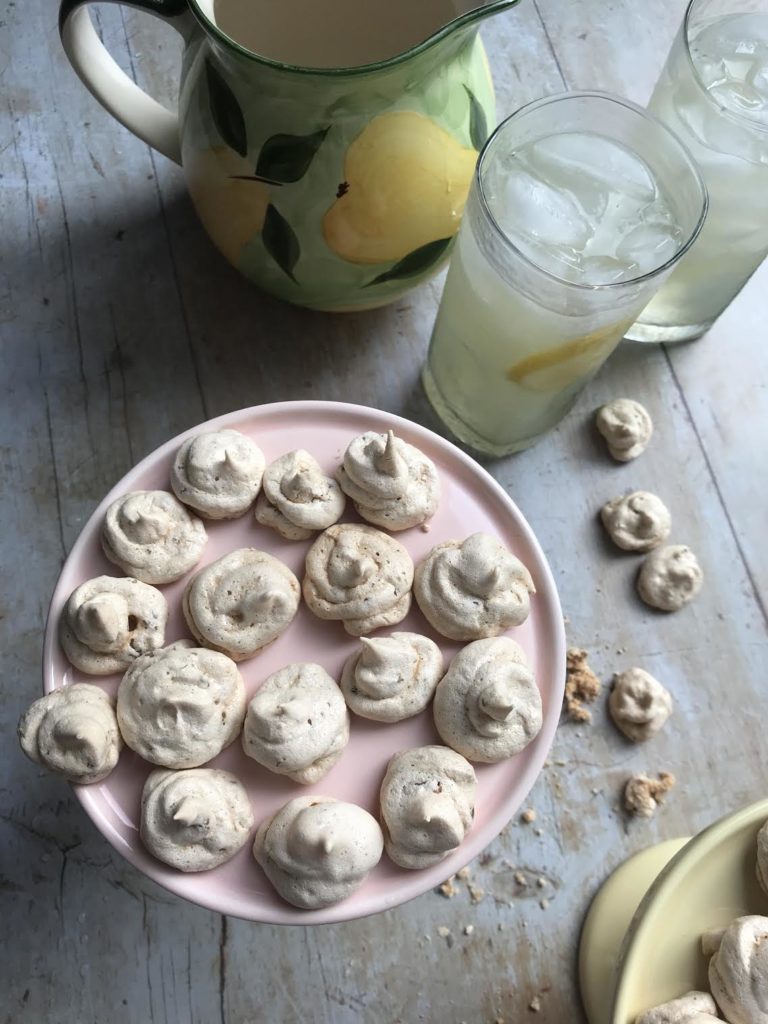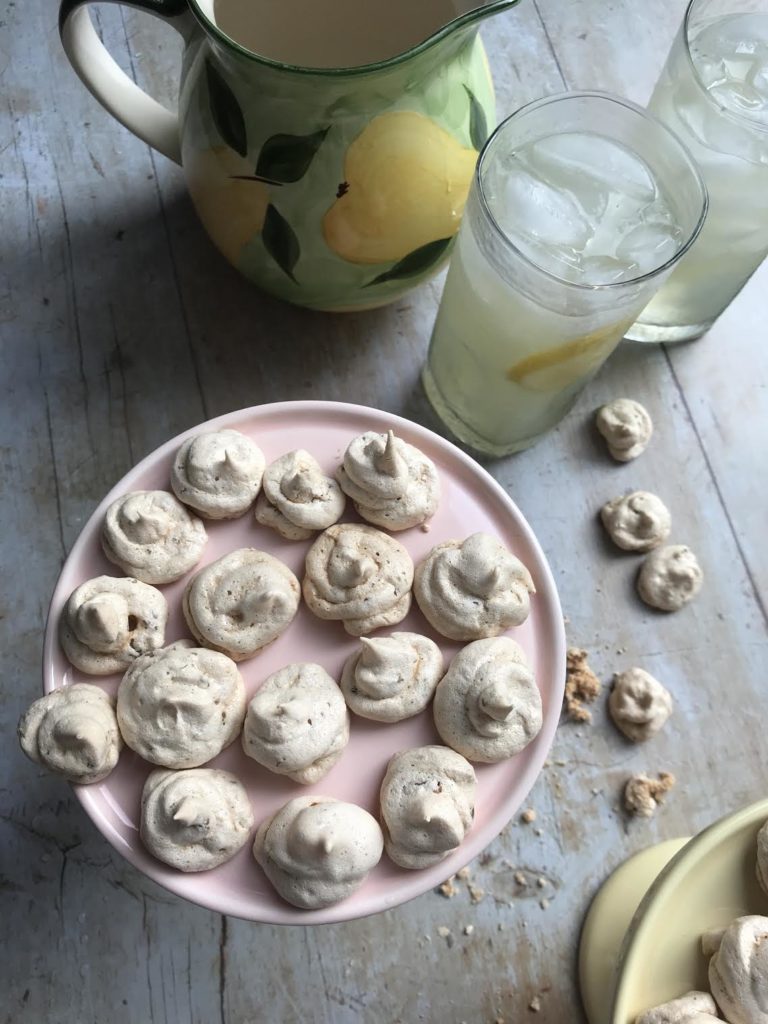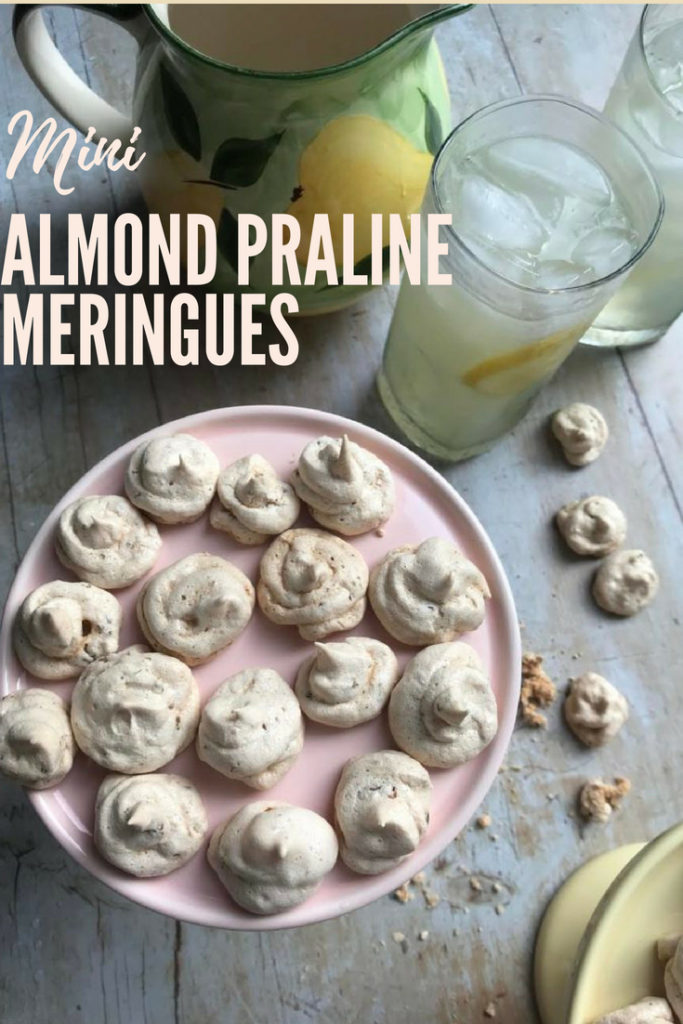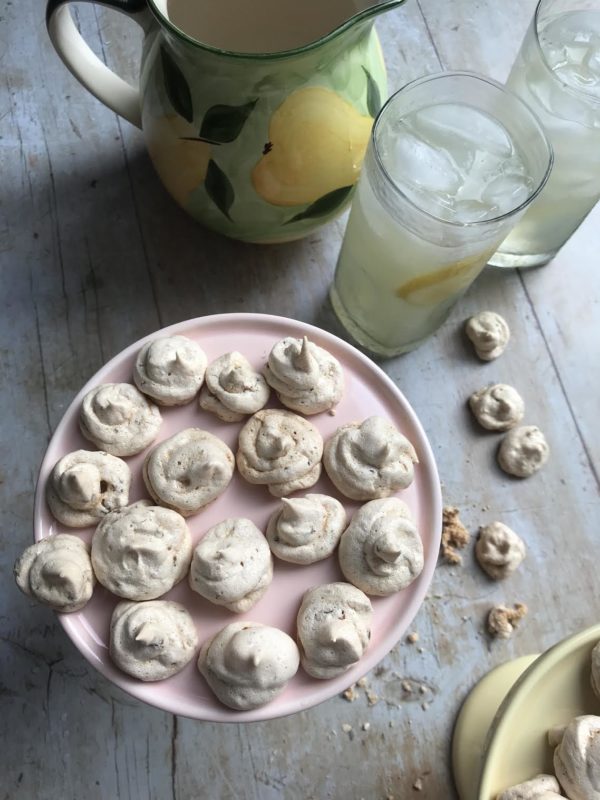 2

egg whites

1/8

tsp

salt

1/8

tsp

cream of tartar

1

tsp

almond extract

1/2

cup

white sugar

1/2

cup

praline crunch
2

egg whites

1/8

tsp

salt

1/8

tsp

cream of tartar

1

tsp

almond extract

1/2

cup

white sugar

1/2

cup

praline crunch
Preheat oven to 300 degrees.

Beat egg whites, salt, cream of tartar and almond extract until batter has firm, glossy peaks, about 5 minutes with a hand held beater.

Add sugar and beat until folded in, about 1-2 more minutes.

Fold in praline crunch and stir to combine.

Pipe or spoon tsp size portions onto parchment paper.

Bake at 300 degrees for 25 minutes. Turn oven off and let them stay in the oven overnight, or for another 5-7 hours.
Nutrition Facts
Mini Almond Praline Meringues
Amount Per Serving
Calories 12
Calories from Fat 1
% Daily Value*
Total Fat 0.1g 0%
Sodium 5mg 0%
Potassium 2mg 0%
Total Carbohydrates 2g 1%
Protein 0.1g 0%
* Percent Daily Values are based on a 2000 calorie diet.