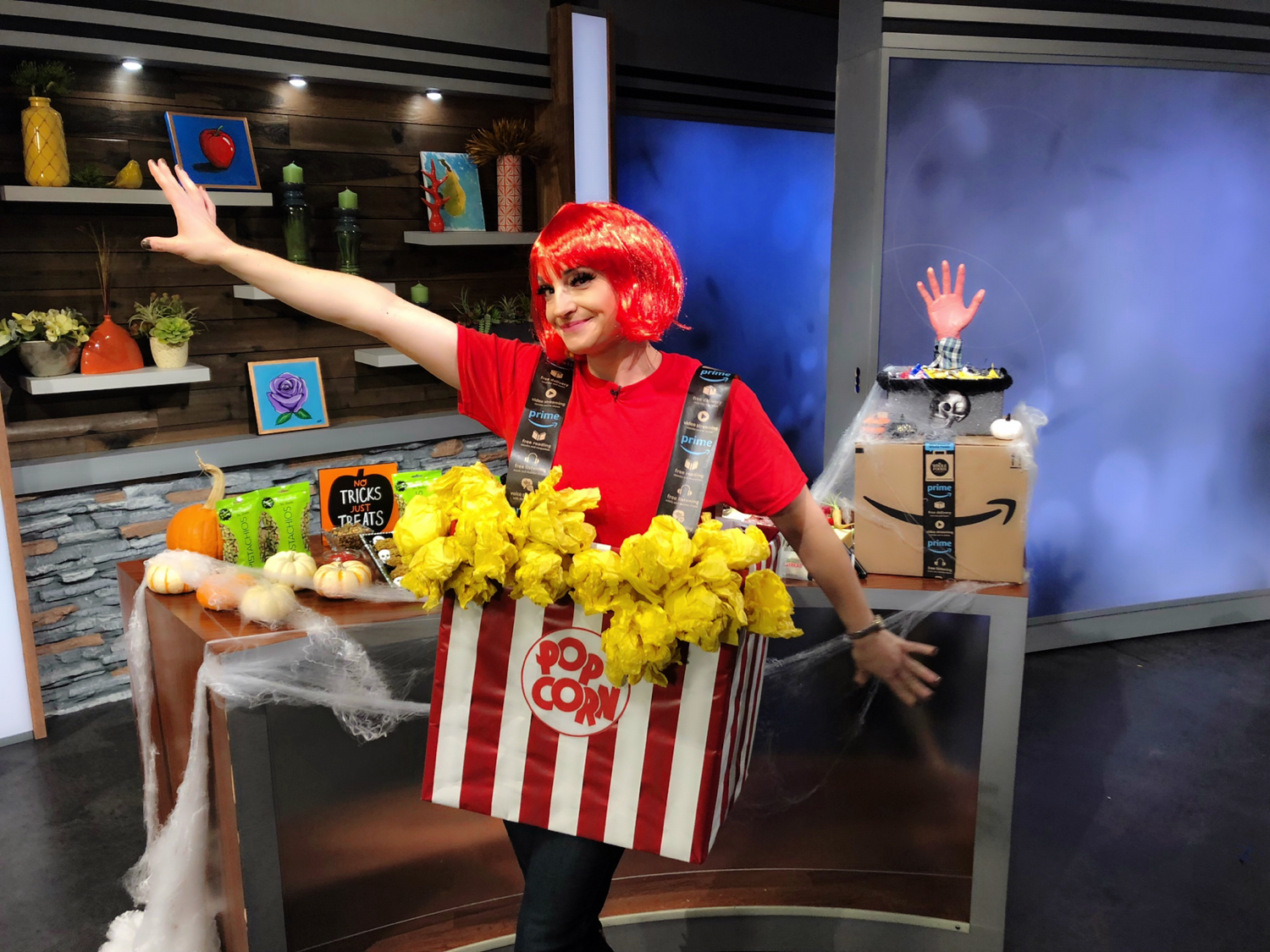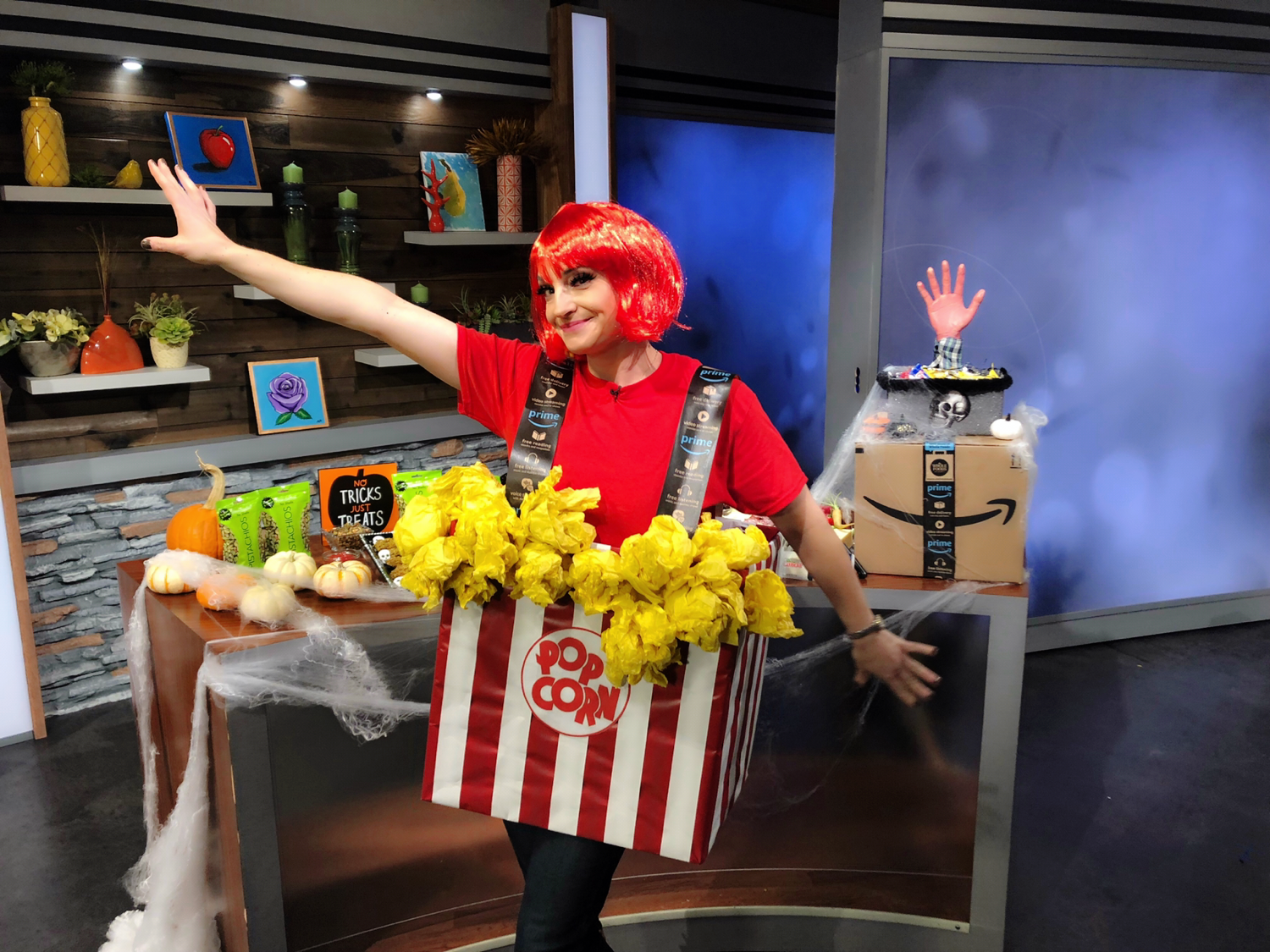 "You can call me creative, just don't call me CORNY!"  Yep, I said it.  On live TV on AM Northwest in Portland, Oregon!  Introducing the new DIY goddess of all things boxy and fabulous.  You guys, seriously, this sort of thing isn't usually my jam, but I had sooooo much fun and got the family involved in the building-of-the-boxtume. Cuz that's a thing.  Let me walk you through the step by step. First, let's get your list of must-haves for the must-make Popcorn Boxtume!
I have so many Amazon Prime boxes piled up at my house– and at all my destinations for TV segments, like Portland, where my fabulous, entrepreneur brother, Nat Parker lives.  <—— yeah, click on the links.  You know you want to.  The first one is the cover story about his start-up success to now being Daimler's leading mobility boss.  And the second is his recent interview in Forbes.  Casual.  But, I digress.  Natty (which is what I call him!) is a bad ass CEO of Moovel by day and a pretty damn good DIY dude by night.  Watch how he and his girl, Nadja, helped me transform my Amazon box into delicious, buttery costume magic!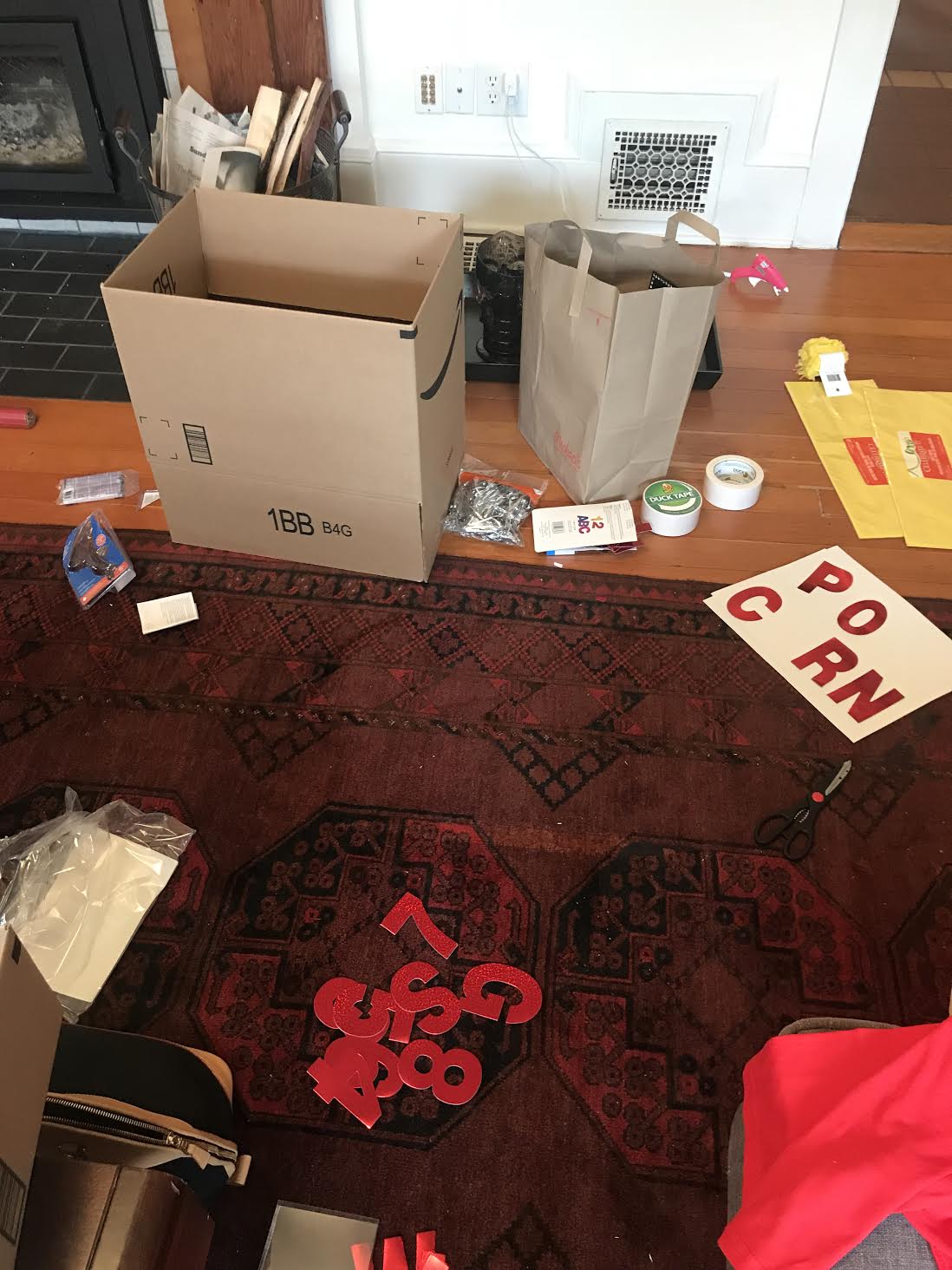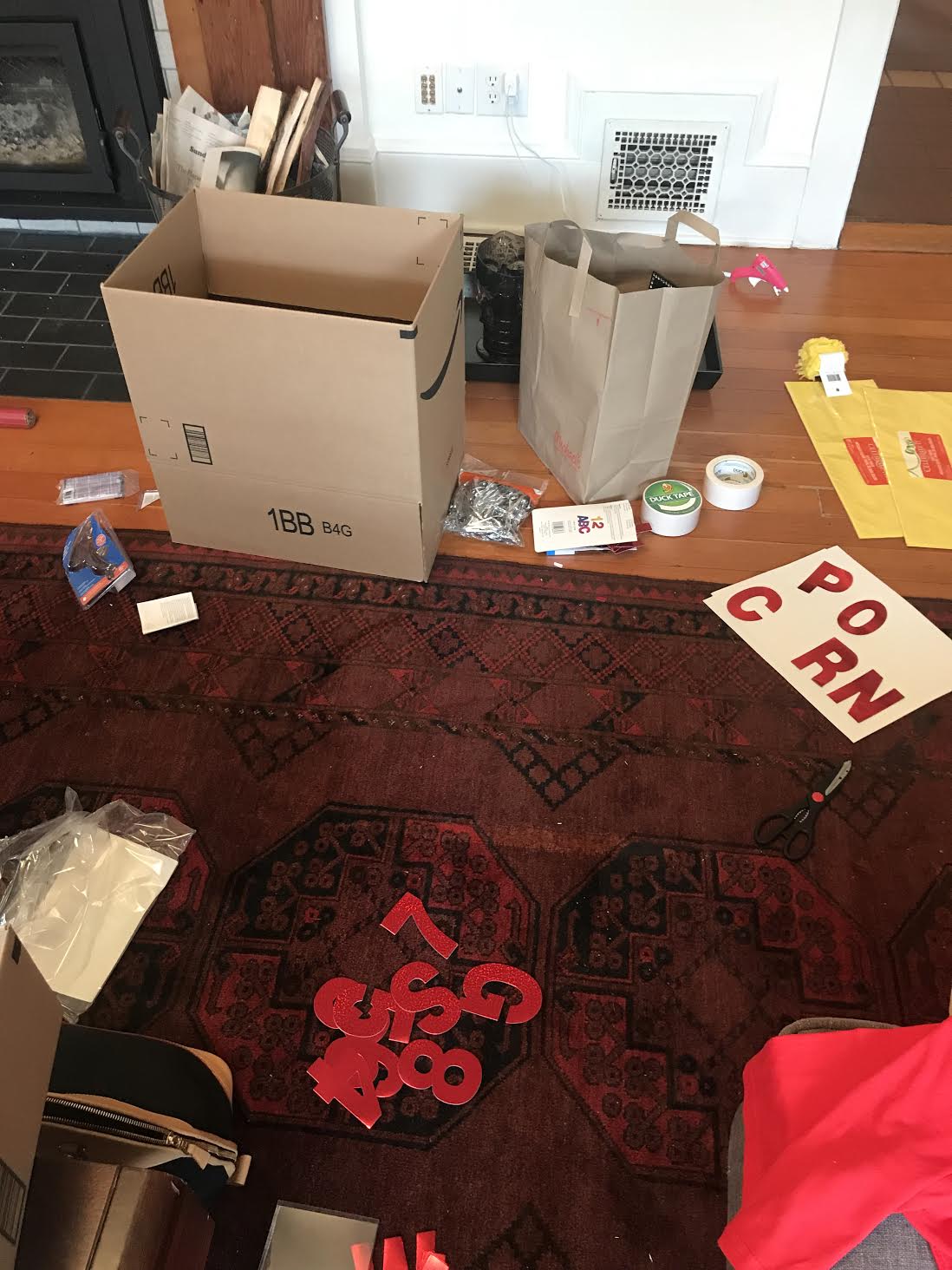 Start with a box.  Any Amazon Box will do (that you can squeeze into!) Initially, I bought letters thinking they'd work for the Popcorn sign part.  Not so much.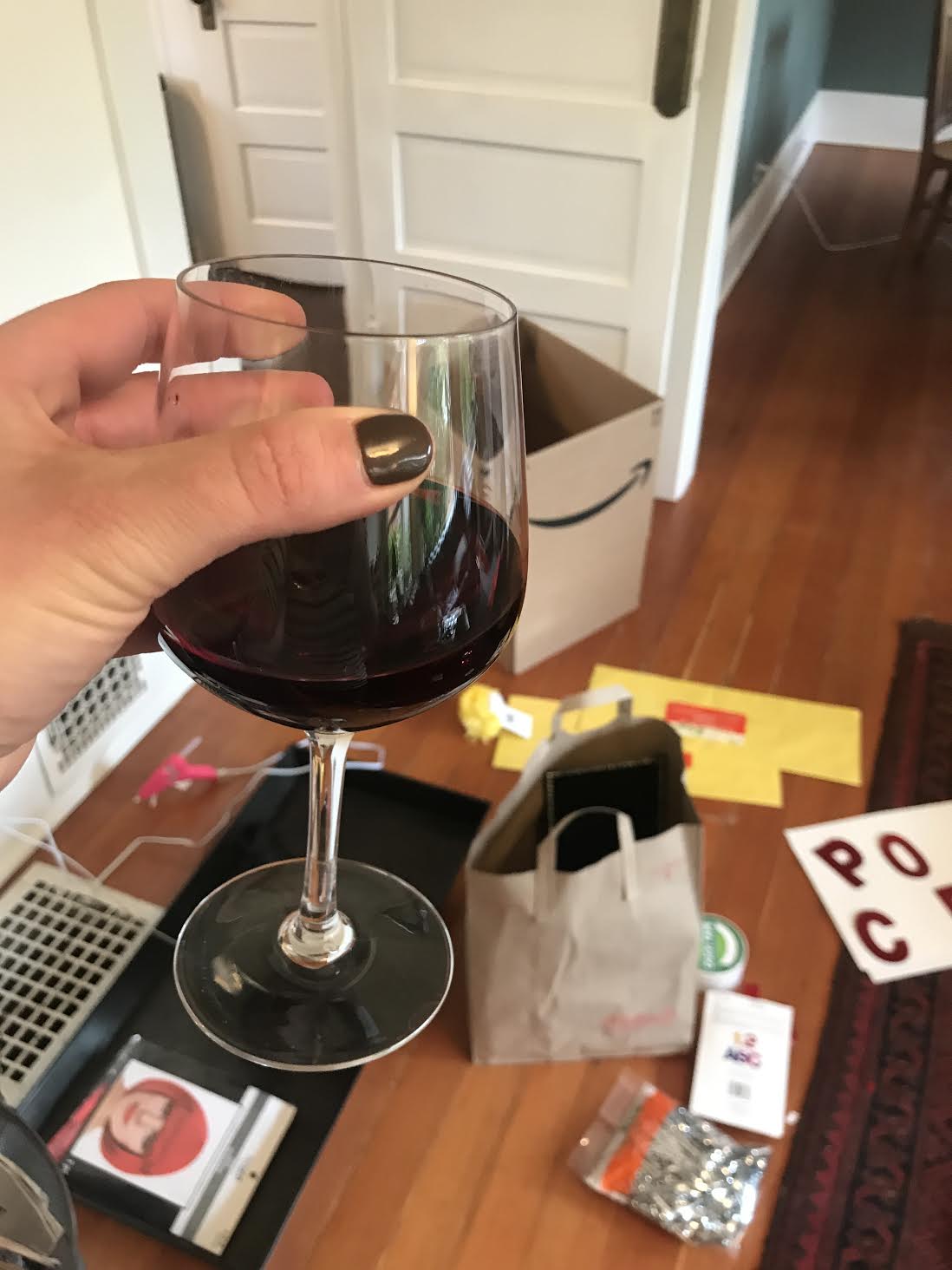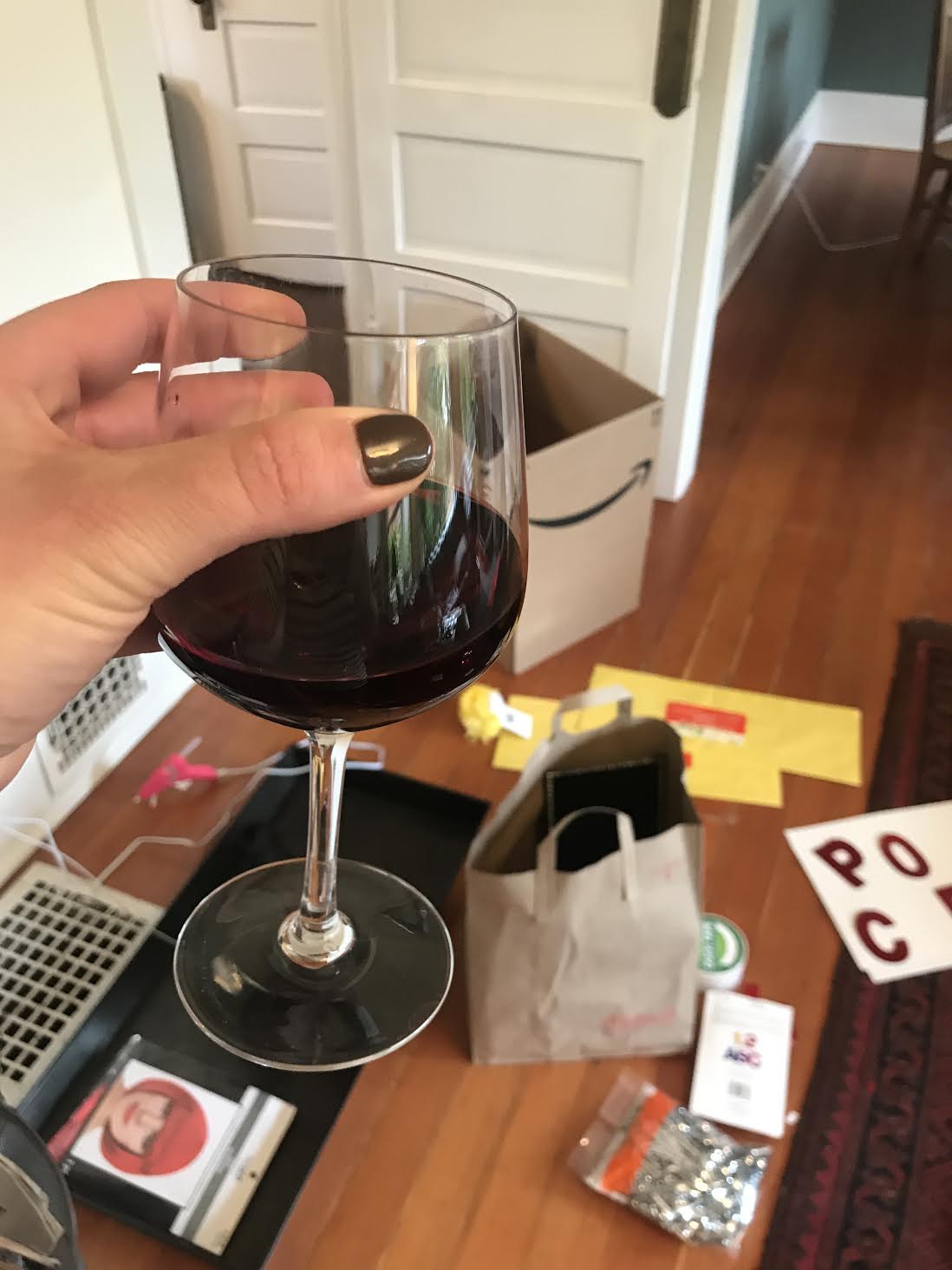 I promptly decided I need wine.  But, note, NOT WINE IN A BOX.  Just sayin.'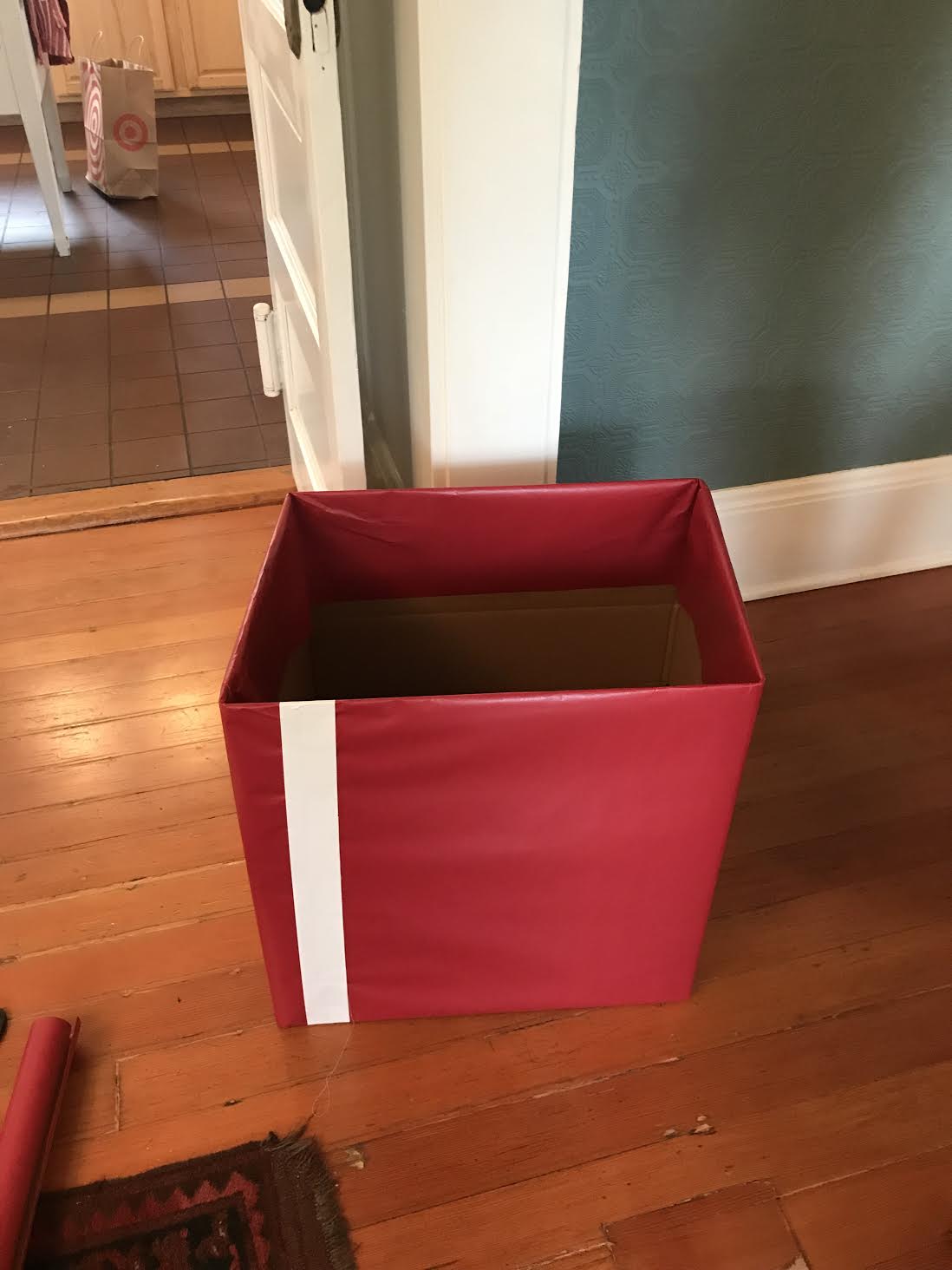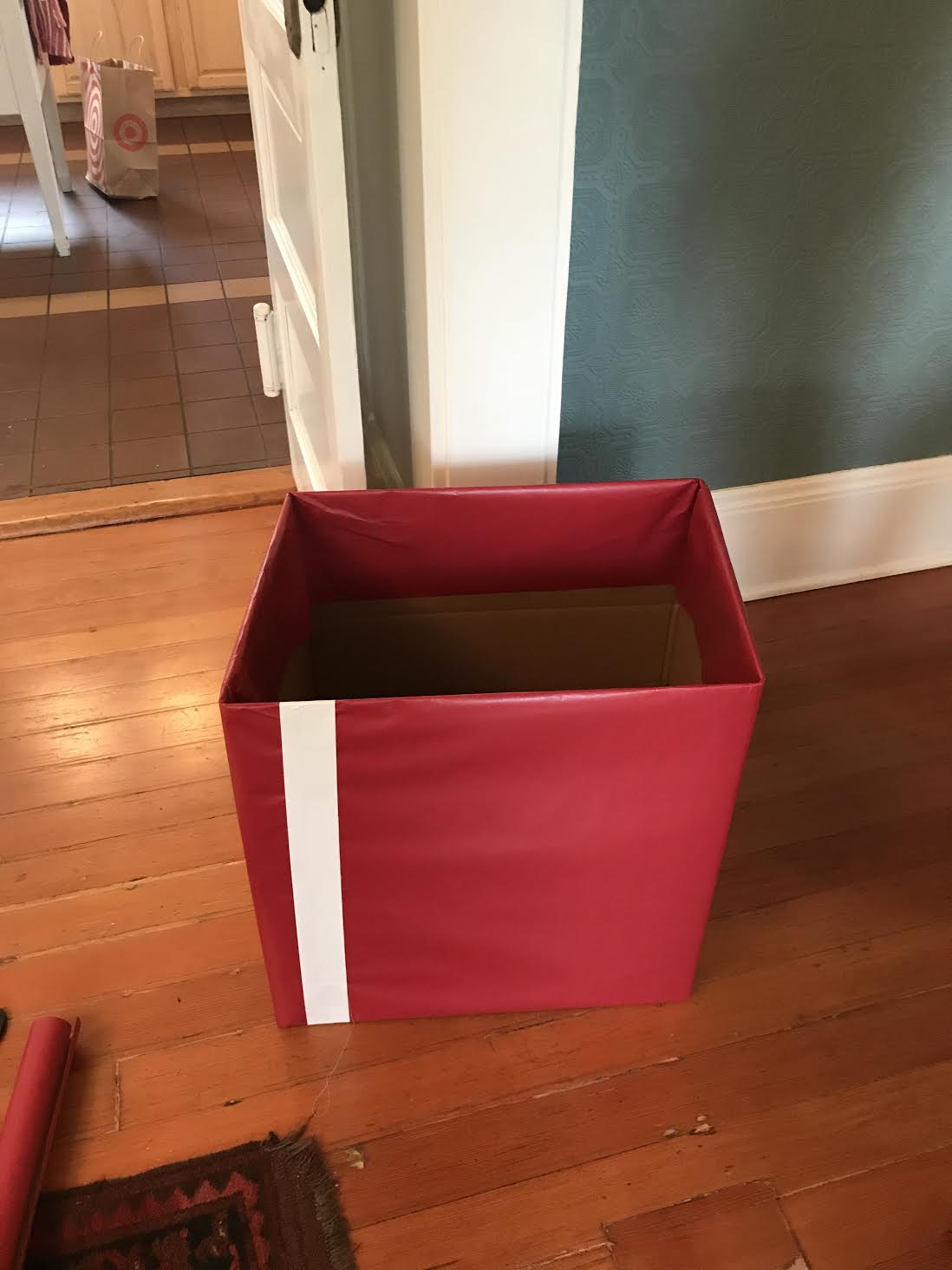 Wrap the box in red wrapping paper like a big 'ol present.  Then start putting the white duct tape around the box for those perfect Popcorn box stripes!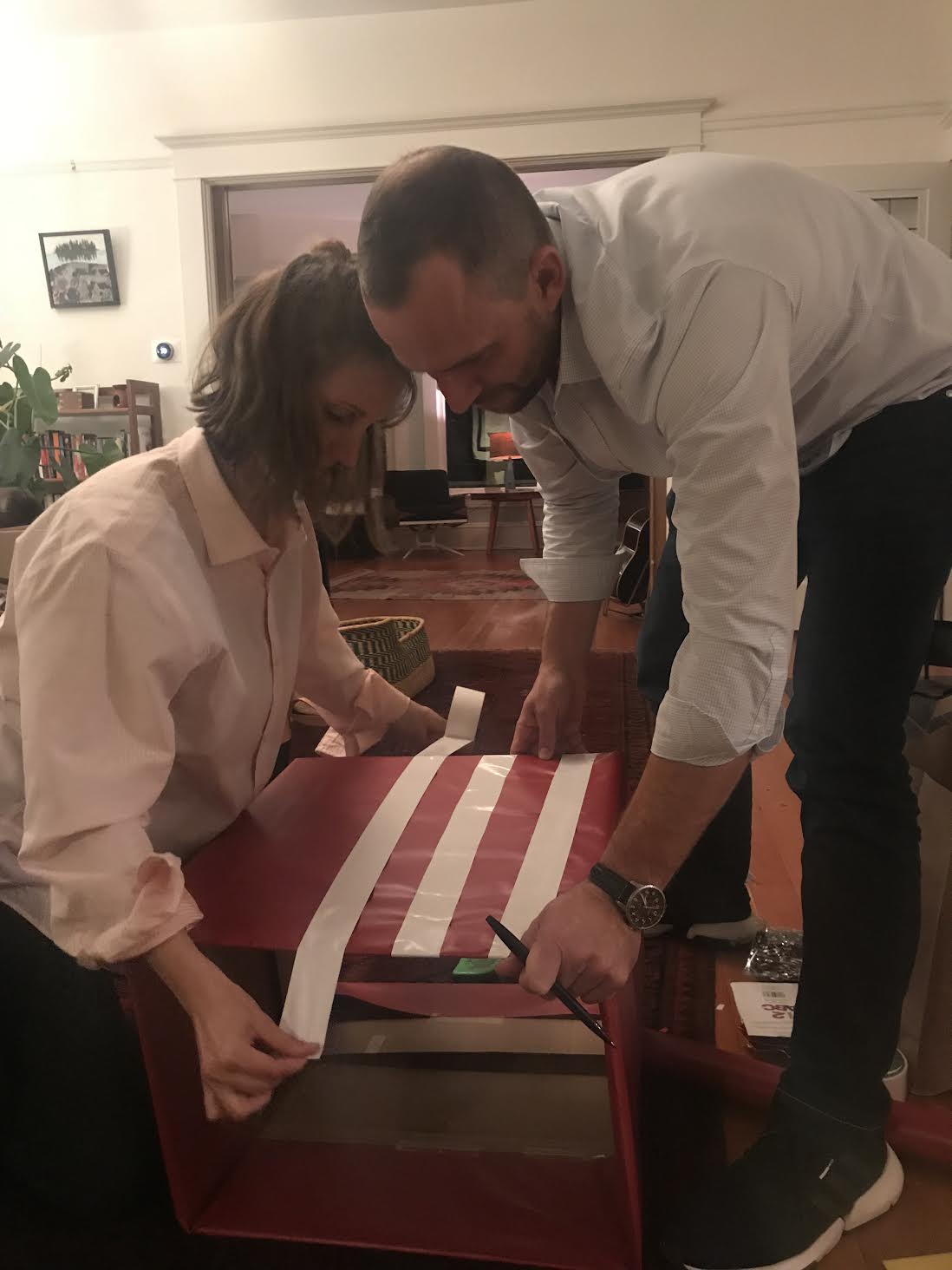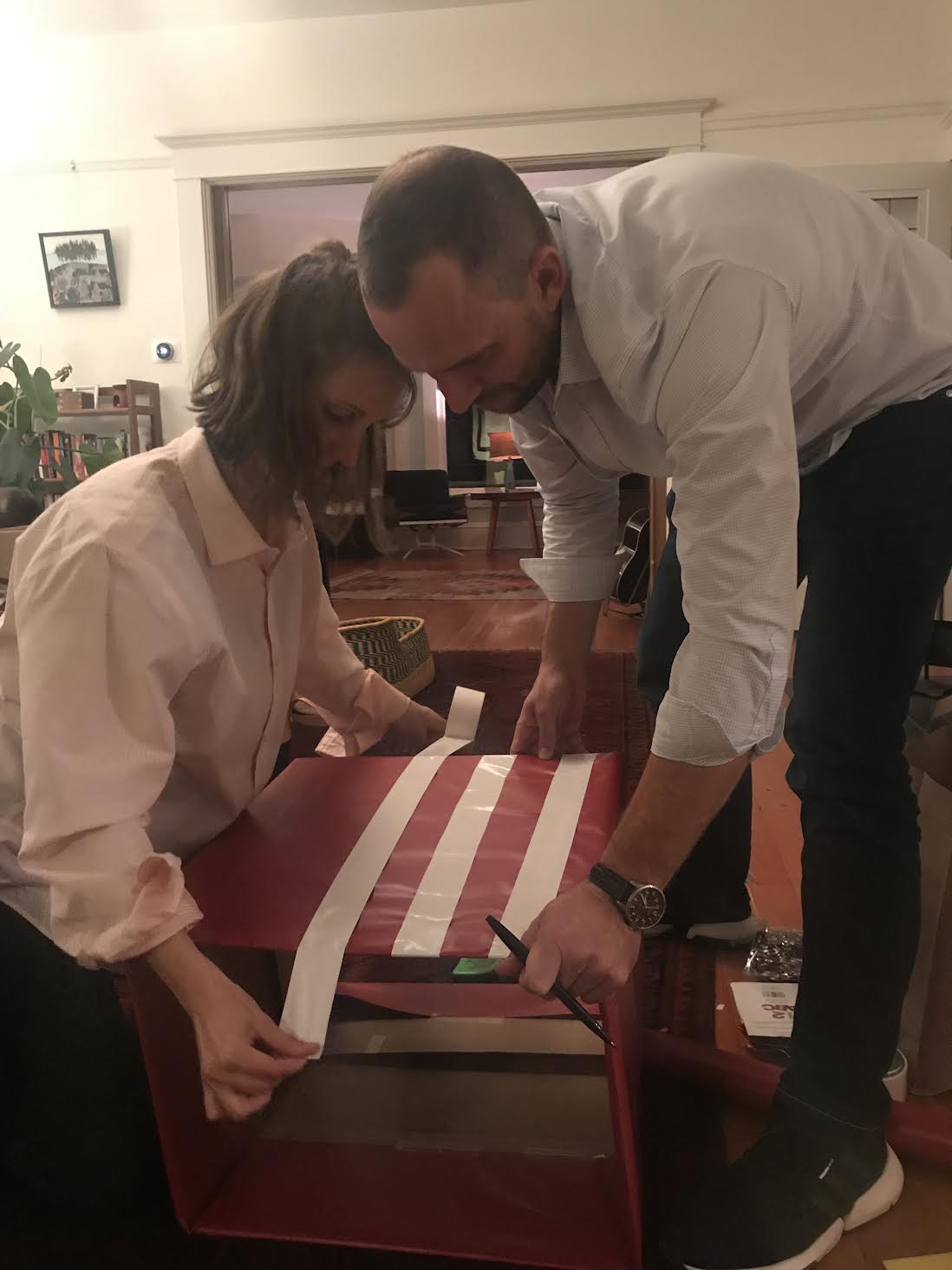 Nadja suggested measuring the tape distance to get it perfect– and that's why she's my kinda girl.  She knows how to execute and get it right!  My brother, on the other hand, insisted he could "eyeball" it and get it right.  On cue, Nadja and I both did the *eyeroll + sigh.  In full disclosure, he, um, did get it perfect.  Just eyeballing.  These 2 made a pretty fantastic Team Duct Tape Wrap!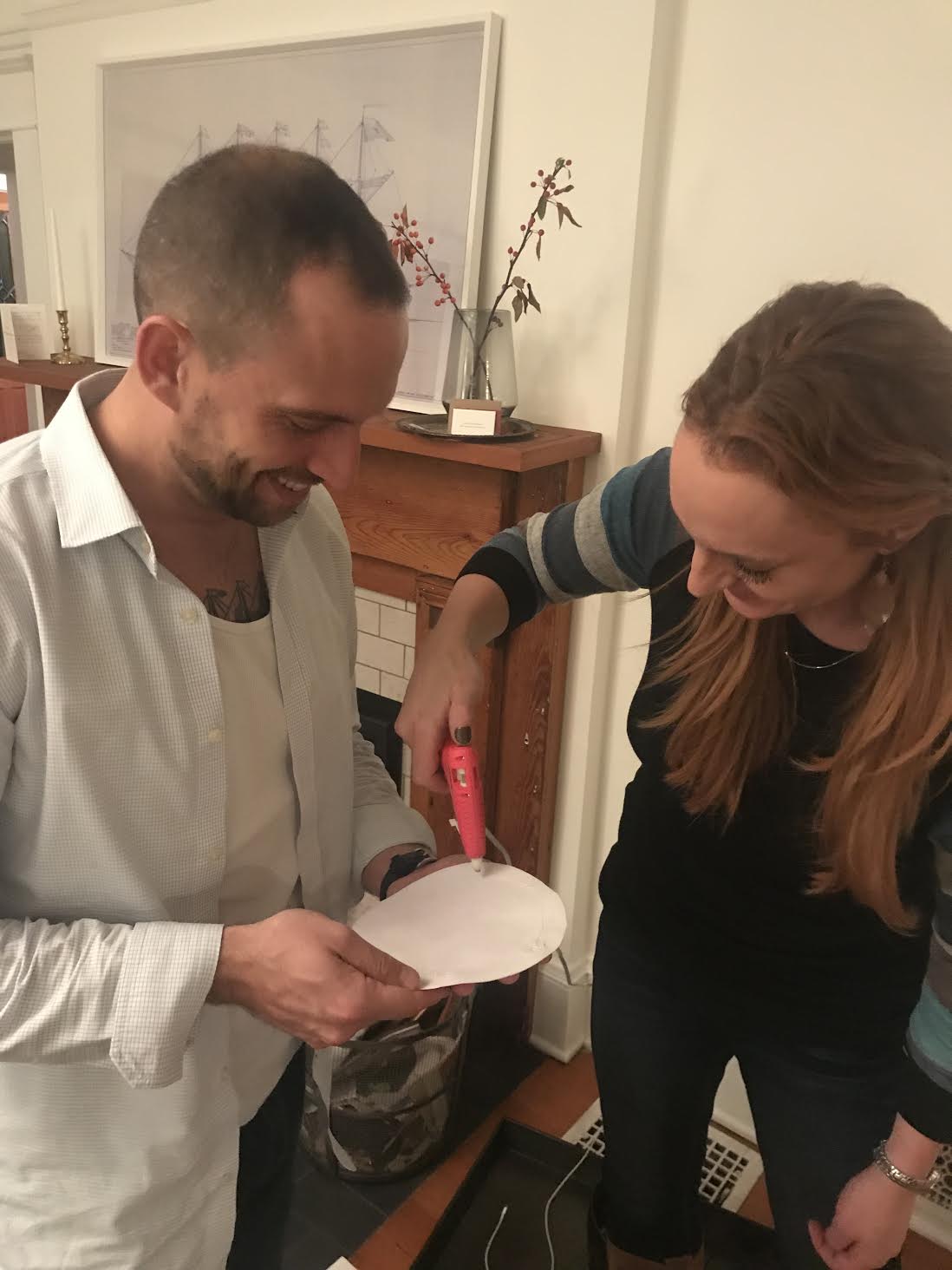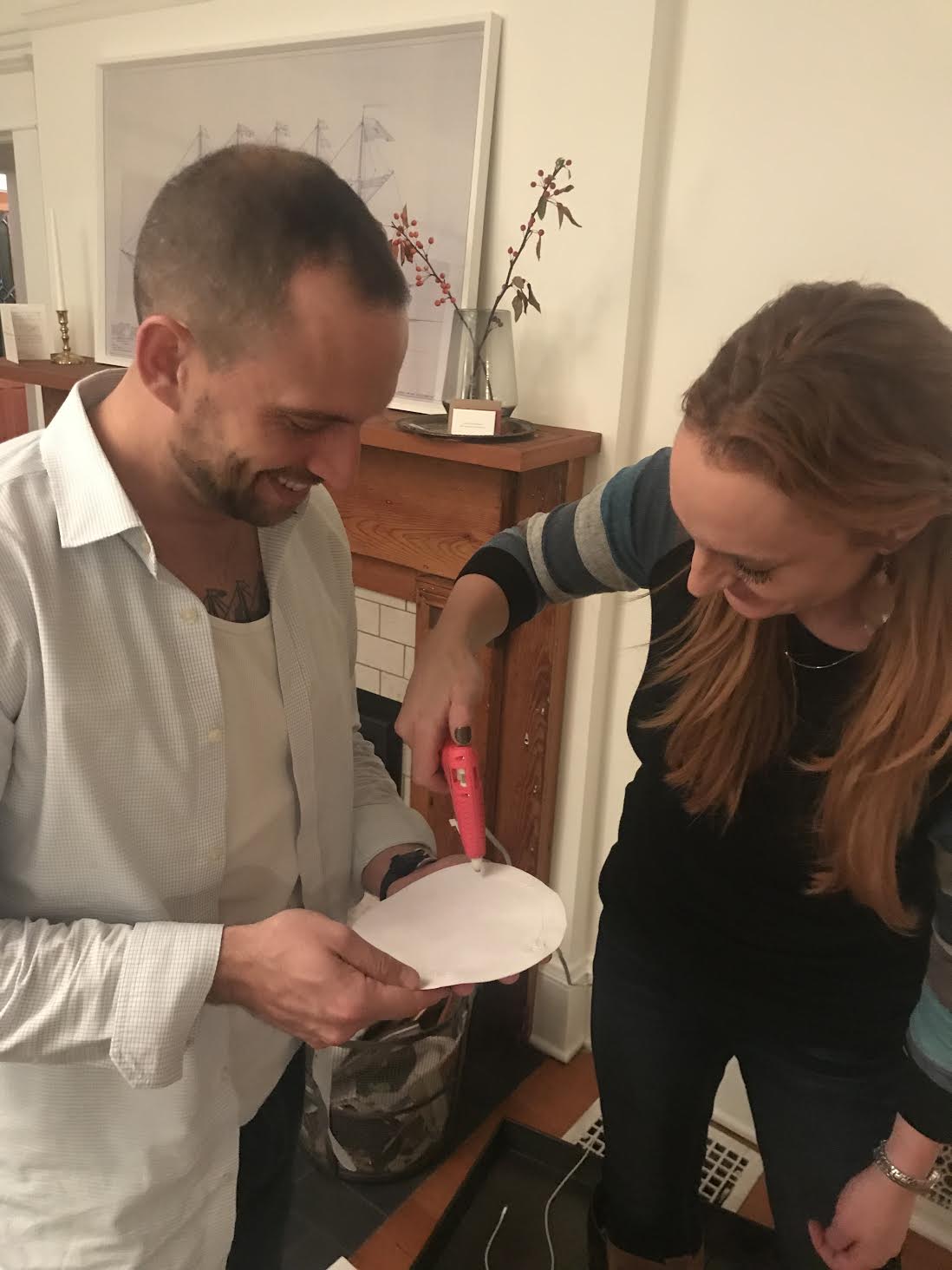 And this is what a brother/sister duo looks like bonding over glue.  Or is it the glue that bonds us?  Binds us?  By the way, that hot glue gun is addicting!  It's so much fun and it was like $4.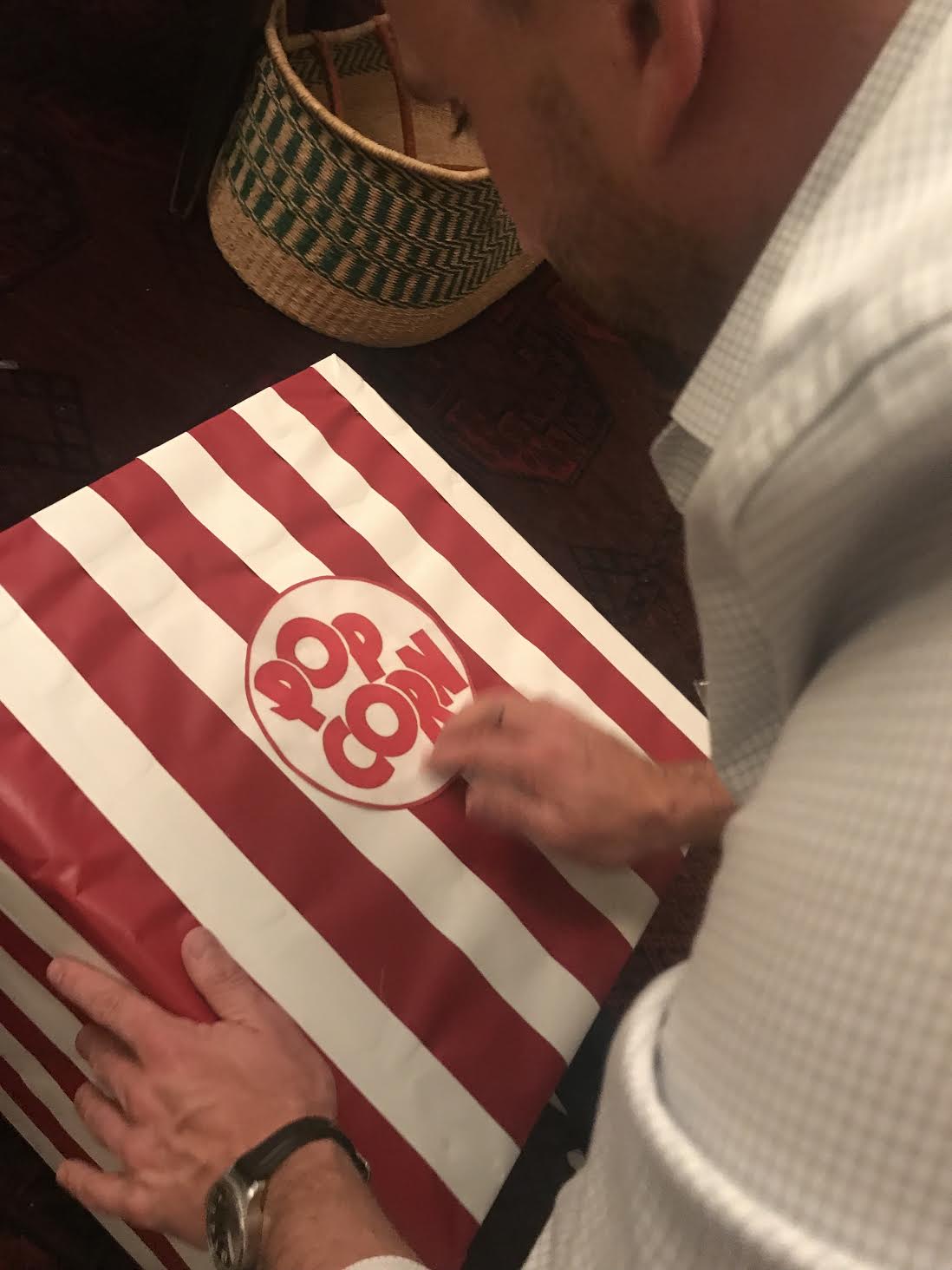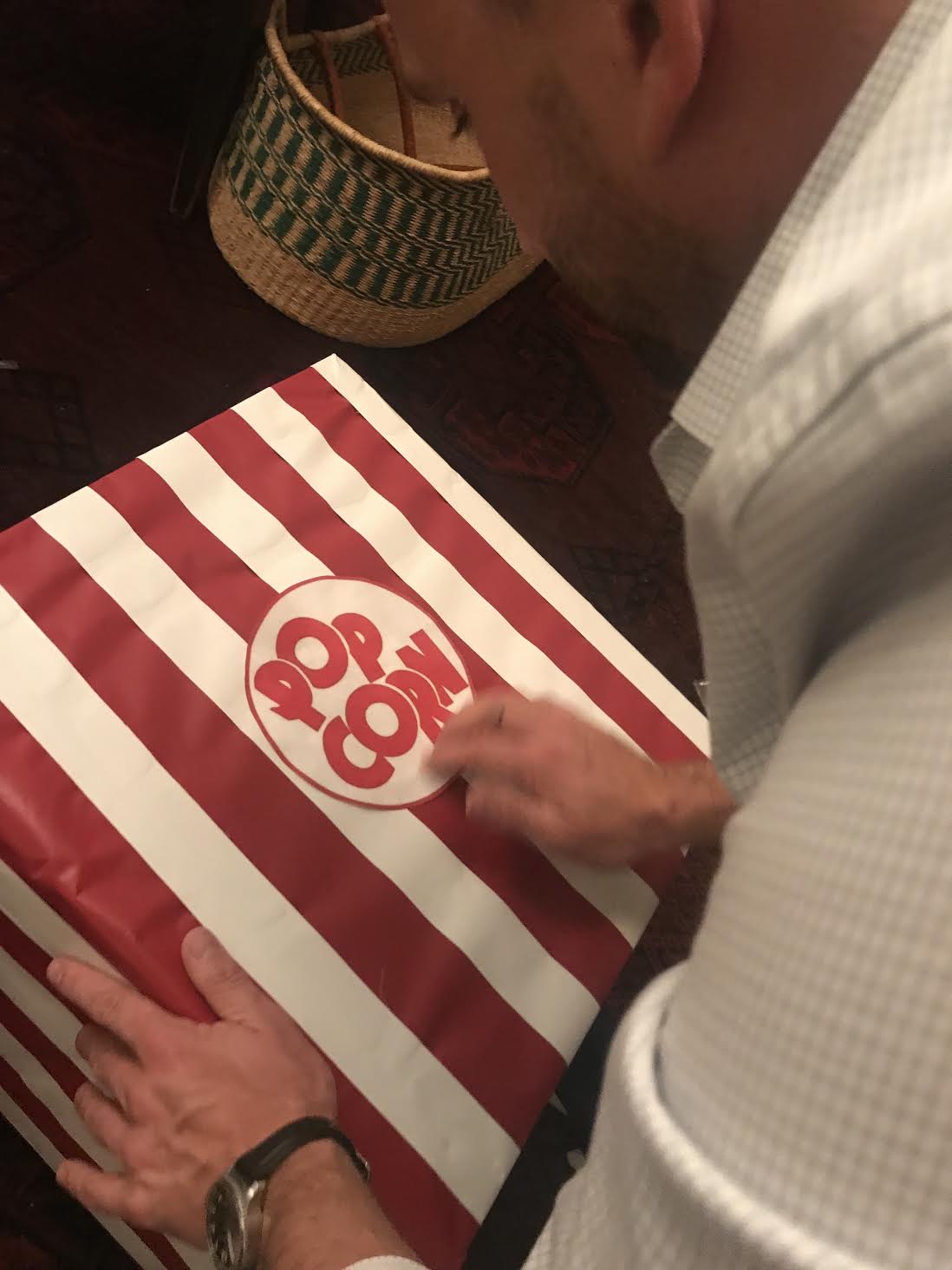 We printed the popcorn logo/label, cut it out into a circle and then glued it onto the center of the Box.  Fancy!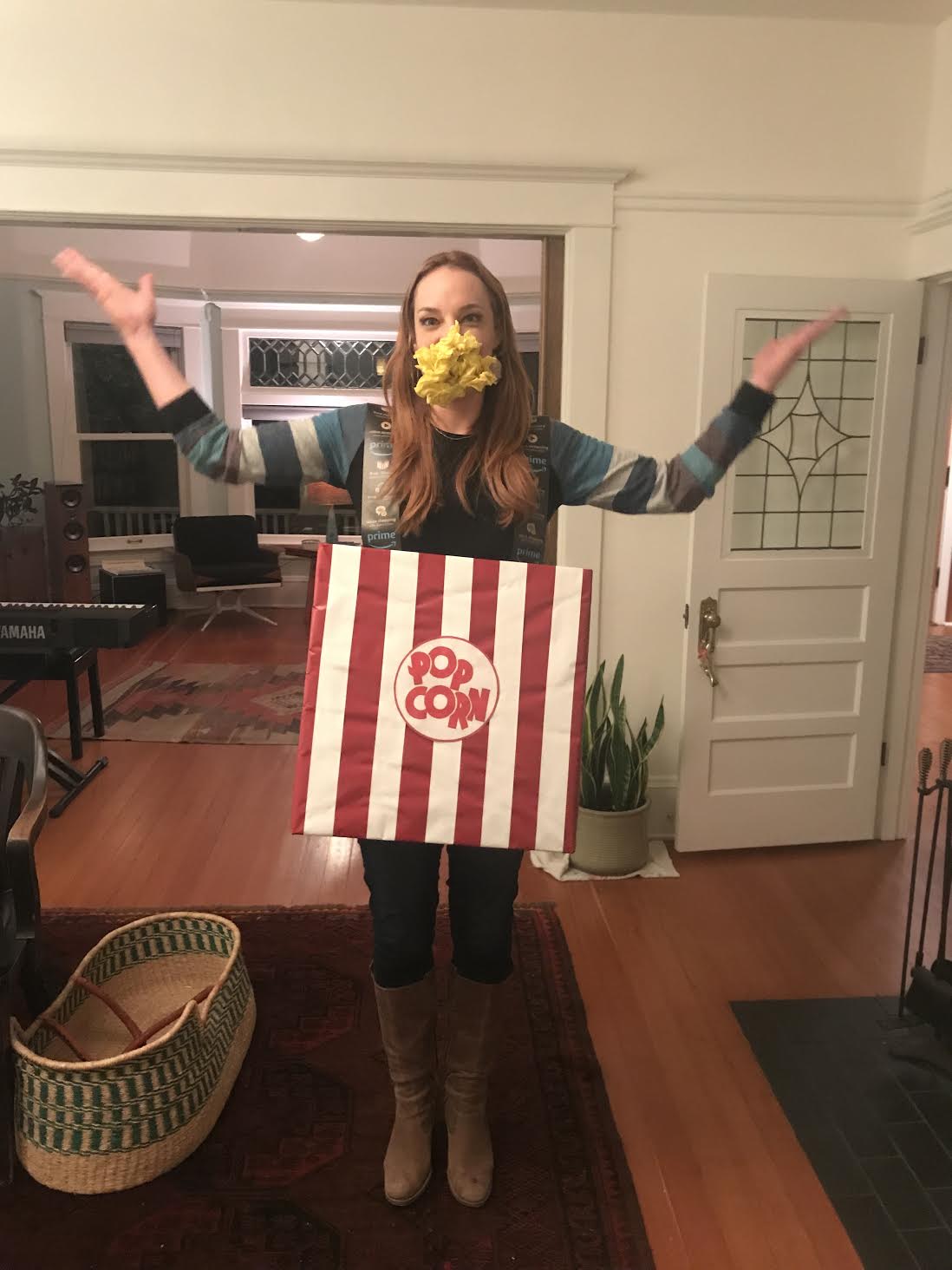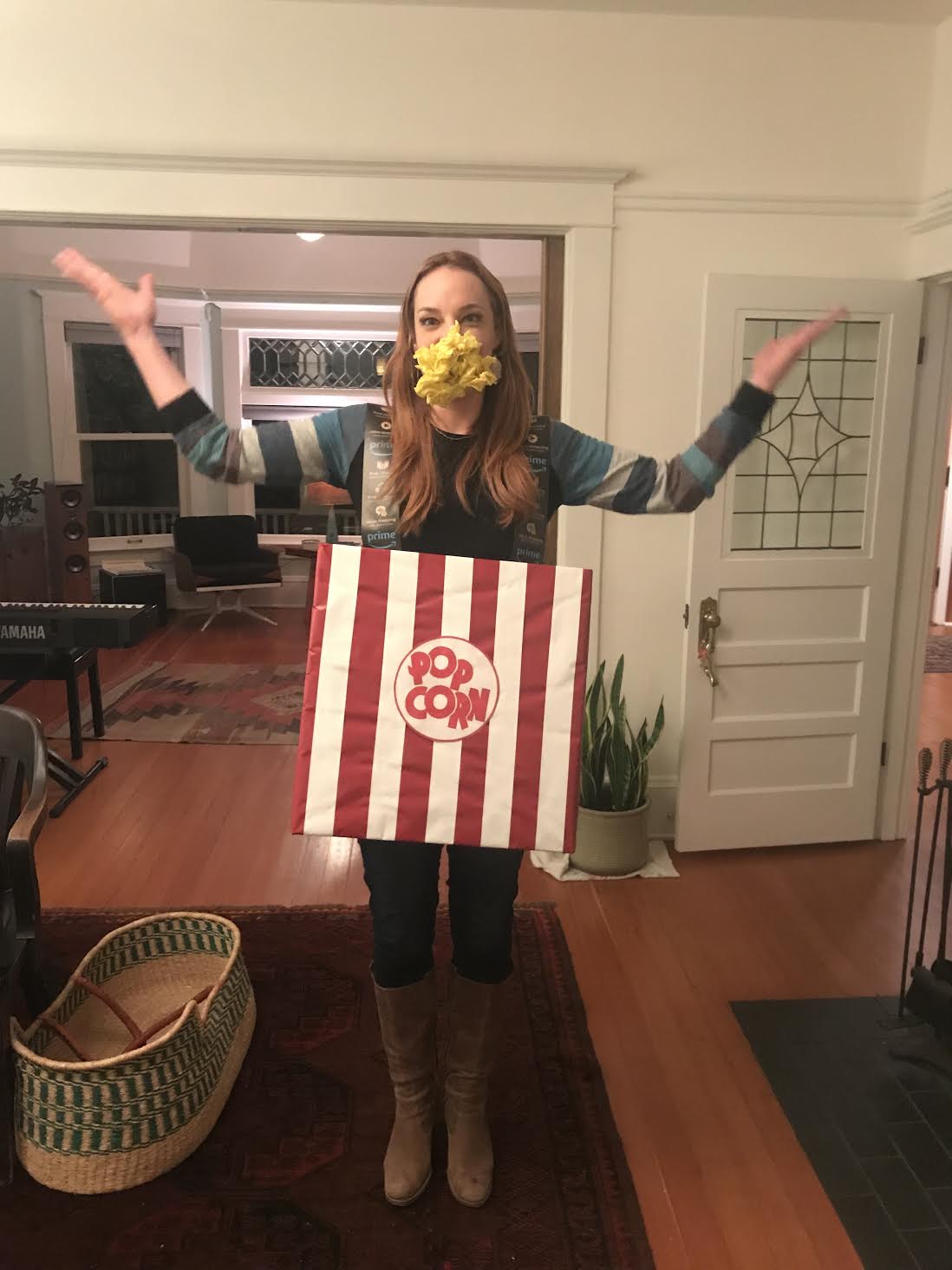 This is me after another glass of wine (or 2) and realizing that this whole Boxtume thing is actually turning into something cool!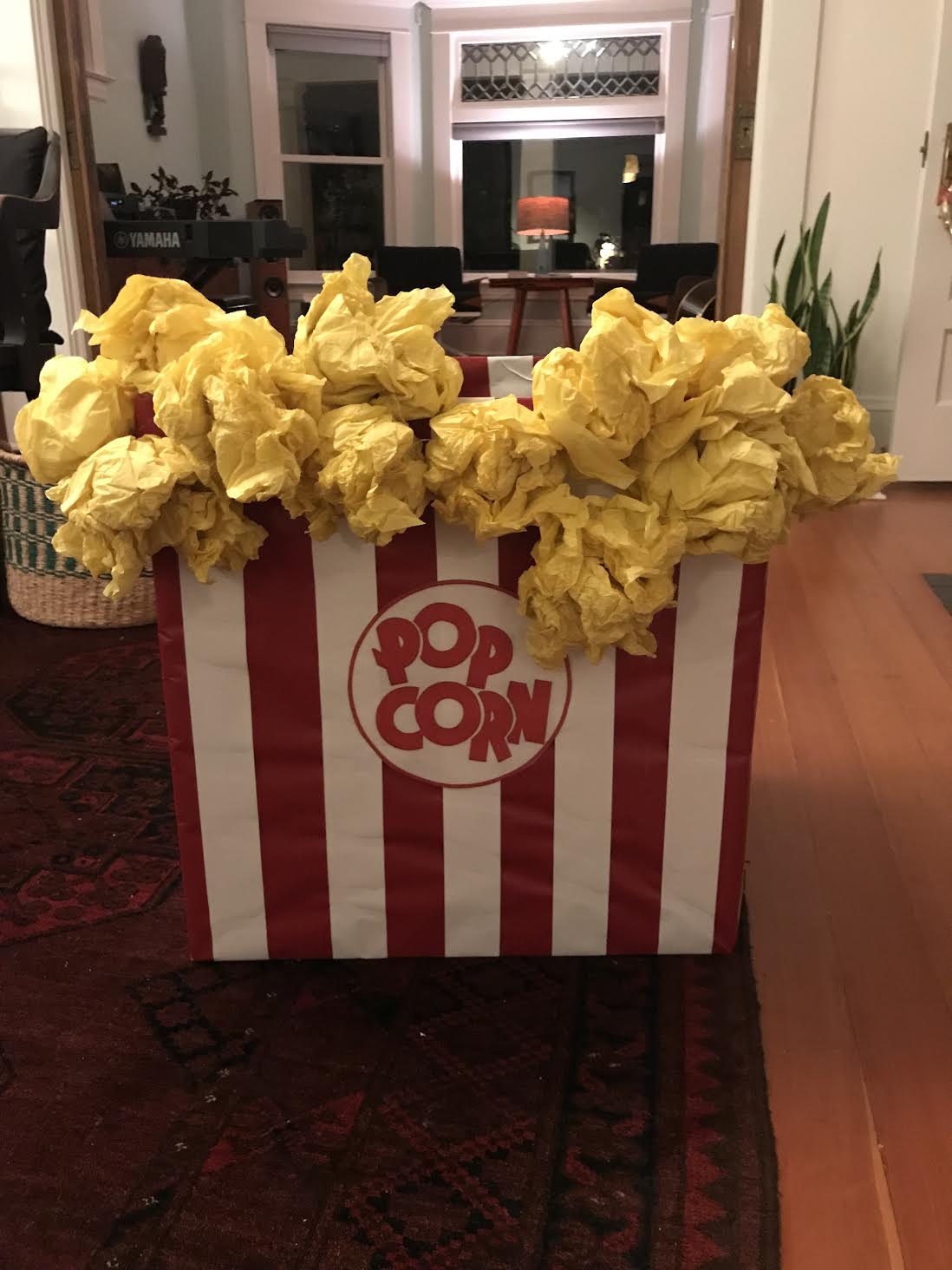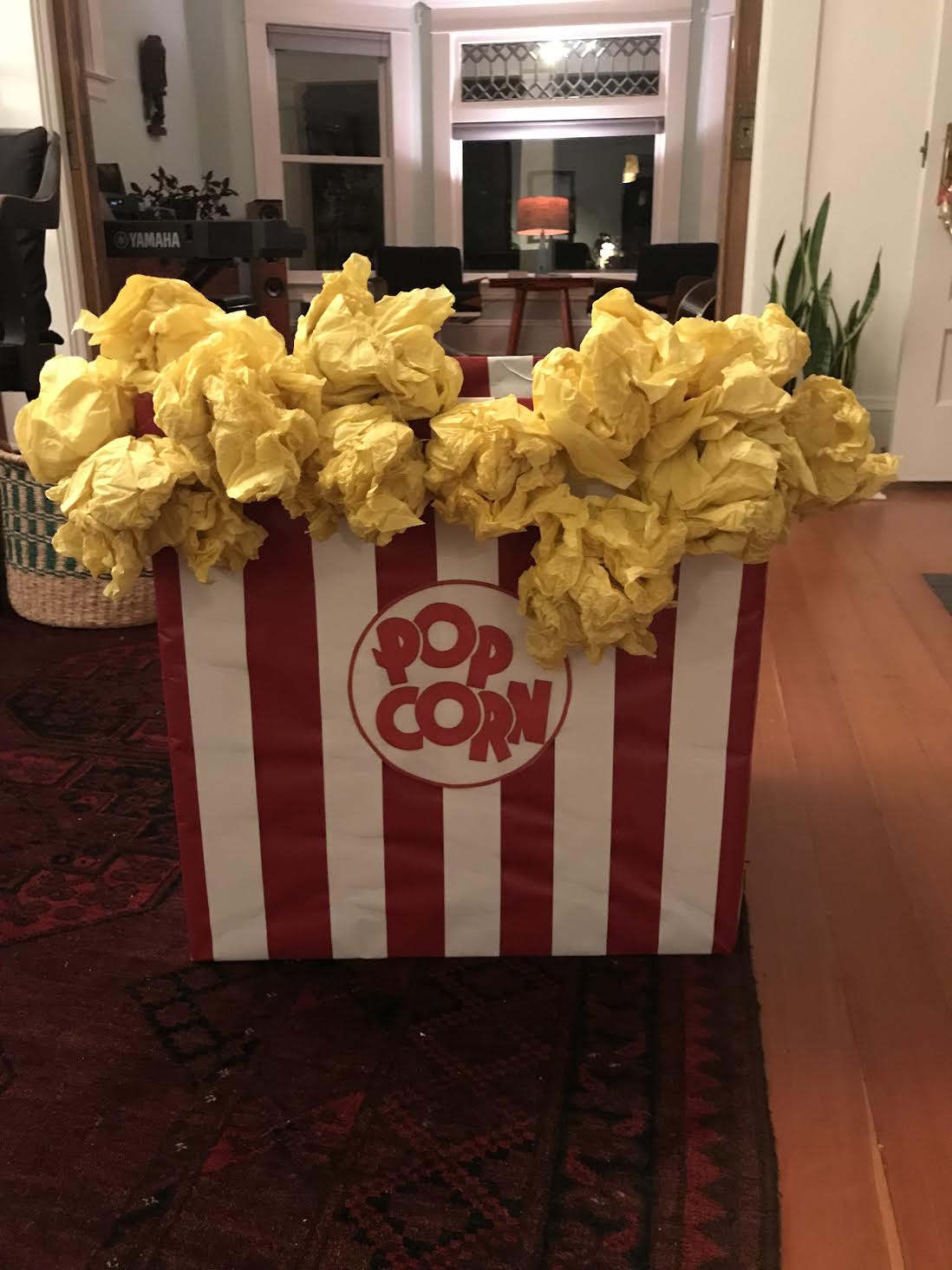 Who knew that some balled up yellow tissue paper could look like real popcorn kernels!  Almost good enough to eat.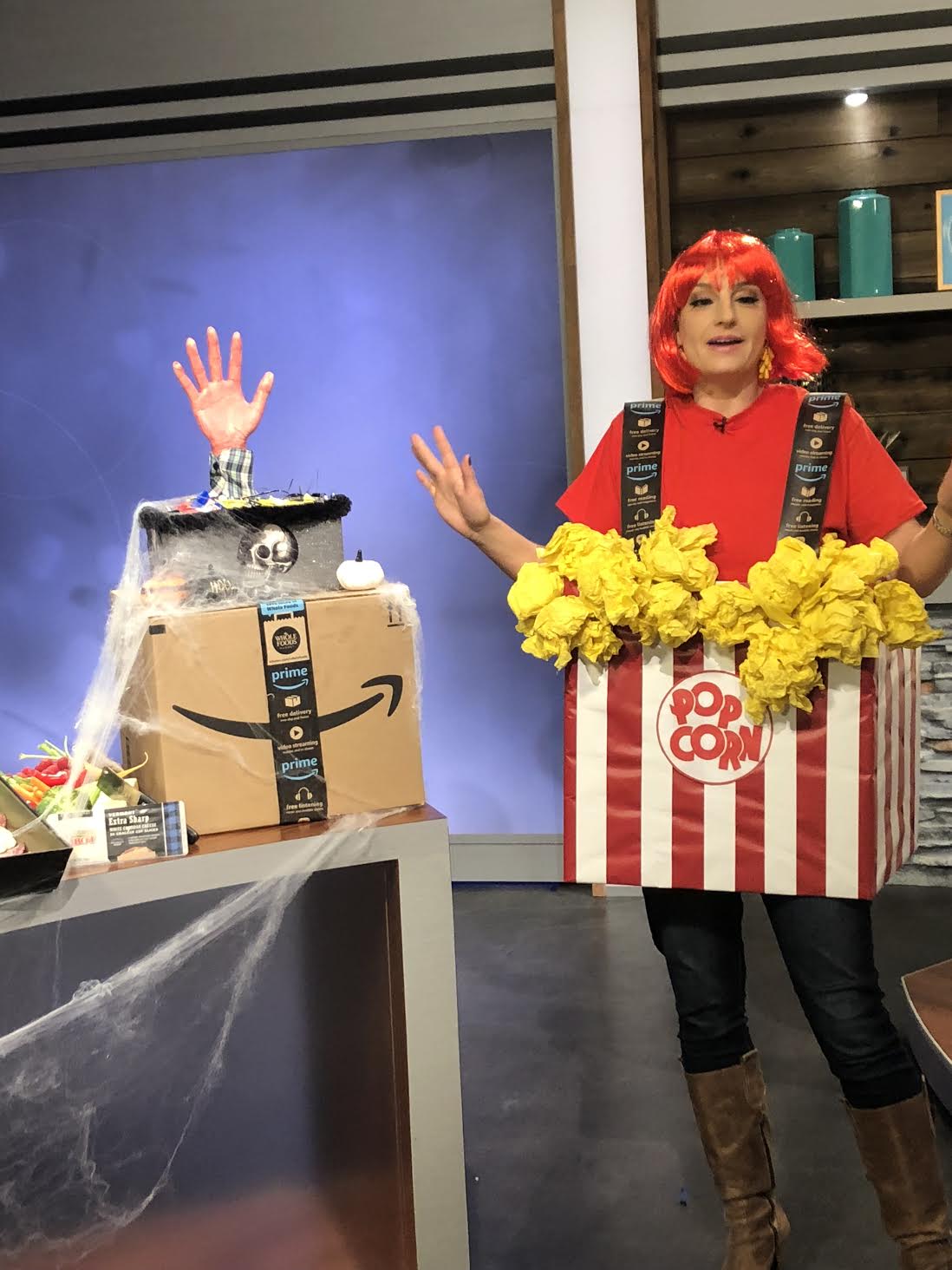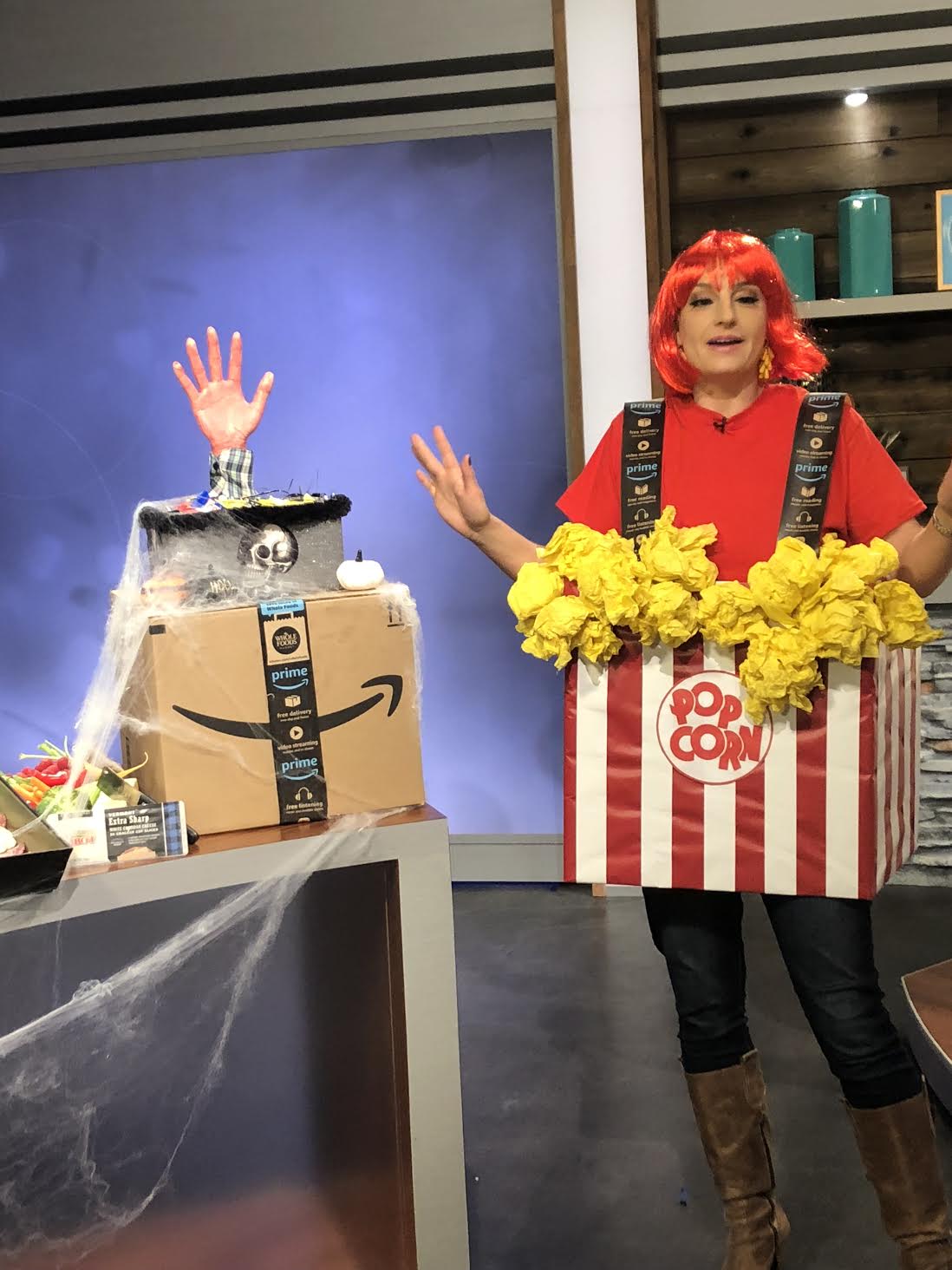 In full display, on set, getting handsy!  See that fun grab bag of candy?  I did that with an Amazon Prime box too!  Here's what it looked like at the start….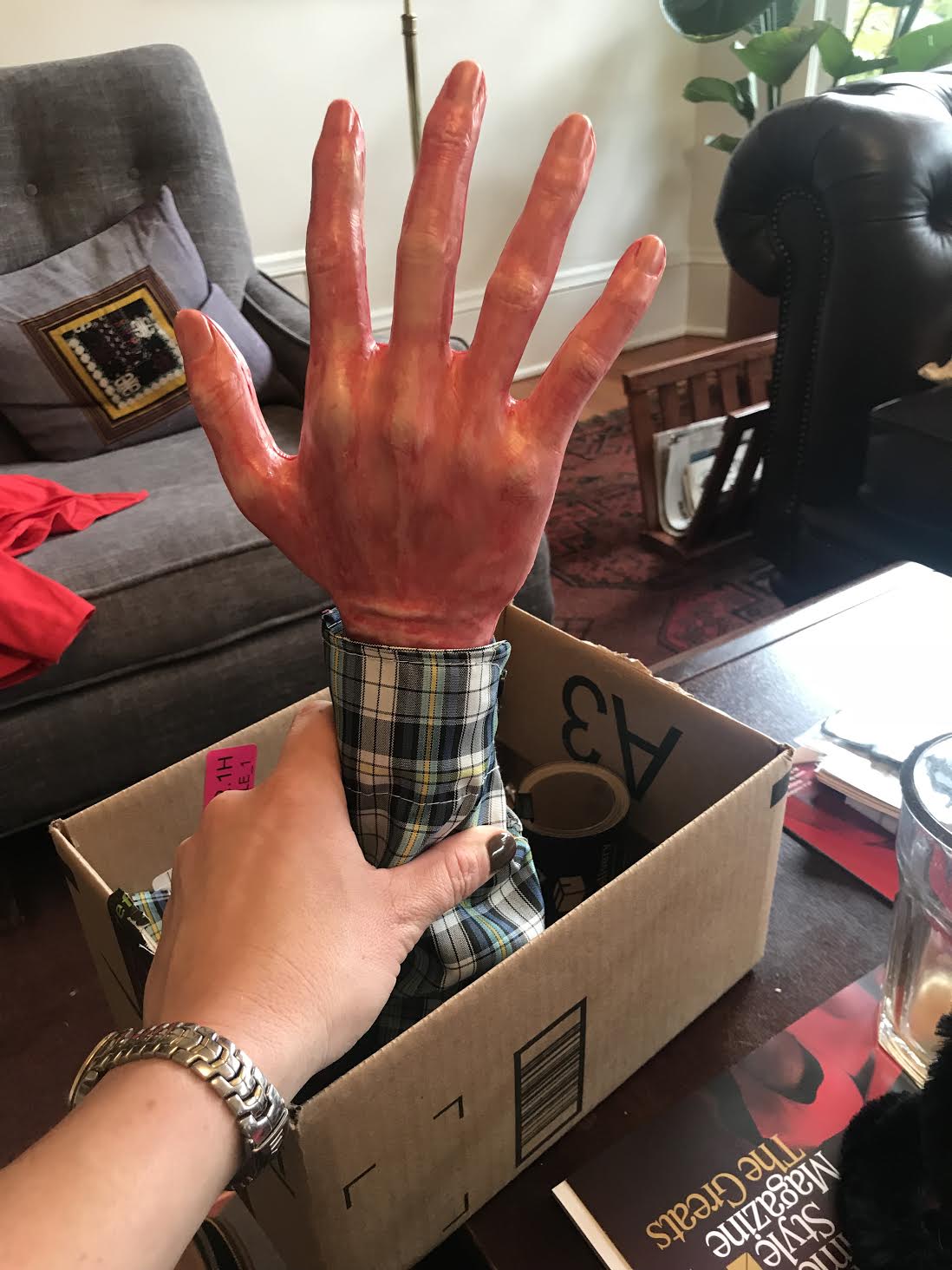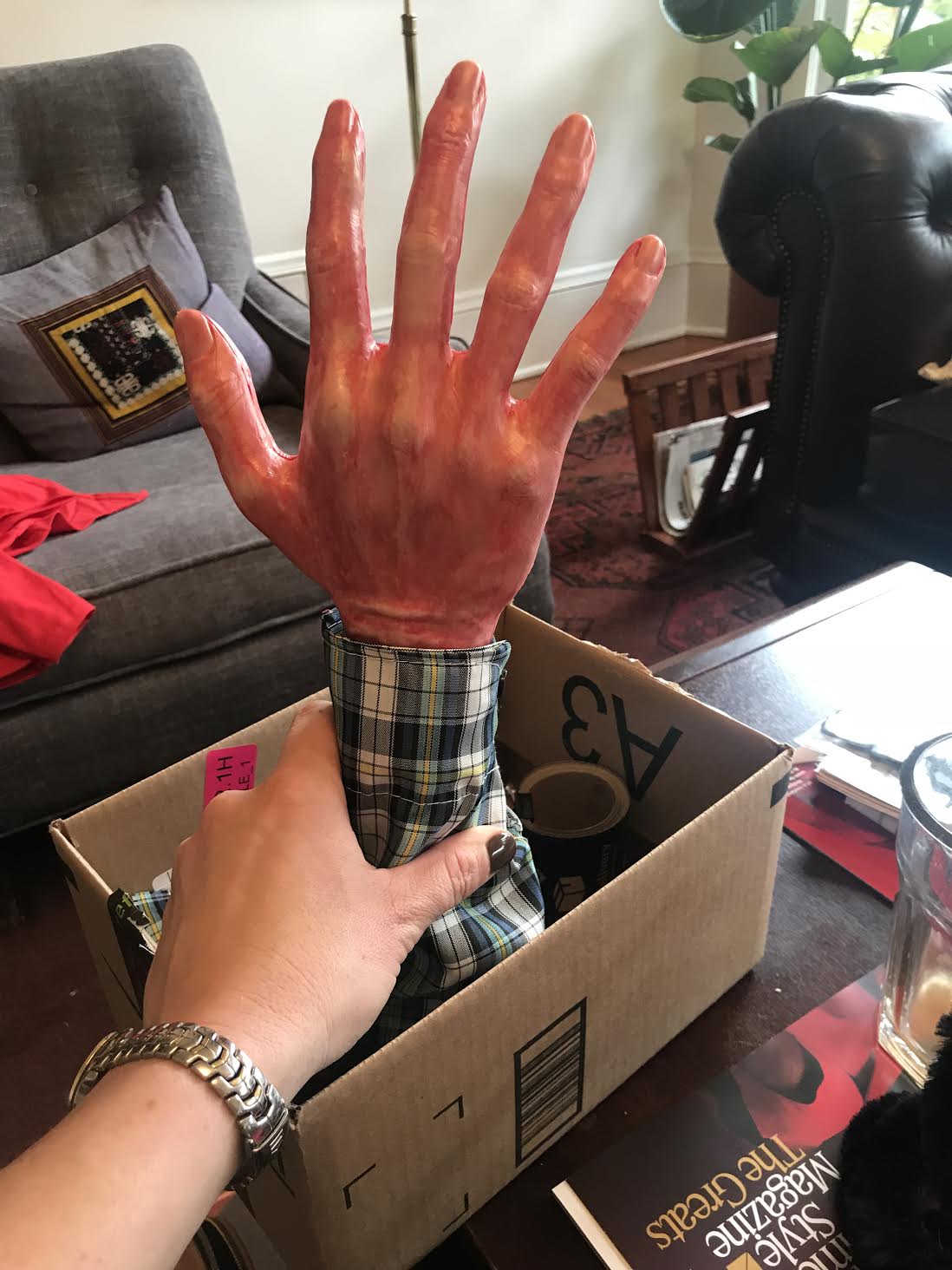 Then, I wrapped the box in cool paper, glued that arm down, added some flair with a little furry edge and a skull sticker.  Add some tinsel and some candy…..Done!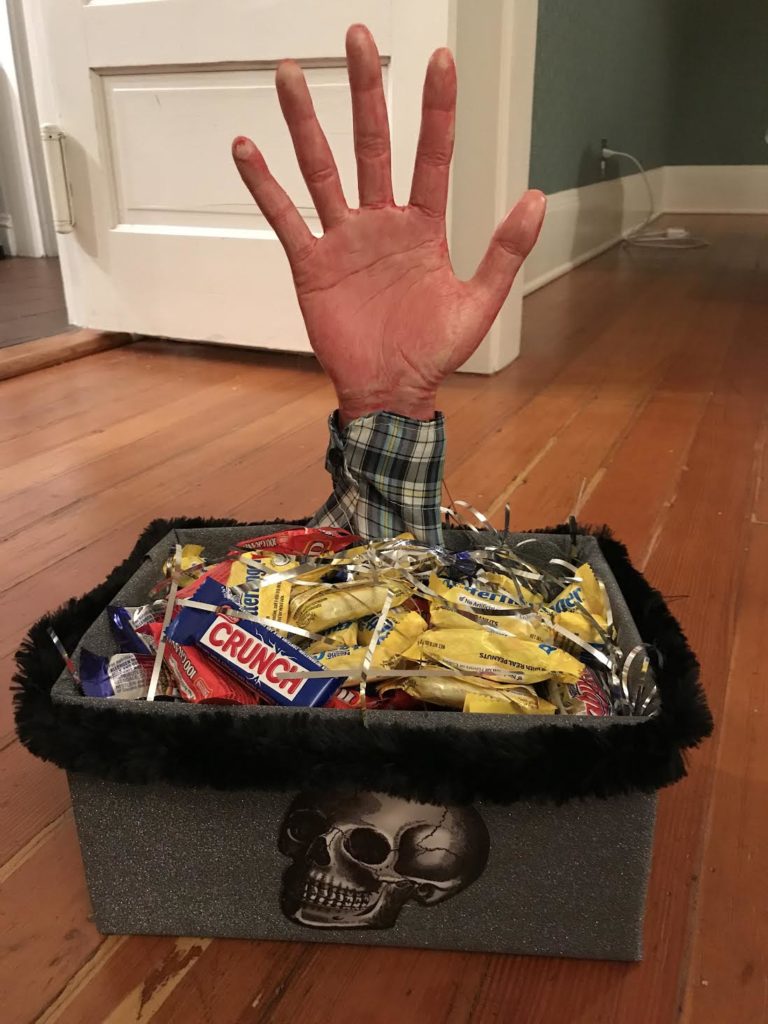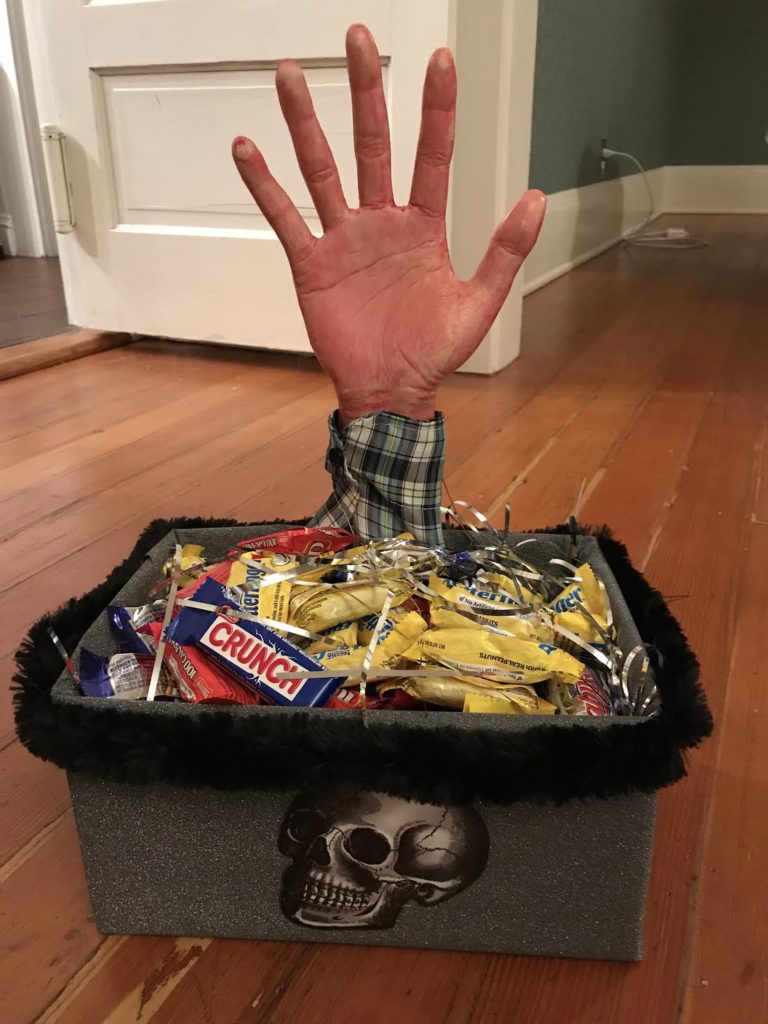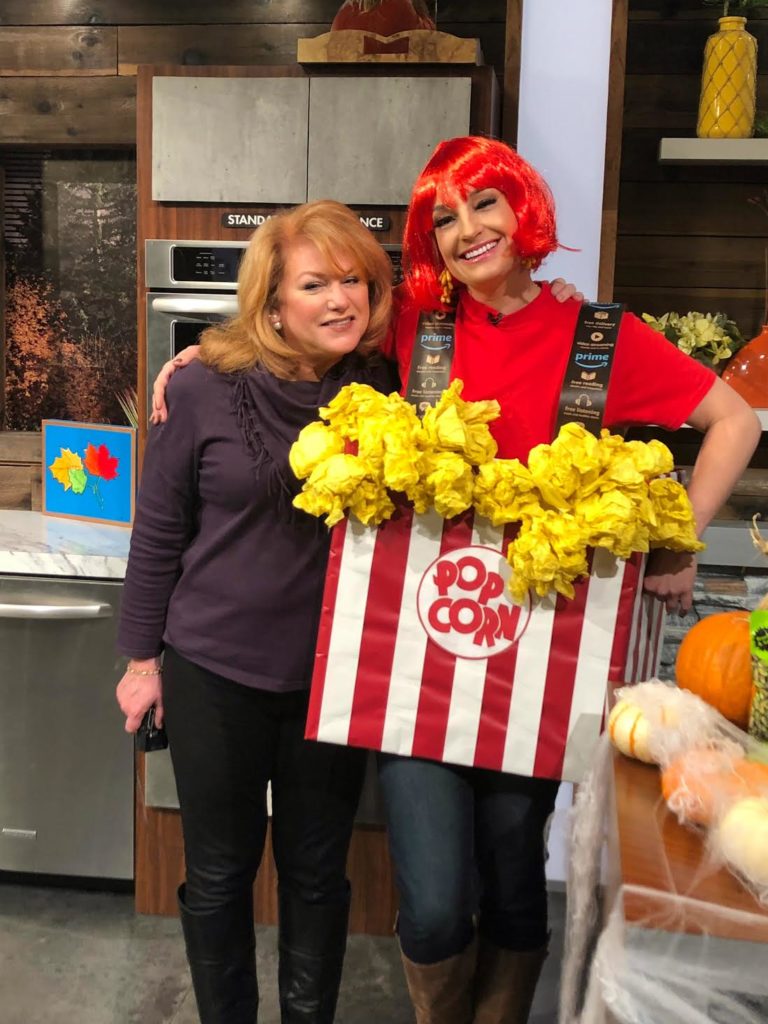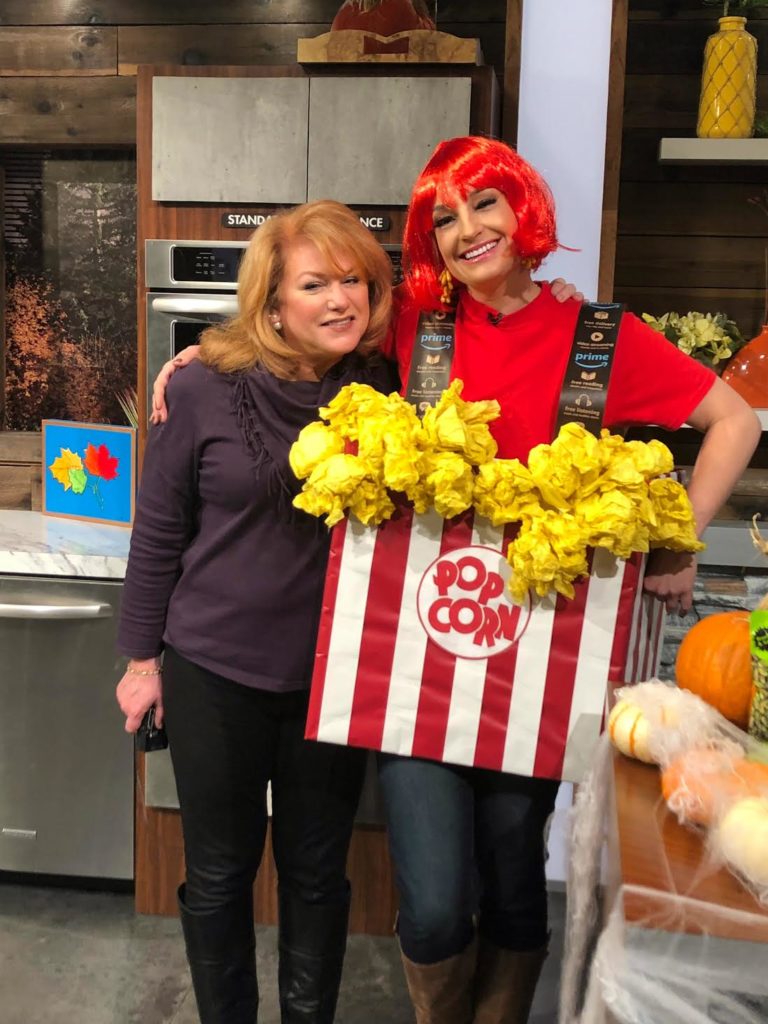 Boxtume Success!  Now, what to make NEXT year…..
Be sure to check out Amazon.com/PrimeInsider for more ideas!
*The TV segment on AM Northwest was sponsored by Amazon, but all opinions are my own.  Thank you for supporting the companies that keep bread on Parker's Plate!