When I share my low-carb lifestyle with people, I often get asked, "Don't you get tired of bacon?" The short answer is, NO.
Bacon makes my life better. And it makes everything more delicious. I've become a total bacon snob after experiencing the utter delish from Burgers' Smokehouse. I mean, between the Steak Bacon, the Cajun bacon and Country Peppered Bacon, I've practically died and gone to Hog Heaven. This little piggy is a very well fed girl!
Jalapeño poppers are a slam dunk when it comes to an easy appetizer or party snack that totally fits with low-carb living– whether you're doing Atkins or LCHF (low carb high fat). My original popper recipe was published in my "Eat Rich, Stay Skinny" cookbook. So, inspired by a picture on the LCHF Facebook group page, I added some chicken tenders to the mix. There are a couple steps involved, but it's super easy.  Trust me, they're worth it.  These are the perfect snack for your Superbowl party! I made them for dinner and was planning on taking the leftovers for lunch today, but there was nary a nibble of bacon left. #baconhoarder
Take a pack of chicken tenderloins (or cut chicken breasts into strips) and dry them off with paper towels.  (They cook evenly if they are patted dry.)  There are usually 8-9 strips in a package of tenderloins.  Then season with a little paprika and Montreal Steak seasoning.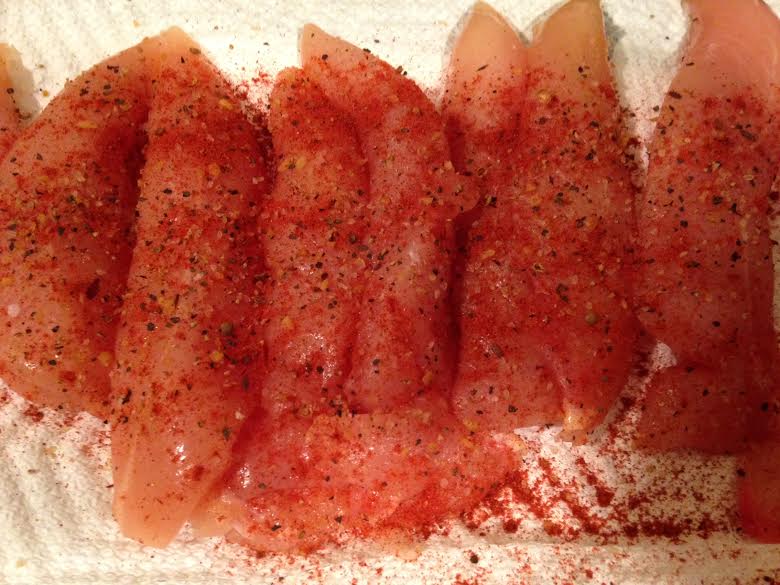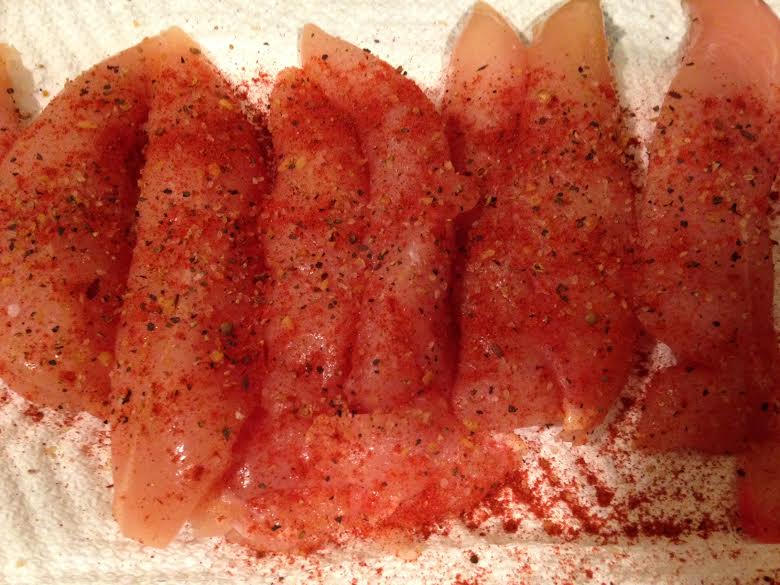 Then, cut the stem off of 4 jalapeños, slice them in half and scoop out the seeds and membranes. Fill them with full-fat cream cheese and top with some chopped chives.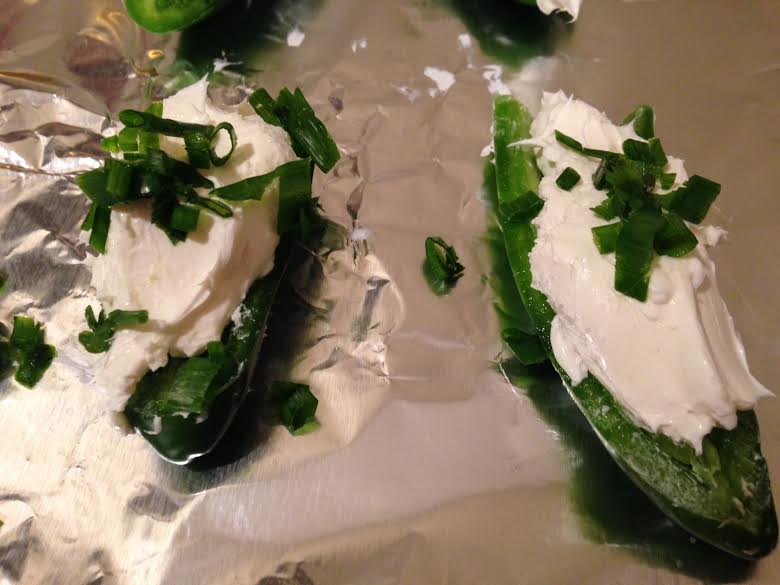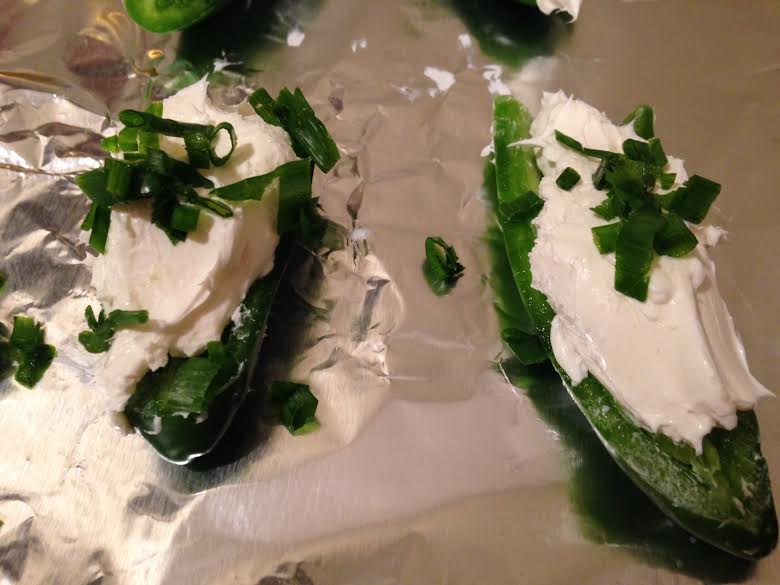 Place a stuffed jalapeño on top of each chicken strip and sprinkle with a pinch of kosher salt.
Wrap a strip of bacon around each chicken popper.  (I used Burgers' Country Peppered Bacon and it was sublime.)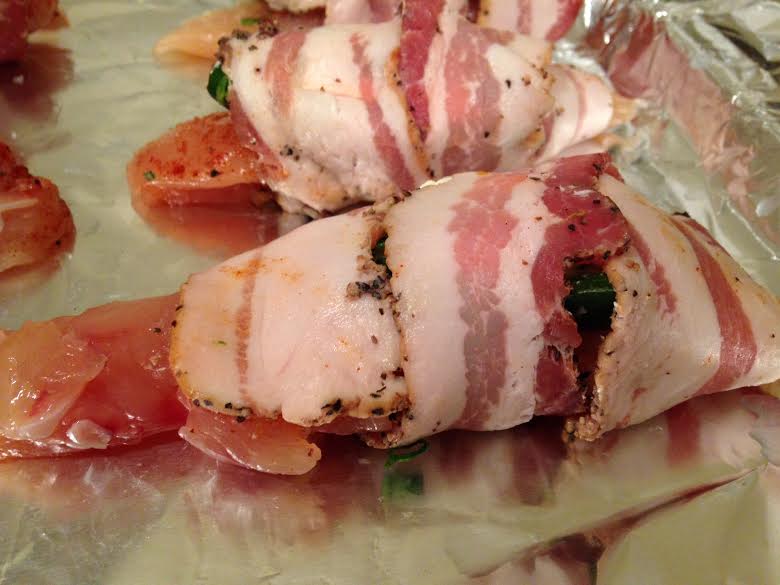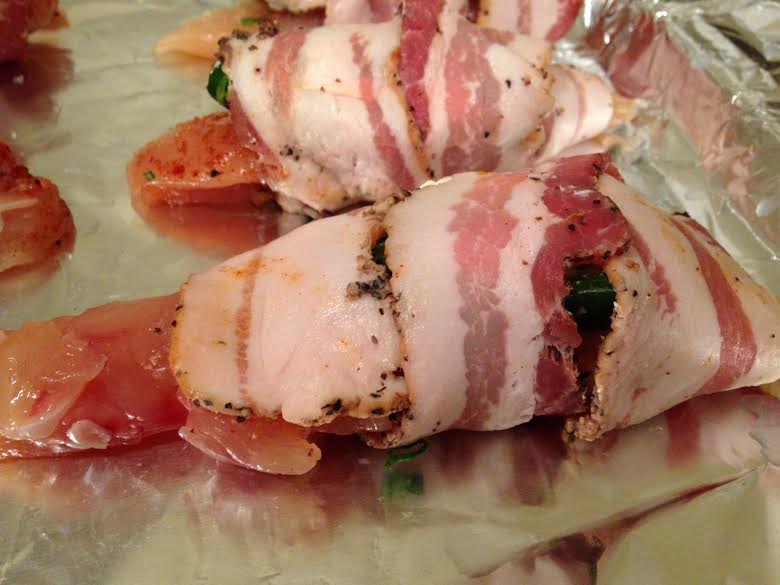 Line up your chicken poppers on a baking sheet and put in the oven at 375 for 35 minutes.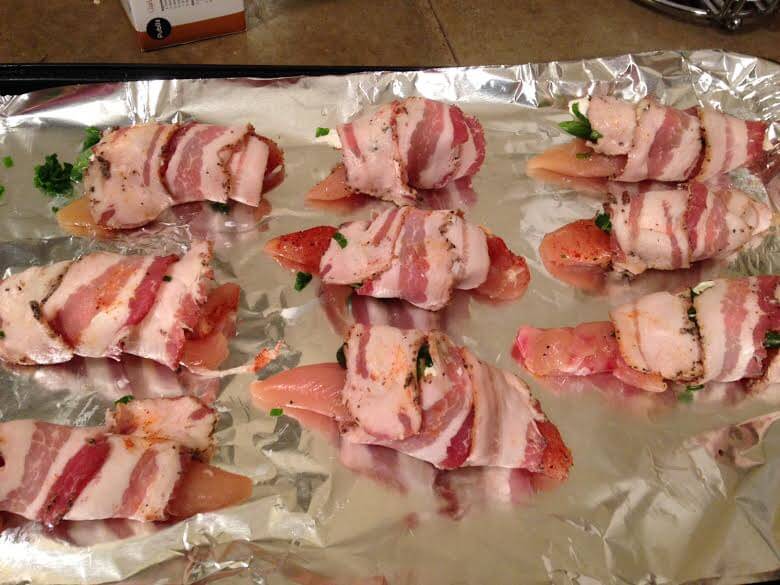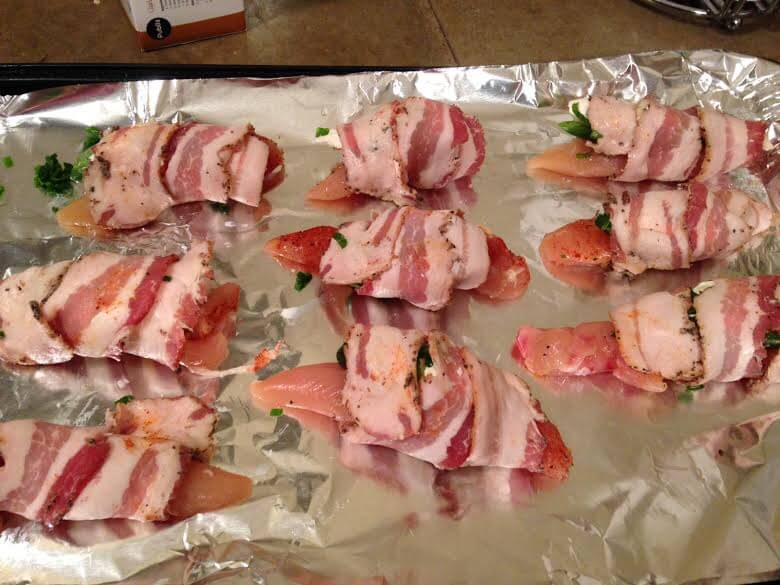 Turn the broiler on for 2 minutes and brown the top of the popper bombs.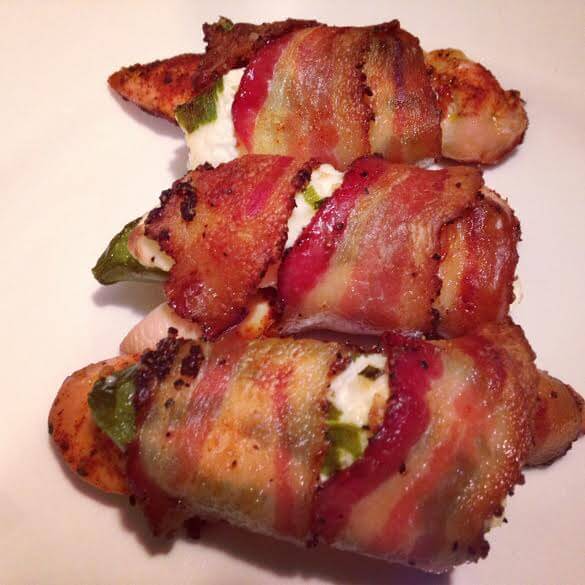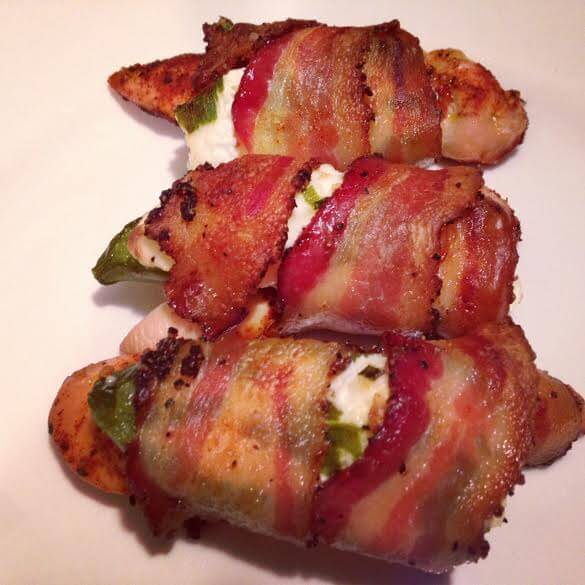 If you can't handle the spice factor, you can always substitute out the jalapeños for sweet peppers, but I don't recommend it. Once you bake the jalapeños, the heat factor is reduced significantly. And DON'T use low-fat or fat free cream cheese. It will get watery and yucky.
It's pretty much the perfect bite.  Tender chicken, creamy, melty, popper with the peppery, salty crunch of bad ass bacon.  OMG.  GETINMYMOUTHRAWTNOW.
Low-Carb OMG Bacon Wrapped Jalapeño Popper Chicken Bombs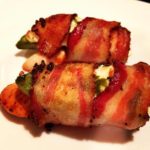 Print This
Ingredients
1 package of chicken tenders/tenderloins

4 jalapeños (stems cut off, sliced in half lengthwise with seeds and membranes scooped out)

4 oz of full fat cream cheese (about 1/2 a pack)

8 strips of bacon

2 Tb chopped chives

1 tsp Montreal steak seasoning

1 tsp Paprika

pinch of kosher salt
Instructions
Preheat oven to 375.
Dry off chicken tenders with paper towel and sprinkle them with paprika and Montreal Steak seasoning (about a tsp of each for the whole pack).
Stuff cream cheese into the jalapeños and top with chopped chives.
Place each stuffed jalapeño on top of a chicken strip. Sprinkle top of jalapeños with a pinch of kosher salt.
Wrap each "popper bomb" with one slice of bacon.
Put popper bombs on a foil lined baking sheet.
Bake at 375 for 35 minutes.
Turn broiler on high and broil popper bombs for 2 minutes to crisp up the bacon.