I've been on a spicy, Thai kick all week! Meet Spicy Red Curry Shrimp and Jumbo Scallops with Shiitakes. Whenever I post a recipe, I have to check whether it's a dinner, low carb, gluten free, etc….The big check here is the 'GET IN MY MOUTH RAWT NOW' category. OMG. It's pretty freaking awesome. JP loved it and I know you will too!
I get my red curry paste at the Dekalb Farmers Market here in Atlanta, but you can find red curry paste in most health food stores or Asian markets. It is NOT the same as Sriracha, folks! This is the kind I love:
The great thing about this sauce is that you can make it 100% vegetarian because the shiitakes stand on their own….OR, you can do any protein– sometimes to save on time, I just chop up a rotisserie chicken, or cut up some leftover pork chop and add it to the sauce– it's so versatile. Make sure you do not overcook the shrimp and scallops. My foolproof cooking technique is to use a combination of butter and canola oil on medium/high heat. Make sure the shrimp and scallops are not wet when you put them in the pan. When you lay down the shrimp and scallops, leave them alone! Let them sear. Medium size shrimp only need 2 minutes on either side. The scallops need a bit more butter in the pan to get that gorgeous caramelization. Because they are jumbo, cook them on one side for 3 solid minutes (no moving around in the pan) and then 2 minutes on the other side. I use tongs to flip the shrimp, but a spatula to flip the scallops because you don't want to break open that delicate skin and let all the moisture out. BOOM. Perfectly cooked.
Make sure you use FULL-FAT UNSWEETENED coconut milk. NOT the kind that's sold in the dairy section, like Silk. You'll find these cans by the soy sauce and Asian pantry ingredients. It's also super easy to double the sauce, if you're cooking for more than 3 people.
Spicy Red Curry Shrimp with Jumbo Scallops and Shiitakes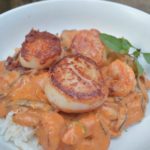 Print This
Ingredients
2 jumbo scallops per person

1 1/2 pounds of medium-sized shrimp peeled and deveined

Curry powder and ground ginger (for shrimp)

3 garlic cloves chopped

4 Tb butter, 3 Tb canola oil (divided for sauteing sauce, shrimp and scallops)

2 cups shiitake mushrooms, stems removed, sliced

2 Tb red curry paste

1 can full fat, unsweetened coconut milk

1 Tb fresh ginger (I love the tubes of Gourmet Garden Ginger in the produce aisle)

1 serrano or jalapeno pepper chopped

1 Tb soy sauce or Tamari

1/2 lime juiced and zested

pinch of kosher salt

2 Tb brown sugar

Thai basil chopped or regular basil and/or cilantro

Chopped cashews

Bean Sprouts (optional)

Jasmine rice or rice noodles
Instructions
For the Sauce:
In a large saucepan, heat up 1Tb butter with 1 Tb canola oil and saute chopped fresh garlic for about 30 seconds until fragrant on medium heat.
Add shiitakes and jalapeno or serrano pepper and continue sauteing on medium heat until water is released from mushrooms, about 5 minutes.
Add red curry paste and stir to combine, letting the curry paste blend into the garlic and mushrooms. Continue stirring for another 2 minutes.
Add coconut milk, ginger, soy sauce or Tamari, brown sugar, lime juice/lime zest, and salt.
Simmer on low/medium heat until sauce thickens, about 15-20 minutes.
For the Shrimp:
Dry off shrimp after peeling and deveining. Sprinkle with ginger and curry powder.
Heat up a frying pan (non-stick, cast iron or grill pan) with 1 Tb butter and 1 Tb canola on medium/high heat until butter gets a bubble.
Add shrimp to pan and DO NOT MOVE AROUND. Let shrimp sear in the heat for 2 minutes and then flip. Continue cooking on the other side for another 2 minutes. Remove from heat and set aside on a plate.
For the Scallops:
Remove the little "foot" from the side of each scallop. It looks like a small rectangular patch that sticks out from the side of the scallop.
Dry off each scallop and season with a bit of kosher salt.
In a non-stick or cast iron or grill pan, heat up 2 Tb butter and 1 Tb canola oil over medium-high heat. When butter is bubbly, lay scallops down in a pan and DO NOT MOVE. Set your timer for 3 minutes. Turn them over at the 3-minute mark and saute for another 2 minutes. The butter will give them a beautifully caramelized sear. Scallops should be slightly translucent inside when cooked to perfection!
Remove from heat and serve immediately.