I'm all about texture when it comes to fish dishes, which is why I typically add a bit ofencrusted this or nutty that to my fish.  I want some crunch to contrast the tender.
If you're dieting, look away now!  I'm not gonna lie– this dish is rich.  It ain't low carb and there are a few steps involved.  But it's soooo worth it.  A show-stopper for any dinner party.
There are basically 3 layers you're working with: The puff pastry, the spinach and garlic, and the salmon with remoulade.  Make that 4.  The whipped dijon cream makes it oh-so-decadent.  It makes a beautiful presentation when you serve the puff pastry packets cut open to reveal the gorgeous pink salmon inside with a hint of green spinach peeking out.  It's worth cheating on your diet for this!
Salmon in Puff Pastry with Whipped Dijon Cream
---
Ingredients
     Salmon wrap
        4 Salmon filets
        Puff pastry sheets
     Spinach bed
        4 cups fresh spinach
        3 garlic cloves chopped
        1 Tb olive oil
        kosher salt to taste
     Remoulade
        3/4 cup mayo
        3 Tb srirachi
        1 Tb honey
        juice from 1/2 a lemon
     Egg wash
        1 egg whisked
     Whipped Dijon Cream
        1 cup heavy whipping cream
        2 Tb dijon mustard
        1 tsp lemon juice
        chopped fresh dill (optional)
Instructions
For the spinach bed
1. Saute spinach and fresh chopped garlic in olive oil until wilted. Hit it with a pinch of kosher salt. Set aside.
2. Preheat oven to 375
For the pastry
3. Cut out rectangles of puff pastry that are larger than each salmon filet. Top puff pastry with spinach mixture– spread out evenly across, leaving 1/2 an inch on all sides of pastry. Then put salmon filet on top of spinach.
For the remoulade
4. Combine ingredients and spread a couple spoonfuls of the remoulade on top of salmon.
5. Put another rectangle of puff pastry on top of the salmon and pinch down the sides to seal the fish inside the dough.
6. Brush the top of the puff pastry salmon packets with egg wash.
7. Bake at 375 for 25 minutes uncovered. (My oven runs hot, so I lightly covered up the pastry with foil when it got browned after about 15 min.)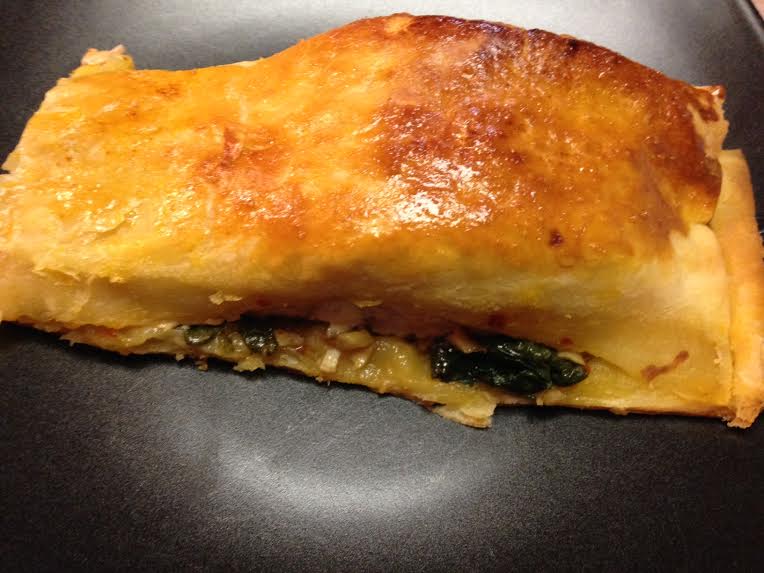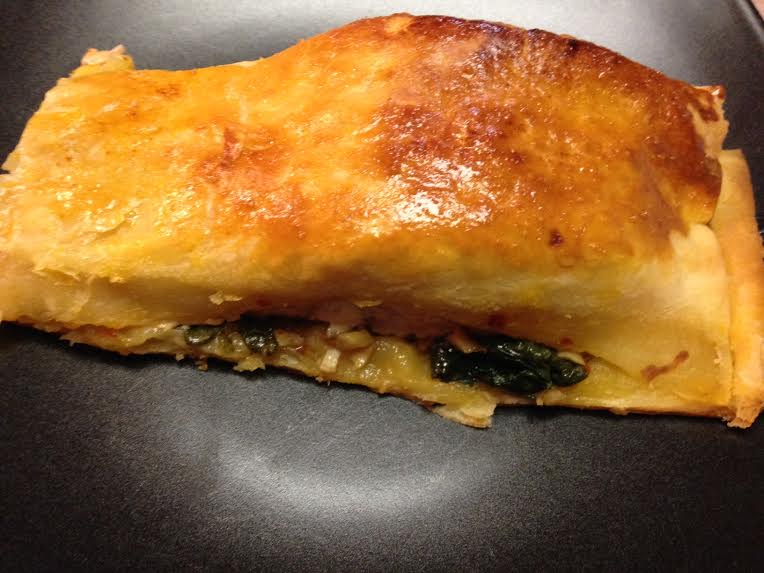 Dijon Cream
8. While salmon is cooking, stir dijon mustard into heavy whipping cream. Using a hand mixer, beat on high for about 2 minutes until peaks form. Add fresh dill if desired.
9. Top dijon cream onto salmon pastry packets before serving.