What's that old saying about feeding a man for a lifetime if you teach him how to fish?  Well, in my case, give me a chicken and I'll teach you how to stuff it….Give me a chicken with chipotle gouda cheese and you'll be getting requests for it for a lifetime, LOL!  This is one of those recipes where I tested it out on my man, JP, and he put down his fork, threw back his head and uttered something along the lines of, "OOOOOOOOMYGODPARKERTHISISTHEBESTCHICKENEVER!!!"
In the last 8 years, I have fed this man many a chicken dish, so I promise you, this one's a keeper!
Stuffed chicken sounds fancy and complicated, but this recipe is really easy– you just need to pay attention to your cook time to make sure you don't dry out the chicken.  I think the best way to cook chicken like this is frying it on the stovetop and then finishing it off in the oven for a few minutes.  Always, always test it first to make sure it's cooked through.
I created this deliciousness for the Western Dairy Association, who works on behalf of dairy farm families in Colorado, Montana, and Wyoming.  WDA is celebrating 80 years of helping dairy farm families tell their stories. Check out the Western Dairy Blog to read about the families who have been dairying for over eight decades!  A whopping 97% of dairy farms in the US are family owned and operated, so it's pretty cool that every dairy purchase supports those hard-working families!  And, at about 25 cents a glass, few foods deliver milk's powerhouse of nutrients in such an affordable and available way.
You can make this recipe with any cheese you like– sharp cheddar would be delish, swiss cheese would be scrumptious, but I wanted to really take the flavor to a new level with the hint of chipotle peppers. The subtle spiciness of the chipotle gouda doesn't overpower the dish at all– it's actually really balanced.  I also really dig the textures of this meal– the crunch of the panko breaded chicken and the smooth, velvety cheese sauce are guaranteed to impress.
And, I mean, just look at that creamy, melty cheese in the middle!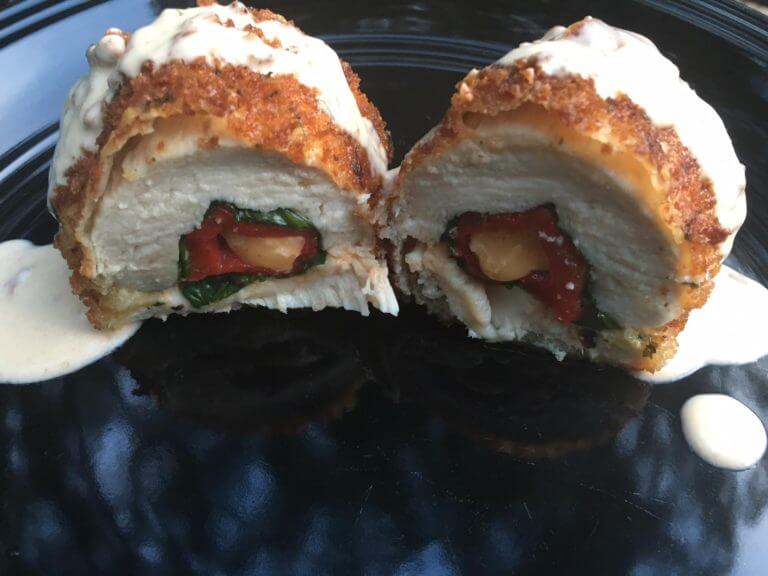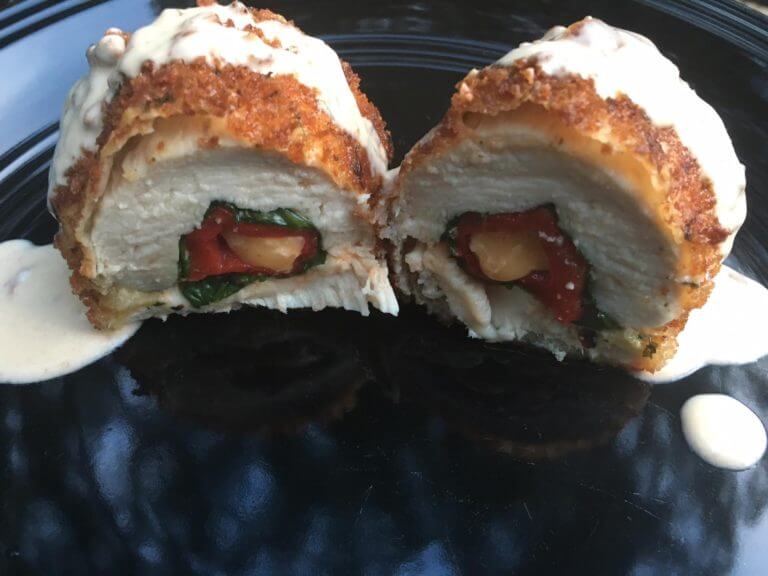 I prefer frying the rolled up cutlets first, but you can bake them as well— just keep them in an oven at 375 degrees for about 30 minutes.  If you do decide to fry them, make sure the oil is not too hot.  I keep it on medium heat, just hot enough to hear a sizzle, but not snapping, popping hot.  If the heat is cranked too high, you'll end up with a burned outside and raw inside– no bueno!
I suggest serving a simple salad with these— they're rich enough and loaded with enough veggies on the inside that you really don't even need another side dish!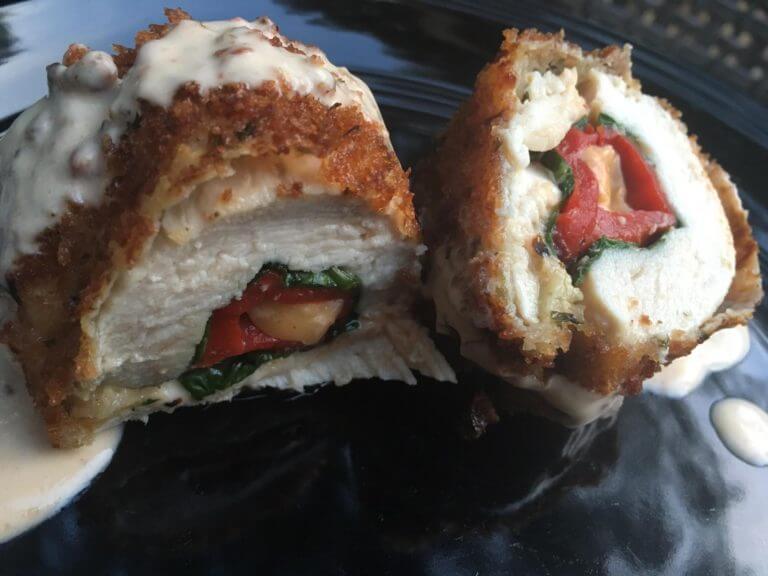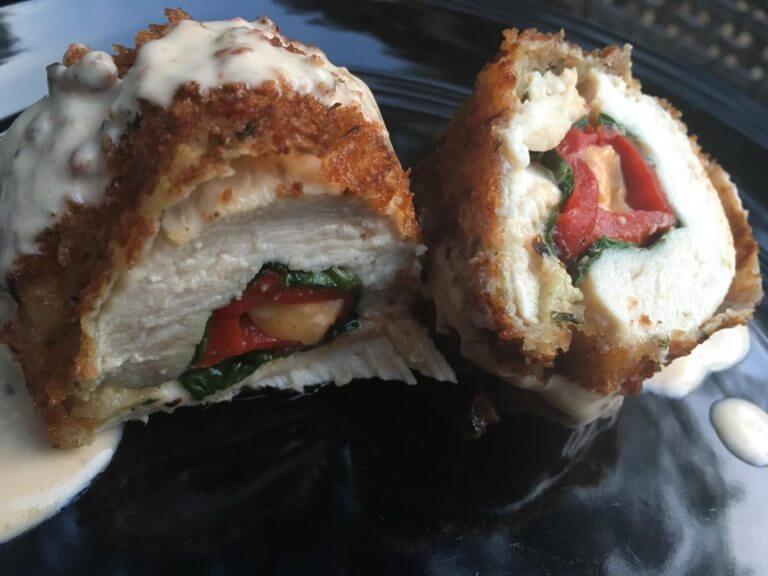 Chipotle Gouda Stuffed Chicken with Cream Sauce
Chicken breasts stuffed with chipotle gouda, roasted red peppers, and spinach with a creamy, cheese sauce.
For the Chicken
4 chicken cutlets (or breasts pounded thin)
4 roasted red peppers drained
handful of fresh spinach
4 slices of chipotle gouda (or chipotle cheddar) *not too thinly sliced!
Italian seasoned panko or breadcrumbs
flour
egg wash
canola oil
toothpicks
For the sauce
1/2 cup chipotle gouda
1/2 cup full-fat mayo
1/2 cup milk
1-2 Tb adobo sauce (the sauce that's in a can of chipotle peppers)
kosher salt to taste
For the chicken
Preheat oven to 375.
Wash and dry the cutlets.
Lay out the chicken flat and layer with spinach leaves, then roasted red pepper, then cheese. The peppers won't be a perfect fit on the chicken, so cut them in pieces to lay flat on top of the chicken.
Roll up the cutlets and secure with toothpicks.
Dredge rolled chicken in flour first, then egg wash, then panko
Heat up about an inch of canola oil in a wide rimmed frying pan on medium heat.
Using tongs, place rolled chicken in oil and fry on all sides until golden brown, about 7-10 minutes total.
Drain on paper towels and put the chicken on a baking sheet.
Bake for 10-12 minutes until cooked through. Make sure to test chicken before you put it in an oven, and then again after 10 minutes or so. If the cutlets are super thin, they'll cook faster.
For the sauce
Combine cheese, mayo, milk and adobo sauce in a small saucepan until melted and combined. Season with kosher salt to taste.
Pour sauce over chicken when ready to serve.
Notes
If you prefer to bake the rolled chicken without frying, bread the roll-ups, then bake at 375 for 25-30 minutes until cooked through.