They're hotties alright. These little beauties are low-carb perfection, wrapped in — what else— BACON.  In my second installment of a review of Burgers' Smokehouse Bacon, this is an easy, melt-in-your-mouth crowd pleaser with a spicy kick of awesome.  I love this recipe usingBurgers' Smokehouse Cajun Style Country Bacon.  The spice factor is perfect– not overpowering and packed with flavor.  And don't be intimidated by the jalapeños– they aren't nearly as spicy once you bake them.  If you're a wuss spice sensitive, a little trick is to sprinkle some sugar on the inside of the jalapeños before you stuff them.  That does add some carbs, but it's minimal and it neutralizes the spiciness.
It's also the perfect appetizer if you're serving guests– or bringing an app to a party.  Before I started following a low-carb/high fat diet (LCHF), party food always stressed me out.  I usually ended up hovering over the hummus and pita plate (cuz it's vegetarian and healthy, riiiiiiiiiight???)  Inevitably, I would wake up as Bloaty McPufferson with a horrible carb hangover.
But, these poppers with cajun bacon will not only impress the crowd, you'll stay in your skinny jeans.
And when you wake up without the bloat, you can chop up the leftover poppers and add them to eggs.  You may need to make another batch of Burgers' bacon, though.  It's that good.
This is not a sponsored post, meaning I was not given monetary compensation to write it. I was sent product at no charge to review honestly and was under no obligation to say anything positive about the product or the company. The photographs, recipe, and opinions are 100% my own.
Low-Carb Jalapeño Poppers
---
Ingredients
6 jalapeños
4 oz full-fat cream cheese
2 chives or scallions chopped
3 pieces of Burgers' Smokehouse Cajun Style Country bacon uncooked
Instructions
Preheat oven to 375.
Slice jalapeños lengthwise and scoop out seeds and membranes. Careful not to touch your eyes! Wear kitchen gloves if you have sensitive skin.
Mix chopped chives or scallions into cream cheese.
Fill jalapeños with cream cheese mixture and top with slices of bacon, cut into the length of each jalapeño.
Bake at 375 for 15-20 minutes.
And if you wanna get fancy (and add a few carbs in!) stuff with some roasted corn for a TexMex version.  I just cut off the kernels of 2 corn cobs and sauteed in a Tb of butter until slightly charred 7-10 minutes.  Then, put roasted corn on top of cream cheese, and put bacon on top of corn/cream cheese.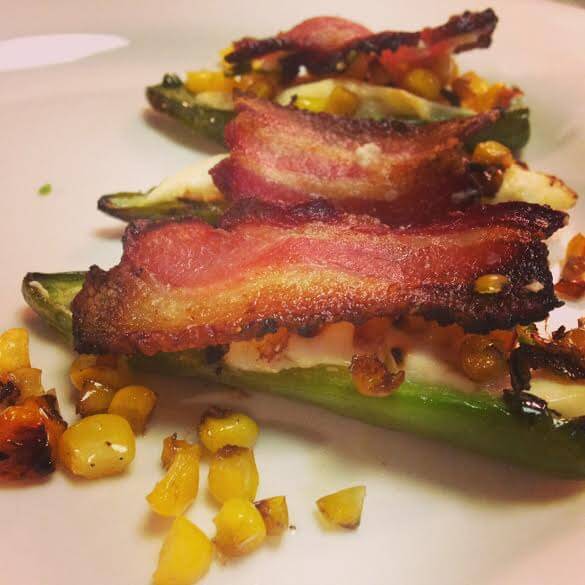 And if you really wanna go crazy, stuff them with my creamed jalapeño corn recipe.  Just don't forget the bacon!