I gotta be honest.  This Paleo Cauliflower Fried Rice has re-inspired my former love of cauliflower.  I lost my taste for the veg after living out a few lean years in LA in my early 20's on what I dubbed the "3 C's Diet."  That consisted of: Camel Lights, Caffeine and Cauliflower.  I was trying to get an acting gig, sometimes landing a few modeling jobs here and there.  (I also had an agent who tried to set my up with OJ Simpson after he was acquitted, but I digress….I didn't go on the date, BTW.  Especially since I did look a little like his murdered ex-wife. )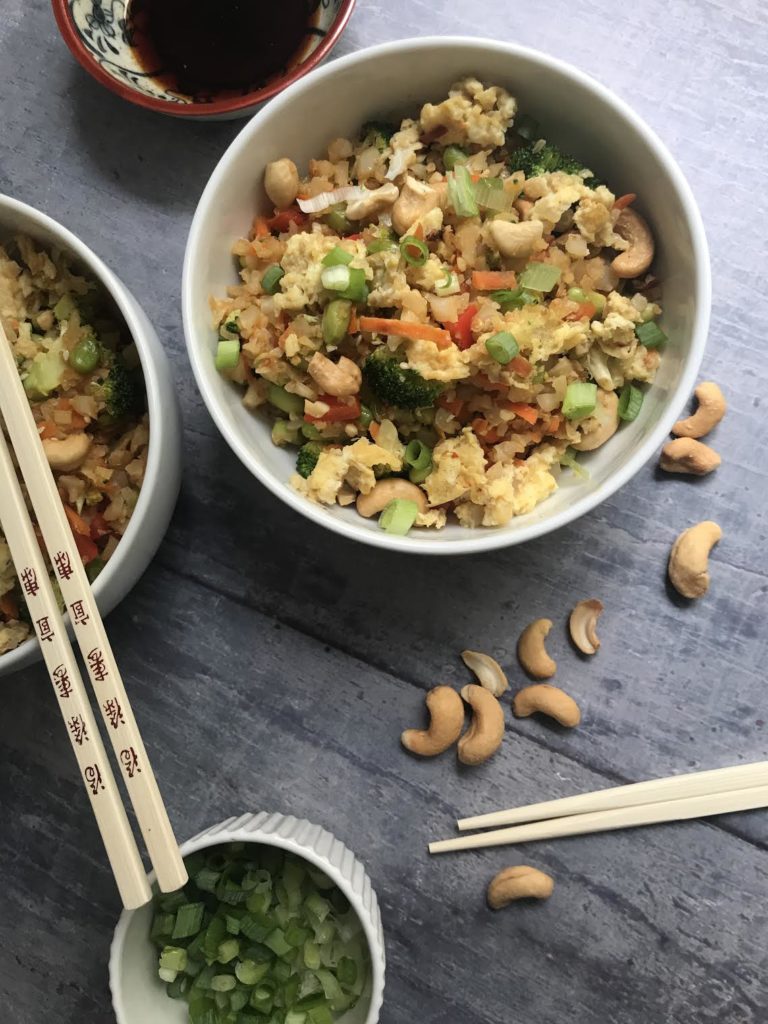 My main effort circa 1998, was trying to stay asthinaspossible, since Calista Flockhart and Jennifer Aniston were the IT Girls back then and they were impossibly tiny.  So, never wanting to let a few pounds stand in the way of my (ahem) Hollywood career, my solution was to stay jacked up on caffeine, chain smoke away my hunger, and when I did eat, it consisted of steamed cauliflower which I dipped in a combination of yellow mustard and BBQ sauce.  No calories, right?  Had I just figured out a recipe for Paleo Cauliflower Fried Rice back then, I probably wouldn't have been so miserable.  In fact, it's obvious that I didn't book any good acting jobs because I was, well, HANGRY!
I promise you won't be hangry and this really will satisfy the comfort food feeling of real fried rice.  There's something about the flavors and textures of really good fried rice that just makes you want more.  And then you may find yourself eating it out of the Chinese food box at like 3am.  That may or may not have happened in my house.  ( :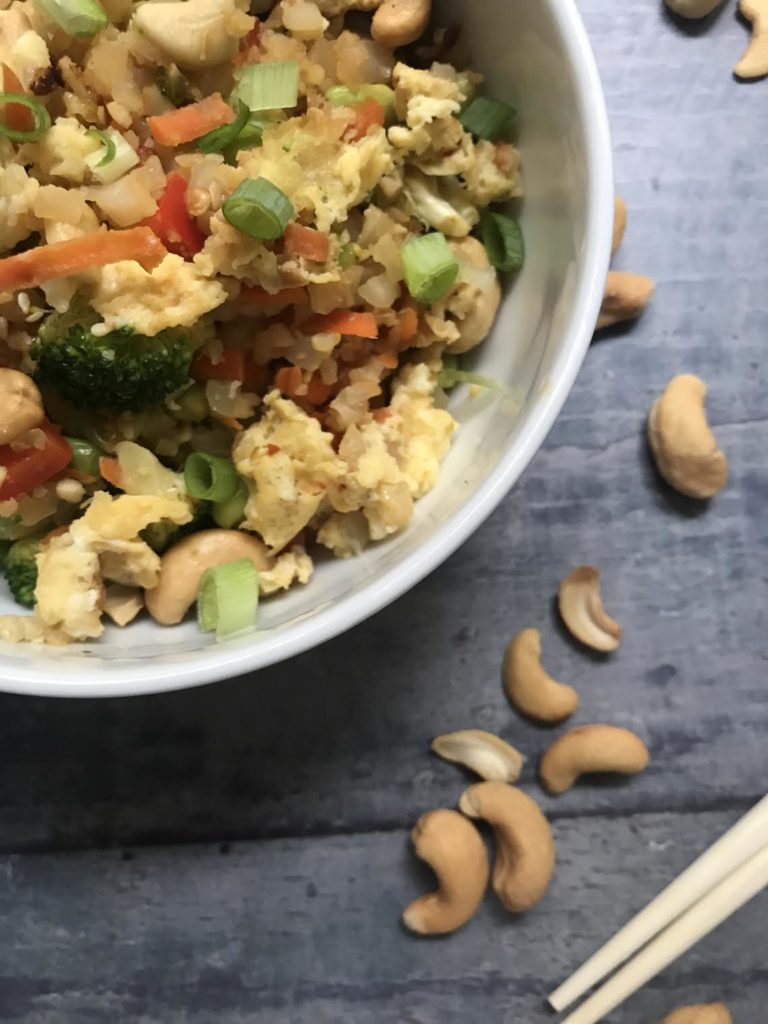 If you don't have a food processor to "rice" the cauliflower, you can get it already packaged and riced for you in the produce section of most grocery stores.  I fully support skipping any steps that make the prep easier!  Adding to the flavor of this recipe is BONE BROTH.  I've been working with Pacific Foods Bone Broth on a couple TV segments and it's one of my favorite new products.  I usually cook regular rice in broth and not water, so you get that extra flavor.  Bone Broth, though, has protein and naturally occurring collagen, so it's going to add a ton of 'good fer ya' stuff into whatever you fold it into.  So, instead of simmering the riced cauliflower in water, you add some bone broth and let that flavor seep in.  So good!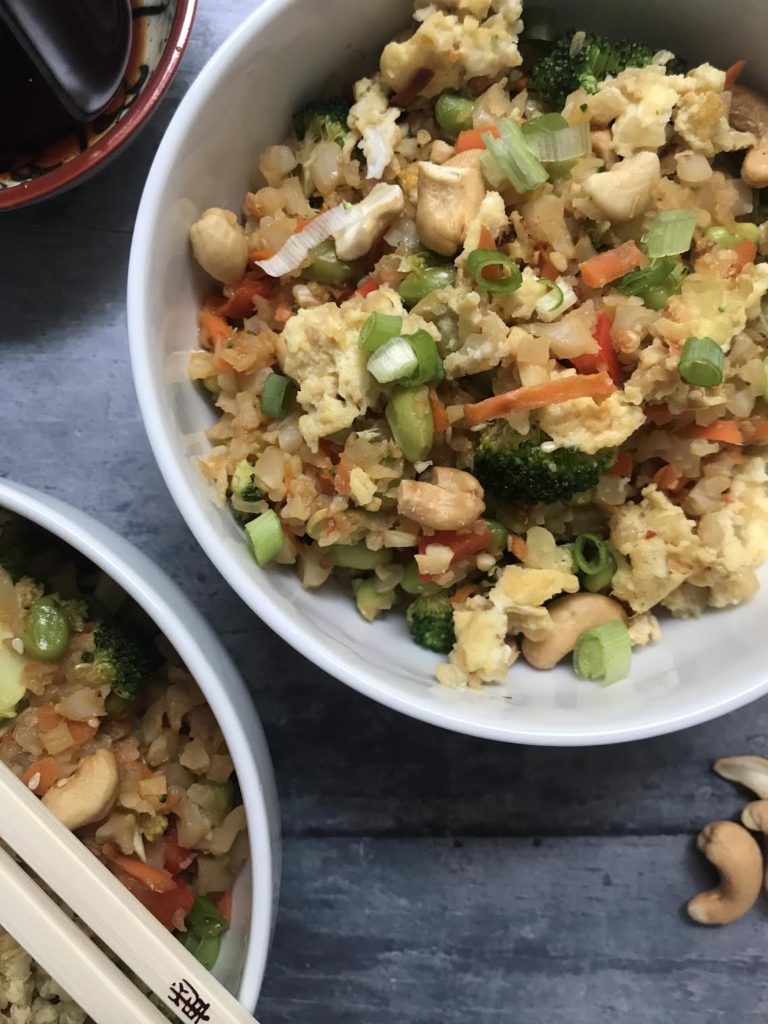 You can add in whatever toppings or veggies you want– I included edamame, carrot, some pepper, scallions, cashews and broccoli.  But it's very much an "everything but the kitchen sink" kind of recipe.  Throw in some chicken, leftover steak and call it dinner, y'all!  And lunch the next day… enjoy!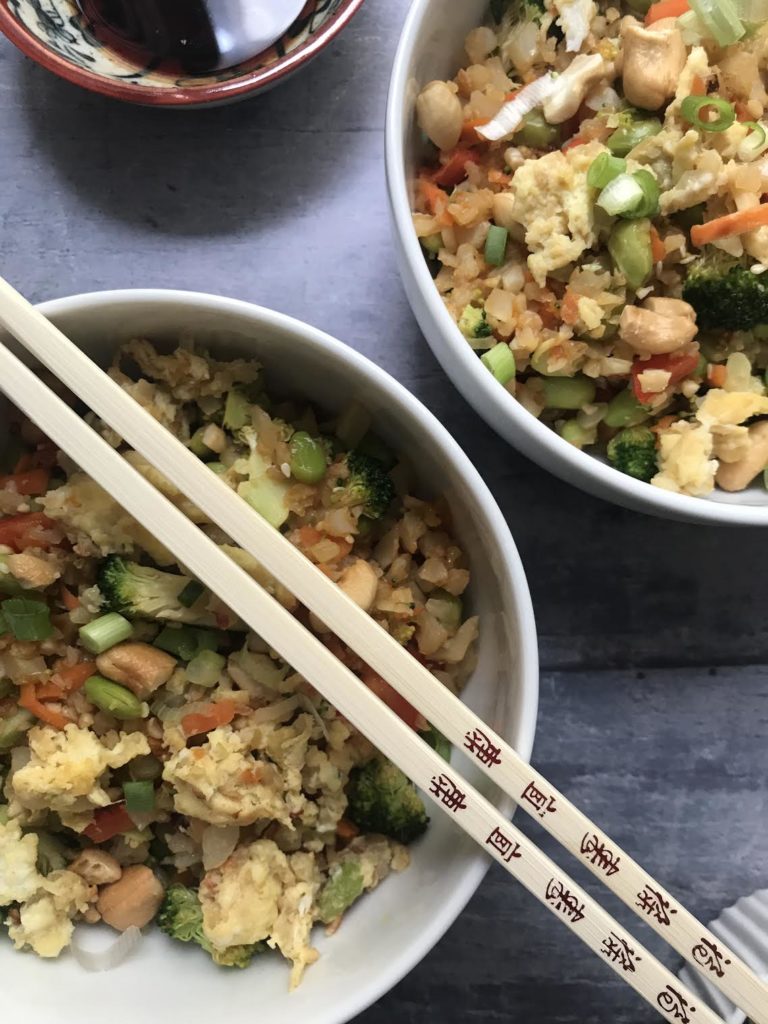 Nutrition Facts
Paleo Cauliflower Fried Rice
Amount Per Serving
Calories 351
Calories from Fat 189
% Daily Value*
Total Fat 21g 32%
Cholesterol 93mg 31%
Sodium 964mg 40%
Potassium 641mg 18%
Total Carbohydrates 25g 8%
Protein 20g 40%
* Percent Daily Values are based on a 2000 calorie diet.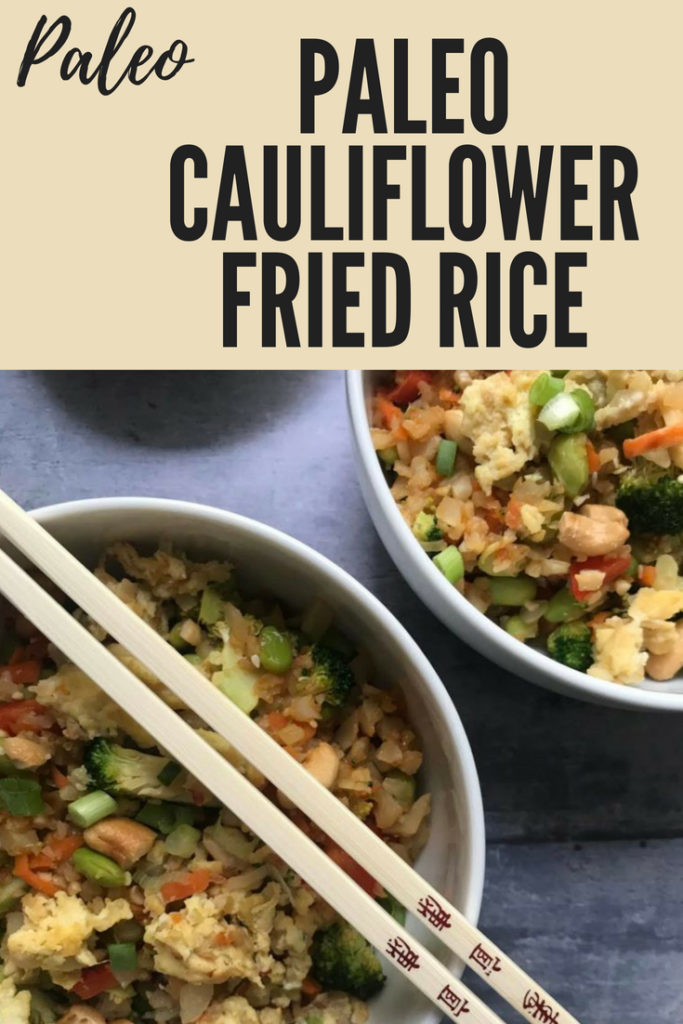 | | |
| --- | --- |
| | |
In a food processor, pulse cauliflower until it's diced into pieces resembling rice.

In a large frying pan, saute garlic, cauliflower, carrots, broccoli and chili with sesame oil for 2-3 minutes on medium heat.

Add edamame, ginger, Tamari, chili garlic sauce and Bone Broth. Continue to simmer for 5-7 minutes until liquid is absorbed.

Create a well in the center of your skillet and 2 whisked eggs. Stir gently and let simmer until eggs are cooked, about 3 minutes.

Top with green onions, cashews, sesame seeds and another drizzle of sesame oil if desired.