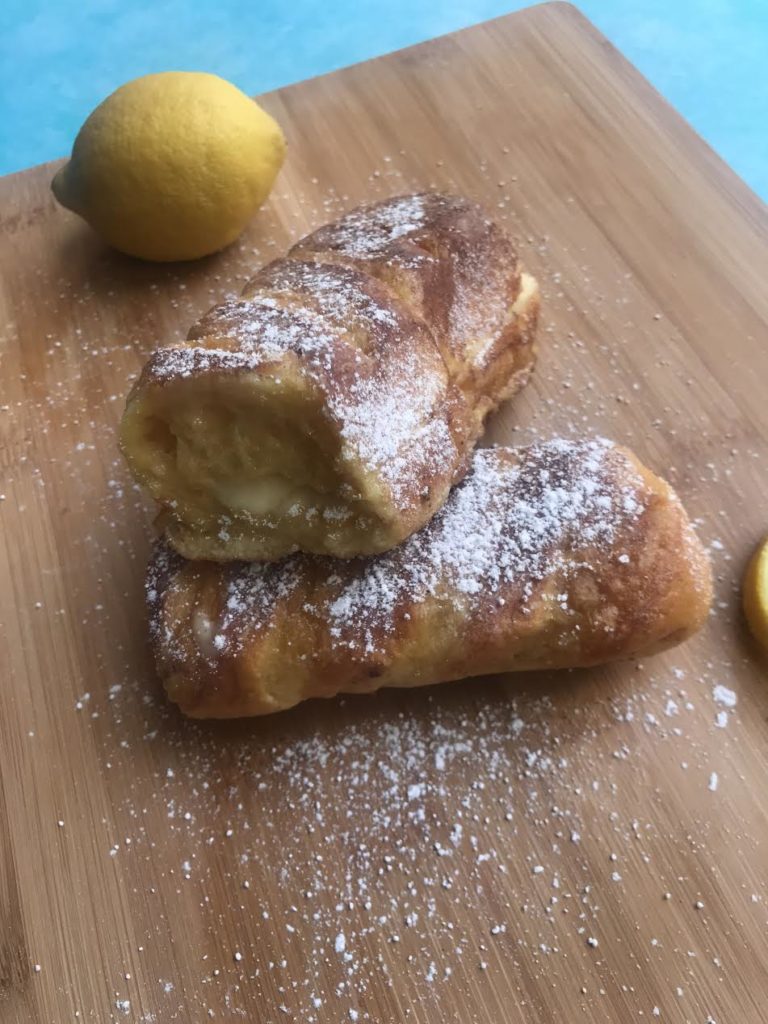 Lemon is everything in this recipe, you guys.  But not just lemon– creamy, lemon curd which is STUFFED into brioche and fried up with some butter.  It's Christmas on a plate.  Actually, I served this for breakfast on Thanksgiving, so consider it a HOLIDAY in your mouth.  You're welcome!  Lemon Cream Stuffed French Toast Sticks.  Yep.  You must make these for brunch, for dessert….just do it for the love of lemon!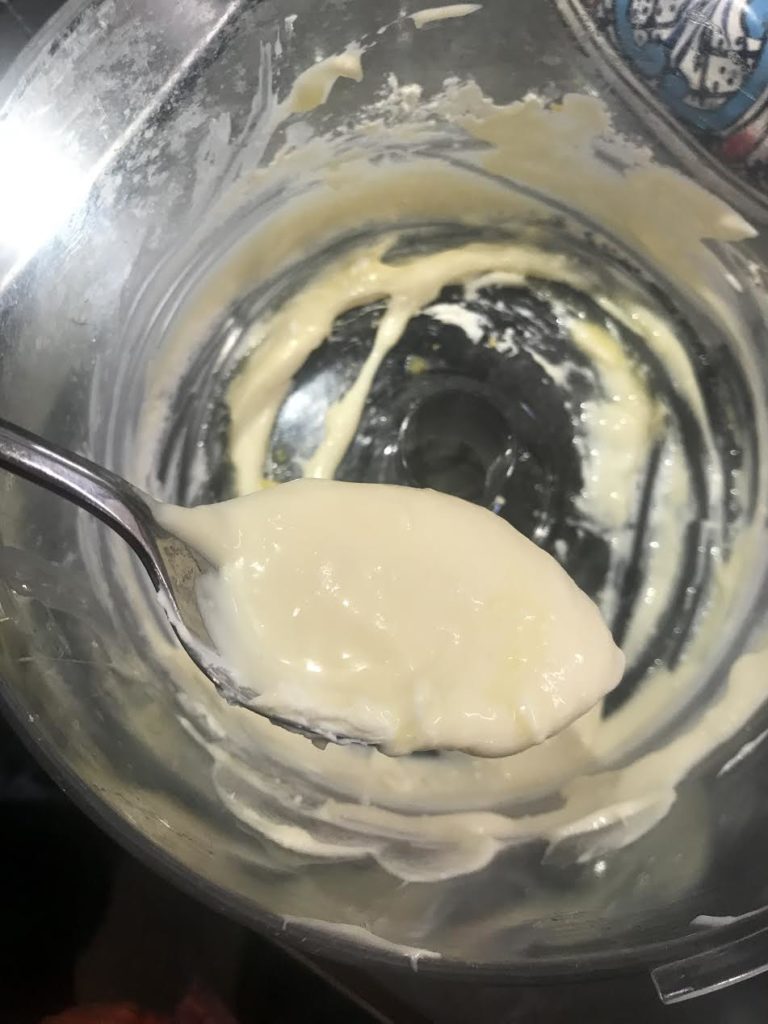 I had a jar of lemon curd I'd been threatening to use for some time, but when I tried it, it was so overpoweringly sweet.  Too much!  Too. Much. Sweet. And. Too. Much. Lemon.  Now, if you want something with less sugar and less smack you in the face with lemon, you have to try my low carb (guilt free) lemon cheesecake. It's pretty darn good.  But let's get back to THIS lemon goodness.  I combined cream cheese with the jarred lemon curd along with some lemon zest and a squeeze of fresh lemon juice.  Then, you just slather it all over the inside of a mini brioche loaf.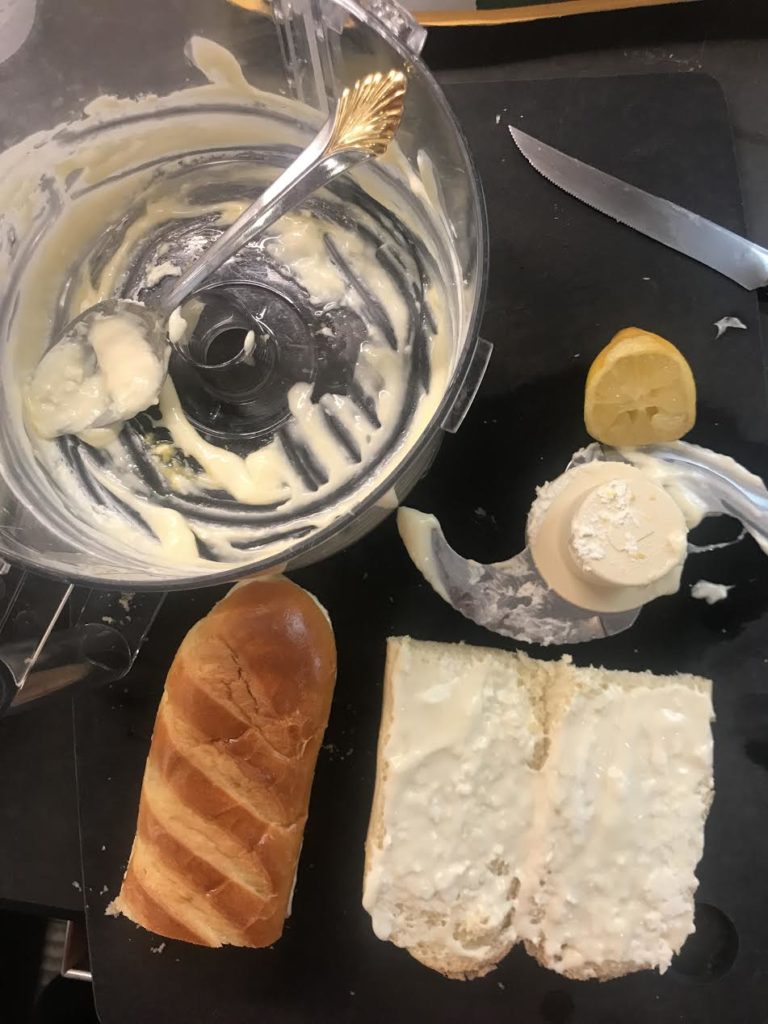 Next up, the egg wash and the frying pan!  This is a regular egg wash with a little bit of cream, vanilla and powdered sugar.  Super easy.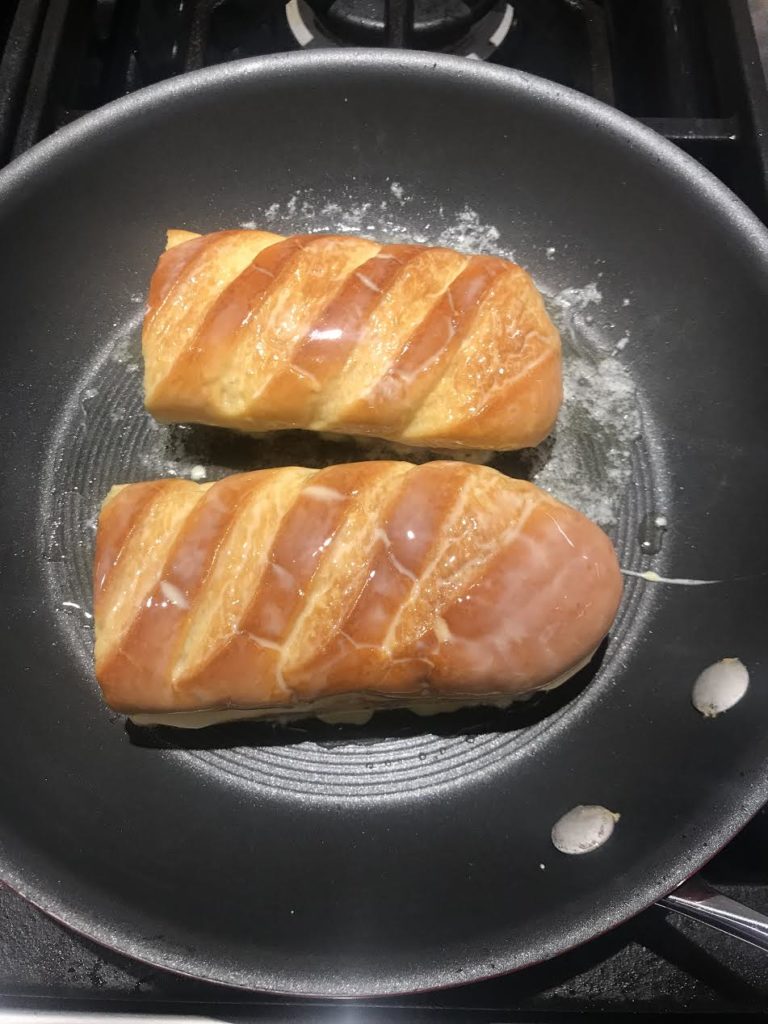 Keep it on low heat with that bit of butter until the lemon curd and cream cheese gets all melty….throw on a little powdered sugar and you're in business.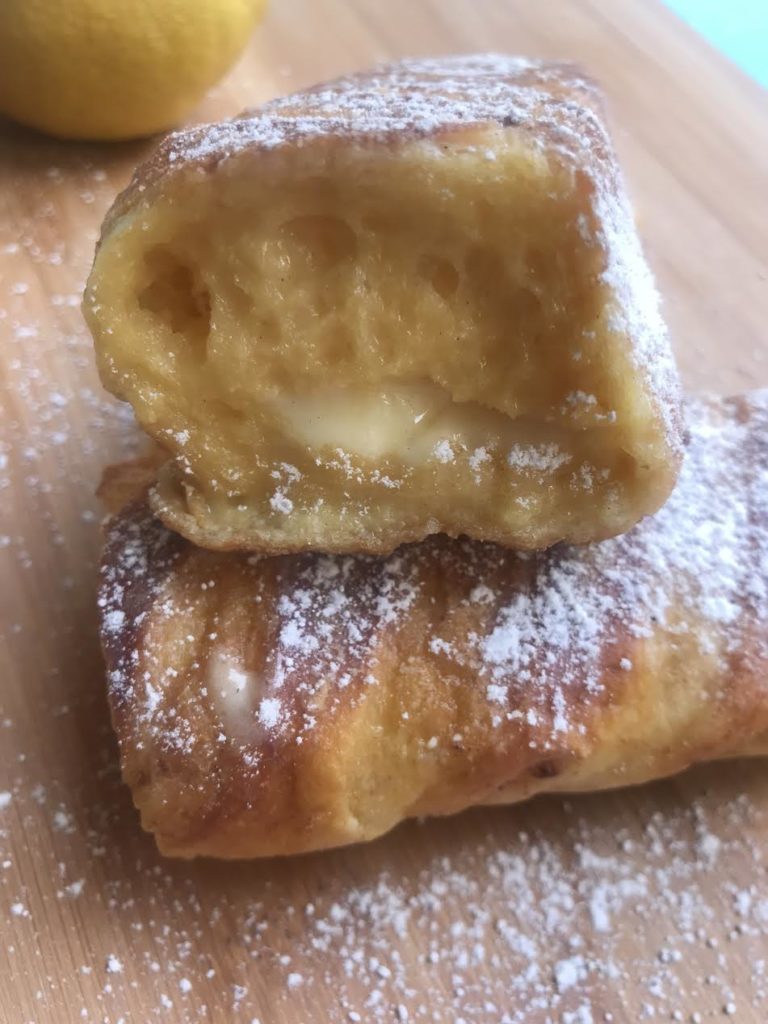 See all that glorious, melty delish above, in between the crispy brioche sticks?  It's about to be all over your face.  And you'll be so happy!  In fact, it makes me want to play hooky and bake Christmas cookies and drink Champagne all day….who's in?!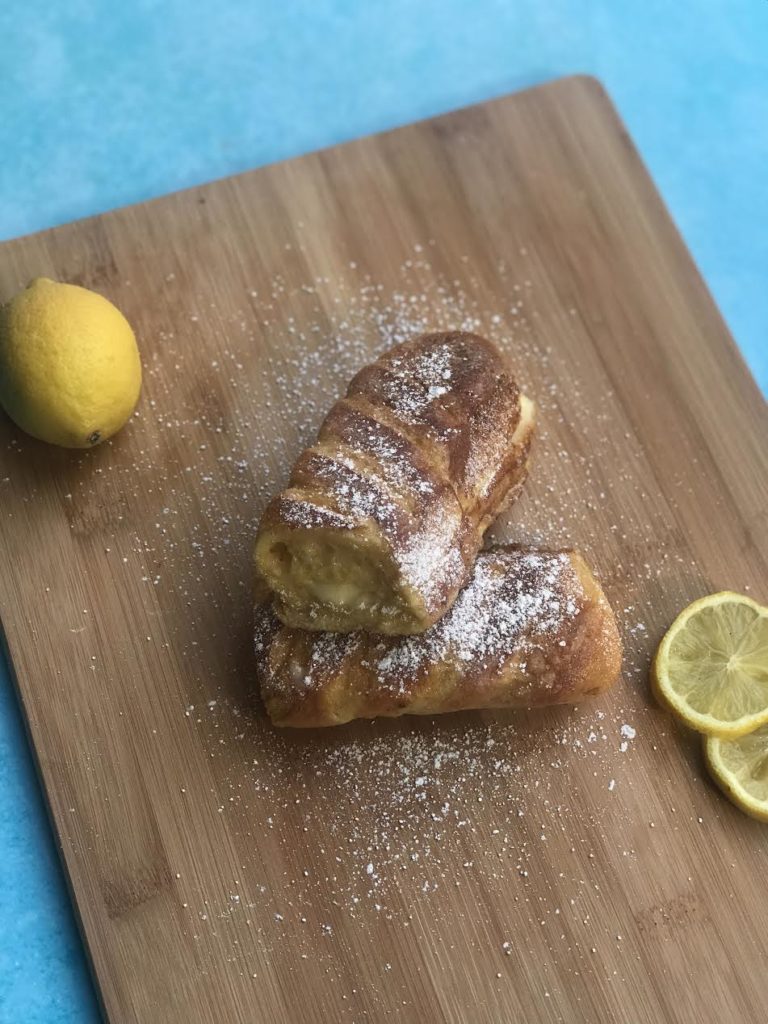 Nutrition Facts
Lemon Cream Stuffed French Toast Sticks
Amount Per Serving
Calories 566
Calories from Fat 324
% Daily Value*
Total Fat 36g 55%
Cholesterol 351mg 117%
Sodium 570mg 24%
Potassium 160mg 5%
Total Carbohydrates 45g 15%
Protein 17g 34%
* Percent Daily Values are based on a 2000 calorie diet.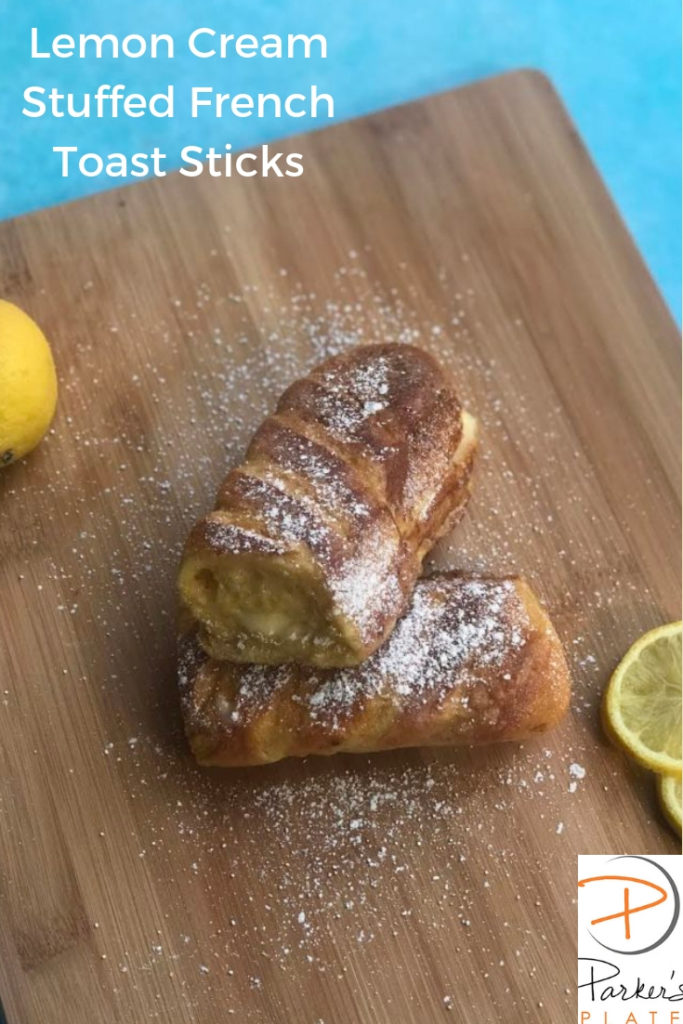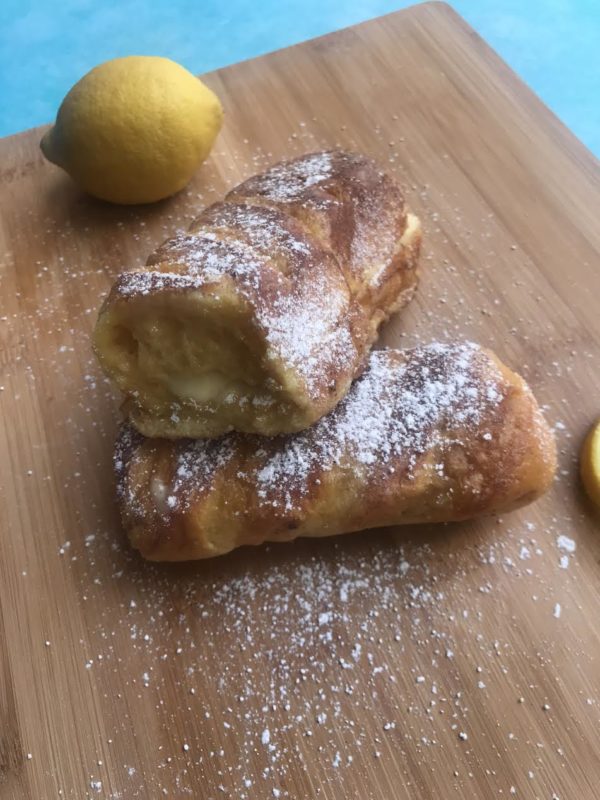 | | |
| --- | --- |
| | |
Prepare the lemon cream by combining room temperature cream cheese, lemon curd, fresh lemon zest and juice in the food processor until smooth.

Slice the brioche loaves in half lengthwise and then slather the lemon cream on the inside of the bread. Don't skimp!

Dip brioche in egg wash. Add butter to a non-stick pan and begin frying up the french toast! Keep heat on low/medium so lemon cream melts and the outside of the brioche gets slightly cripsy. Dust with more powdered sugar before serving.