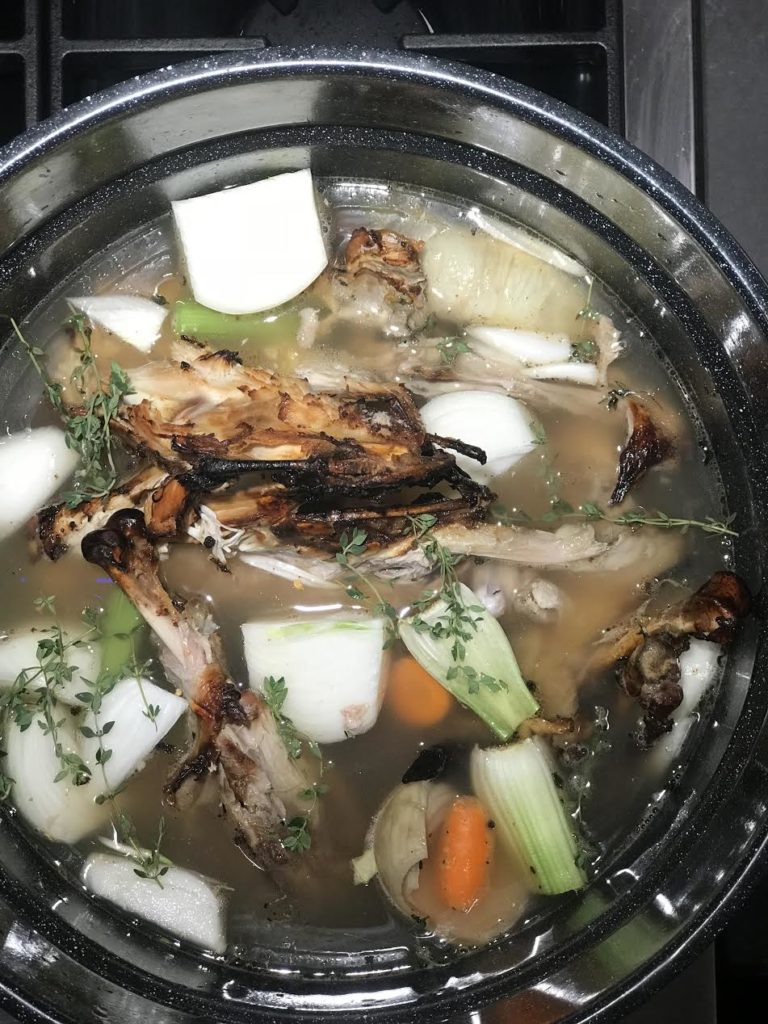 Are y'all done eatin' on that turkey yet?  If so, it's the perfect time to roast those turkey bones and let them simmer into a delicious stock you can use for soup, gravy and sauces! I had forgotten how easy the process is and realize that I get so lazy when it comes to basic cooking techniques that can totally transform an ordinary soup, for example, into something with extraordinary flavor.  First, remove the meat from the bird, drizzle with a bit of olive oil and then roast the bones for about 25 minutes at 400.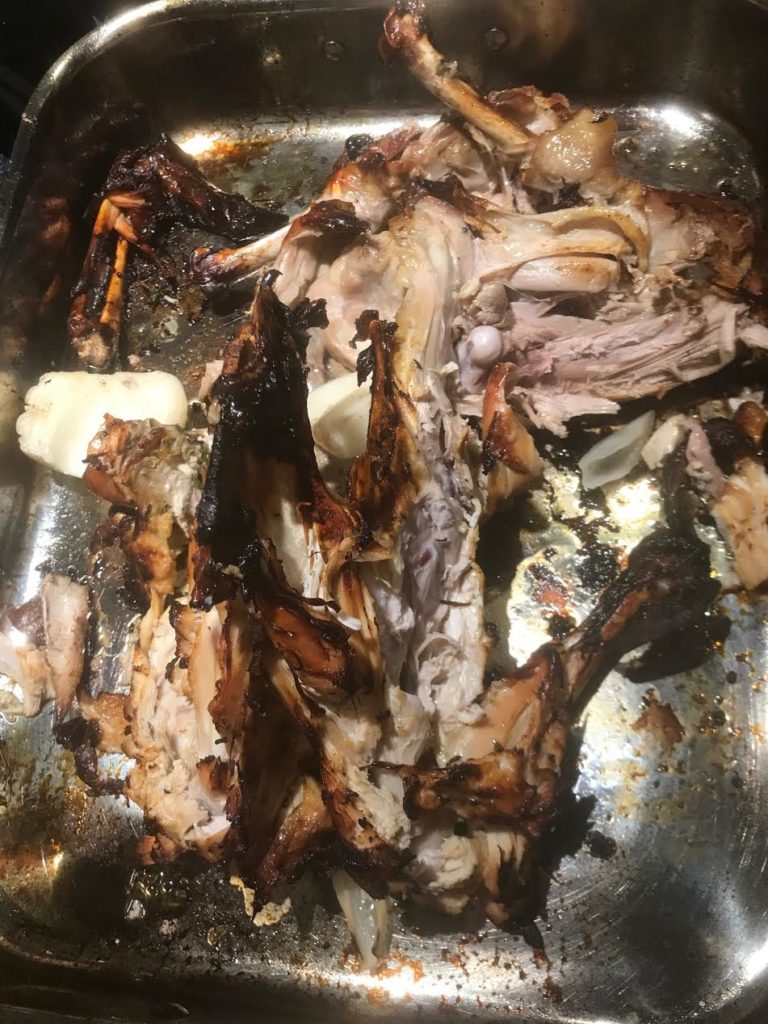 Does anyone else hate the word carcass?  Man, it just makes me think of road kill.  I digress!
My grandmother, Ronnie, would always use the bones from her various roasts to make the best stocks and soups.  Since I made a standing rib roast this weekend, those bones will be the next ones I'll roast to turn into a delish beef stock.  I'm normally not a soup person– I just prefer to chew my food, not sip and slurp it, ala soup and smoothies, etc.  But, there's something so comforting about the flavor of homemade soups, isn't there?
You really can't go wrong with the ingredients you throw in– onion, celery, carrot, bay leaves and a couple dried arboles or chili peppers, with a smattering of fresh herbs.  That's it!  JP reminded me that an old trick he learned working in a kitchen years ago, is that when the fat solids collect on top of the stock, to use that to saute meat in, so you're literally cooking in the most flavorful kind of fat.  Most recipes call for discarding that before you use the stock, but it's a great trick if you end up using more protein to put in the soup.  This recipe made about 4 of these large containers (a total of about 12-14 cups) which are now stashed away in the freezer, waiting for a savory soup recipe!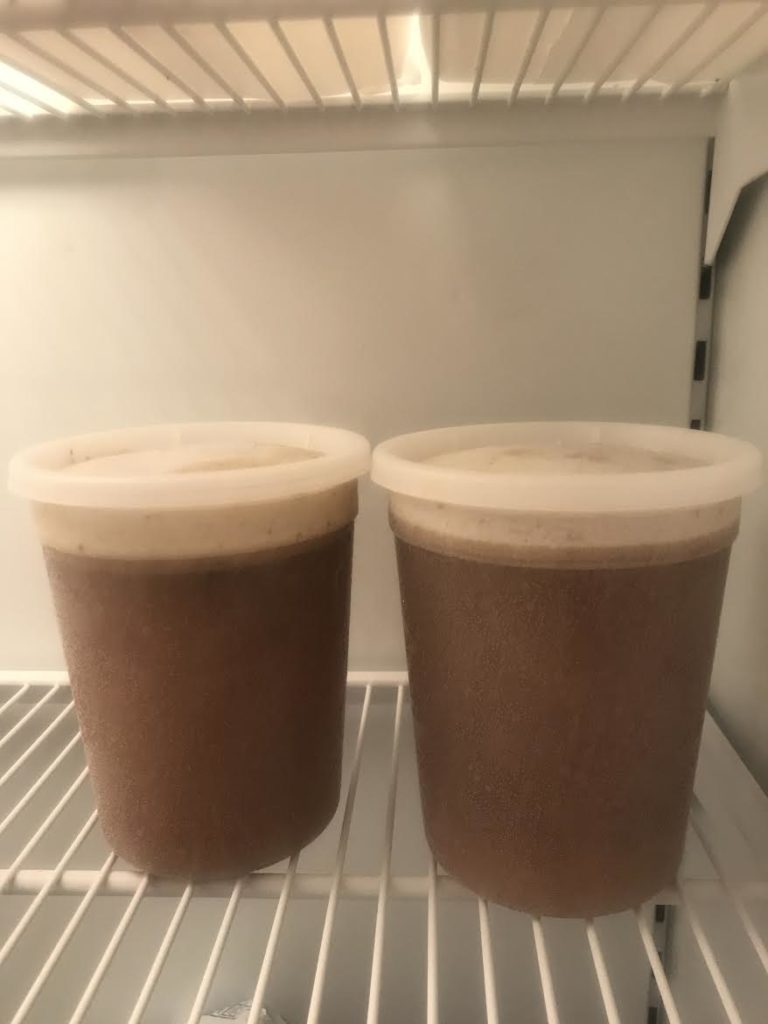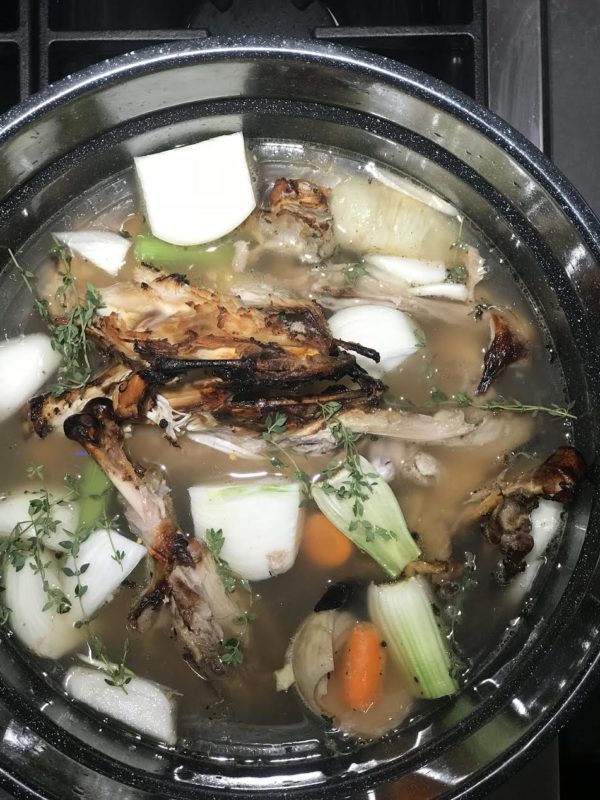 | | |
| --- | --- |
| | |
Preheat oven to 400. Drizzle with olive oil and roast the leftover turkey carcass for 20-25 minutes until browned. Add turkey bones to a large stockpot.

Add onions, carrots and celery to the empty roasting pan and cook vegetables in oven for 15 minutes until fragrant. Remove from oven, add the wine to the pan and saute on medium heat until you can scrape up the crusty bits. Add everything to the stock pot.

Add remaining ingredients and fill with enough water to cover most of the carcass. Bring to a boil and then simmer on low for 3 hours.

Season with kosher salt to taste. Strain stock through a sieve into large containers. Discard solids. Let stock cool slightly, then refrigerate. Skim off any fat from the top of the stock and either discard, or use to cook with within a couple days. Use stock within 4 days or freeze.