Doesn't this Ahi Tuna Poke Bowl look like a rainbow of healthy delish?  Poke (pronounced po-kay) means "to cut crosswise into pieces" in Hawaiian and has been a staple in Hawaiian cuisine for centuries.  Traditional poke is made with ahi and a little soy sauce, but there are many different versions of poke, especially in Hawaii — it's often seasoned with mayo, wasabi, nuts and even kimchi.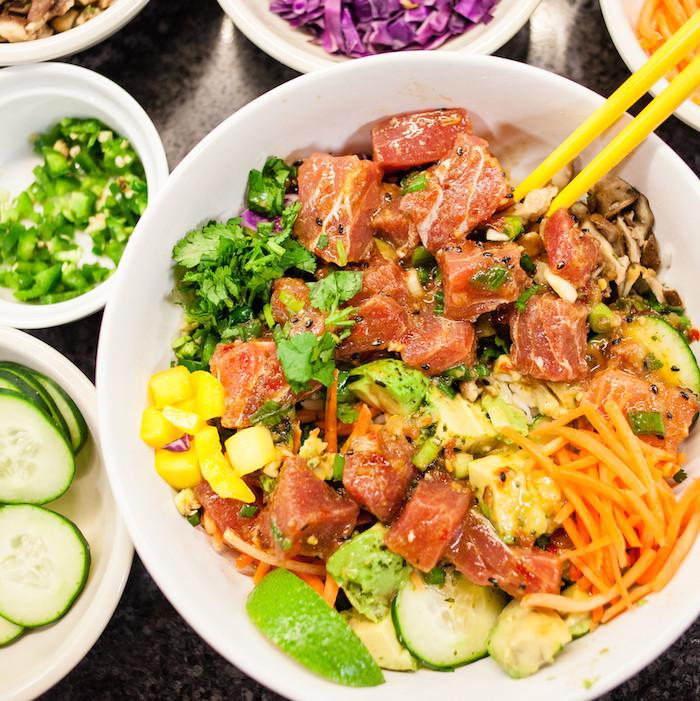 Personally, I like to add a variety of textures and flavors (and colors, obviously!) so you can get the soft, savory bite of ahi with the crunch of raw veggies and the sweetness of some tropical fruit, like mango or pineapple.  I did this video with my friends at Craft Box Girls to show you how to build the perfect Ahi Tuna Poke Bowl!
Furikake is a funny sounding Japanese seasoning, but it packs a lot flavor.  It really makes a difference when you add it to the bowl.  I kid you not, sometimes I find soy sauce and furikake next to JP's side of the bed!  The hardest part of making this is probably the prep work– the slicing and dicing of the ingredients, but it's worth it, trust me.  It also makes a really fun way to kick off a dinner party.
I like setting up a toppings bar, whether I'm building burgers or bowls, people!  And, to really take it up a notch, check out the decorations I found at the Dollar Store!  Seriously cute stuff and majah savings!  (Since I blew my budget on expensive tuna, haaaaay!  Or, I guess I should say, "ALOHA" ( :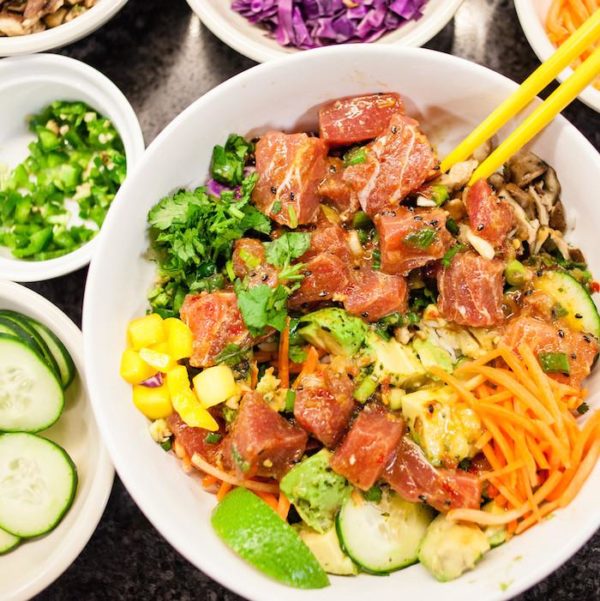 | | |
| --- | --- |
| | |
Whisk together marinade ingredients and add ahi. Cover and refrigerate for 30 minutes to an hour.

Build each bowl with a base of rice, then add the veggies and fruit and top with ahi. Sprinkle with furikake and garnish with wasabi and pickled ginger.