Speaking as, ahem, the winner of several chili cook-offs, the most recent one at my TV station a couple weeks back, I'm pretty confident in my Chocolate Chipotle Chili recipe.  It beat out my co-worker's venison chili, which got me thinking about deer meat.  I've actually never cooked with venison before.  It brings me back to memories of eating at my boyfriend's house in high school. His Dad was an avid hunter and made absolutely delicious venison steaks– they were never tough or gamey.  When my friend offered up a couple pounds of ground venison, I was stoked. "Thanks, dear!" Or rather, "Thanks, DEER!"
I mixed in some spicy sausage and made the main veggie shiitake mushrooms which lent a really nice earthiness to the overall body of the chili.  I usually add a touch of sweet to my chili to offset the acidic tomato element— instead of brown sugar, I just added 2 Tb of Grade B Maple syrup.  It was subtle and just the right amount.  Try it.  You'll love it.  And technically, it's still low carb, since there isn't a bean in sight!  Can't wait to enter this recipe into my next chili competition!!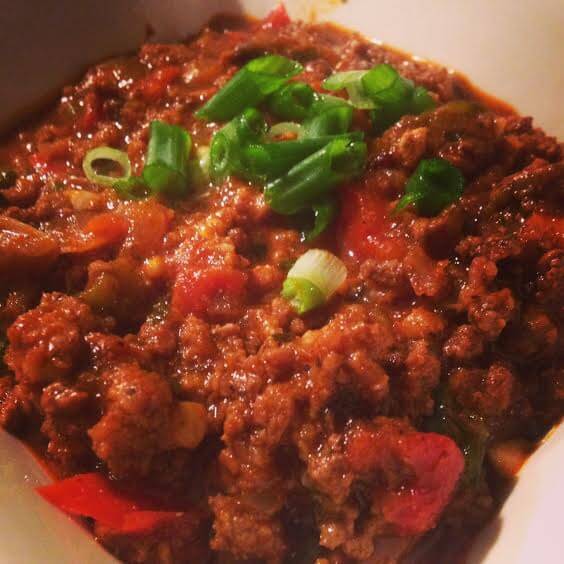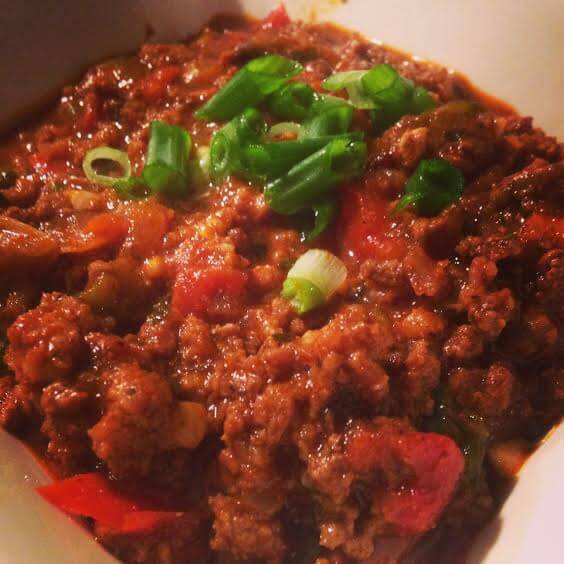 Try serving it with my equally delicious jalapeño cornbread.
Venison and Shiitake Mushroom Chili
---
Ingredients
2 pounds ground venison
1 package spicy Jimmy Dean sausage
2 Tb butter
1 sweet onion diced
4 cloves of garlic diced
2 cups shiitake mushrooms (stems removed) and sliced
1 box small portabello or white mushrooms diced
1 red bell pepper diced
1 poblano pepper diced
2 cups beef broth
1 can rotel tomatoes
1 Tb paprika
1 Tb cumin
1 tsp cayenne pepper
1 6oz can of tomato paste
2 Tb cilantro
1 Tb black pepper
1 tsp kosher salt (more to taste)
1 Tb garlic powder
1 Tb onion powder
2 Tb Grade B maple syrup
1 Tb Srirachi rooster sauce
1 tsp liquid smoke
2 cups beef broth
1 12oz bottle of amber beer
Instructions
In a large frying pan, brown ground venison on medium heat in 2 Tb butter until cooked through. Put into a large stock pot or dutch oven and set aside. (I brown everything separately and then simmer it all together).
Brown sausage and combine with venison (do not drain fat from sausage– pour it all into that big saucepan.
In the same frying pan you browned the meat (don't wash it out), saute onion, garlic, red bell pepper and poblano until soft, about10 minutes. Put the veggies with the sausage and venison.
Brown shiitakes and portabellos together (you may need to add a touch more of butter) until the water is cooked out of them– about 10 minutes. Add to the big chili pot!
Now add all the other ingredients!
Stir together and simmer for 2-3 hours.
Garnish with chives and your favorite shredded cheese