This is basically the love child of a peanut butter and jelly sandwich and cheesecake! Look at those layers….OMG.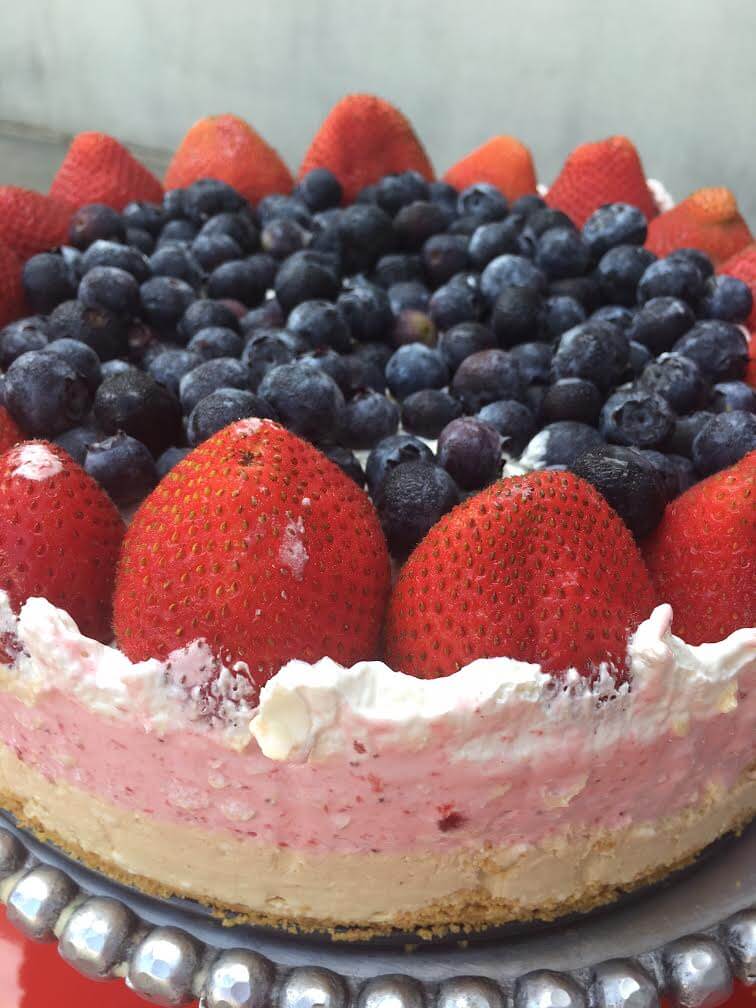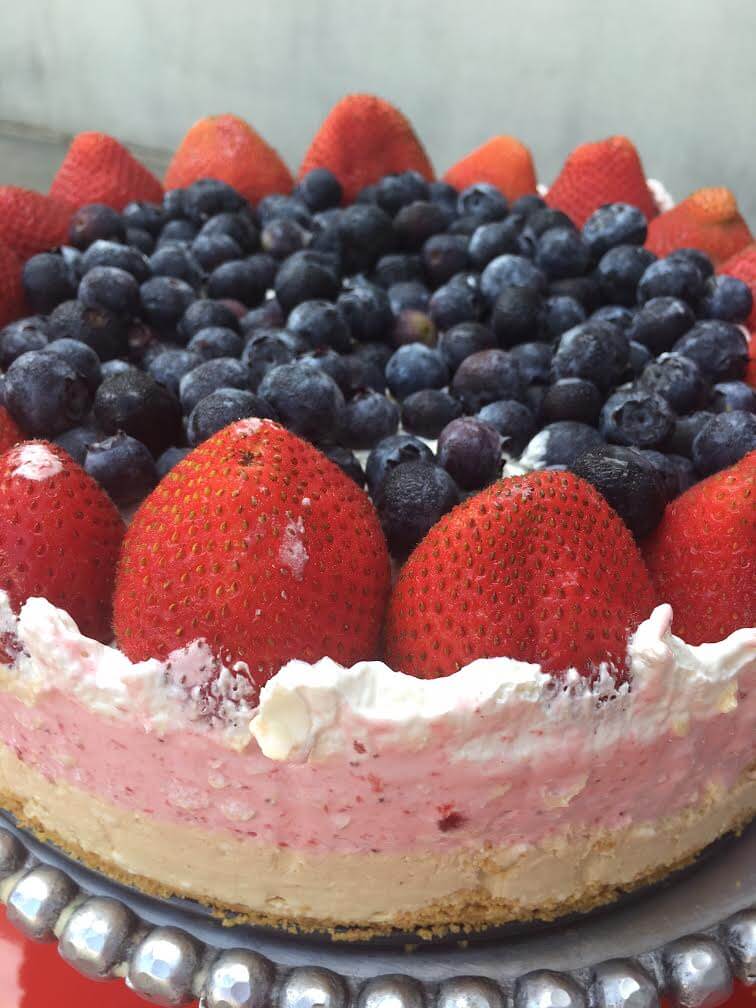 Peanut Butter and Jelly No Bake Cheesecake
The love child of cheesecake and a peanut butter and jelly sandwich
---
For the crust
1 stick salted butter
2 cups graham cracker crumbs
1 tsp cinnamon
For the peanut butter cheesecake layer
1 (8oz) package of full-fat cream cheese
1 tub of Cool Whip
1/3 cup sour cream
1 cup creamy peanut butter
1 Tb vanilla
1 cup powdered sugar
For the strawberry cheesecake layer
1 (8oz) package of cream cheese
1 tub cool whip
2 cups frozen strawberries
1 1/2 cups powdered sugar
1 Tb vanilla
For the topping
Whole strawberries (with the tops cut off)
Blueberries
For the crust
Melt 1 stick butter in pan.
Add graham cracker crumbs and vanilla.
Stir to combine.
Cut out a circle of parchment paper and put it on the bottom of a springform pan.
Spoon out the graham cracker crust on top of the parchment and press down (I use the bottom of a mug or measuring cup)
For the Peanut Butter Layer
Mix ingredients in food processor with a paddle attachment until smooth. Pour over graham cracker crust.
Freeze for 30 minutes before adding a strawberry layer.
For the strawberry layer
Pulverize frozen strawberries in food processor until they are a puree consistency and set aside.
Mix the rest of ingredients in food processor until smooth.
Scoop out 1 1/2 cups of batter and put in fridge (this will be the top layer of the cheesecake.)
Add frozen strawberry puree to batter and mix until smooth.
Pour strawberry layer on top of peanut butter layer and wrap entire springform pan in tin foil.
Put in freezer for at least 2 hours.
When ready to serve
Take the cheesecake out of freezer 30-45 minutes before you want to serve it. Spread the 1 1/2 cups of topping on top of strawberry layer and decorate with strawberries and blueberries.
Notes
Freezing the peanut butter layer is not totally necessary, but it helps keep the layers separate.
Now let's talk about appetizers, because chips are not the answer! This peanut curry dip is another recipe I worked with the Georgia Peanut Commission on and I am so excited about it. Everyone on set who tried this was blown away! Peanuts are a great way to power your day, keep your energy levels up (and your hunger levels down.) Peanut butter is easy and fun to incorporate into recipes because it's "eat it out of the jar with a spoon) kinda good!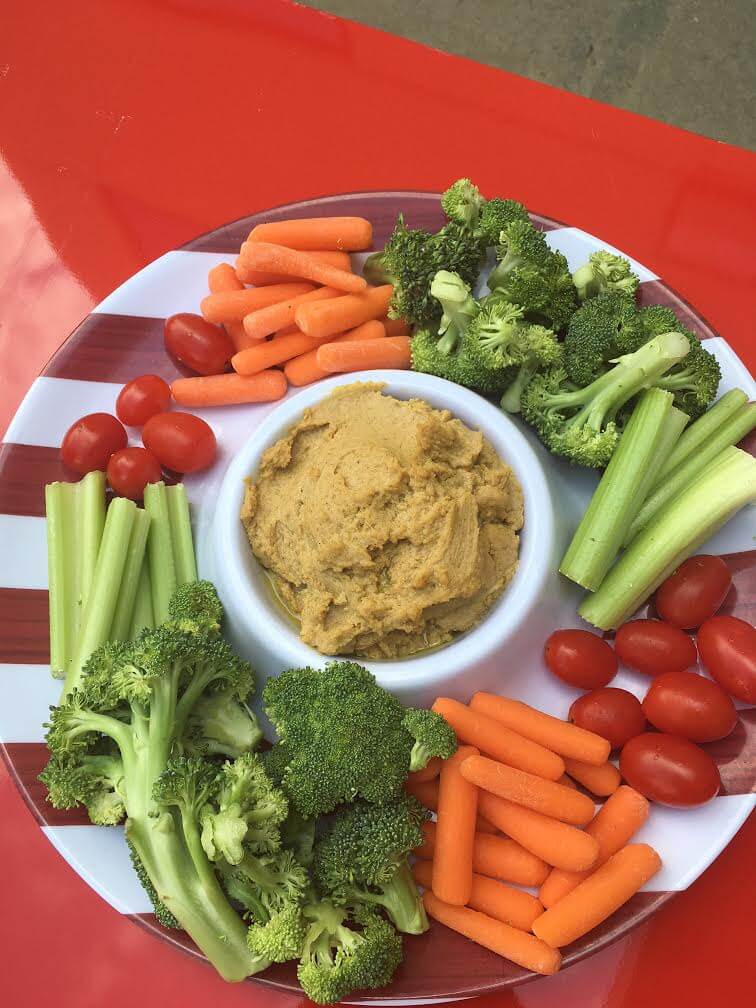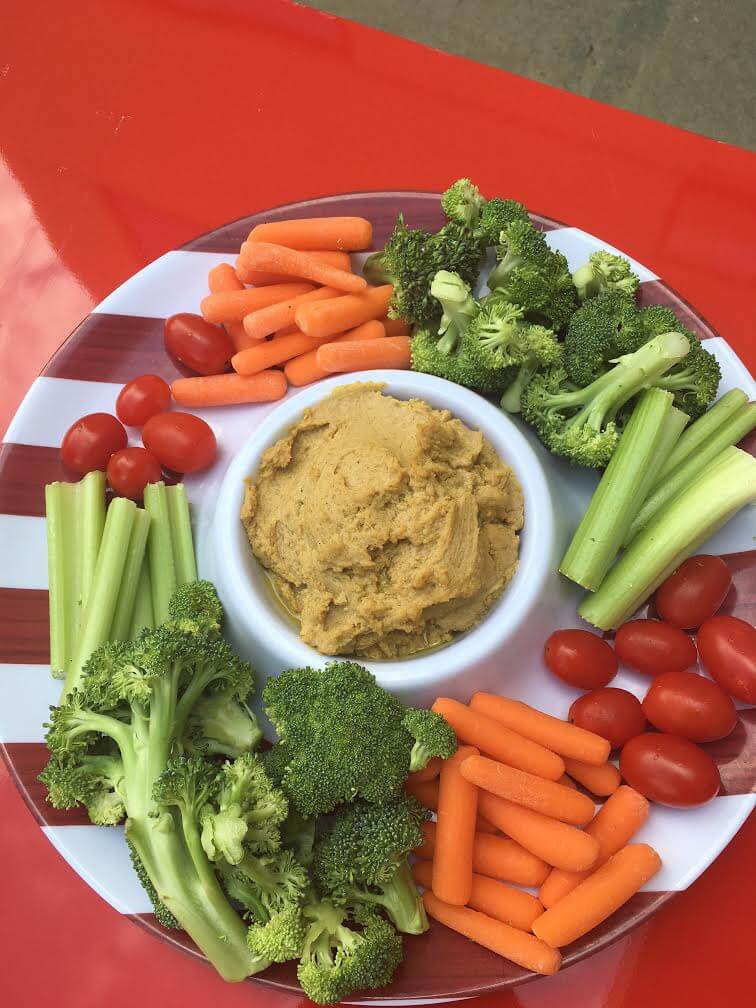 Peanut Curry Dip
A high protein, delicious dip for entertaining
---
Ingredients
1 cup greek yogurt
1 cup smooth peanut butter
2 tsp fresh ginger (I love the tubes of fresh ginger from Gourmet Garden)
1 tsp fresh roasted garlic smashed
1 tsp kosher salt (plus more to taste)
2 tsp curry powder
Instructions
Combine ingredients until smooth.
Serve with fresh veggies or pita chips.
For the roasted garlic, preheat oven to 375.
Slice off the top 1/3 of a head of garlic. Put cut side (face side down) in a small baking pan with about a cup of water. Cover with tin foil.
Bake for an hour.
Let cool and squeeze out garlic– it will come out like a paste!