Roast Beef crostinis with horseradish cream and caramelized onions are one of my all-time favorite appetizers!  It's also an hors-d'oeuvre you can serve during any season because it's got the rich, earthy elements that are suited to fall and winter with the pop of flavor and freshness that are perfect for spring and summer entertaining.
I'm obsessed with texture and mouthfeel — I want crunchy, I want savory, I want sweet and I want smooth with some major wow factor.  Basically, I want layers of flavor that make you throw your head back and go, "OMGOMGOMGOMG!" These definitely deliver.
Beef is such a versatile protein– it can take on the flavor of whatever you mix with it.  One of my favorite combinations is adding that kick of horseradish to the roast beef.  Then, the caramelized onions really take it to the next level with a smooth, sweet finish!
Plus, you can feel good about knowing that there are only about 160 calories in 3 oz of beef– and with over 35 lean cuts of beef to choose from, you can get super creative!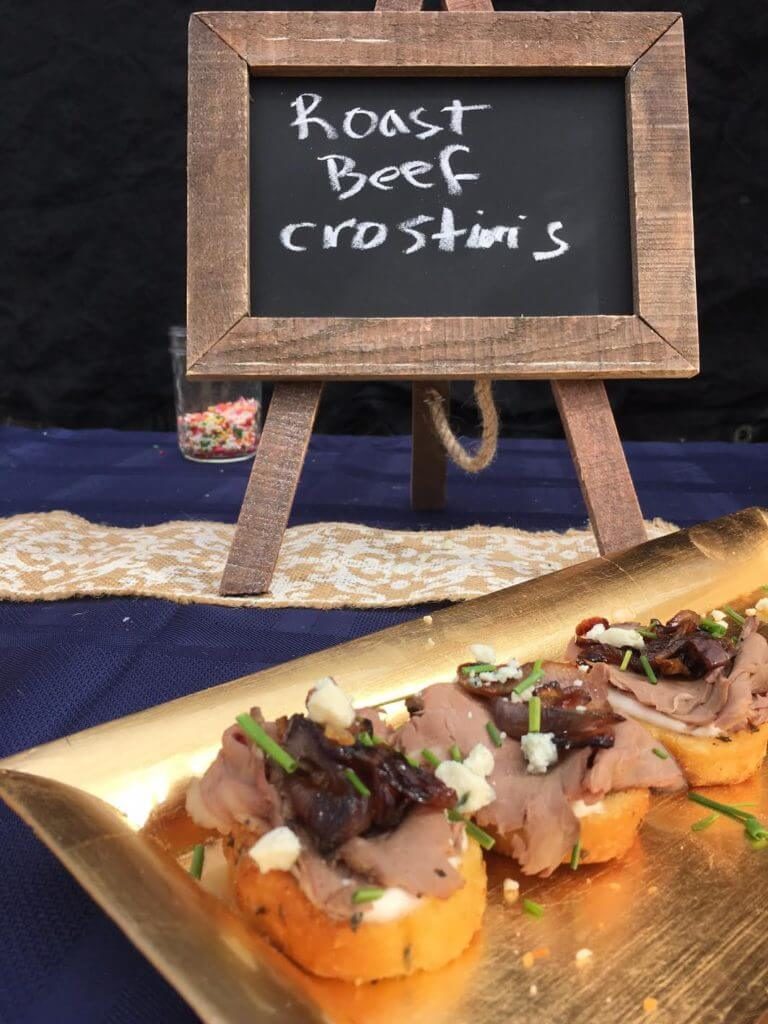 Roast Beef Crostinis with Horseradish Cream
Savory bites with roast beef, horseradish cream, and caramelized onions
For the crostinis
French baguette, sliced and toasted with butter and a sprinkle of garlic powder
1/2 pound of roast beef
Gorgonzola cheese
Chopped chives for garnish
For the Horseradish Cream
3/4 cup full-fat mayo
1-2 Tb prepared horseradish
1 Tb sour cream
1 Tb fresh lemon juice
Dash of Worcestershire sauce
pinch of kosher salt to taste
For the caramelized onions
1 red onion sliced into thin rings
2 Tb butter
1/4 cup red wine
Instructions
Preheat oven to 350.
Brush melted butter on sliced baguette and sprinkle with garlic powder. Toast crostinis for 20-30 minutes, flipping over after 15 minutes.
For the horseradish cream
Mix mayo, lemon, horseradish, Worcestershire and a pinch of kosher salt.
For the onions
Saute onion rings in butter on low/medium heat for 30 minutes, stirring occasionally. Add red wine and crank up the heat to cook off wine and then reduce to low, stirring for another 15 minutes until caramelized.
To assemble
Spread horseradish cream on the toasted crostinis.
Top with roast beef, then caramelized onions and sprinkle with gorgonzola and chopped chives.