These are little morsels of heaven.  It's like a homemade Reese's Peanut Butter cup without all the crapola.  Coconut oil has made a resurgence in the health world because it's a fat that doesn't go straight to your ass.  Seriously, y'all.
According to Wikipedia: "Medium Chain Triglycerides are generally considered a good biologically inert source of energy that is easy to metabolize. Some studies have shown that MCT's can help in the process of excess calorie burning, and thus weight loss."
Here are some more scientific details.  Parker translation: It'll keep you in your skinny jeans!
This is a big favorite in the Low-Carb High-Fat (LCHF) community, often called Fat Bombs. For me, it's the perfect snack when that mid-afternoon craving for sweets hits.  It also doubles as a healthy dessert.
You can modify it any way you like– sometimes I use almond extract and stuff it with coconut. You can pop in a few espresso beans for a little caffeine kick which is scrumptiously delish.
Chocolate Peanut Butter Bombs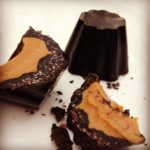 Print This
Ingredients
4 Tb refined coconut oil

4 Tb dark chocolate cocoa

3 tsp Truvia

1 tsp vanilla extract

Peanut butter

Sea salt
Instructions
Melt coconut oil in microwave for 45 seconds (I prefer using refined coconut oil because it does not have the strong coconut taste that unrefined coconut oil does.)
Stir in cocoa, Truvia, and vanilla and mix until smooth. Pour chocolate mixture into mini silicone cups and spoon a small bit of peanut butter into each cup. Sprinkle with sea salt.
Freeze for 20 minutes. Enjoy!