I used to be a white meat girl.  And over the many years that I dieted on and off, I began to dread the "steamed/baked/no skin/boneless chicken breast" that every damn starve yourself skinny low calorie/drop weight quick plan calls for. Well, a woman cannot live on white meat alone.  Especially on a low carb/ high-fat lifestyle.  Bring on the dark meat, baby!  Haaaaaaay!
There's so much more flavor and, well, fat, in dark meat.  I know some of y'all can't bear the thought of chewing around the bone, but the most flavorful cuts are the bone in, skin on variety.  When you saute these bad boys in butter, the skin gets a gorgeous golden color and stays decadently crispy.  I added pancetta to this dish to get a little fancy, but you can just snip some pieces of bacon in for the same effect.
This is one recipe that demands a cast iron skillet or one of those ceramic casserole dishes (pictured below).  Remember, the key to browning chicken beautifully is to DRY IT OFF WITH PAPER TOWELS. AND YES, I'M YELLING THIS!!!  When you take the chicken out of the package, it's gonna be wet and will not brown evenly if you toss it in the pan like that.  Dry those thighs off, GURL.  My go-to combo for browning meat is a 2/1 ratio of butter to oil.  You can use salted or unsalted butter and your favorite oil– I usually do olive or a canola blend.  Once the butter is bubbly on med/high heat, put the thighs in skin side down and then don't touch them for 10 whole minutes.  I add garlic and bay leaves for extra flavor in the pan.  Then, flip over after 10 minutes, leave them for another 10, then flip over one more time. So, a total of 30 minutes.  Then, add in about 1/4 cup of white wine or dry sherry, crank up the heat, and let the wine cook off for 5 minutes.  Boom.  You're done.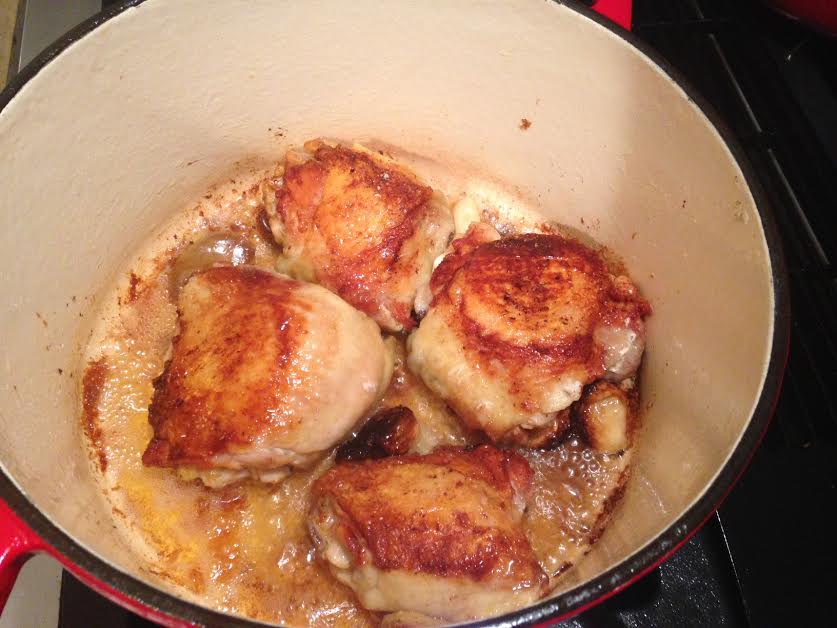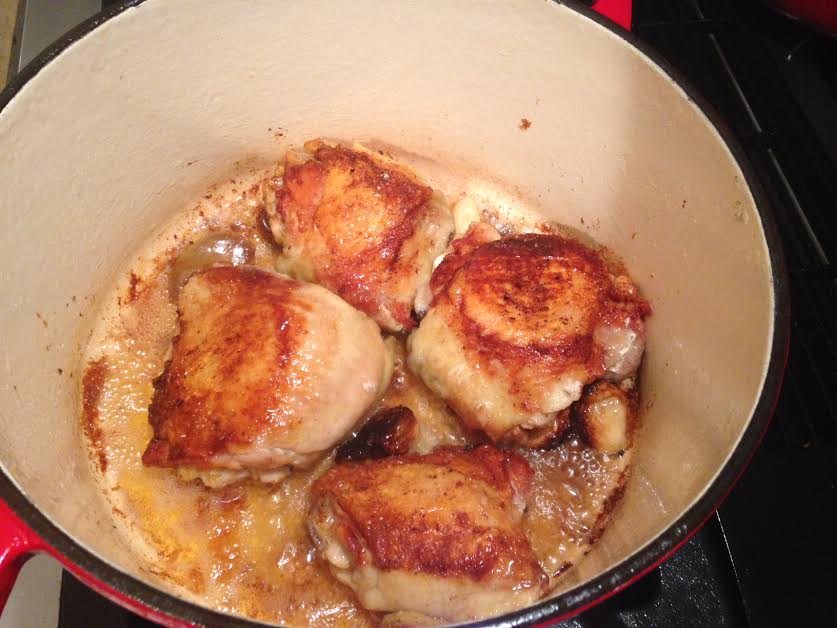 Note to self:  Get olives WITHOUT the pits next time!  And as someone who normally hates leftovers, this dish keeps well through the next day.  Just pop it in the oven at 400 to warm it up for about 10 minutes and it'll 're-crisp' right up.  Nuking it– not so much.  That formerly crispy skin will get soggy and meh.
Mediterranean chicken thighs— OLIVE you.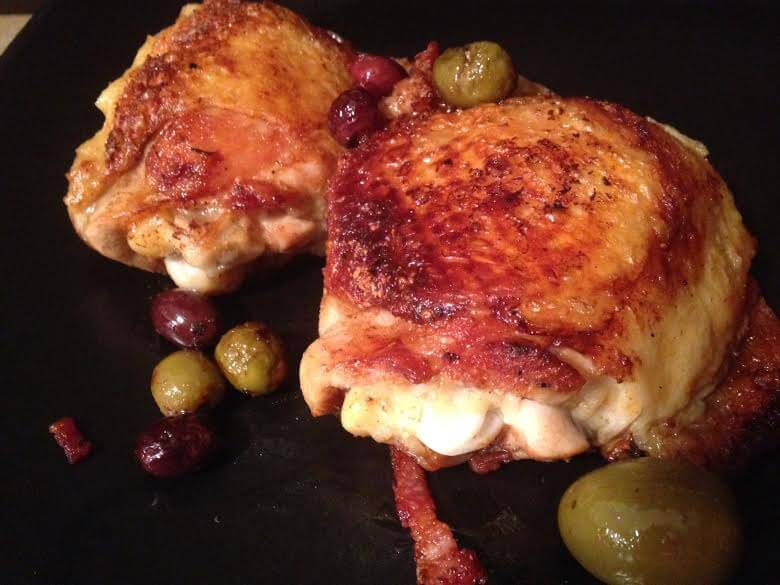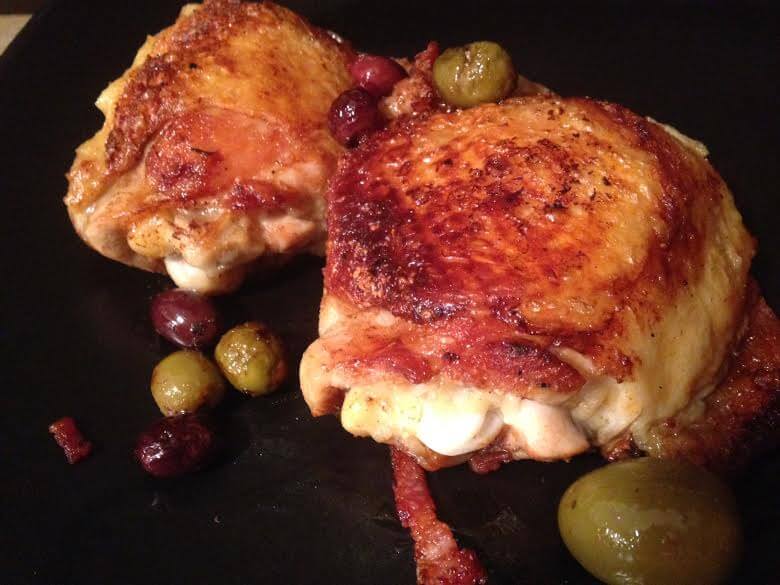 Mediterranean Chicken Thighs with Olives and Pancetta
---
Ingredients
1 package of skin on/bone in chicken thighs
kosher salt
2 Tb butter
1 Tb oil (I like olive or a canola blend)
4 whole garlic cloves
4 bay leaves
1 cup olives (combo of pitted green and kalamata)
1/4 cup white wine or dry sherry
4 slices of pancetta or bacon snipped in little pieces
Instructions
Dry off chicken thighs with paper towels. Season both sides of the thighs with kosher salt.
Heat up butter and oil in a cast iron or ceramic casserole on medium-high heat.
When butter is bubbly, put thighs on skin side down.
Add whole garlic cloves and bay leaves.
The chicken will need a total of 30 minutes to cook– 10 minutes per side. So, set the timer for 10 minutes. Flip chicken. Set timer for another 10 minutes. Flip chicken.
After chicken has been cooking for 20 minutes, flip chicken again and add pancetta/bacon and whole (pitted) olives. Set timer for last 10 minutes.
*Note- turn garlic cloves and bay leaves over when you flip chicken so they don't burn.
After thighs have cooked a total of 30 minutes, add 1/4 cup of wine/sherry to pan and crank up heat to high. Cook down the wine for 5 minutes and take chicken and olives out of the pan to serve.
The buttery goodness at the bottom of the pan can be served on top of the chicken if you'd like more buttery goodness, otherwise, just serve as is!