So, y'all know my nickname is the Bacon Babe, right?  I'm all about meat eating fabulousness– and as far as I'm concerned, bacon is one of the 4 four groups.  But, sometimes, it's healthy to have a meatless meal when you're out of bacon just to change up the flavor profiles, yo!
So, this is one of the ONLY purely vegan meals I make.  It passed the "dude test" with flying colors– JP tried it and asked me if he was eating PORK!  (I consider that a success story.  Vegans reading might cringe at the thought, though, LOL!)  Anyhoo, it's freaking good.
I taught a group of ladies how to make this meal at my first cooking class– the cashew cheese was the biggest hit, ever.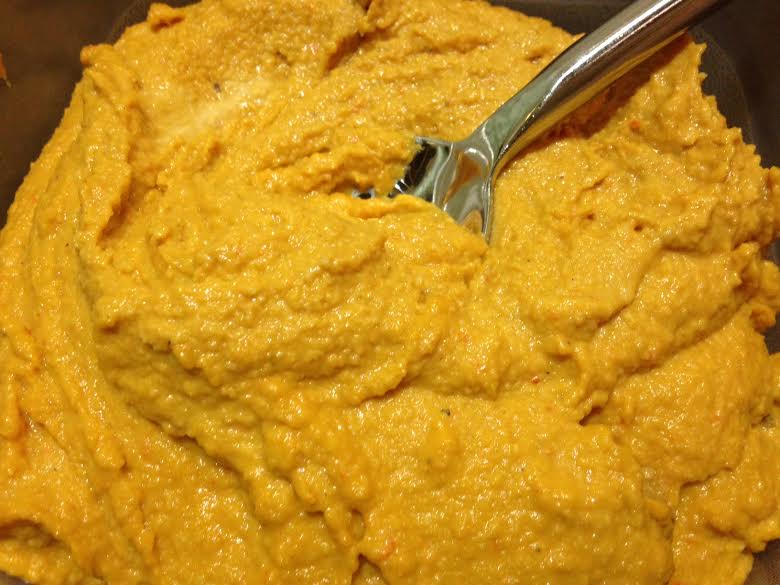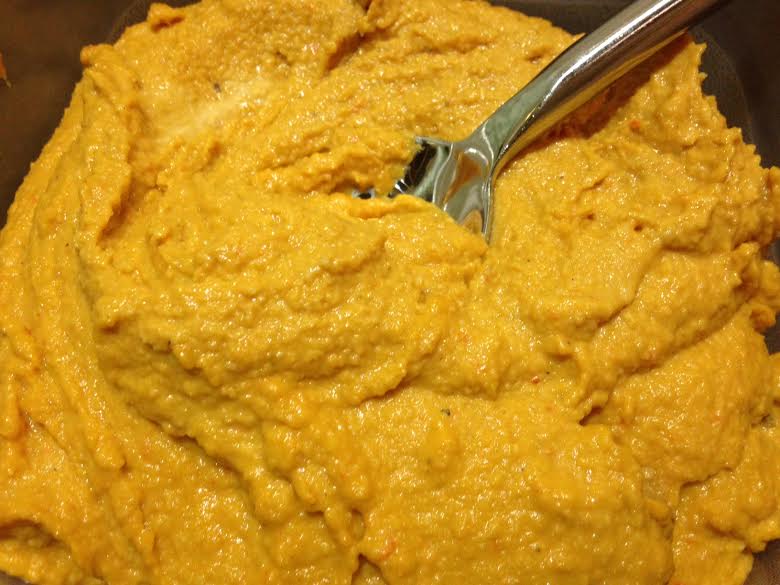 It's sooo worth learning how to use a food processor for this.  Just use the "S" blade and pulverize the nuts with the ingredients. The red pepper turns the cashews into a pretty shade of Doritos (!) and tastes even better.  You can spread this "cheese" on kale chips,  bake them and then do a fake out with your kiddos and let them think they ARE eating Doritos.  It's that good, y'all.  Seriously.  Who's hungry??!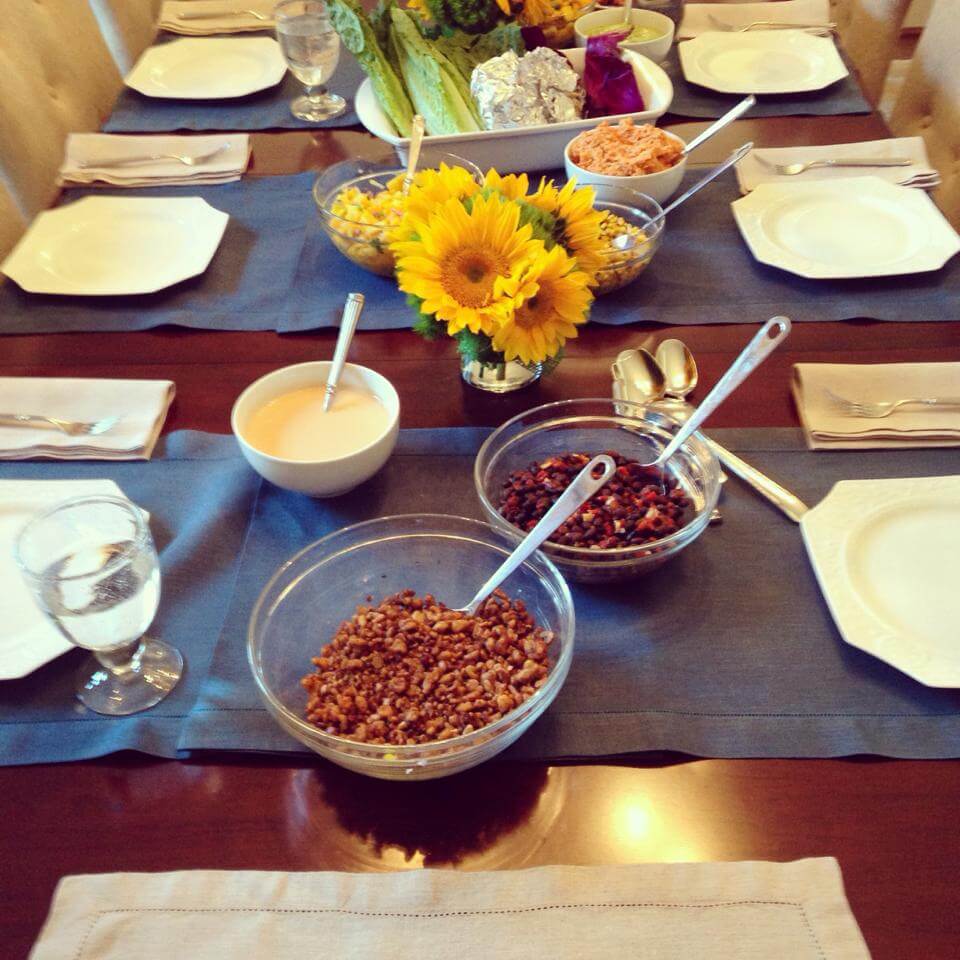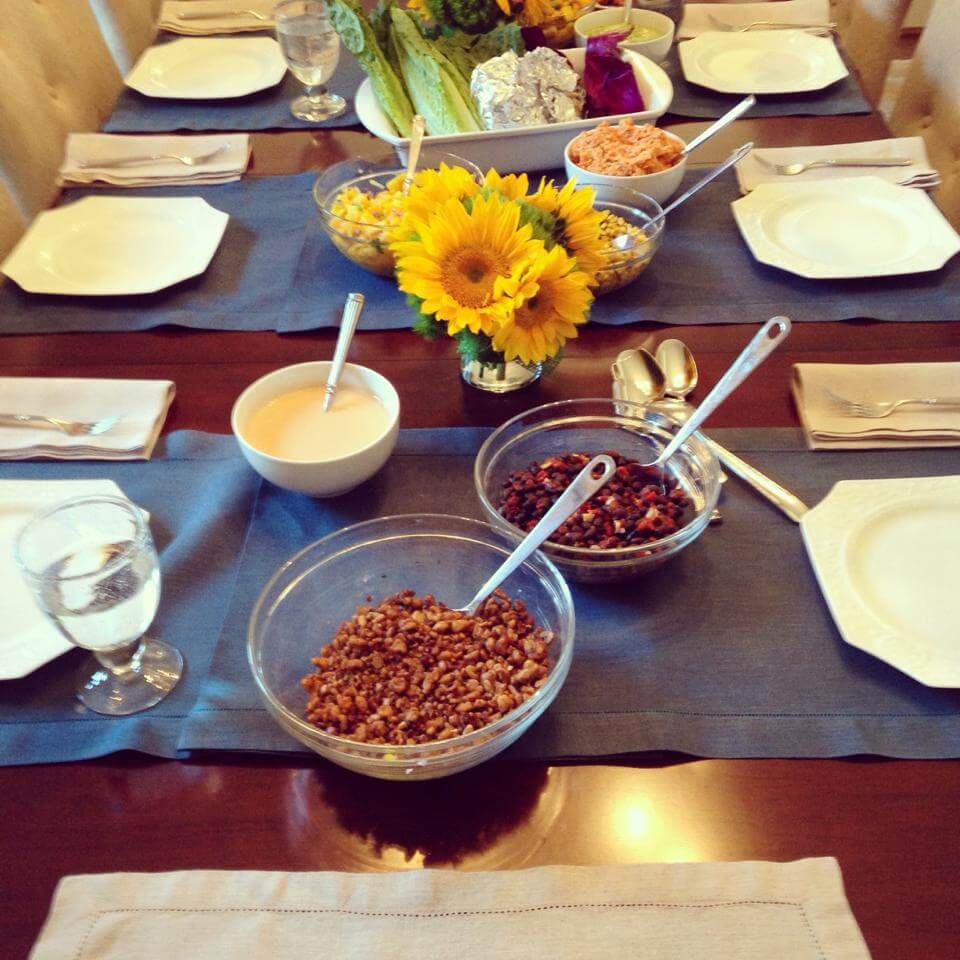 Save your bacon for another day….
Vegan Spiced Walnut "Meat" Taco with Cashew "Cheese"
---
Ingredients
For the walnut tacos
1 cup walnuts
4-6 red cabbage leaves
For the walnut spice mix
2 Tb chipotle chili powder
1 Tb coriander
1 Tb cumin
1 Tb dried cilantro
1 tsp onion powder
½ tsp cinnamon
½ tsp kosher salt
For the cashew cheese
1 cup raw cashews (soak in water for 1-2 hours and drain)
1 clove garlic
2 Tb olive oil
1 roasted red pepper
2 Tb nutritional yeast
1 Tb soy sauce
Kosher salt to taste
For the mango salsa
1 mango diced
1 jalapeño
2-3 Tb fresh chopped cilantro
2 Tb chopped red onion
½ lime squeezed
Instructions
For the walnut tacos
Take the one cup of walnuts and pulse in the food processor a few times to crumble into smaller bits (so it looks like taco meat).
Soak walnuts for 3 hours and drain.
Mix spice mix together and sprinkle a couple teaspoons on the walnuts until coated. (You won't need to use the entire amount of spice mix– just put it in a baggie or a spice container to use for a later time. The spice mix is fabulous on ground chicken, ground turkey or beef as well.)
Preheat oven to 350 and bake the spiced walnuts on a rimmed cookie sheet for 5-7 minutes until warm.
For the cashew cheese
Soak cashews for 3 hours. Drain.
Add cashews and all the other ingredients to the food processor and mix until smooth– about 1-2 minutes. You can always thin it out by adding a little water to the mixture, but I like the consistency of this proportion a lot. It's cheeeeeesy!
For the mango salsa
Combine ingredients and top on to your taco.
*I like to layer the walnuts on the cabbage leaves, then the cashew cheese, then the mango salsa.