This is the first time I've not only eaten a bison burger but cooked one.  I may not go back to beef for a while!  It was so juicy and tender (and lean!)  Because it is such an un-fatty cut, you need to add a punch of flavor and texture, in my humble opinion.  I roasted 2 jalapeños and chopped them up (with the seeds) into the ground bison as well as a few chopped garlic cloves.
While burgers are cooking, fry up your onions.  I have a bad ass fried onion recipe with 2 parts buttermilk, 1 part flour, but it is definitely not gluten free or low carb.  I think it's the wet batter that makes them so rich, so I decided to experiment with a gluten free/low carb version.  It took twice as much liquid to create the same consistency when using coconut flour as the base…but it worked!  And JP said he might like these better than the real deal….not bad, eh?
I put some crumbled blue cheese on the burgers and then topped with the fried onion rings…DIVINE.
Meaty Monday: Jalapeño Bison Burger with Low-Carb Fried Onions
---
Ingredients
Bison Burgers
1.5 pounds ground bison
2 jalapeños roasted and chopped up (I drizzled with a bit of olive oil and roasted them on high broil until blistered on all sides (about 5-7 minutes total)
4 garlic cloves chopped
1 tsp kosher salt
a few grinds of black pepper
2 Tb butter
1 Tb olive oil
Onion Rings
1/2 cup coconut flour
1 cup buttermilk
1 cup water
1 tsp baking powder
1/2 tsp salt
canola or corn oil
Instructions
For the Bison Burgers:
1. Mix the garlic and roasted jalapeños into the meat.
2. Shape into patties and heat up a grill pan with the butter and oil.
3. When butter gets bubbly, add burgers and cook until medium rare, about 4 minutes on each side.
For the Onion Rings
4. Heat up 2-3 inches of oil in a large saucepan or dutch oven over medium-high heat. When oil sizzles, onions are ready to fry.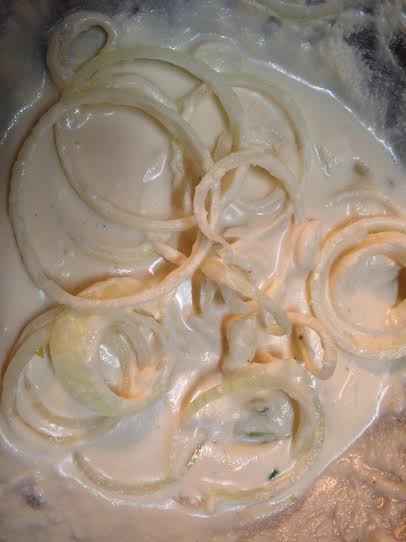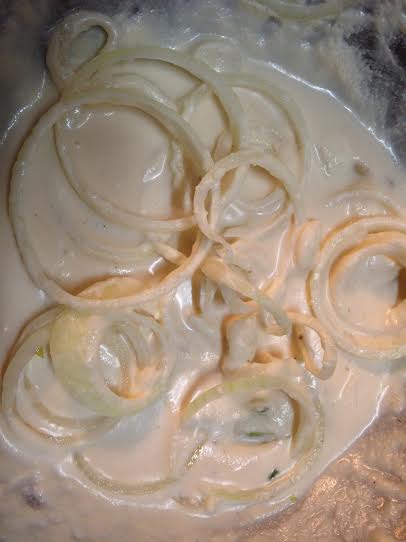 5. Mix wet and dry ingredients until batter is smooth. Dip onions in batter and pop into the oil. Turn over with tongs and fry until crispy on all sides.