I'm not a soup or smoothie girl at all.  Something about the "not chewing" factor always leaves me unsatisfied and craving something, well, that I can sink my teeth into.  And, I'm usually starving immediately if I make it a liquid breakfast or lunch.  Add in the still hot AF weather in Hotlanta and soup is REALLY not on my list of foodie desires.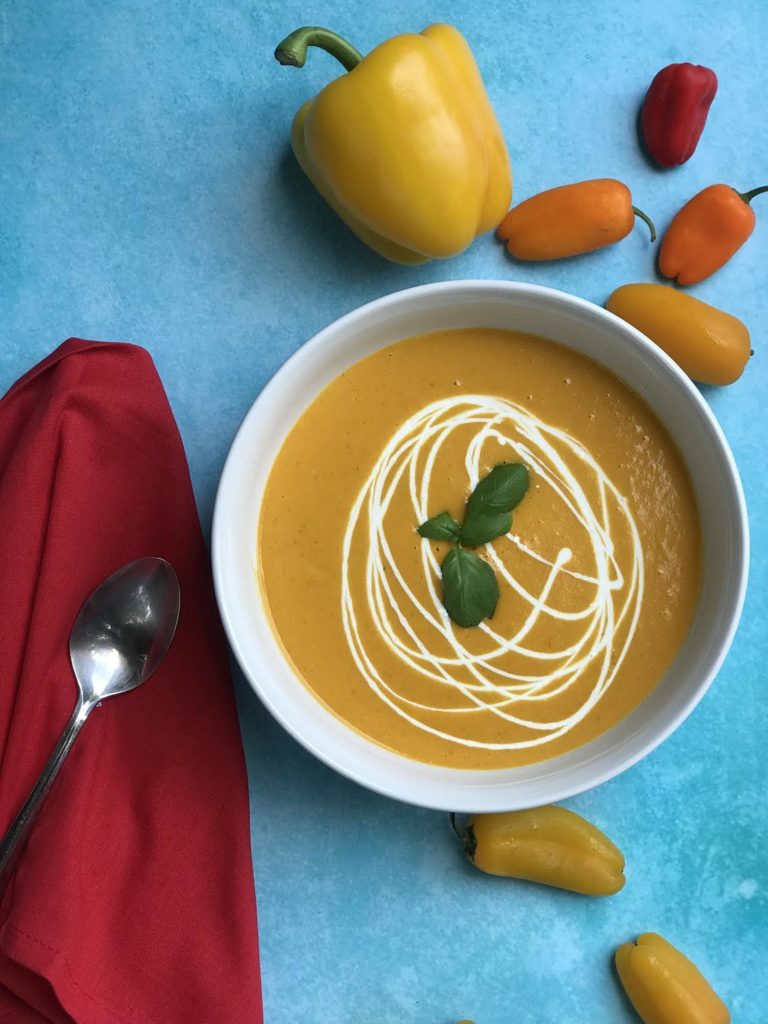 Well, I proved myself wrong with this one, y'all.  This Thai Roasted Red Pepper Soup is what I like to call an Indian Summer Soup, because it has some of those earthy, rich flavors of fall with roasted peppers and curry, with the cool, smooth finish of summertime.  Don't even get me started with cold soups, people, because gazpacho is basically spooning salsa into your pie hole.  But this.  This, changed MY mind.  It's a Thai Roasted Red Pepper soup and you can prepare to be amazed.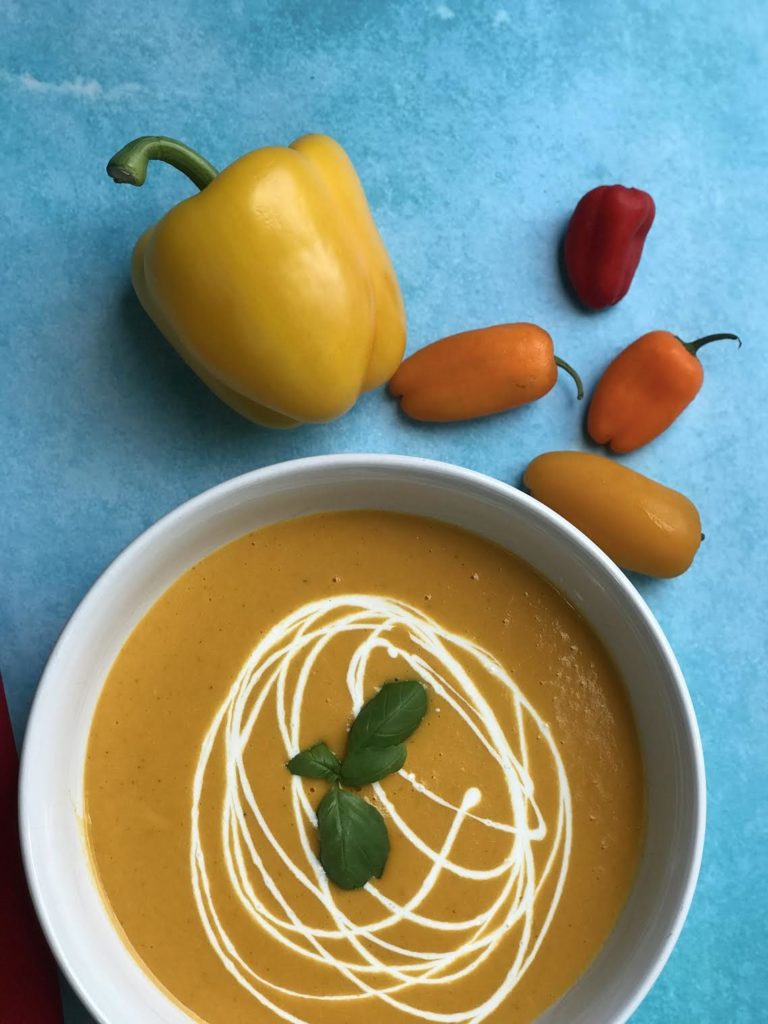 I'm gonna brag for a minute here, because my good friend (and animal whisperer) Philippa, came to visit for lunch to snug up with the pibbles and catch up with me.  She happens to be a trained Thai Chef who is just getting ready to put out a Vegan Thai Cookbook!  And she was impressed!  This is a lady who makes her own curry paste, folks.  That is probably not happening on Parker's Plate anytime soon, LOL!  Look how adorbs they are hanging out on the floor…and notice the tongues wagging on Tom and Jerry.  It was the soup they were smelling!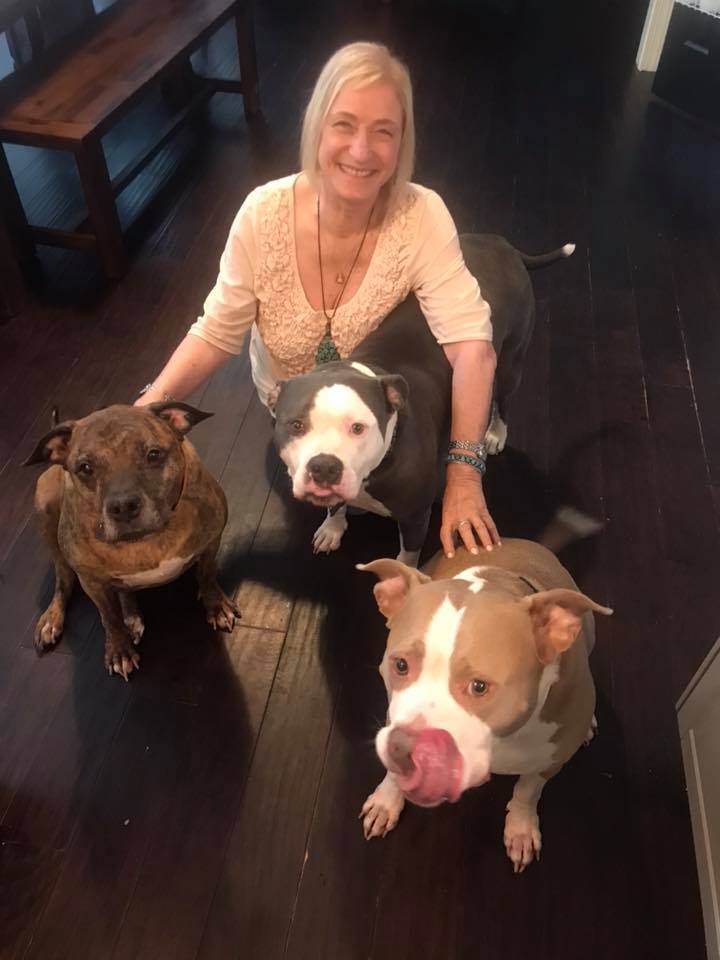 Initially, I had tested the soup out warmed up, but when we were about to sit down to lunch, it was so hot and humid out, I decided to serve it chilled.  Game Changer!  All those flavors just worked and it was super refreshing and actually hearty enough to keep me full till dinner. The crema swirled on top was the perfect touch.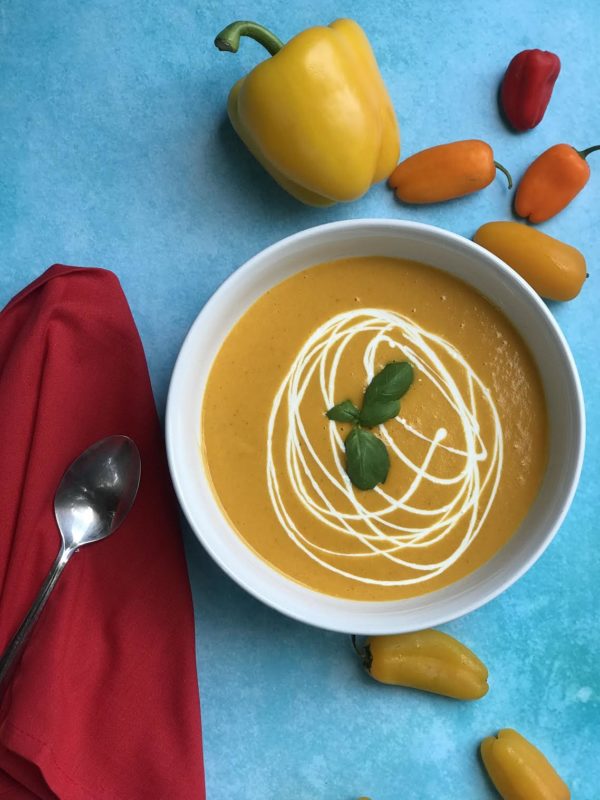 | | |
| --- | --- |
| | |
Roast peppers under the broiler until they are slightly charred on all sides. Let cool slightly and peel skin off with a paper towel. Cut up peppers and discard seeds.

While peppers are roasting, saute onion and garlic in olive oil until softened and fragrant, about 3-5 minutes on medium heat.

Add red curry paste to the onion and garlic mixture and continue to saute for a couple more minutes until the paste has dispersed in the pan and has covered the onions and garlic.

Add peppers, onion and garlic mixture, pineapple, coconut milk and fish sauce to a blender or food processor. Blend until smooth.

Return to the stovetop and add in lime juice. Stir in 1/4 cup of heavy cream and let thicken. Season with kosher salt and pepper to taste. Serve with fresh basil and drizzled crema.
There is no Nutrition Label for this recipe yet.
For an even richer soup, you could add pumpkin or sweet potato.  Served hot, it would be a phenomenal fall soup to warm you up on a chilly evening!  I'm making a note to test that out next…