Summer has literally slipped away and I feel like I've barely enjoyed the bountiful seasonal fruits and vegetables that have been the essence of the last few months.  Peaches are particularly spectacular Georgia, (otherwise known as the Peach State) where this Culinary Goddess currently resides.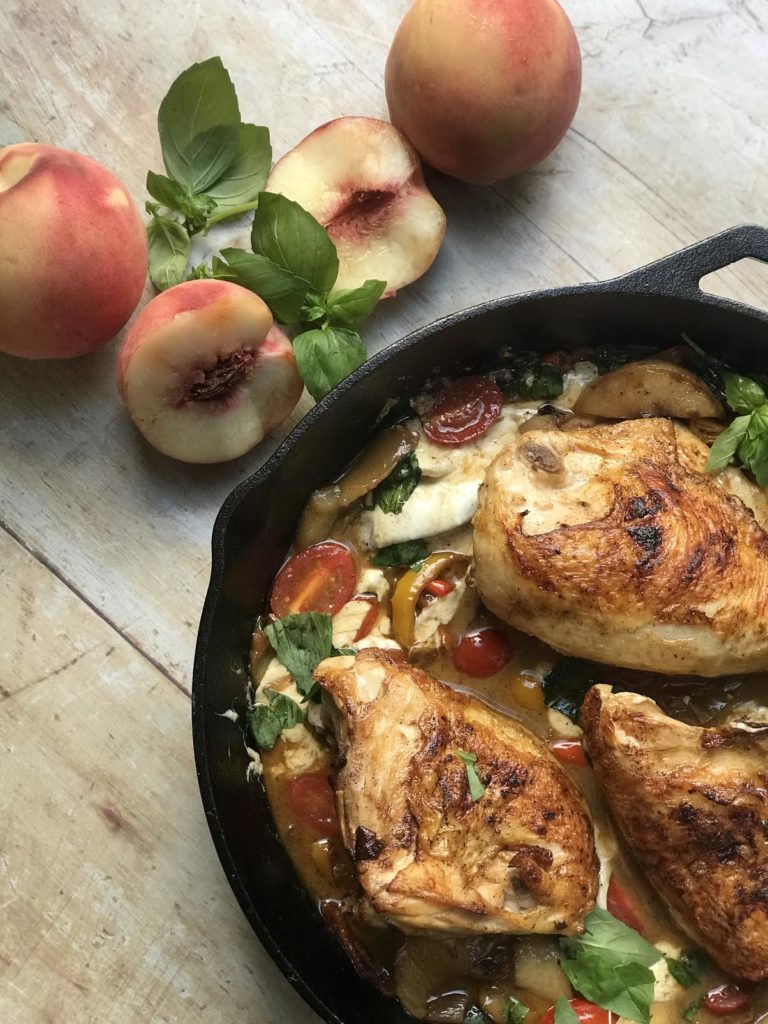 A few years ago, I did a TV segment on Sam Champion's show, AMHQ, about how peaches are harvested.  I learned a lot about the most famous fruit in Georgia from the Lane Family, arguably, Peach Royalty here in the South, and one of the kindest, most hard working farm families I've ever met.  I saw some gorgeous white peaches on sale this week and was inspired to make a Skillet Roasted Chicken with Peaches and Mozzarella.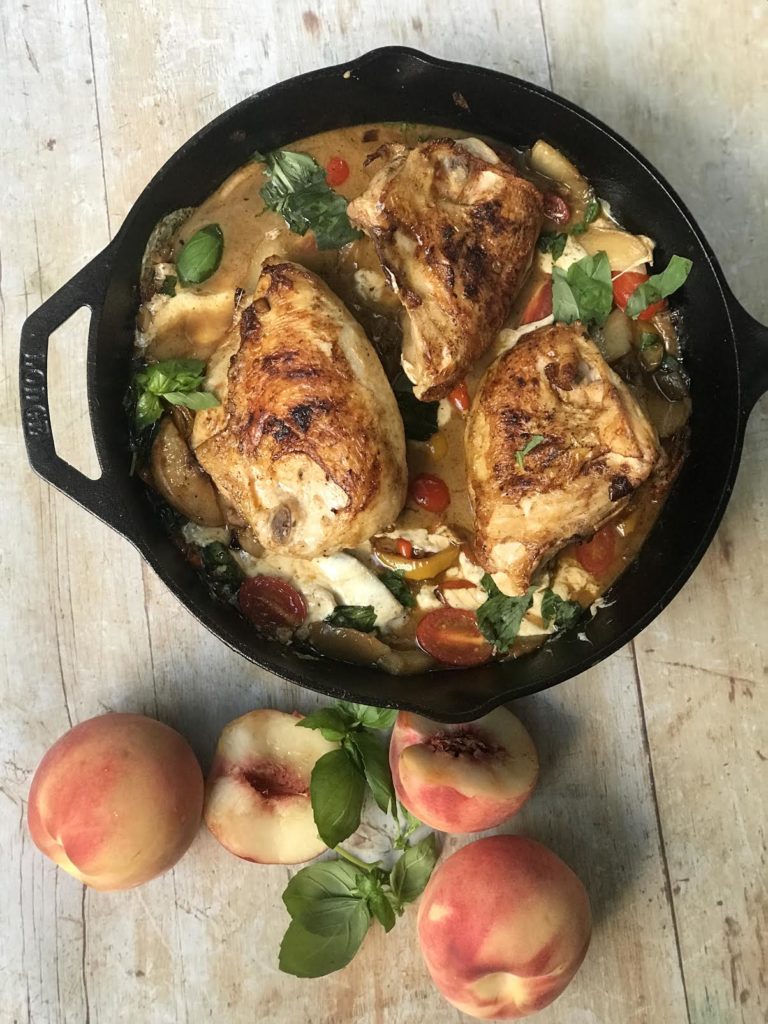 The flavors infused in this dish are the essence of summer, in my opinion.  Savory chicken breasts roasted with sweet white peaches, creamy mozzarella, and the fresh pop of flavor from tomatoes and basil is pretty much dinner perfection.  You can use bone in, skin on chicken thighs as well, or even boneless, skinless breasts.  Personally, I find that when using the skillet, skin on chicken is best because you get that crispy, caramelized skin with ultra tender and juicy meat.  That chicken is literally basting in all that sweet peach flavor with some white wine and a hint of balsamic.  These were big 'ol pieces of chicken, y'all, so if you're using thighs or smaller, boneless, skinless breasts, adjust cooking time.  These babies were so thick, they needed the solid 45-50 minutes of cooking time between the pan and the oven.  Thighs and boneless breasts would probably only need the 10 minutes in the pan total and then 20-30 in the oven.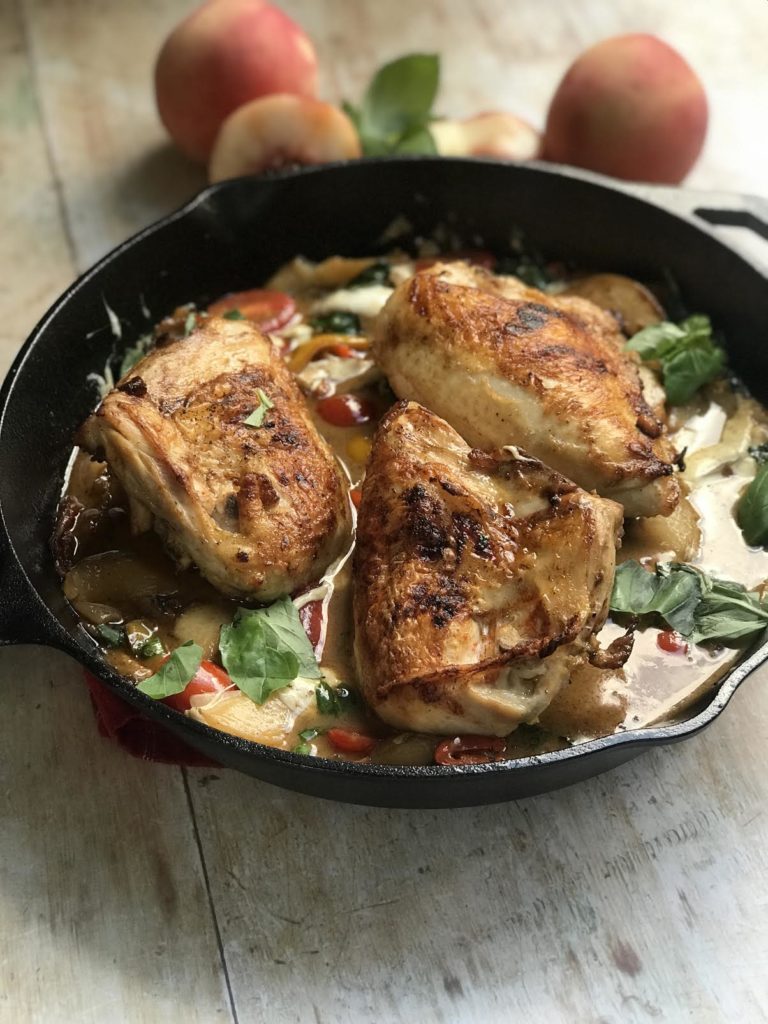 I can't tell you guys how much I wanted to sop up that yummy sauce with a big 'ol hunk of bread, but I resisted.  Barely.  Just to add even more flavor to the whole shebang, I drizzled balsamic glaze over the finished plate and it was, well, sublime.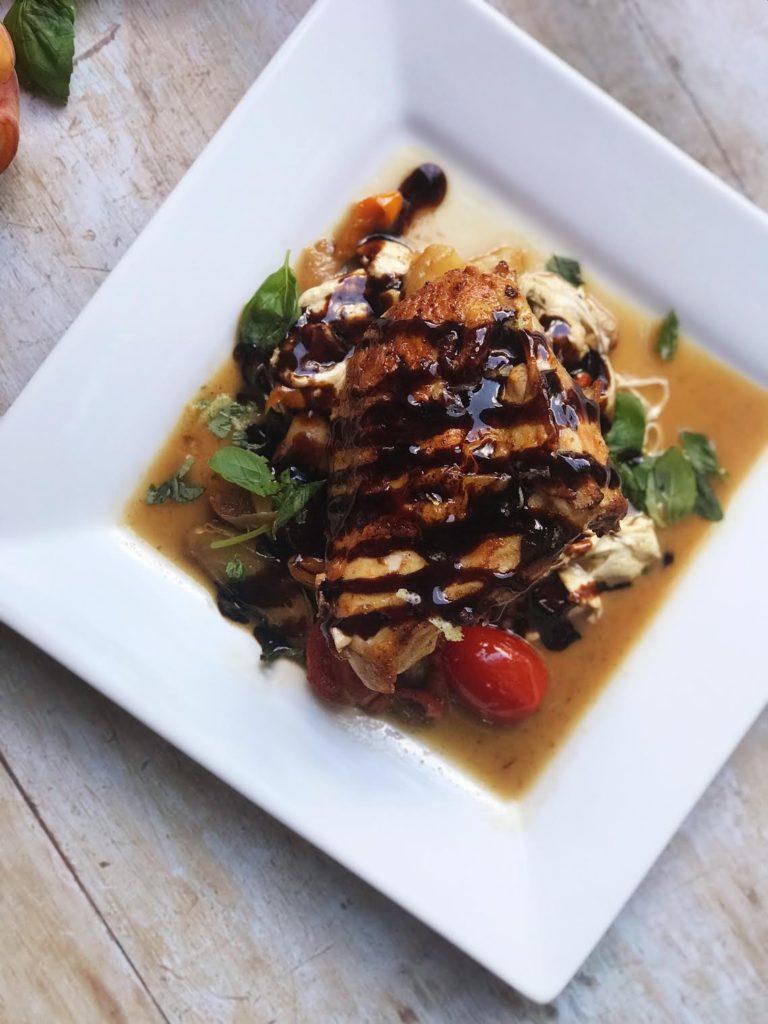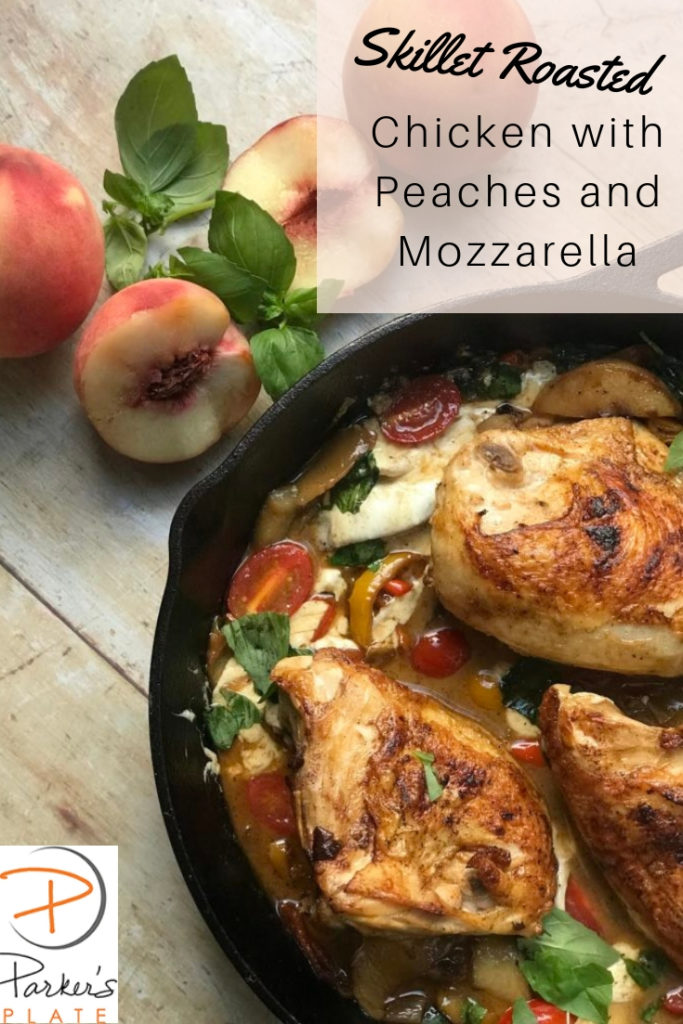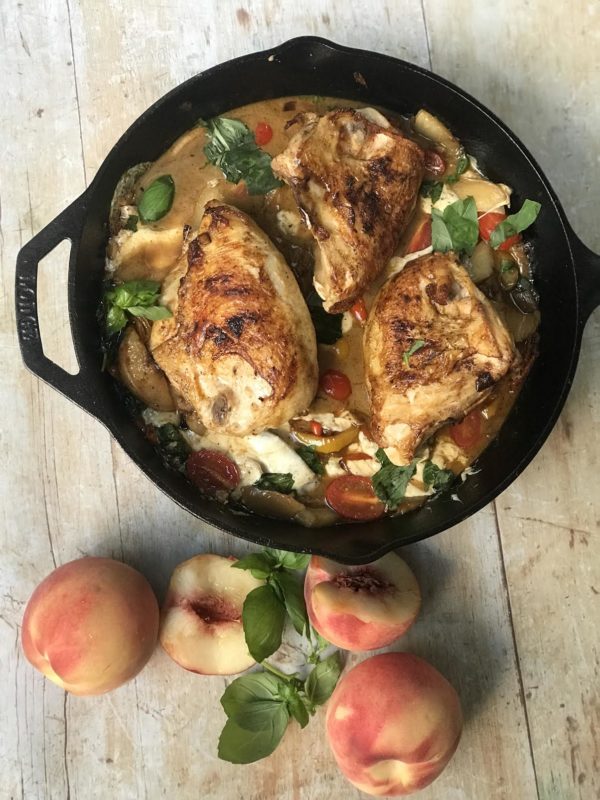 | | |
| --- | --- |
| | |
Preheat oven to 375. Season chicken thighs with kosher salt and smoked paprika.

Heat butter and olive oil in a cast iron skillet on medium heat until butter is slightly bubbly. Saute chicken on both sides until skin is lightly browned, about 5 minutes per side. Remove chicken and put on a plate.

Add shallots, garlic and sliced peppers and saute on medium heat for 4-5 minutes until fragrant.

Add balsamic vinegar and white wine and stir to combine and bring to a simmer, about 5 minutes.

Put chicken back in skillet, pouring sauce over breasts and arranging evenly. Fold sliced peaches into skillet and nest next to chicken in the sauce. Put in oven and bake for 30 minutes.

After the 30 minutes, add fresh mozzarella and grape tomatoes. Bake for another 10 minutes or until chicken is cooked through. Spoon sauce onto chicken when serving.