I have a confession to make…(gulp). Or rather, (gobble).
The last two Thanksgivings, turkey was *not* on Parker's Plate. But, but, what about the gravy and the leftovers and the sandwiches smothered in cranberry sauce and layered with stuffing and maybe a spoonful of mashed taters on top? Yeah, not so much. Why the turkey blasphemy? Self-proclaimed culinary goddess over here had a few turkey fails. The bird LOOKED great. But, it was like lipstick on a gobbler. All flash and no smash. That bird was so dry, it was parched. Or, should I say THOSE birds, since I tried various cooking techniques on all of them. Same result. Dry. Boring. No bueno. Pass the green bean casserole and let's try again next year.
Well, lovelies, from now on, turkey will always be on Parker's Plate. Lemme tell you about the almost-impossible-to-fail, must-try, best culinary invention I've yet to experience….(and I thought the sous vide couldn't be topped!). Meet my new BFF: The Big Easy Oil-Less—that's right, Oil-Less—Turkey Fryer from Char-Broil. It's hands down, the fastest, easiest, and safest way to fry turkey!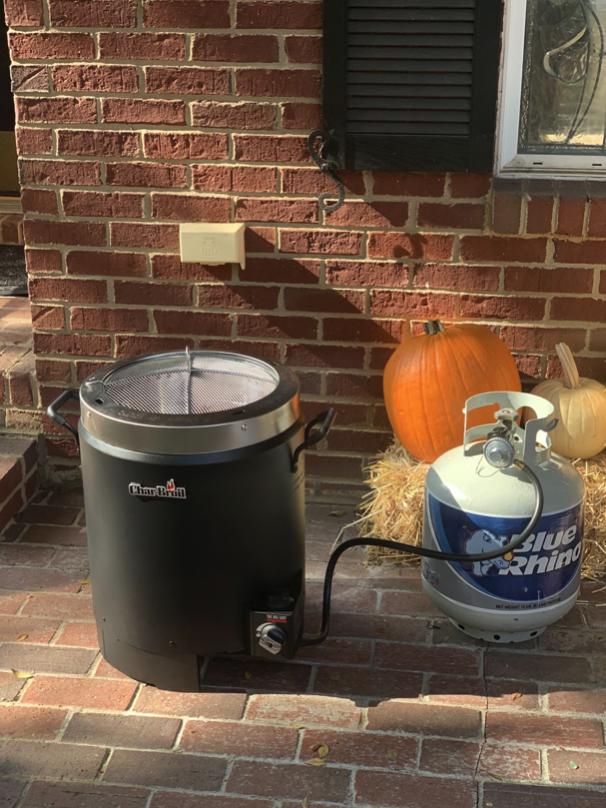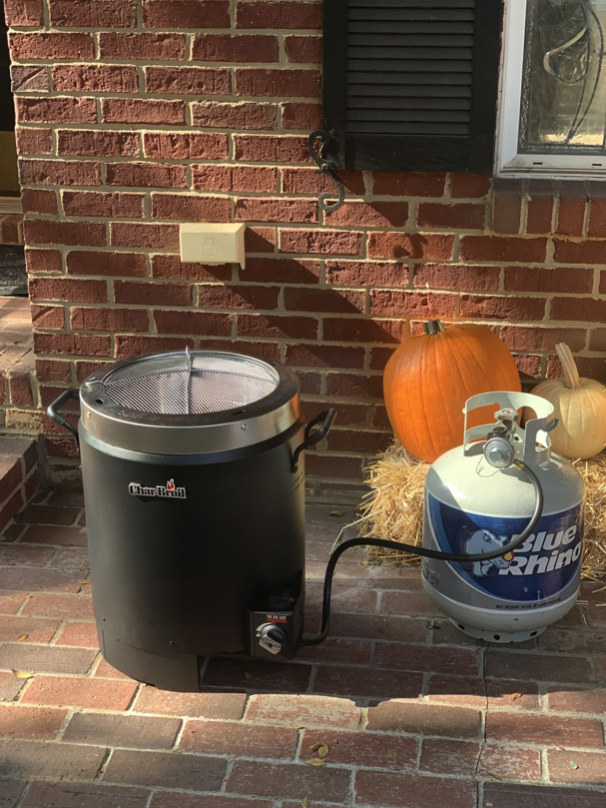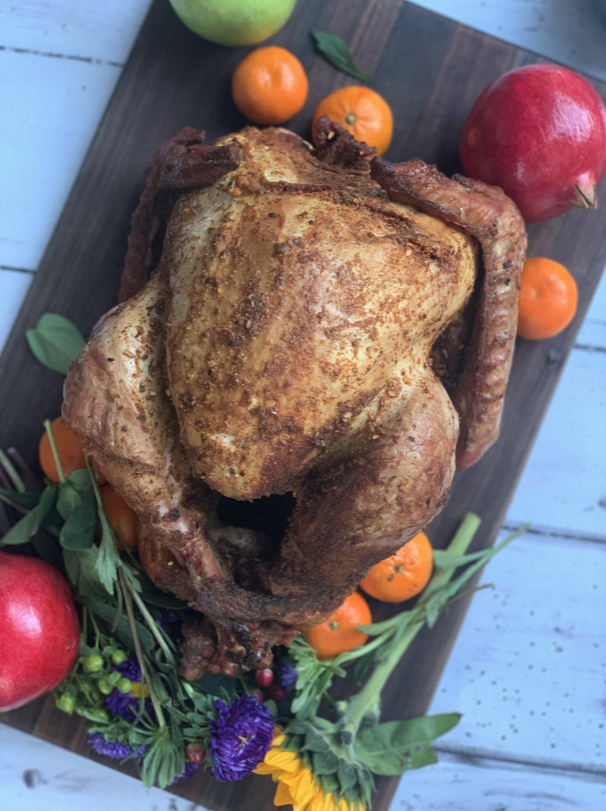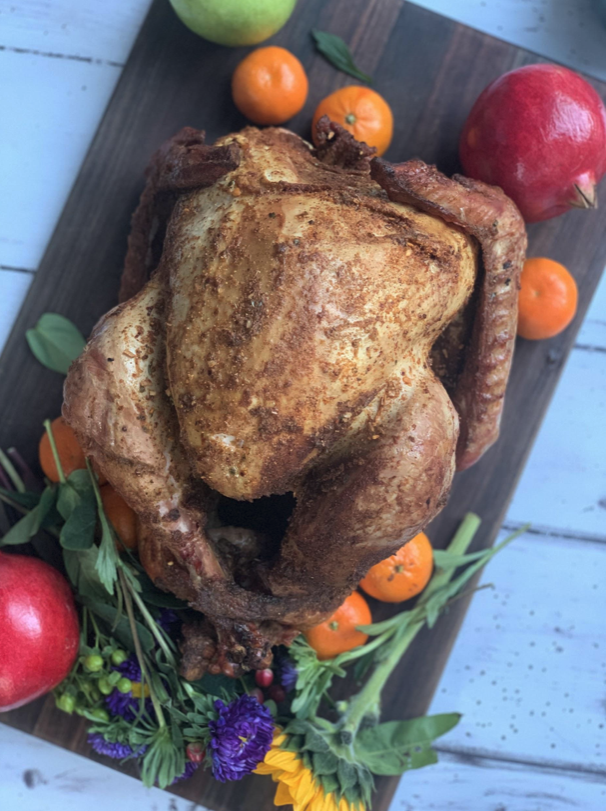 I actually learned how to grill on a Char-Broil gas grill—back when our kitchen was under construction for like 117 years (OK, more like 3 months). We had no stove and no oven, so I got my grill on big-time. I can personally attest to the fact that Char-Broil makes "the Most Forgiving Grills on Earth" and they've actually incorporated the same Char-Broil TRU-Infrared cooking technology found in their amazing gas grills into The Big Easy. It's powered by a propane tank, the one from your BBQ grill will work just fine.
That state-of-the-art technology is how The Big Easy helps you make the perfect turkey every time—and you know the kind I'm talking about. All that seasoned, crispy skin on the outside and super tender and juicy on the inside…makes me want to, well, air fry a turkey!
Here's the rub—literally! I kept things simple with my practice-run Turkey Day centerpiece. I brushed some oil on a 14 pound bird, made a spice rub, and then put that bad boy in The Big Easy.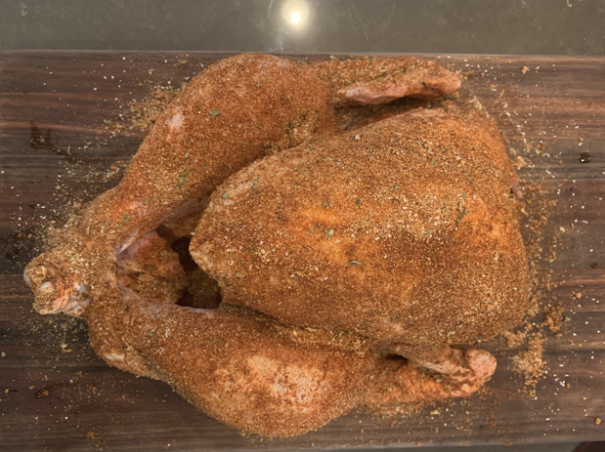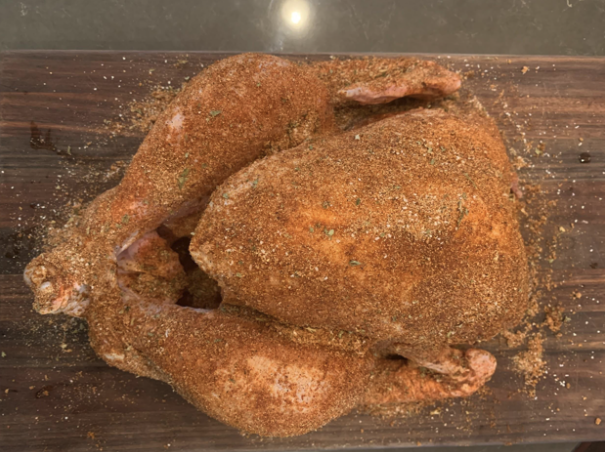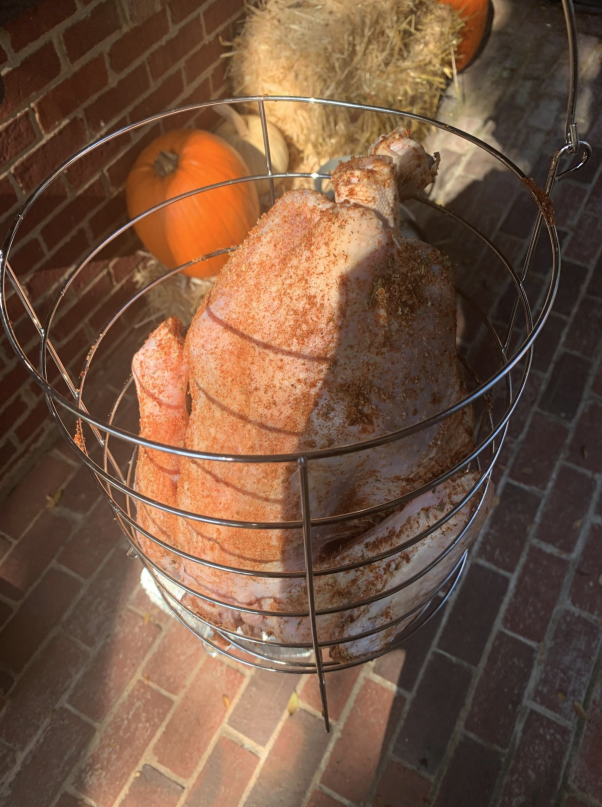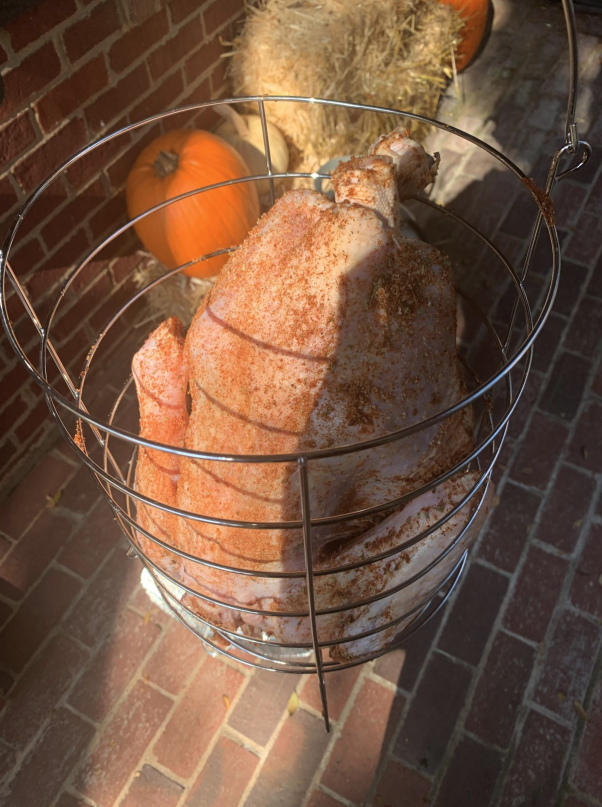 Bonus points for The Big Easy as well, because since it's an oil-less fryer, you don't have to worry about the extra calories or the stress of clean up. Plus, The Big Easy lets you free up precious space in the kitchen so your mother-in-law can hog the oven with her pecan pies.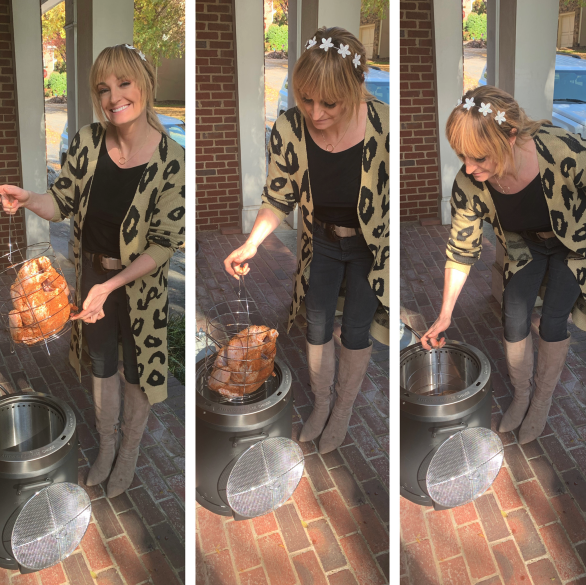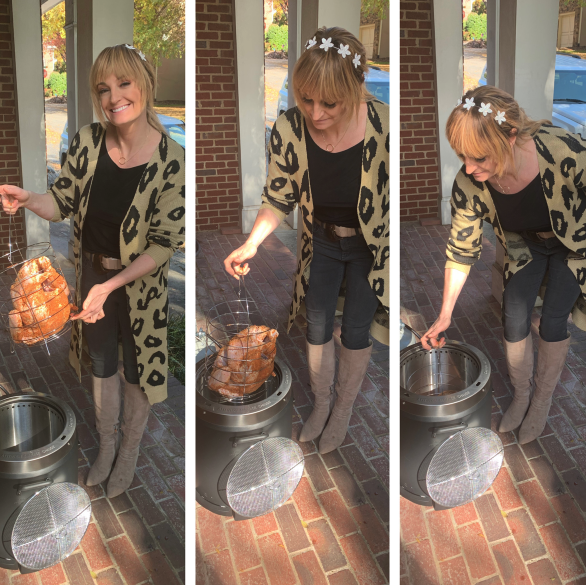 I did some research and you'll notice the Big Easy has a mesh lid. Technically, it's used during the final 15-30 minutes of cooking to reflect some of the heat back and brown the skin more. But, in colder weather, you have the option to use the lid for the entire cook—but, just be sure to keep an eye on the internal temps since it will cook faster. I cooked it in 55 degree weather in Atlanta and kept the lid on the whole time with excellent results. Also, to note, the first time you use The Big Easy, season the pot by rubbing with some cooking oil and turning the heat to high for a few minutes. 
The turkey is cooked faster in The Big Easy—another huge reason to try it! It times out to about 10 minutes per pound, give or take a little. And just look at the gorgeous results…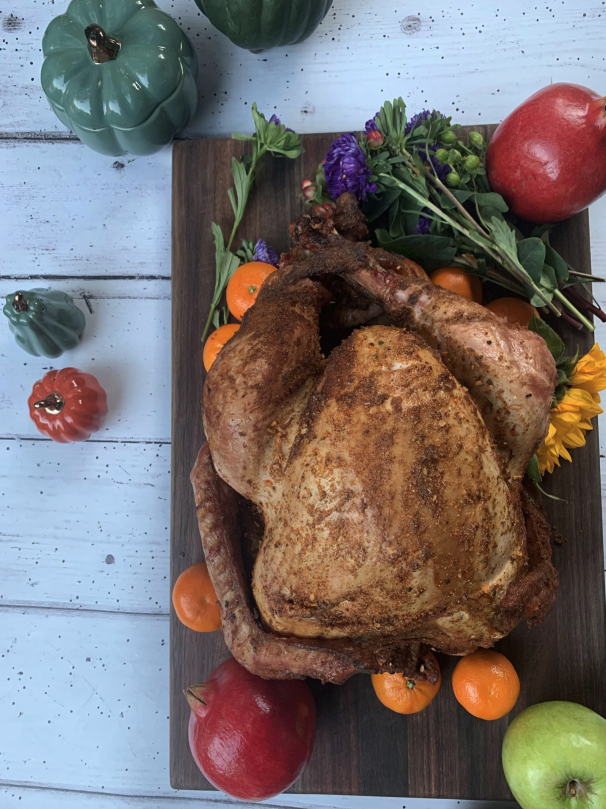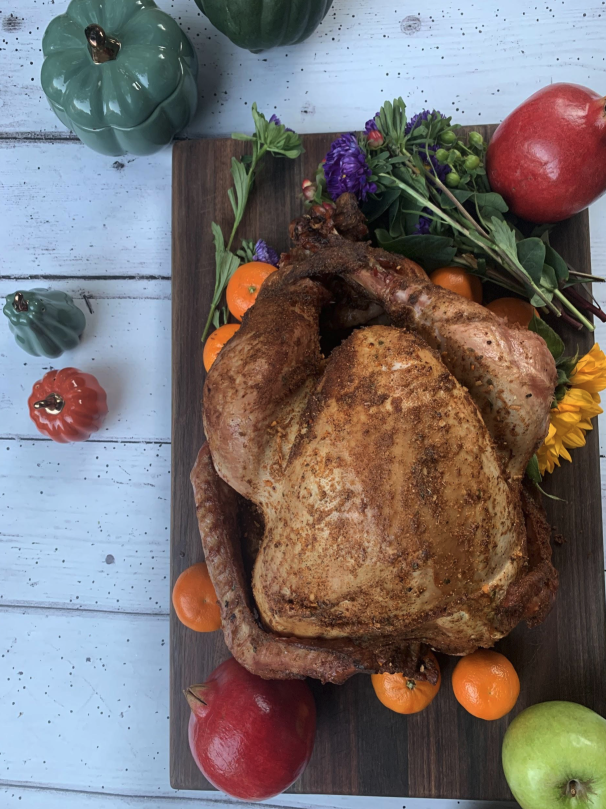 The drippings are collected in a small container—so you can use it to make ridiculous gravy. With deep-frying in oil, you don't get the benefit of those flavorful drippings!
Thing is, I personally think that gravy is only good to mask the (ahem) dry texture of turkey, so in this case, the juicy factor is so huge, you don't need a dang thing except an appetite!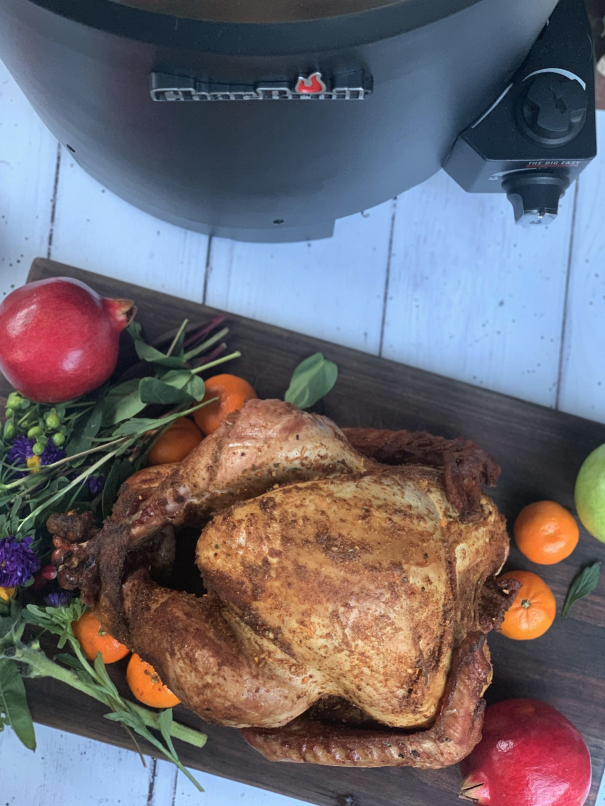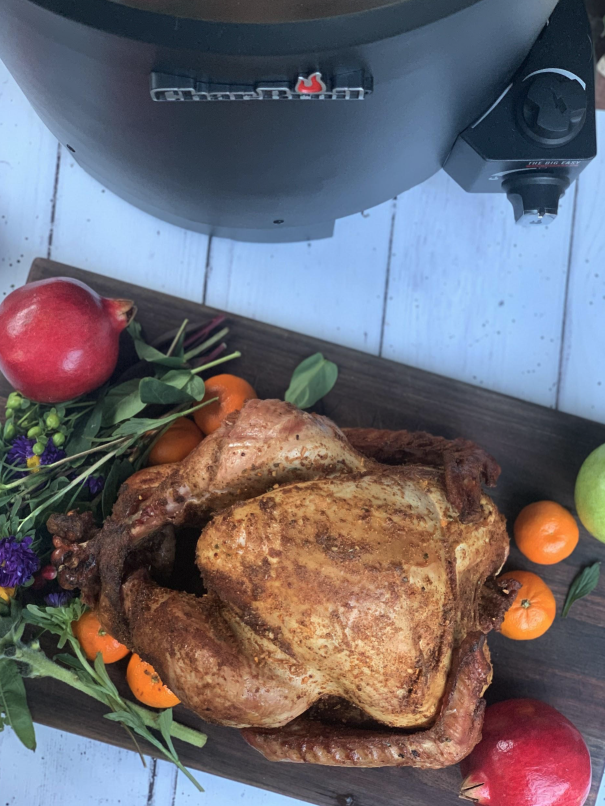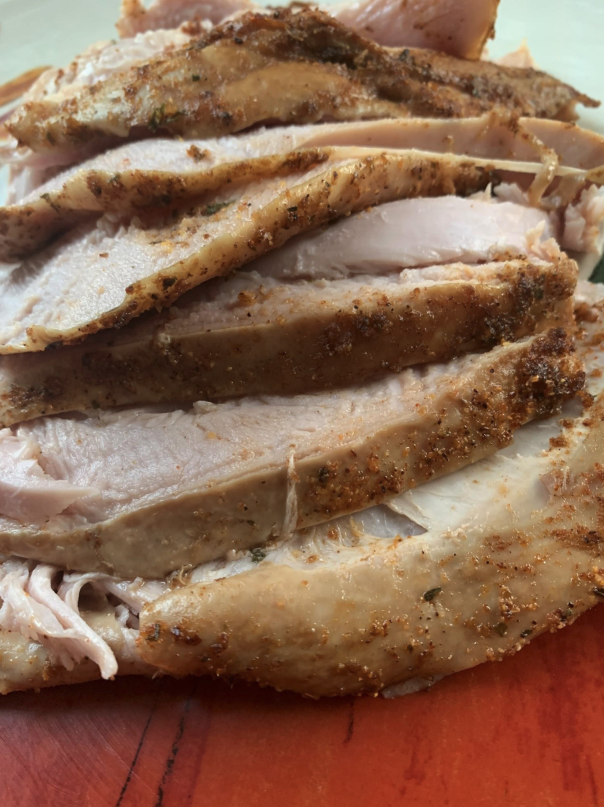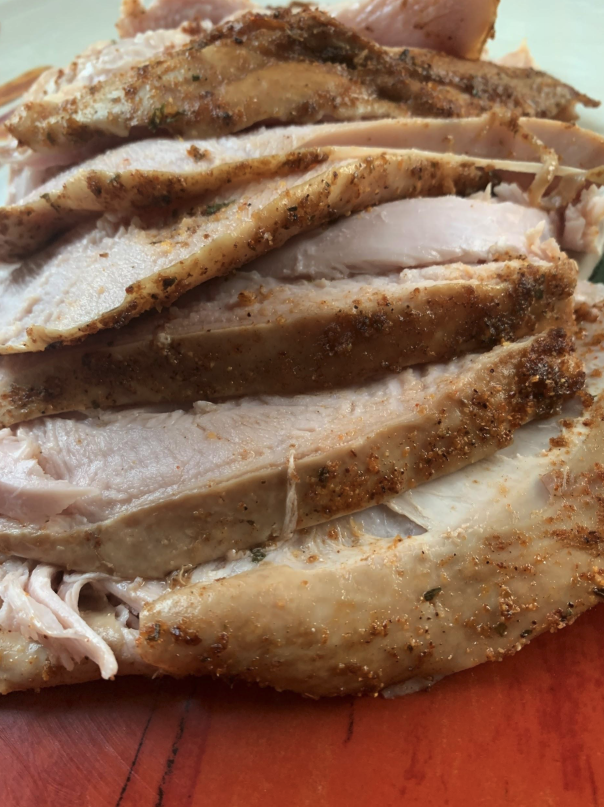 They have some great deals at Char-Broil and there's still time to pick up this game changer of an air fryer. You can actually get 15% off, a free cover, and free shipping between now and November 27 by using the code PARKERSPLATE at checkout at charbroil.com. You'll thank me later—and so will everyone at your holiday table…
Now, please pass the turkey!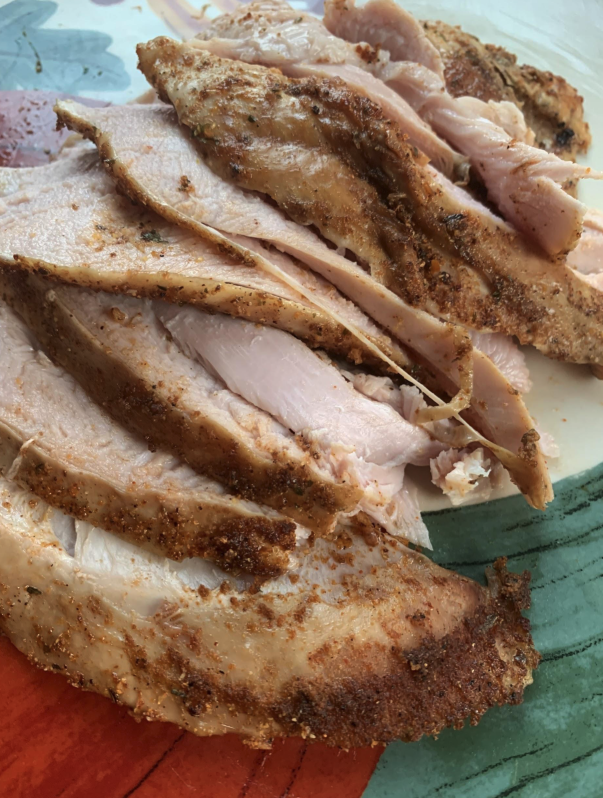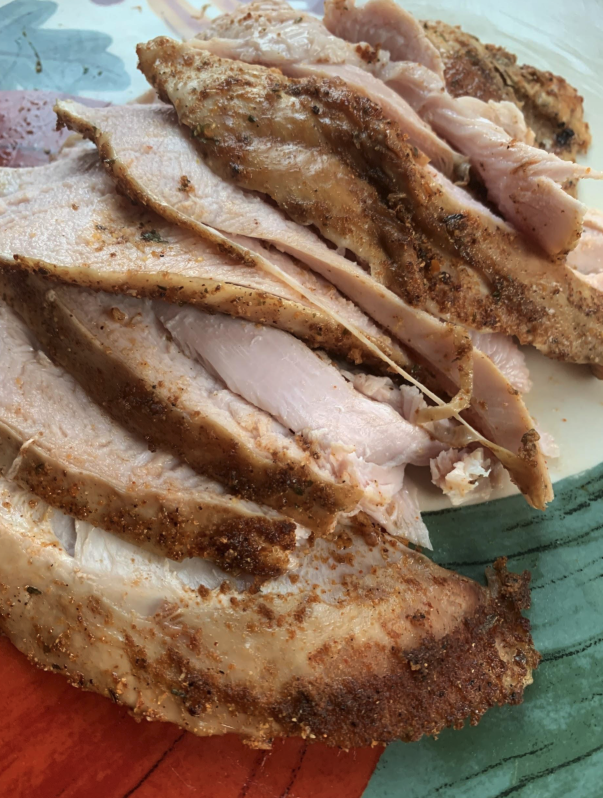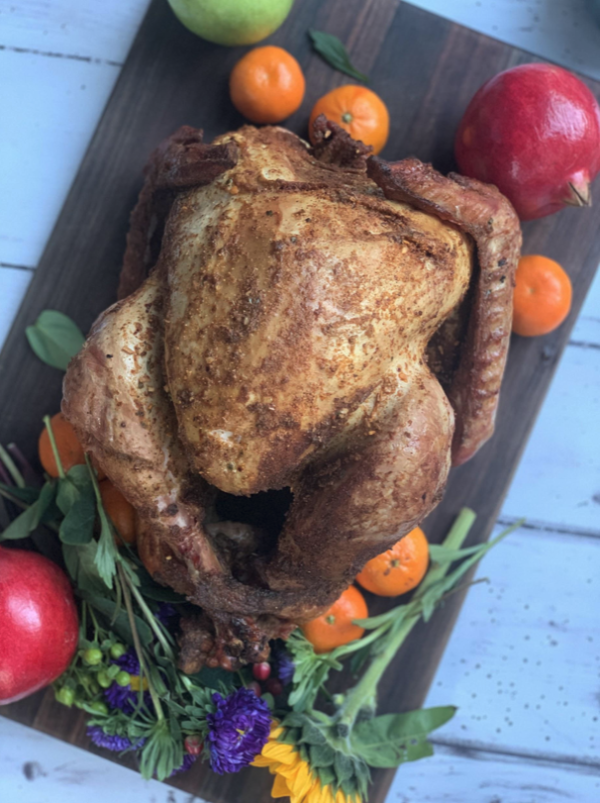 12-14

pound

turkey

Oil

to brush on turkey
2

Tb

cumin

2

Tb

smoked paprika

1

Tb

garlic powder

2

Tb

onion powder

1

Tb

coriander

1

Tb

parsley

1

Tb

black pepper

1

Tb

kosher salt

1

Tb

brown sugar
12-14

pound

turkey

Oil

to brush on turkey

2

Tb

cumin

2

Tb

smoked paprika

1

Tb

garlic powder

2

Tb

onion powder

1

Tb

coriander

1

Tb

parsley

1

Tb

black pepper

1

Tb

kosher salt

1

Tb

brown sugar
Dry turkey off with paper towel and remove neck and giblets. Make sure to remove any plastic ties and pop up timers.

Brush with oil and put spice rub on entire turkey, including inside the cavity.

Turn on The Big Easy and make sure the flame is strong. Lower the turkey into the basket (it fits up to a 16 pound turkey) and cook about 10 minutes per pound. I personally found that cooking breast side down cooked the turkey most evenly, but I have also researched that breast side up is also as effective. Remove turkey when breast registers 150F - 155F. Let rest for 15-20 minutes.