I have notes and lists and phrases written everywhere in my world.  On multiple notebooks, on the backs of envelopes, receipts, napkins,  you name it, I've probably marked it with my chicken scratch.  If I'm not careful, I will in fact lose it and then I'm scrounging for that balled up bev nap to remember what the hell I wanted to remember!  (This is my best and worst quality– it's like ADD meets OCD!) So recently, I wrote down 2 words.  TACO RANCH.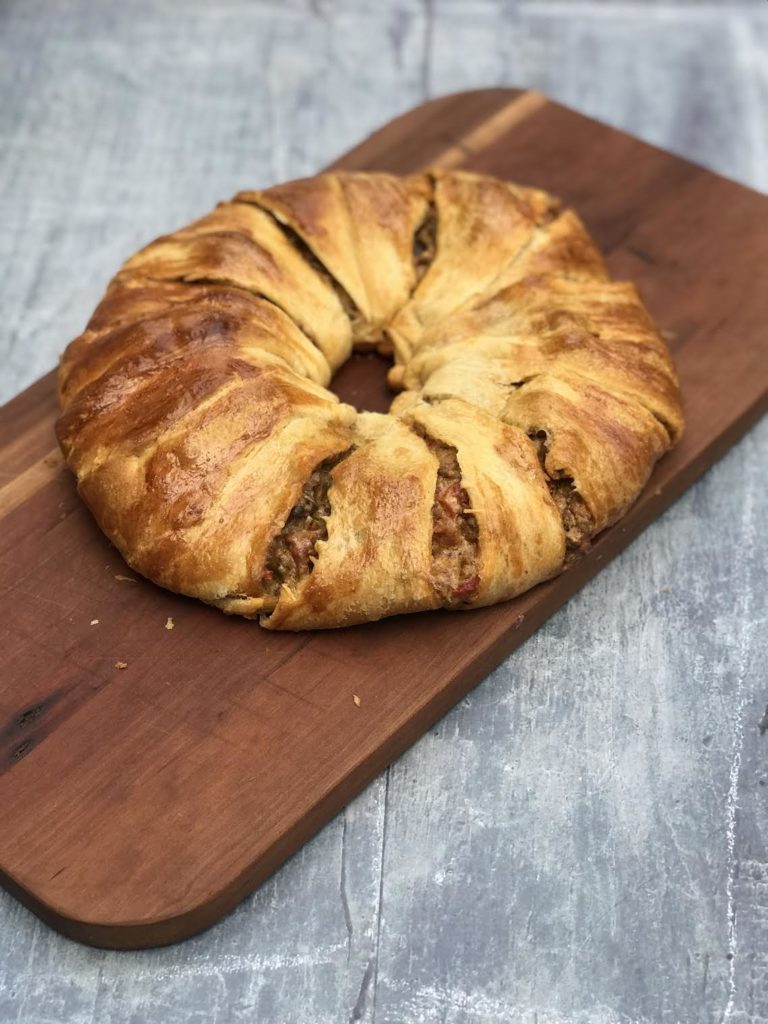 Don't ask me where I put that scrap of paper, but those two words stuck in my mind and I had to combine those flavors into something decadent.  Introducing, the Ranch Taco Ring of Delish.  Prepare to be stuffed.  And then want to do it again!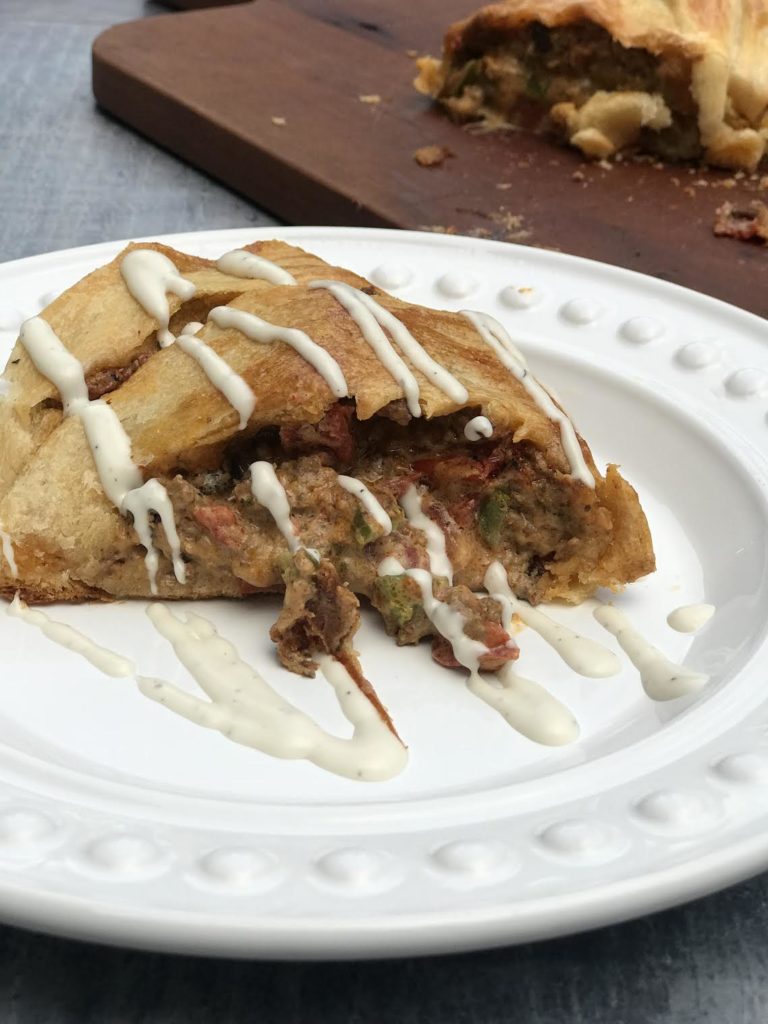 You make some regular taco meat and then mix with cream cheese, more shredded cheese, some ranch, Rotel tomatoes and olives.  It's really similar in fact to my Chipotle Turkey Roll with Guaco-Cream.  Creamy, ground meat with lots of flavor wrapped in pastry.  What's up?!
So, here's how you rock out the roll…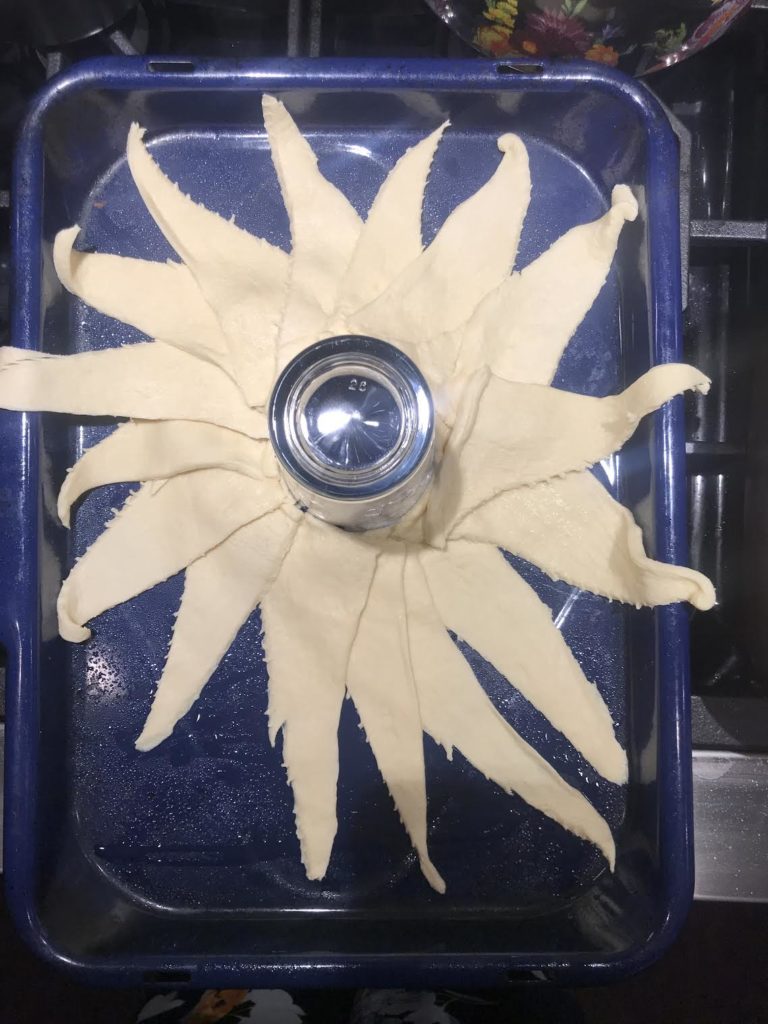 With 2 cans of crescent rolls, separate out the triangles and layer them around the circumference of a glass on a baking sheet that's been sprayed with some oil. Then, you'll have a perfect ring to wrap!  Once you make the meat filling, spread it around the glass.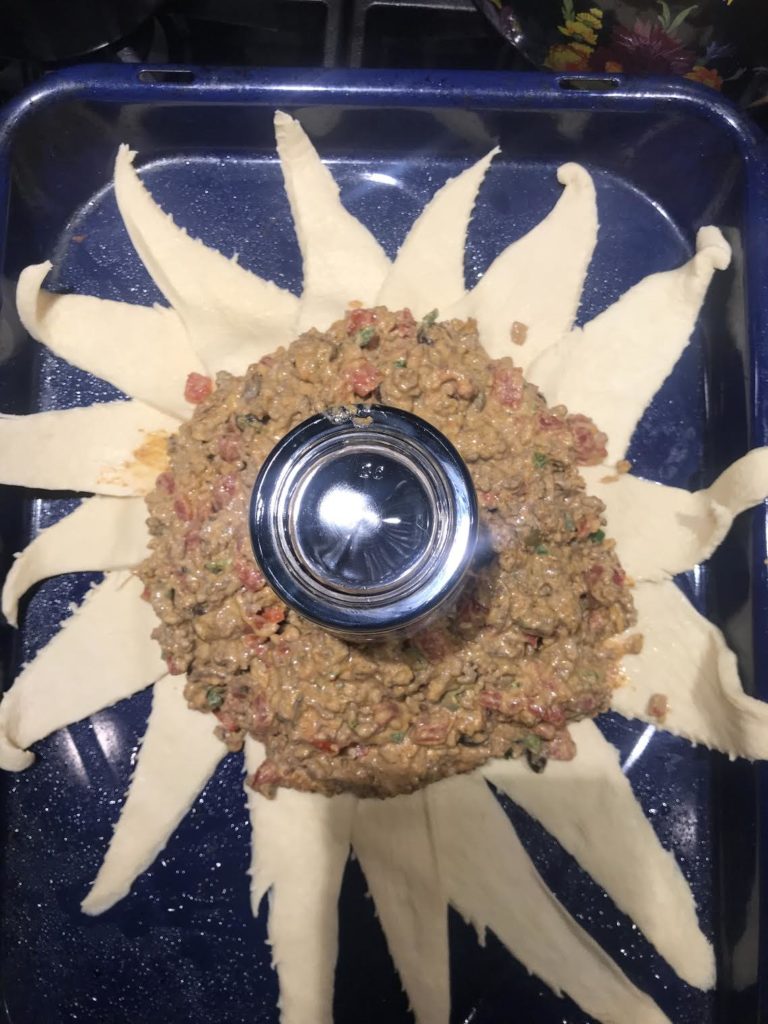 Then, remove the glass and just bring those triangles up around the meat and tuck under to secure it.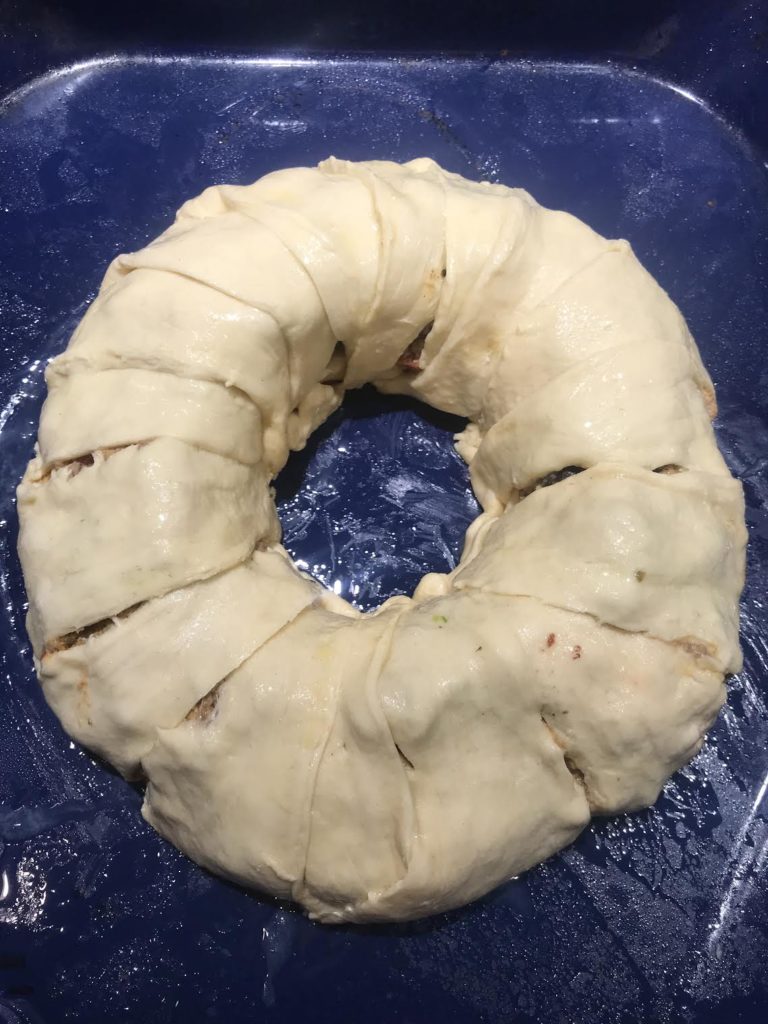 Brush with an egg wash and then bake for 20 minutes!  Done and done!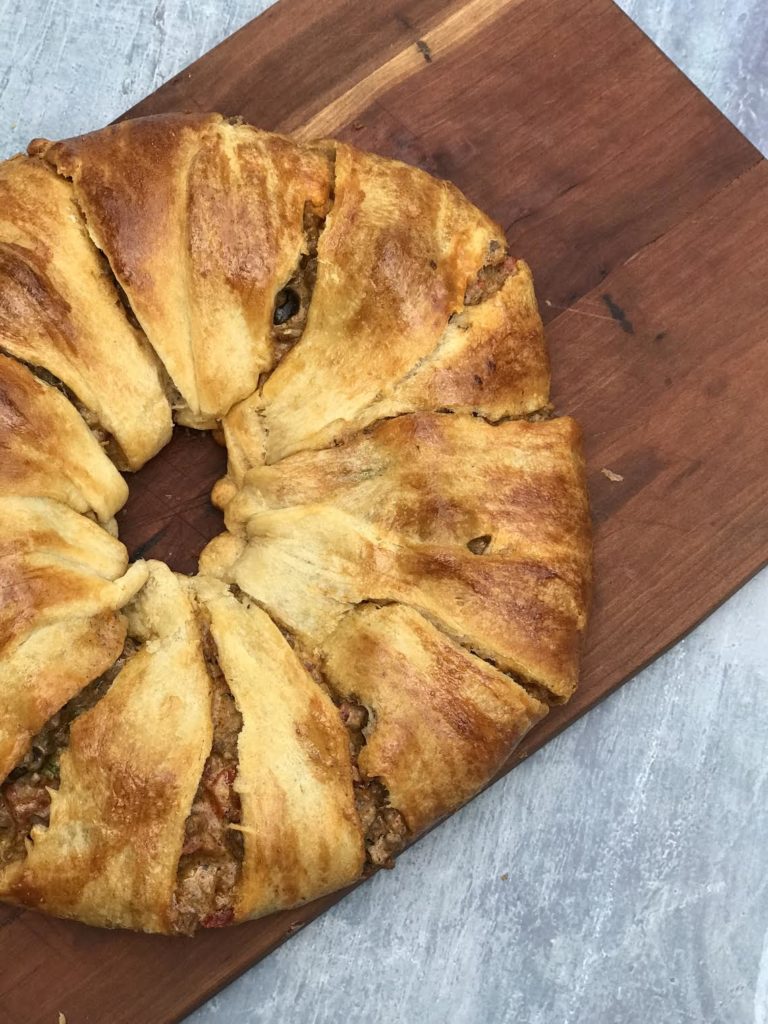 It's like flaky, buttery pastry hugging that savory, creamy, ranch taco filling.  I made this last night as the 50+ guests I hosted for my friend's bridal shower finished the main courses and I needed something else that would be quick and a crowd pleaser.  It was like performing a magic trick with the glass and the pastry sun, LOL!  I literally had an audience in the kitchen asking about every step.  Stay tuned for more details about the party and some must-make recipes if you're hosting a LOT of people!
In the meantime, just get a load of this yum, yum, yum…drizzled with ranch, it should prolly be illegal.  I guarantee, it won't last more than 5 minutes if you have party people in the house!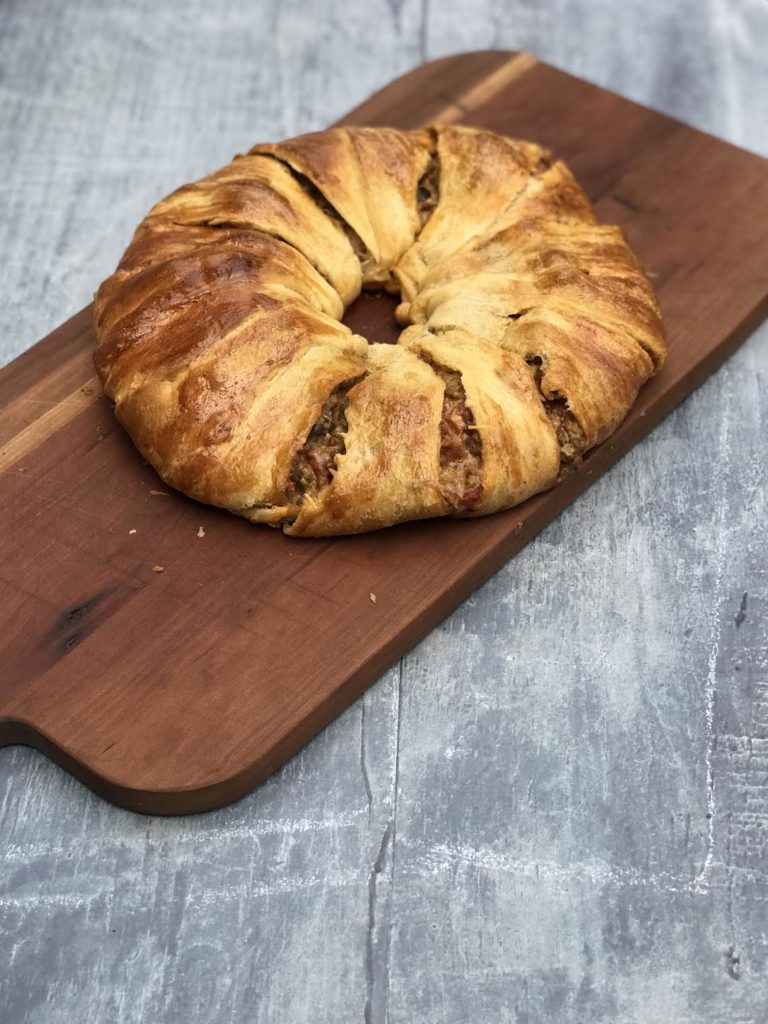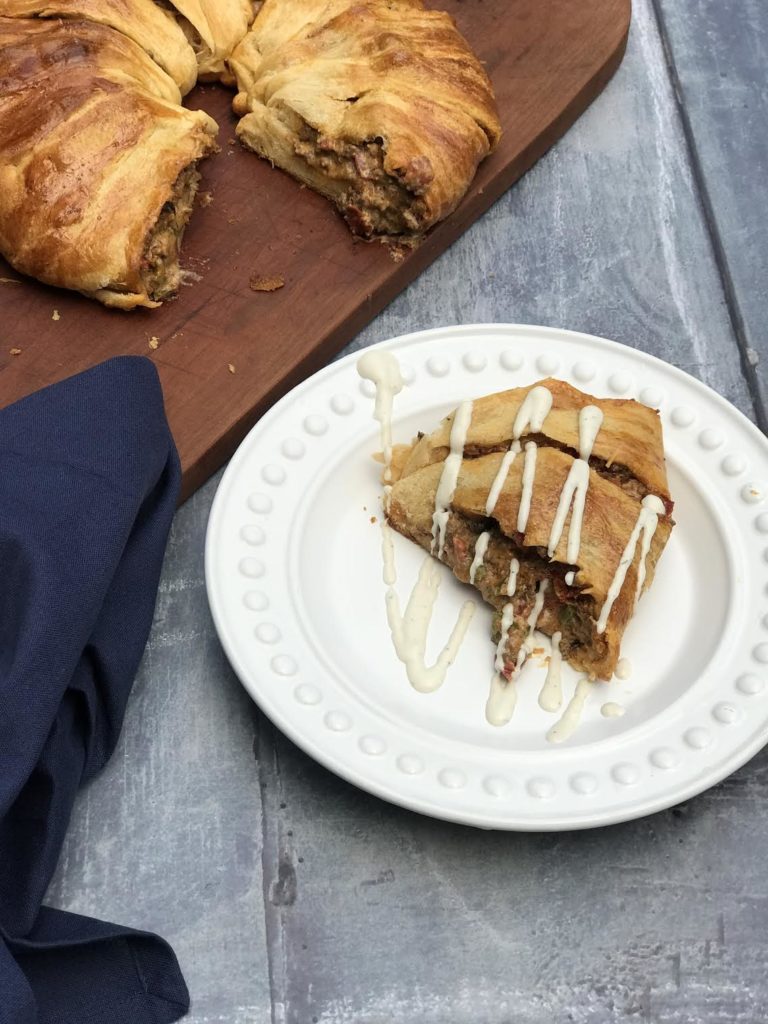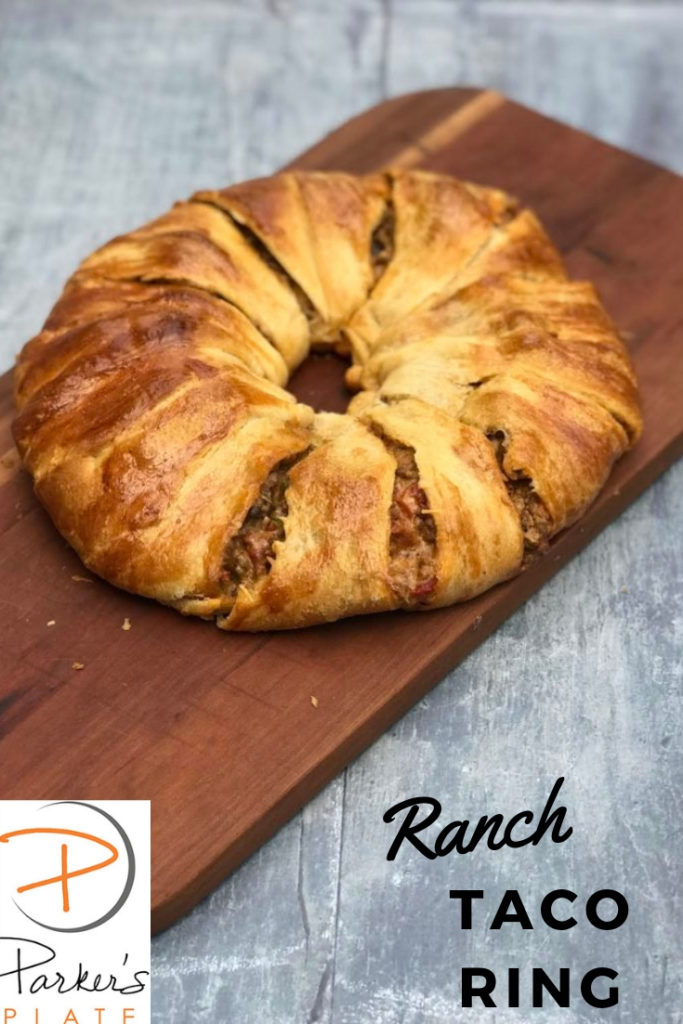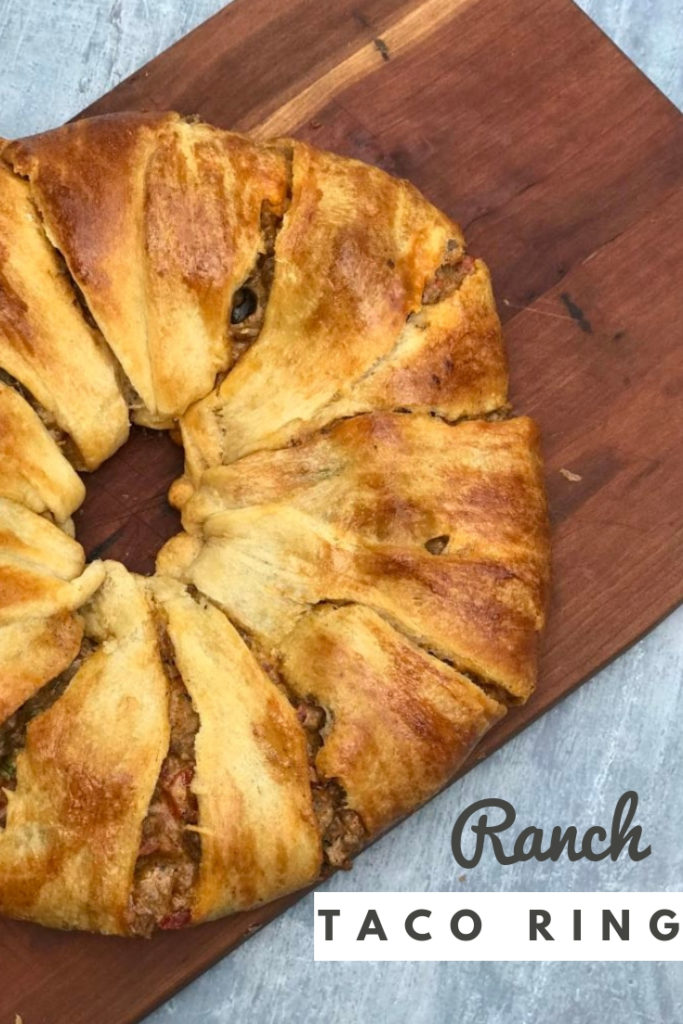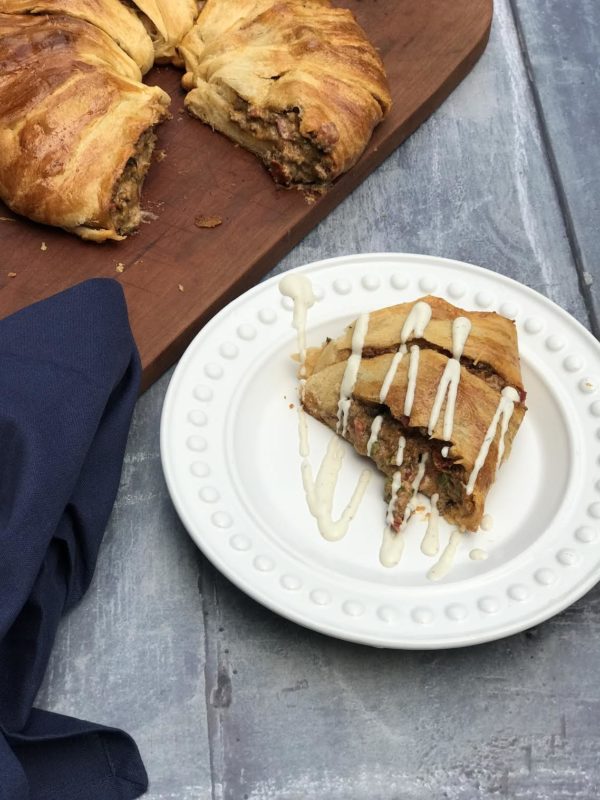 | | |
| --- | --- |
| | |
Preheat oven to 375. Saute beef until no longer pink. Drain. Add taco seasoning mix and 2/3 cup water. Simmer 3 to 4 minutes or until slightly thickened.

Add cream cheese and Rotel tomatoes. Keep simmering on medium heat in skillet until cream cheese has melted down, about 5 minutes.

Add olives, jalapeno shredded Mexican cheese and Ranch packet. Stir to combine.

Unroll both cans of dough; separate into 16 triangles. Spray a large cookie sheet with oil and arrange triangles in ring around a glass. Dough will overlap. The ring should look like the sun.

Spoon beef mixture around the center of ring. Bring each dough triangle up over filling, tucking dough under bottom layer of dough to secure it. Repeat around ring until entire filling is enclosed (some filling might show a little.) Brush with egg wash to ensure best "browning" of the pastry.

Bake 20 to 25 minutes or until dough is golden brown and thoroughly baked. Cool for a few minutes before cutting into serving slices. Drizzle with Ranch.