Doesn't this skillet just look like the picture of fall?  Even here in HOTlanta (and I mean HOT, y'all, as in 85+ degree days up until this week), it's finally started to feel a skosh like autumn.  Bone in, skin on chicken thighs are my favorite kind of chicken to cook because they are so tender and flavorful.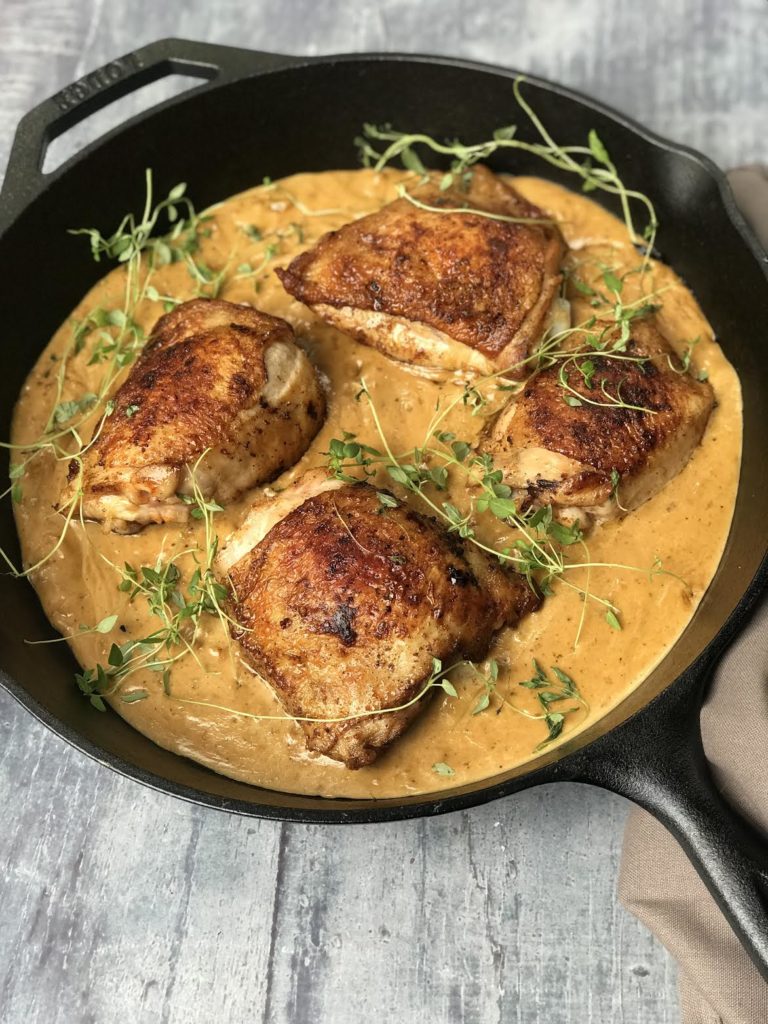 And, even better, it's hard to dry them out like so often happens with the boneless, skinless variety.  And while I love bone in, skin on breasts, they can be tougher to cook because they are often so thick that it takes forever to get them cooked through, or they're inconsistent in size, also complicating cooking times and temperatures.  But these…these are perfectly cooked in cast iron and then simmered in a creamy, dijon sauce that is quite sublime.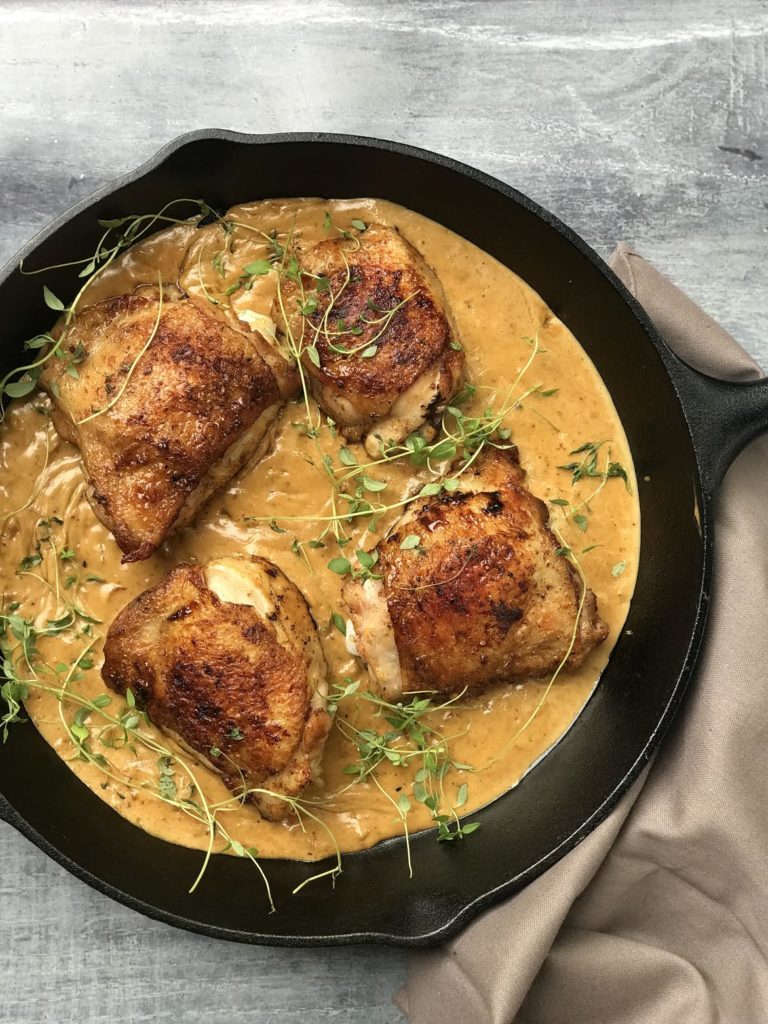 I've also been really digging the one skillet meals lately, whether it's for breakfast or a hearty jambalaya.
For this recipe, I made the sauce separately, then married the chicken to the sauce (it was true LOVE) and cooked them off for the final 15 minutes together in the oven.  You can certainly continue cooking the chicken on the stovetop until it's cooked through.  Don't be put off if the sauce gets so hot in the oven that the oil/fat starts separating from the cream.  All you need to do is add a bit more cream and whisk it until it combines and is smooth again.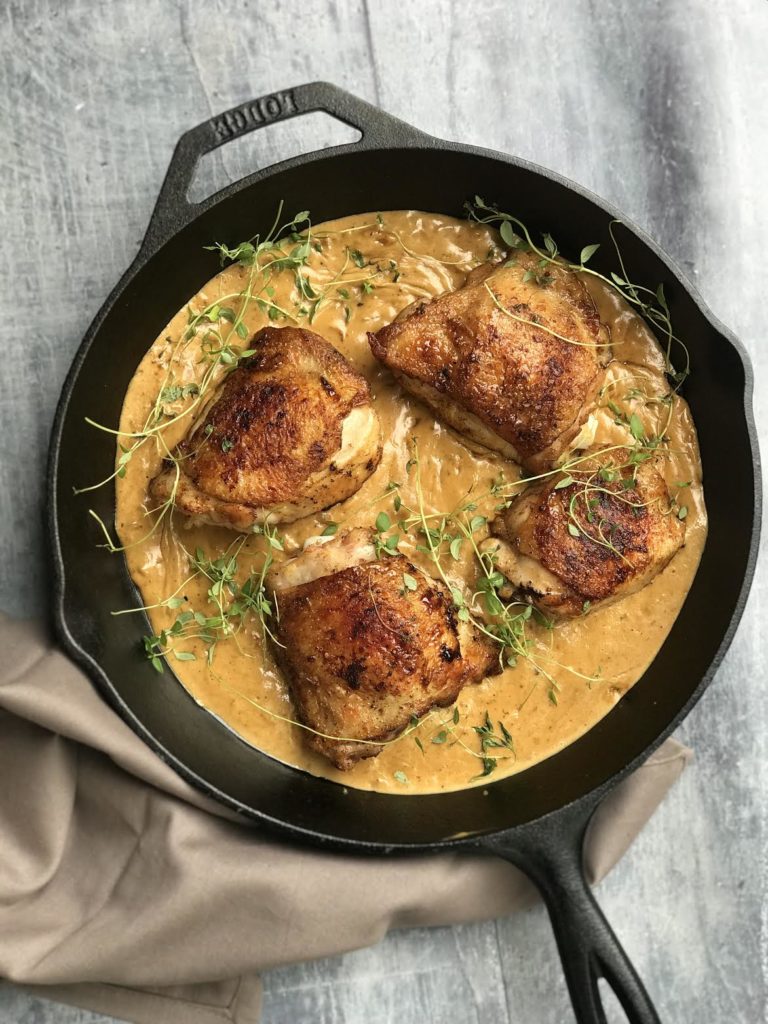 Heavy Whipping Cream aka HWC abbreviated in the Keto World is my go-to for a thick alfredo-esque sauce.  In a lot of Chicken Dijon recipes, you'll find flour as an ingredient to make a roux.  You DO NOT, I repeat, DO NOT need flour!  The heavy cream thickens the sauce beautifully on its own– you just have to let it bubble and simmer on the stovetop for a bit.  Don't be alarmed if it starts foaming and looking like a Halloween prank– just crank the heat back down and keep stirring! The addition of the fresh thyme adds that gorgeous color and an earthy, fall flavor.  I can't wait to hear what you guys think!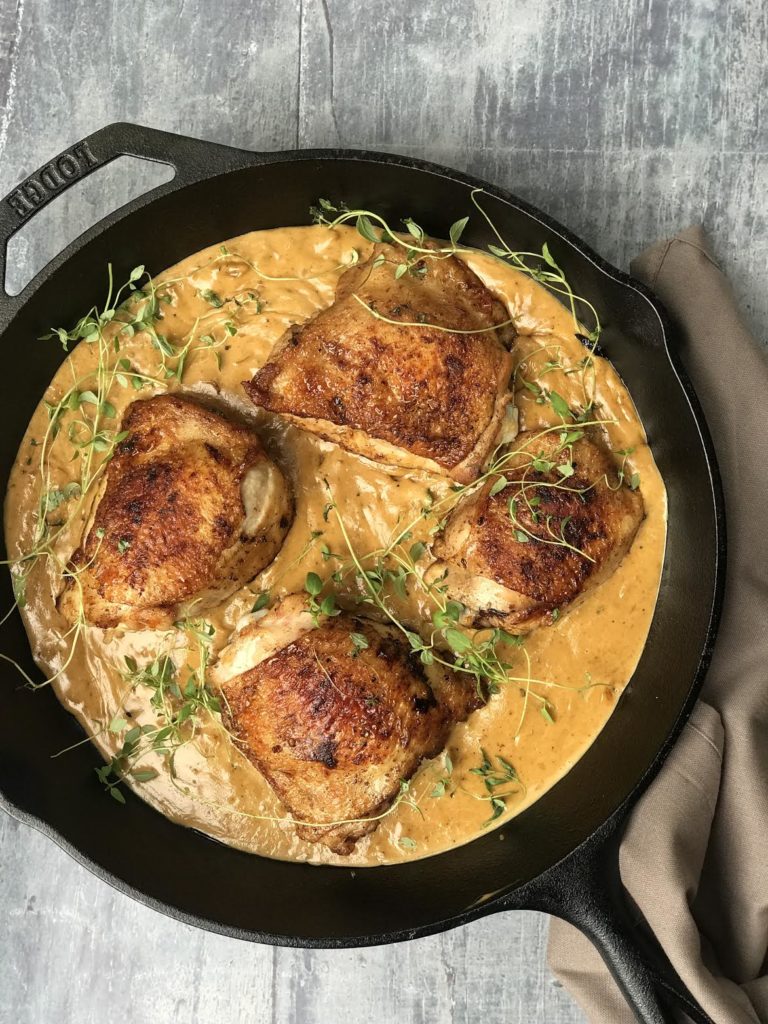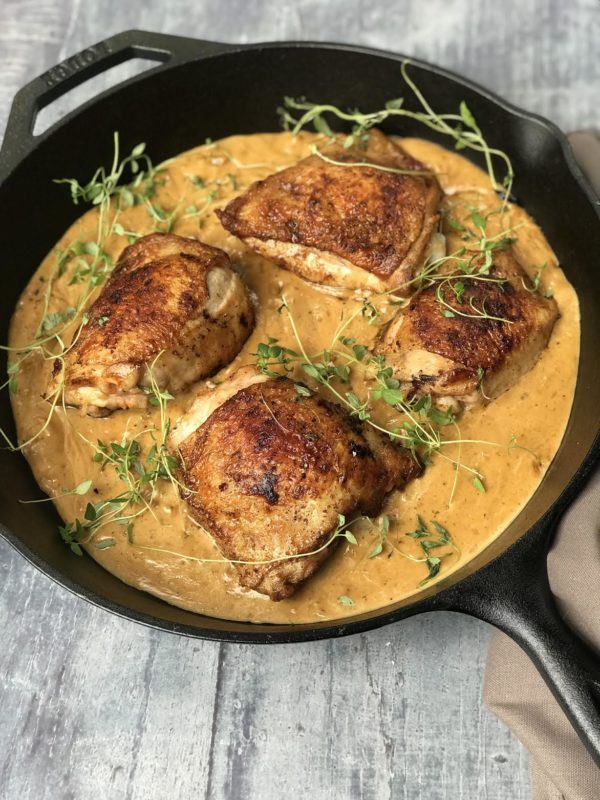 | | |
| --- | --- |
| | |
Preheat oven to 375. On medium-high heat, melt butter until it's bubbly with olive oil in a heavy cast iron skillet. Season chicken thighs with a pinch of kosher salt, pepper and smoked paprika on both sides. Start cooking skin side down in and set your timer for 10 minutes. Flip over and cook for another 10 minutes. If the chicken skin looks too dark, your heat is too high, so crank it down. You want the skin to have a golden sheen to it. Flip for a third time and cook for another 10 minutes. (30 minutes total).
Drain all but 1 Tb of fat from the chicken skillet. Add 1/2 cup white wine or marsala to chicken and bring up the heat so the alcohol begins to cook down. When wine has reduced by half, about 5 minutes, turn off heat until sauce is finished.
While chicken is cooking, saute shallots in olive oil for 2-3 minutes until softened and fragrant in another deep frying pan or dutch oven. Add garlic and continue sauteeing on medium heat until garlic begins to caramelize and brown (but not burn!) for another 2 minutes or so.

Add heavy cream and bring up heat slightly so the cream bubbles. (If your pan is too shallow, it might boil over the sides, so be careful!) Let cream thicken while stirring frequently for 5-7 minutes. Add dijon mustard and stir to combine. Set sauce aside until chicken has finished cooking for 30 minutes + time to reduce the wine. Add this sauce to the skillet with the chicken. Use a wooden spoon to scrape up any crusty remains along with the wine and combine, resting chicken on top.

Bake off chicken for 10-15 minutes until cooked through. If sauce begins to separate in the oven, just add a little extra cream and whisk to combine. Garnish with fresh thyme. Season with kosher salt and pepper to taste. If you prefer a more mustard-y flavor, add more dijon mustard!
Nutrition Facts
Chicken Dijon
Amount Per Serving
Calories 659
Calories from Fat 585
% Daily Value*
Total Fat 65g 100%
Cholesterol 256mg 85%
Sodium 485mg 20%
Potassium 73mg 2%
Total Carbohydrates 4g 1%
Protein 19g 38%
* Percent Daily Values are based on a 2000 calorie diet.