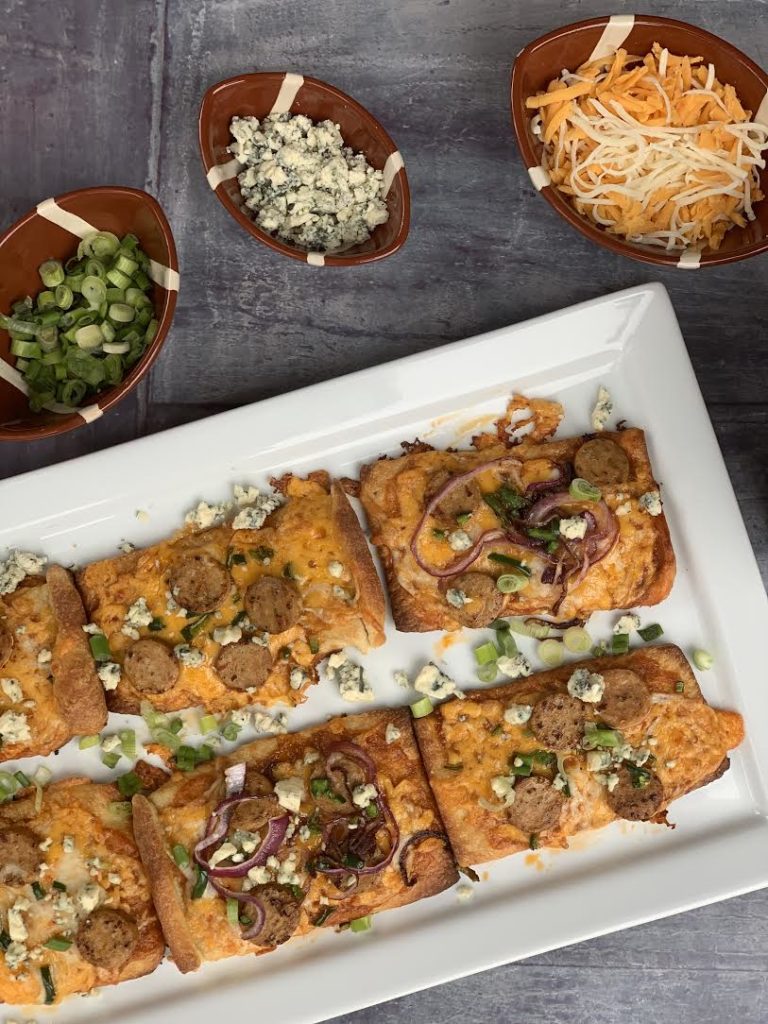 The countdown officially begins to the Big Game, y'all!  One week from today, we'll know whether The Patriots or The Rams will be the Super Bowl champs!  (Does anyone else sort of love to hate Tom Brady and his hot wife?  I mean, if there's ever an example of perfect DNA coupling, good GAWD.)  Let's just say that after reading an article where their personal chef was interviewed about what he cooks for their family, this recipe is NOT something that the exquisitely perfect couple would ever eat.  Whatevs.  You're going to want to eat it.  I know I do!   It's Buffalo Chicken Sausage Pizza and there's absolutely nothing you have to do to "cook it."  You just assemble it.  Done.  Touchdown.  Winning.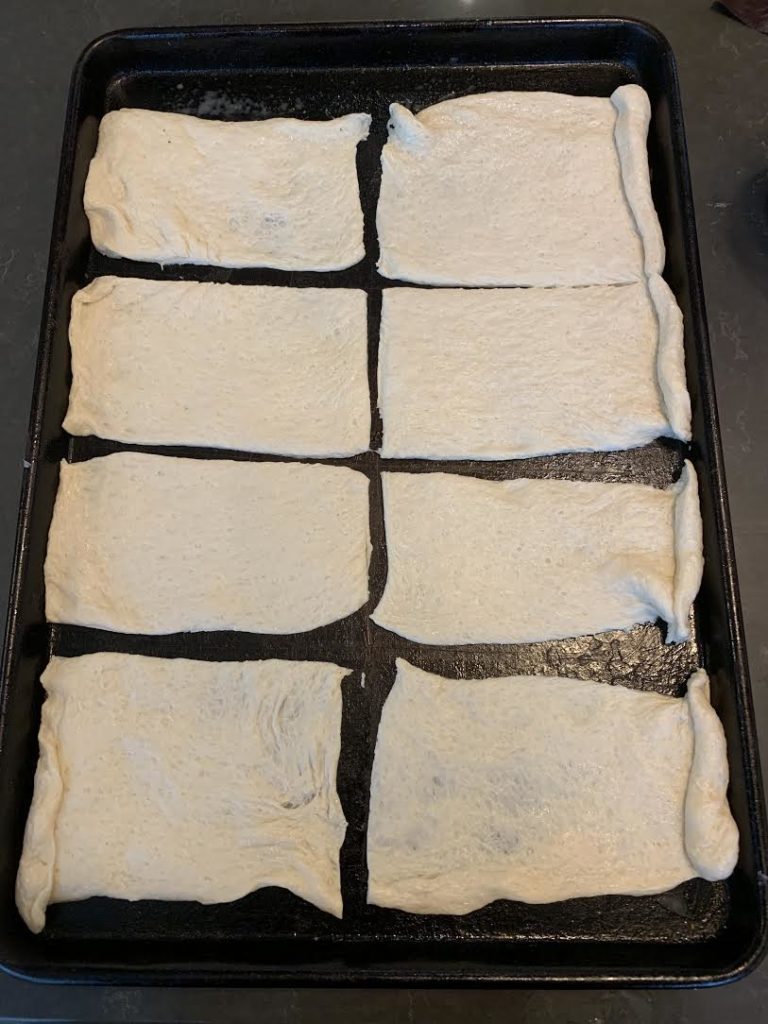 I know there are plenty of recipes for homemade pizza dough, but who's got time for that?  Not this girl.  If you do want to take a minute though to low carb it, I highly recommend this recipe for Fat Head Pizza crust.  It's quick and easy, just don't be alarmed when the dough turns out super sticky and is a weird consistency.  It bakes up just fine.  Although, bake it off for a few minutes first before you put any toppings on if you want a crispier crust.
Back to the easy peazy way, just cut a refrigerator crust into 6 individual pieces and bake for 3 minutes or so.  Then, add toppings.  If you want onions (which is a must for any pizza I want to eat), I recommend sautéing them first so it takes the rawness out of them and keeps them more caramelized and sweeter.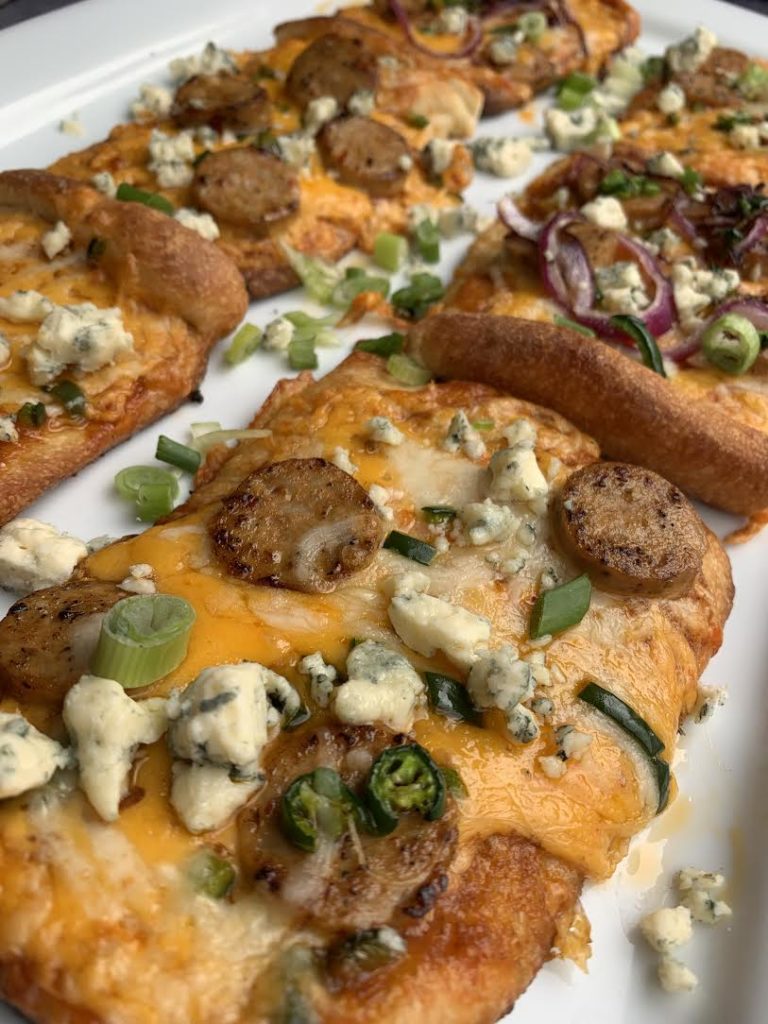 For this recipe, I used Frank's Red Hot buffalo wing sauce and organic Bilinski's Spicy Italian with Red Pepper Chicken Sausage that I picked up at Whole Foods.  Since the sausage is already fully cooked, I like dicing it and giving it a little saute before topping it on the pizza so it's slightly browned.  Any wing sauce or sausage will do!  Feel free to change it up and do ham, ground beef or bacon.  There's literally no wrong way to build a buffalo pizza!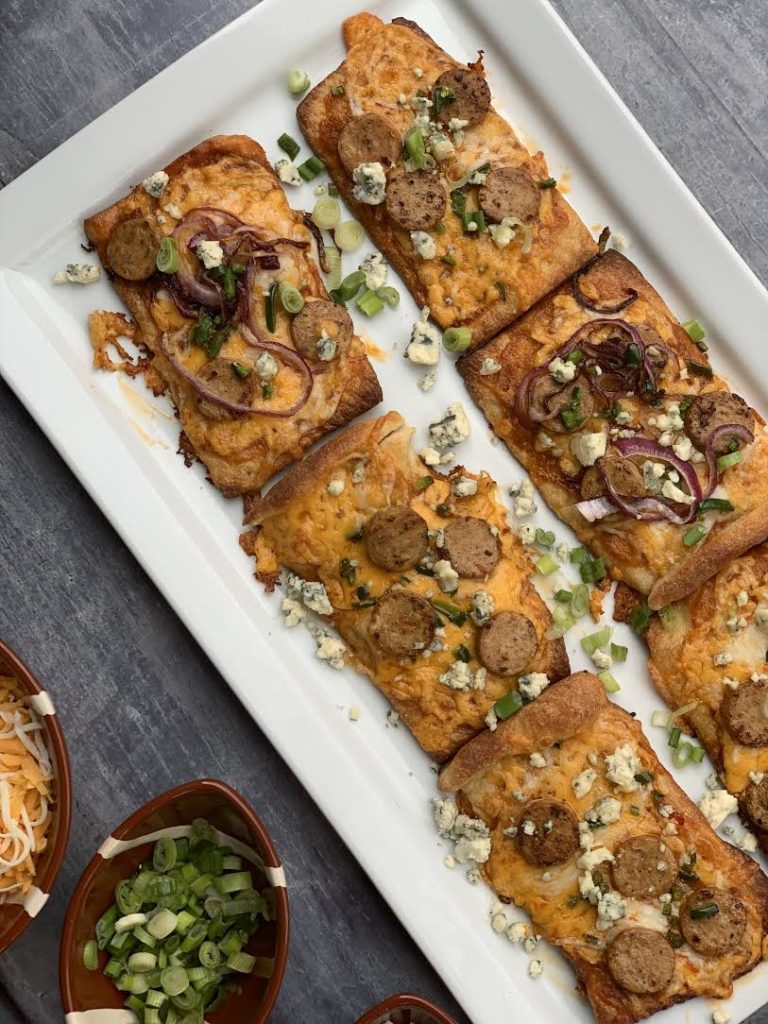 If you're serving this for a Super Bowl watch party, I recommend putting out ramekins of additional toppings for your guests to add to the pizza– a DIY pizza bar!  Blue cheese, scallions and lots more of the ridiculously good Hot Buffalo Wing Cheddar Cheese I'm currently obsessed with by Cabot.  OMG.  Buffalo wing infused cheese? Um, yes.  Sign me up!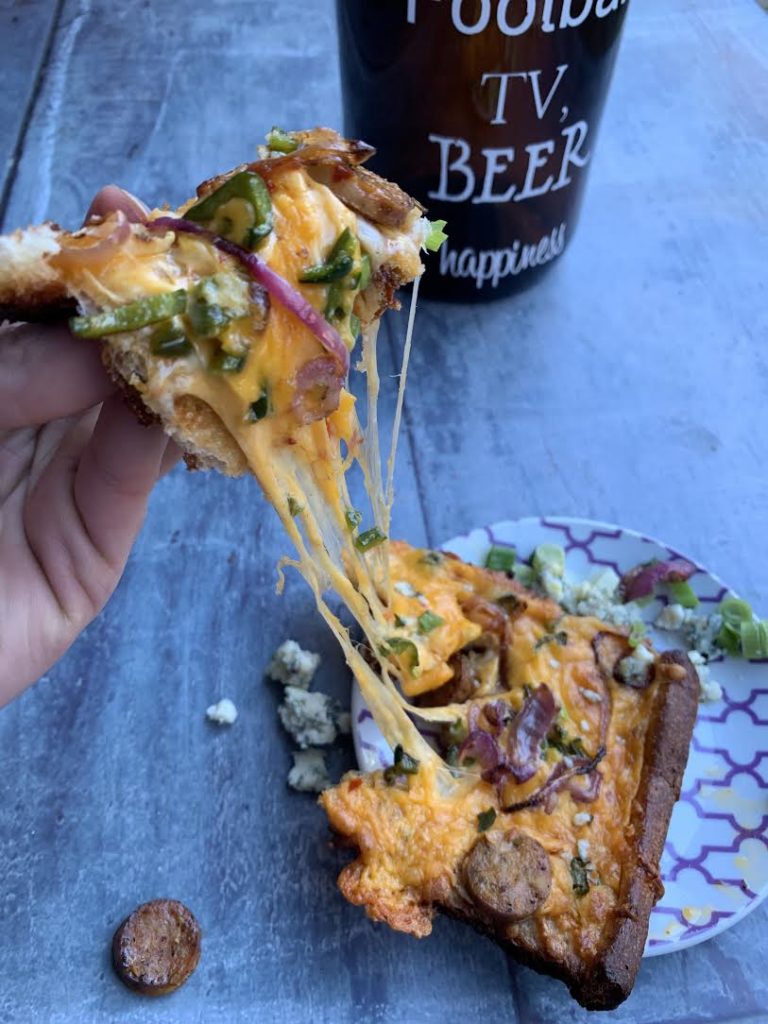 Now THAT is a bite of pizza delish that I think even Tom and Gisele could get into….if you're into perfection.  ( :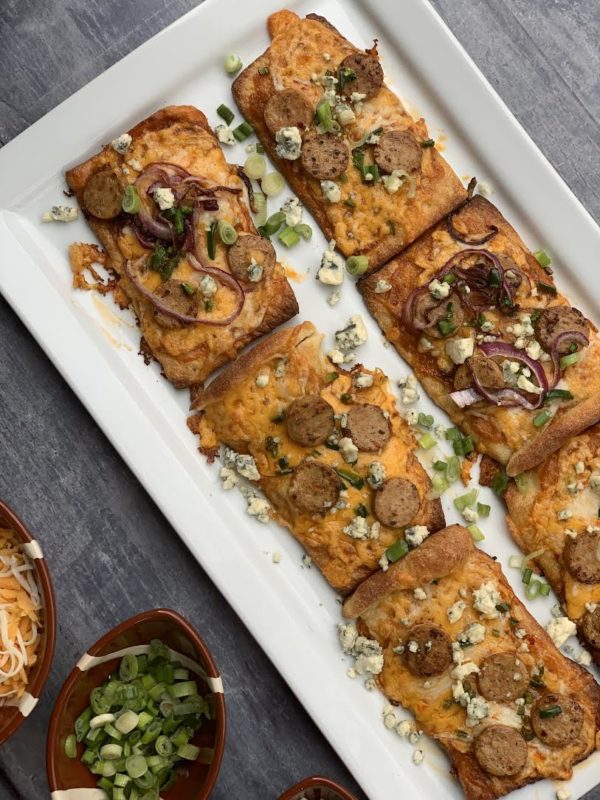 | | |
| --- | --- |
| | |
Preheat oven to 400. Divide the dough into 6 pieces on a baking sheet and bake off for 6-8 minutes.

Put pre-baked pizza slices on parchment (to prevent burning the bottoms when you continue baking with toppings.) Spoon buffalo sauce onto each piece of pizza, then top with mozzareella, buffalo cheddar, red onion, sausage and any toppings you prefer.

Bake for another 8-10 minutes until crust is crispy and cheese is melted. Serve with additional toppings, sauce and ranch/blue cheese.
Nutrition Facts
Buffalo Chicken Sausage Pizza
Amount Per Serving
Calories 895
Calories from Fat 270
% Daily Value*
Total Fat 30g 46%
Cholesterol 67mg 22%
Sodium 5477mg 228%
Potassium 397mg 11%
Total Carbohydrates 122g 41%
Protein 32g 64%
* Percent Daily Values are based on a 2000 calorie diet.