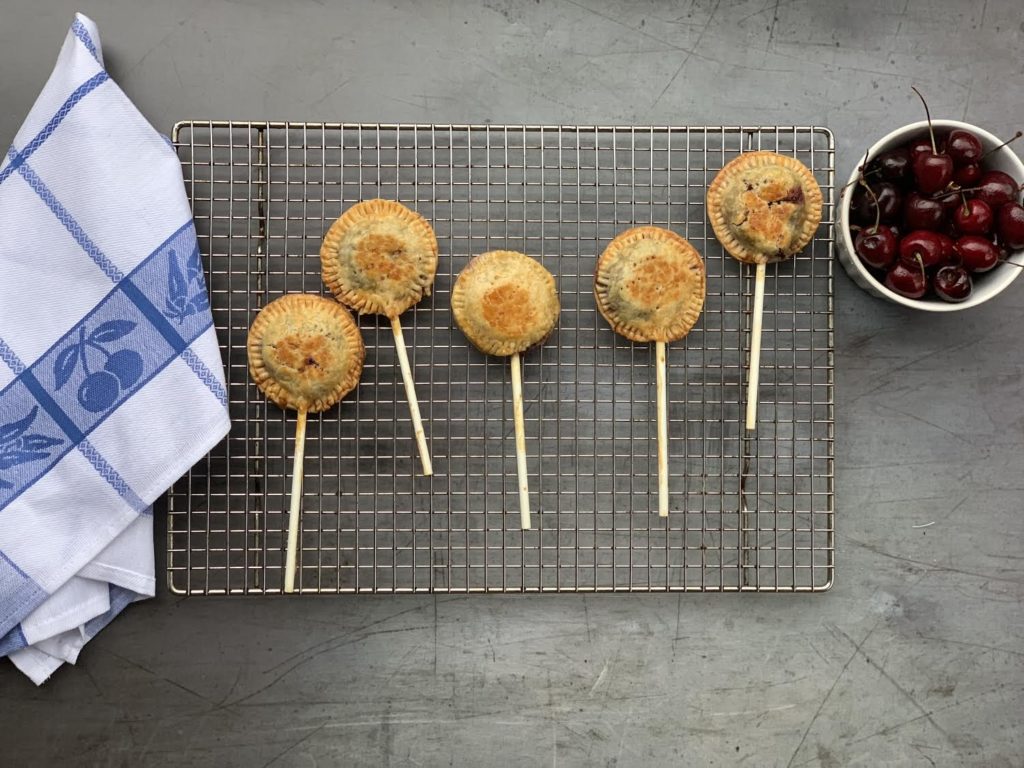 Oh, sweet, sweet cherry pie!  Hang on.  I literally had to put down my computer and get up and eat MORE cherries because they're so freaking good.  Like, addictive kind of good!  I recently partnered with Fruits from Chile for a TV segment in Atlanta and not only learned a lot, but had the luxury of recipe testing with one of my favorite fruits.  Add cherries to a flaky pie crust?  On a stick?  Um, yes please.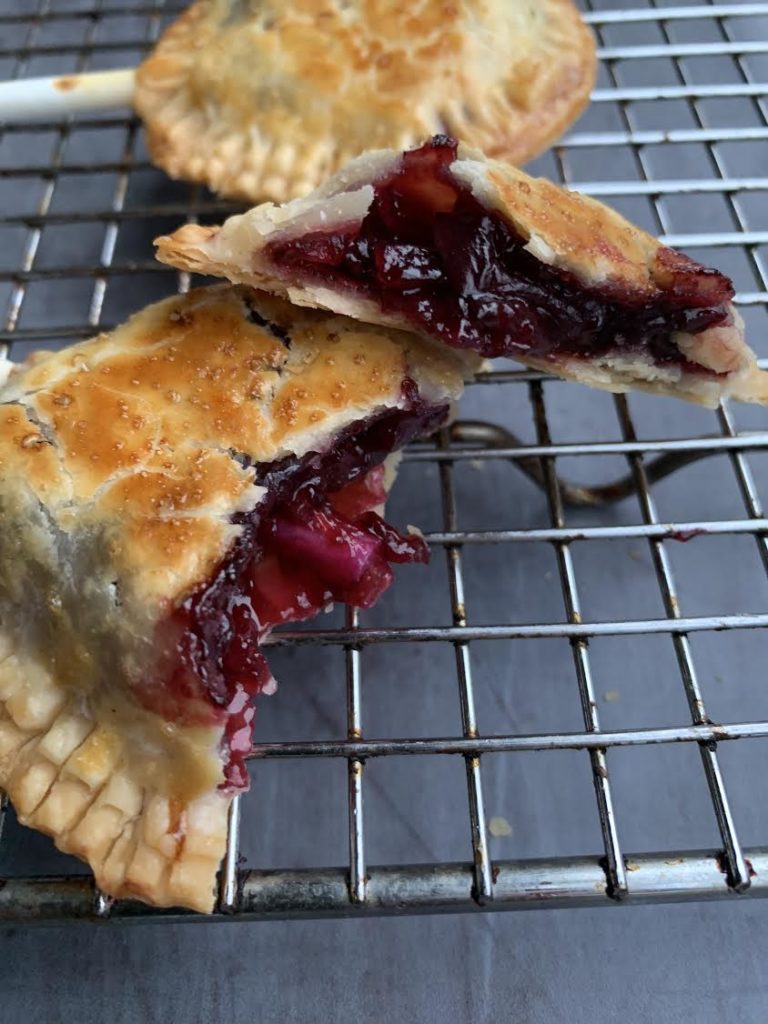 Years ago, my best friend from high school, Kelley, and I started a business making cake pops — we had one recipe where we took pecan pie, balled it up, dipped it in chocolate and stuck that gooey delish on a stick.  Let's just say, pie on a stick is a thing.  And it's a really good thing!  For these pops, use a biscuit cutter to cut the pie crust (I did not make it homemade because Pillsbury is my friend, LOL!) and that way, you get perfectly round circles of yum.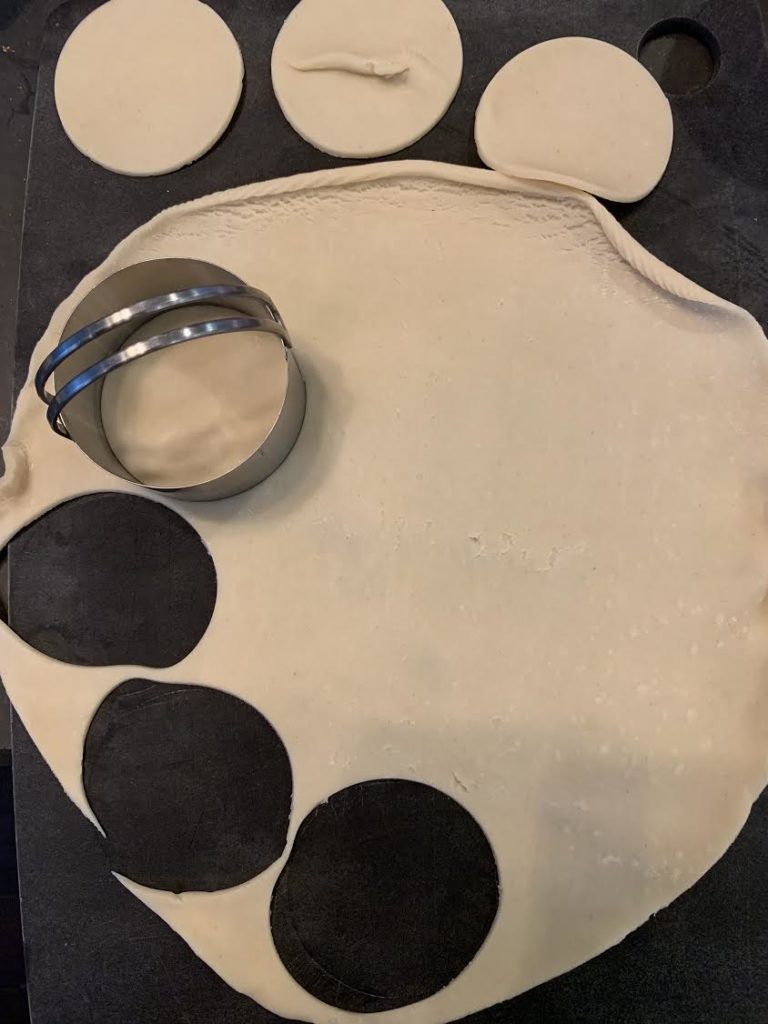 Once you spoon the topping into the middle of one pie circle, top with another circle, put the stick in the middle of both and then seal the edges, brush with egg wash and bake.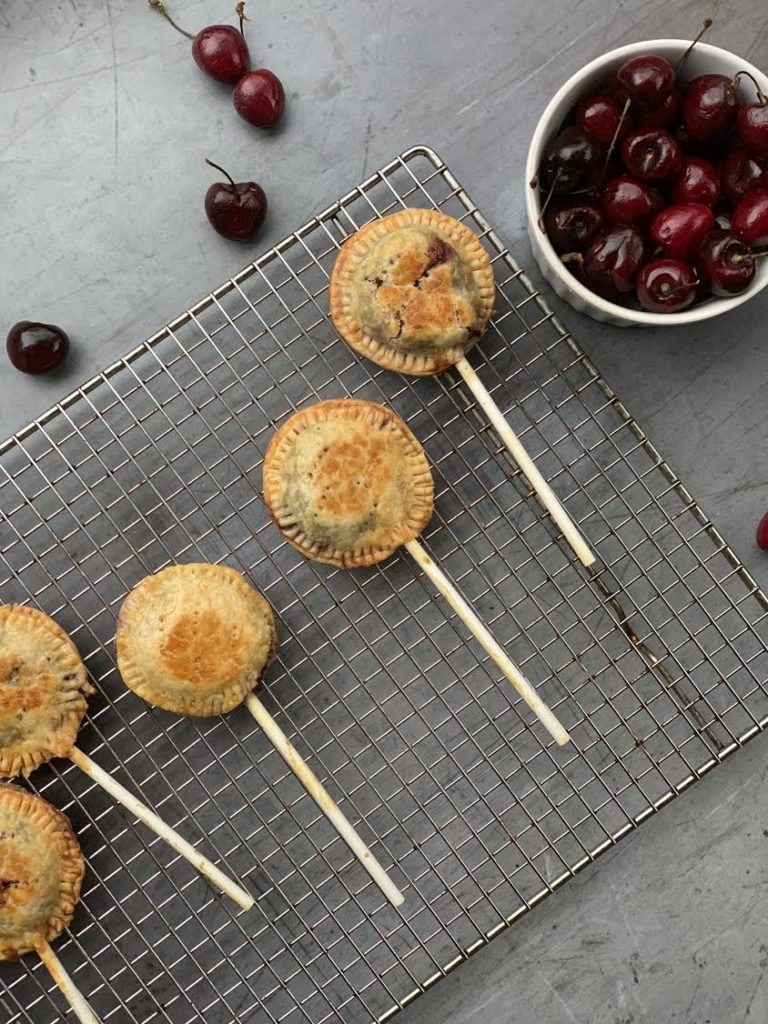 Now that I've teased you sufficiently, let's talk seasons.  During the winter, we can't harvest typical "summer fruit" here in the United States.  In fact, no state can grow cherries or blueberries between December and April.  That's we have to rely on Chile to provide us fresh and tasty fruit in our coldest months.  Chile is rich in volcanic soil and has an excellent growing climate, so it's the perfect place for growing juicy, flavorful fruit.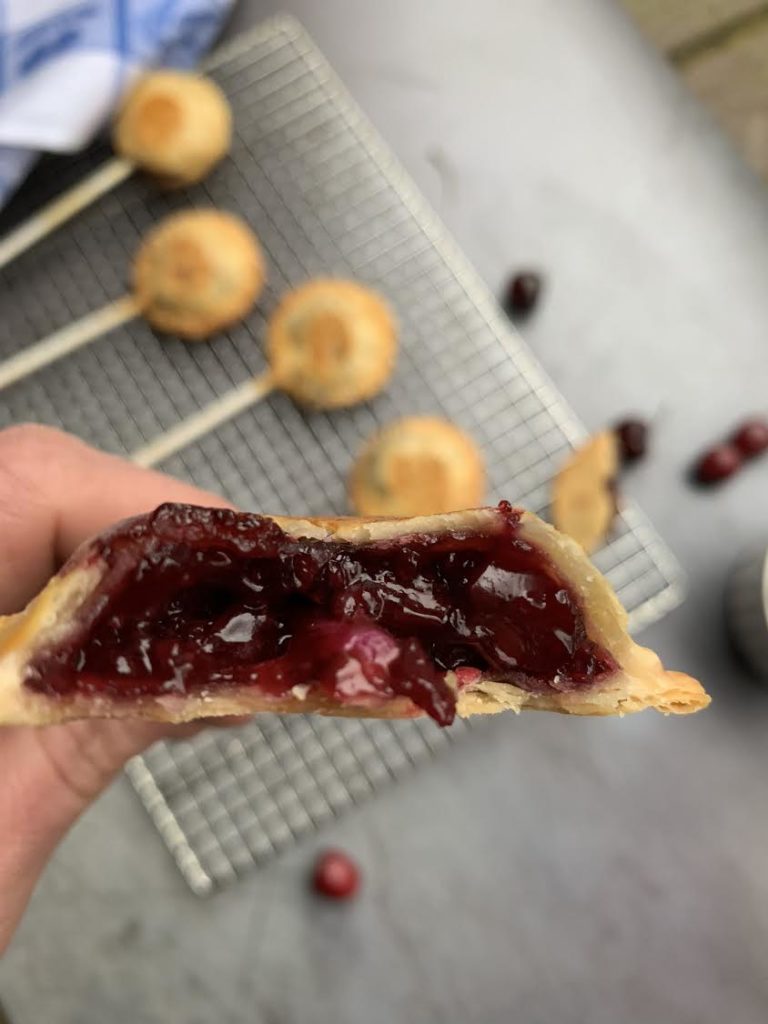 Back to that flaky, pie pop…Don't be afraid to add a splash of bourbon the cherry pie mixture– and stay tuned for an upcoming Bourbon Cherry Recipe!  Oh yes, I did!  And, if you have leftover cherry pie filling, you can scoop it into mini phyllo cups and drizzle with some creme fraiche and top with almonds.  Appetizer, done!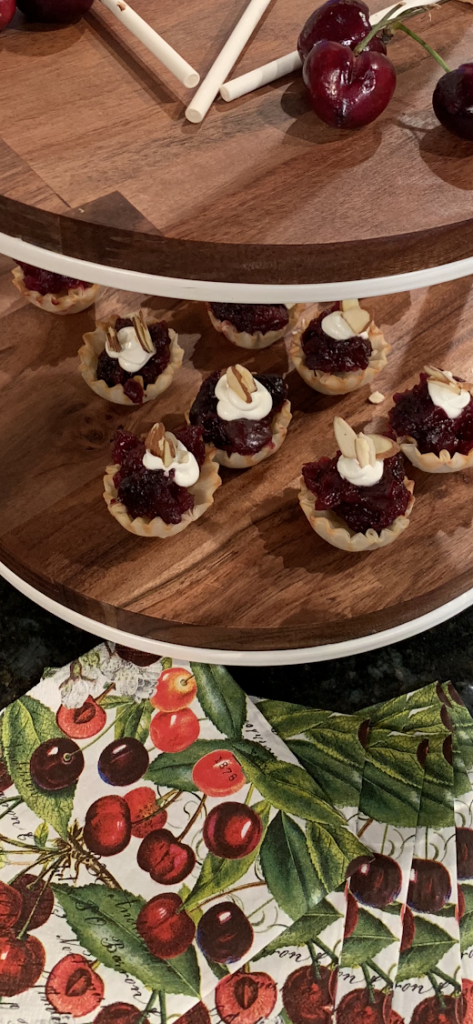 Now, cue that 1990 summer hit by Warrant, baby!  "Tastes so good make a grown man cry."
To see the segment, click here!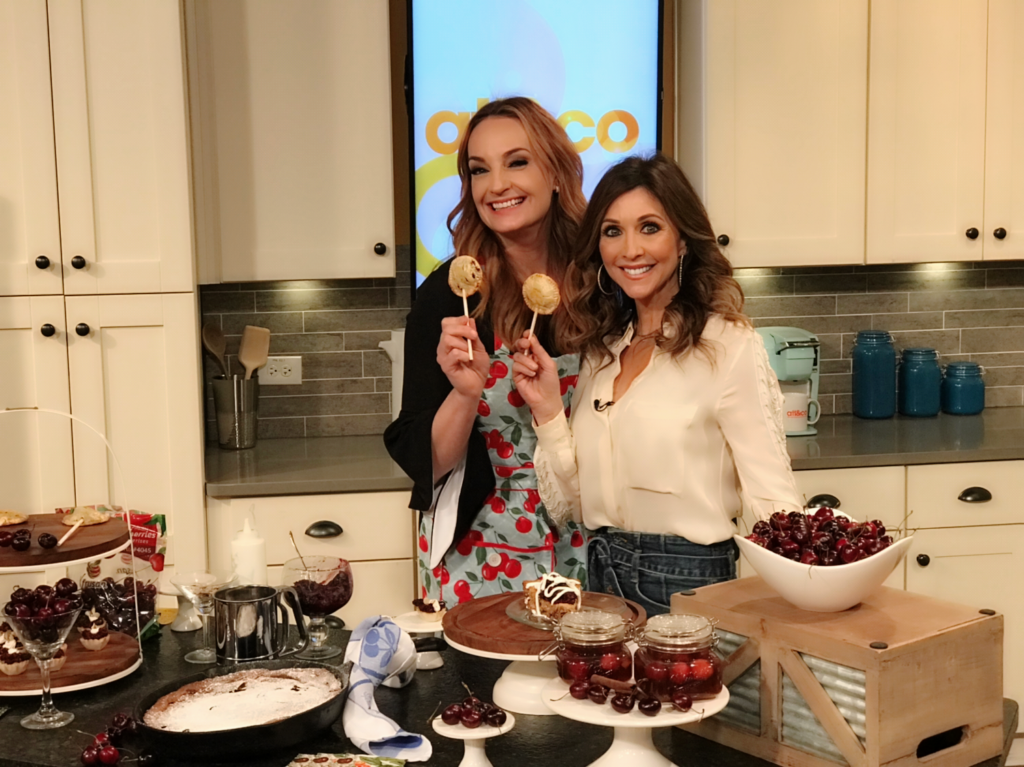 *Fruits from Chile sponsored my Atlanta TV segment and provided the fruit for this recipe, but all opinions are my own.  Thank you for supporting the companies that keep Parker's Plate in business!

Nutrition Facts

Cherry Pie Pops

Amount Per Serving

Calories 207 Calories from Fat 45

% Daily Value*

Total Fat 5g 8%

Saturated Fat 2g 10%

Polyunsaturated Fat 0.1g

Monounsaturated Fat 2g

Cholesterol 1mg 0%

Sodium 98mg 4%

Potassium 222mg 6%

Total Carbohydrates 42g 14%

Dietary Fiber 2g 8%

Sugars 26g

Protein 1g 2%

Vitamin A 1%

Vitamin C 13%

Calcium 1%

Iron 2%

* Percent Daily Values are based on a 2000 calorie diet.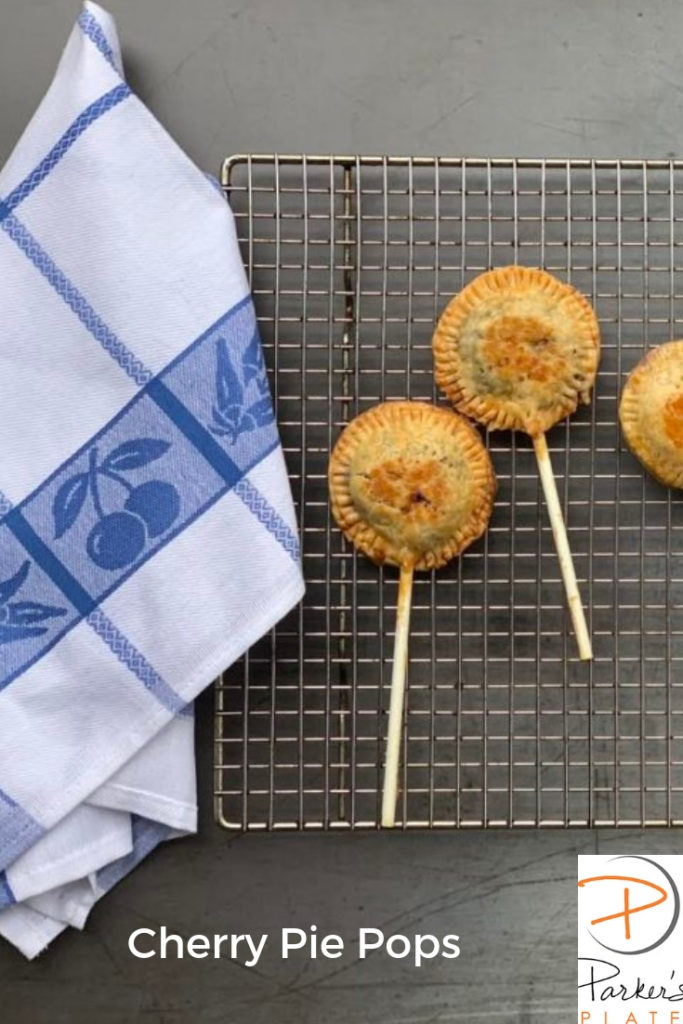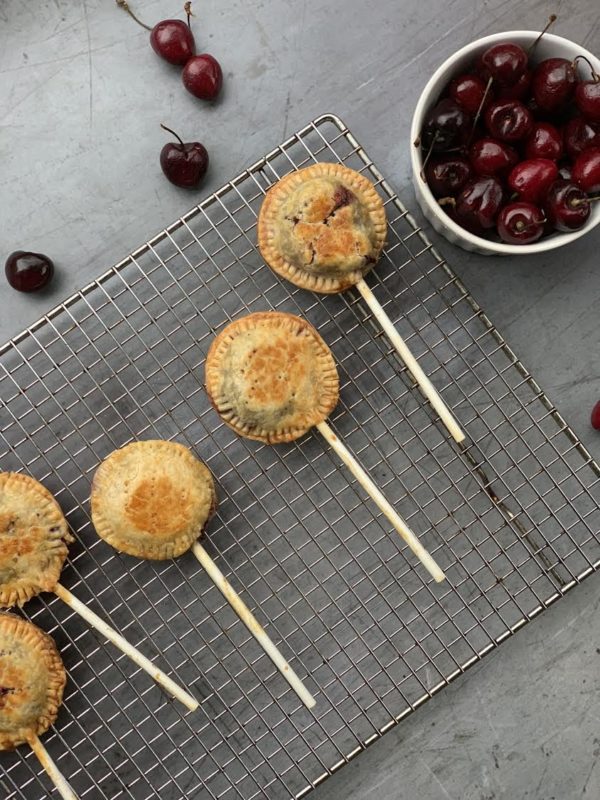 | | |
| --- | --- |
| | |
To make the filling: In a saucepan over medium heat, combine cherries, water, lemon juice, sugar and cornstarch. Bring to a boil; reduce heat to low and cook, stirring frequently, for about 10 minutes. Stir in almond extract. Cool slightly before using.

Pre-heat oven to 375 degrees F. On half of cut pie crust shapes, place lollipop sticks so one end lines up with the middle of each and press lightly. Add a spoonful of filling in the center, being careful not to add too much. Top with top halves of cut pie crust shapes, crimp the edges to seal and brush tops with egg wash. Bake for 12-15 minutes or until tops start to brown. Flip over and bake for another 2-3 minutes. Remove from oven, transfer carefully to wire racks and cool.