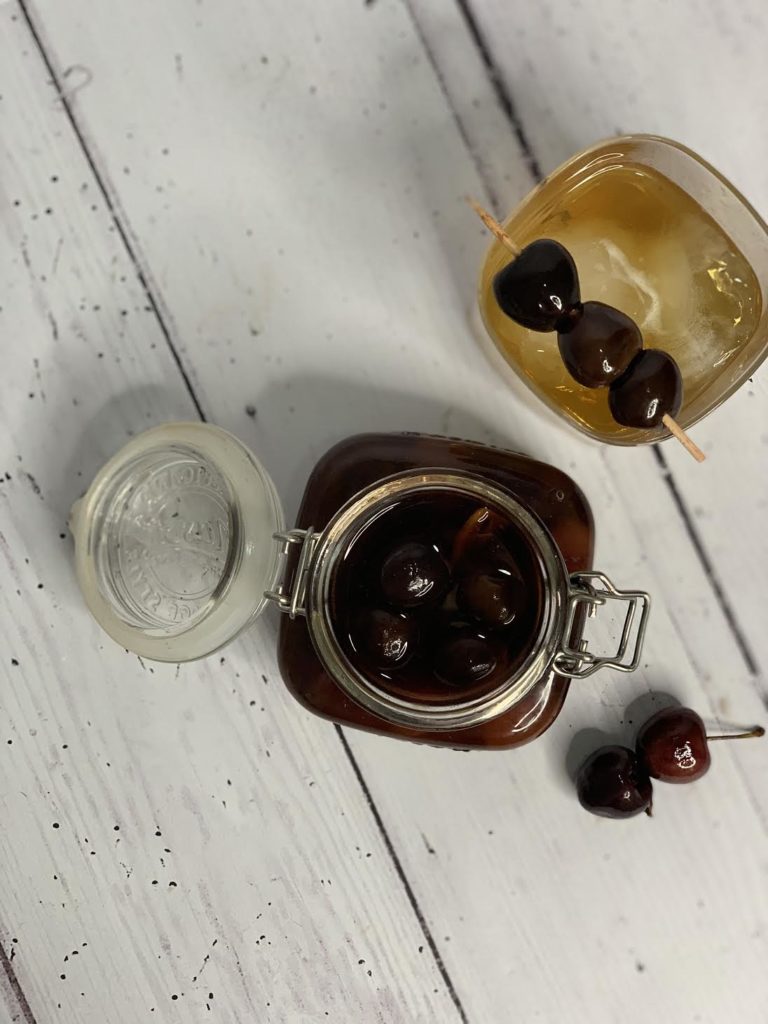 What better way to celebrate National Cherry Month than with some boozy, maple bourbon cherries for a signature cocktail?  For this Bourbon Babe, that usually means Woodford on ice, sitting long enough for a bit of that big ol' ice sphere to melt a skosh.  I don't know about you, but when I started drinking, or rather, making, Craft Cocktails as the trendy set calls them, there's something about that round ball of ice that makes it feel super fancy.  These ice molds are a game changer, especially when you're entertaining.  Add in, oh, I don't know, some homemade bourbon and maple soaked cherries?  Immediate grounds to call yourself a bad ass in the kitchen, totally elevated from Basic Bae, or whatever you millennials are calling it these days…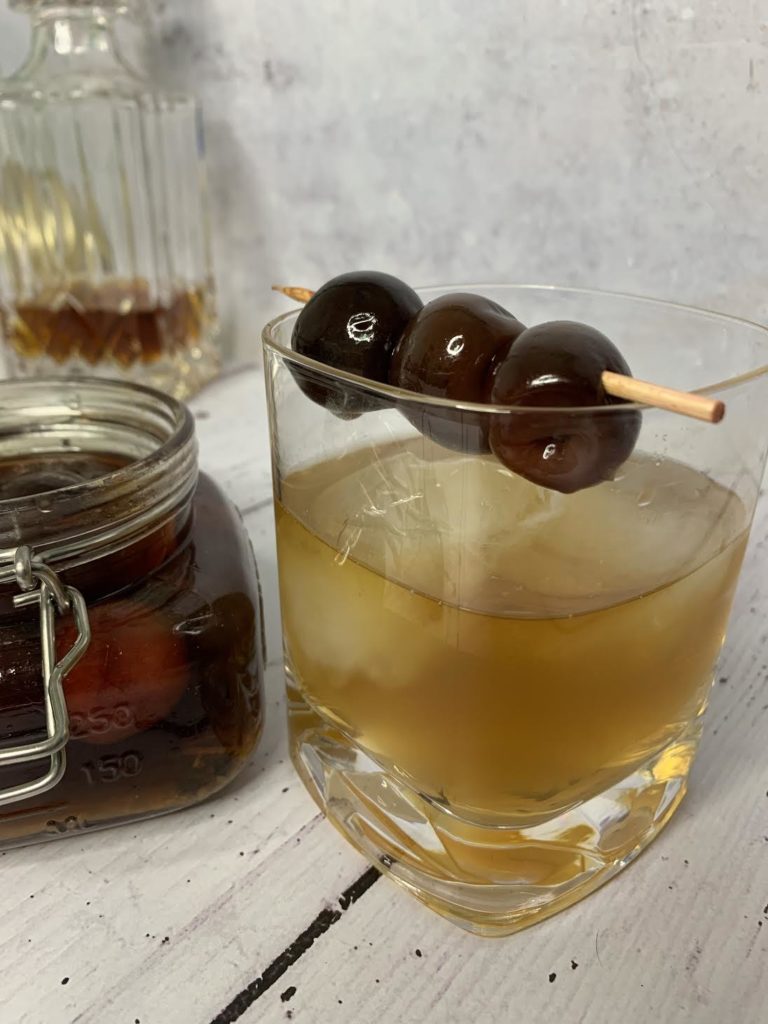 I know most of you are getting ready to "Beer Me" with this being The Big Game weekend, i.e. 'find a way to keep Tom Brady from winning another Super Bowl," LOL.  Here in Atlanta, the whole city is buzzing and boozing, so my suggestion is to stay safely inside with your bourbon and your cherries!  And I won't get mad at you if you add cherries to your brewski — these little fruit bombs are so dang good that a few on their own are enough to give you a fuzzy, warm-all-over feeling.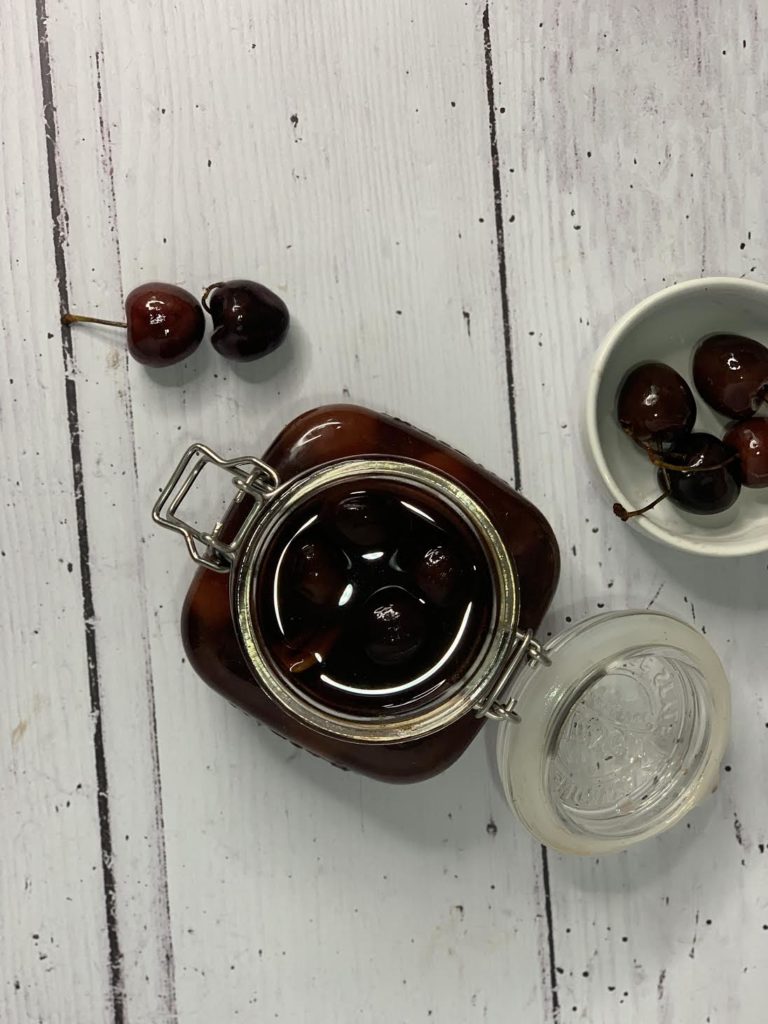 And if you're not partial to adding fruit to your drinks, you can alternatively serve them over ice cream, which is simply sublime!  The addition of maple syrup and a touch of vanilla and cinnamon totally take these over the top as far as flavor.  And, you add everything into a mason jar, so it makes for easy clean up and storing securely in the fridge.  These would also make the perfect hostess gift or holiday gift with a nice bourbon bottle.  Add a cute tag on the mason jar– Pinterest worthy, for sure!  Do not use pancake maple syrup in this recipe– I repeat, no pancake syrup!  Make sure you get what used to be called Grade B Maple syrup, but now due to a new USDA rule, there are now various Grade A choices.  Make sure you choose the one that says,  "Robust Flavor" on the bottle.  To note, for maximum aesthetic effect, the stems and pits are left intact while the cherries marinate in the maple bourbon mixture.  Be sure to remove stem and pit before inhaling these– and certainly before that bourbon goes right to your head, *wink wink!
*This recipe was inspired by a partnership with Fruits from Chile.  All opinions are my own.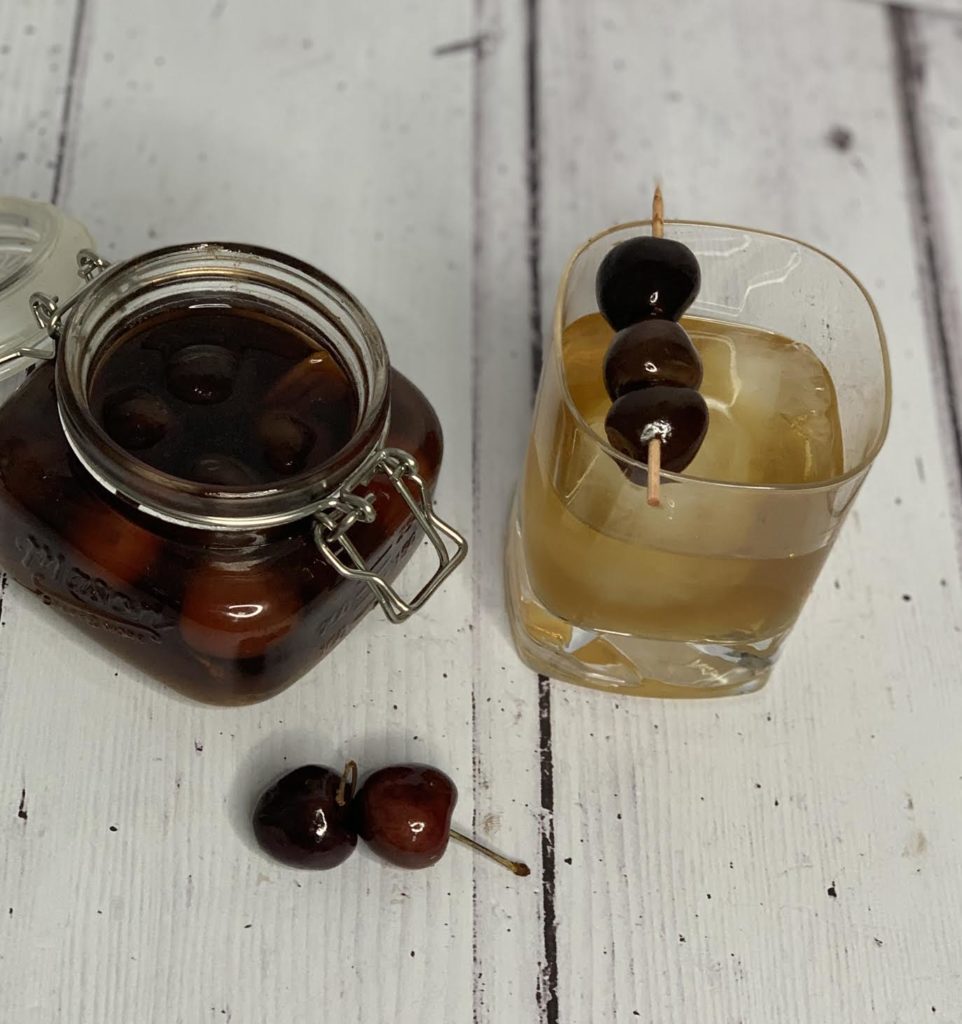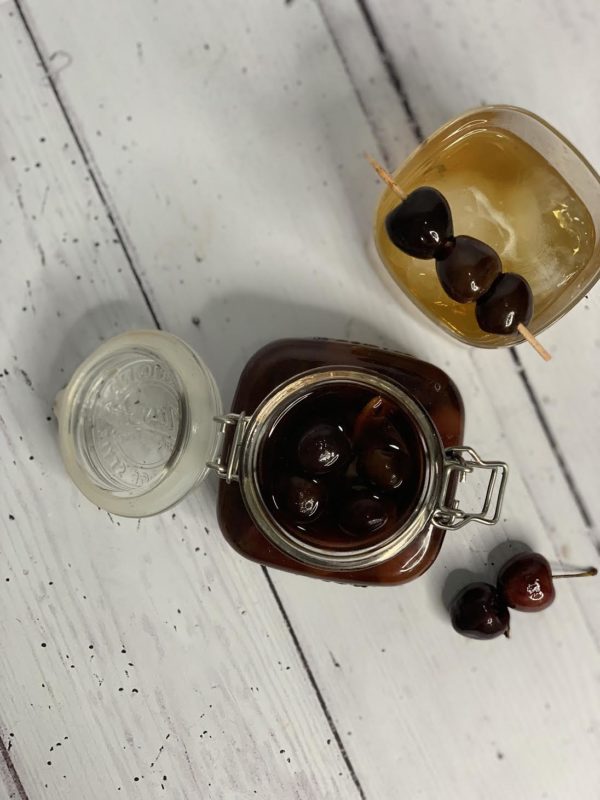 | | |
| --- | --- |
| | |
Add a cinnamon stick and a whole clove to each mason jar (this recipe works for about 2 mason jars worth of cherries/bourbon.)

In a medium saucepan, combine bourbon, maple syrup, vanilla and zest of one orange. Bring to a simmer and stir. Pour hot bourbon mixture into each jar fully submerging the cherries. (If you find yourself in need of a little extra liquid, heat a little extra bourbon to top it off.) Cover each jar and keep it on the counter for 24 hours at room temp allowing the cherries to cure. Transfer jars to the refrigerator so the flavors will deepen. Keep refrigerated and use within 1 month.