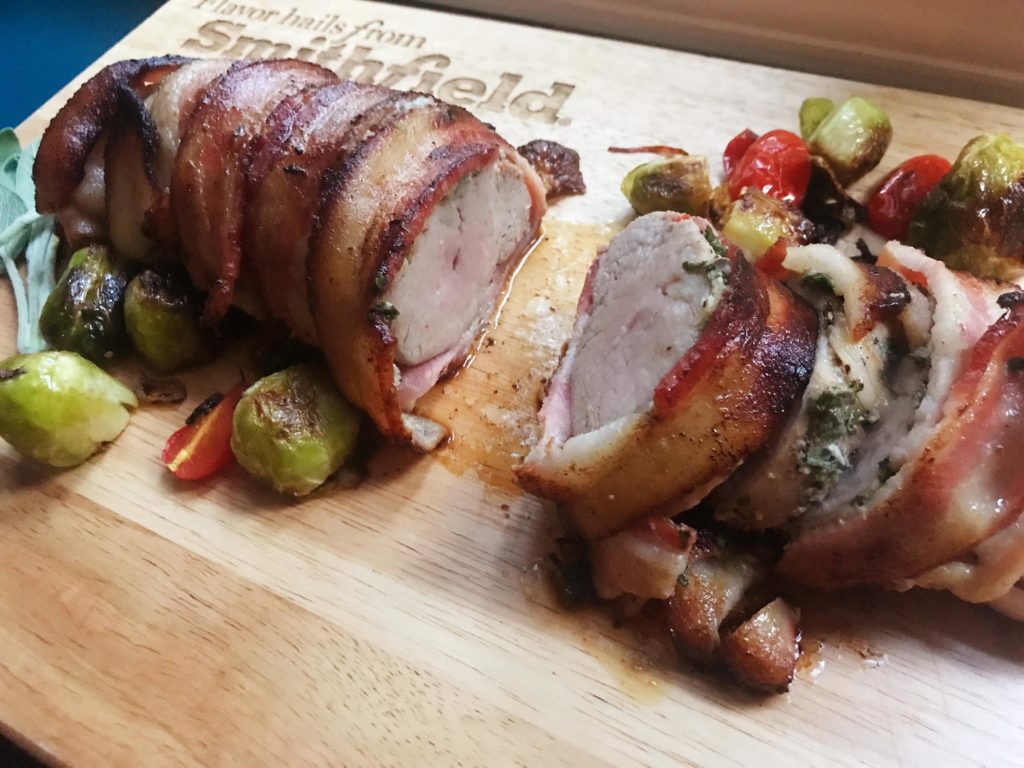 It may not be officially Bacon Lover's Day today, but…it's Bacon Lover's Day all day, every day over here at the Bacon Babe Headquarters.  I'm sharing one of my all-time favorite, slam dunk bacon recipes that is the ultimate crowd pleaser.  Think date night meal, entertaining with friends and even tailgating.  You can slice that bad boy up and throw it onto sliders.  Winning!  It's also the perfect time to celebrate a very exciting annual partnership with Smithfield and Farmer John, so I am taking my Bacon Superpower to a whole new level of…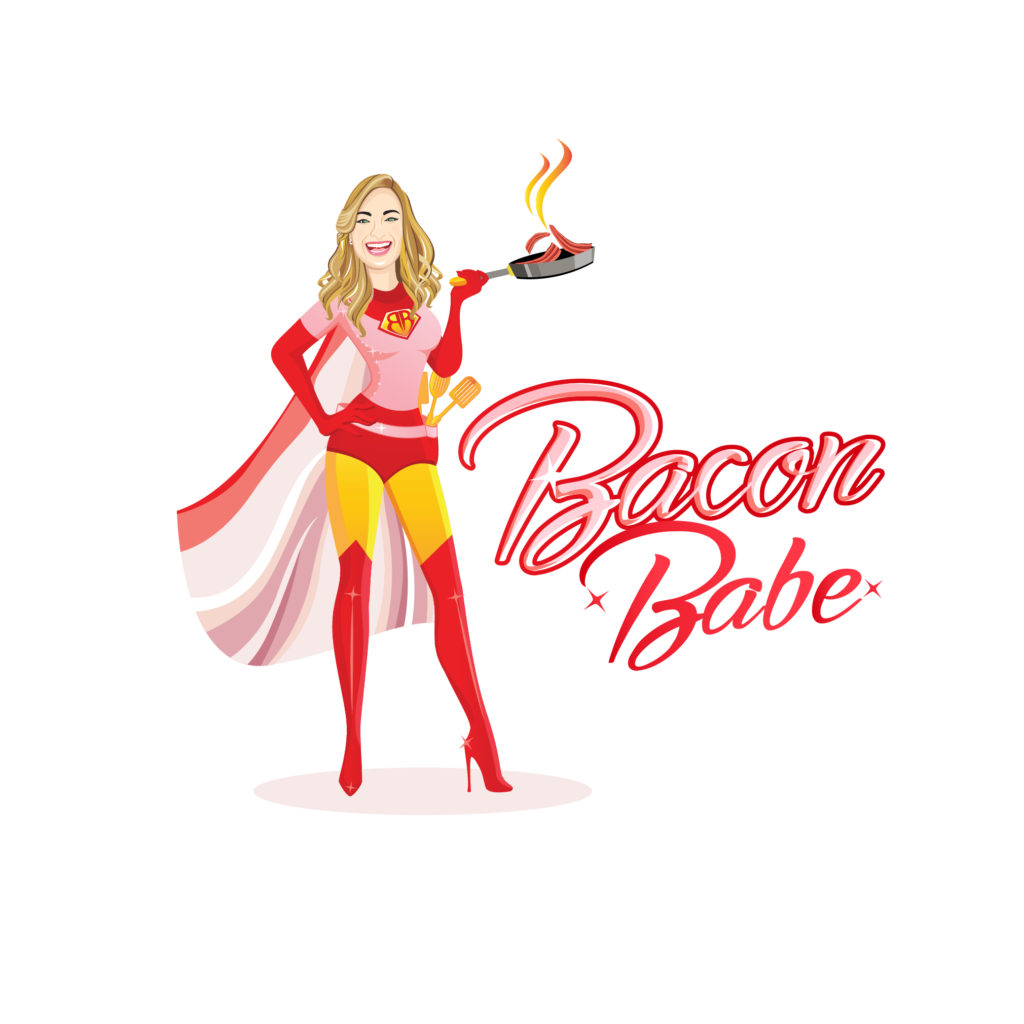 Yep, those boots were made for Makin' Bacon!  Get ready to see a lot more of this icon on my favorite bacon recipes.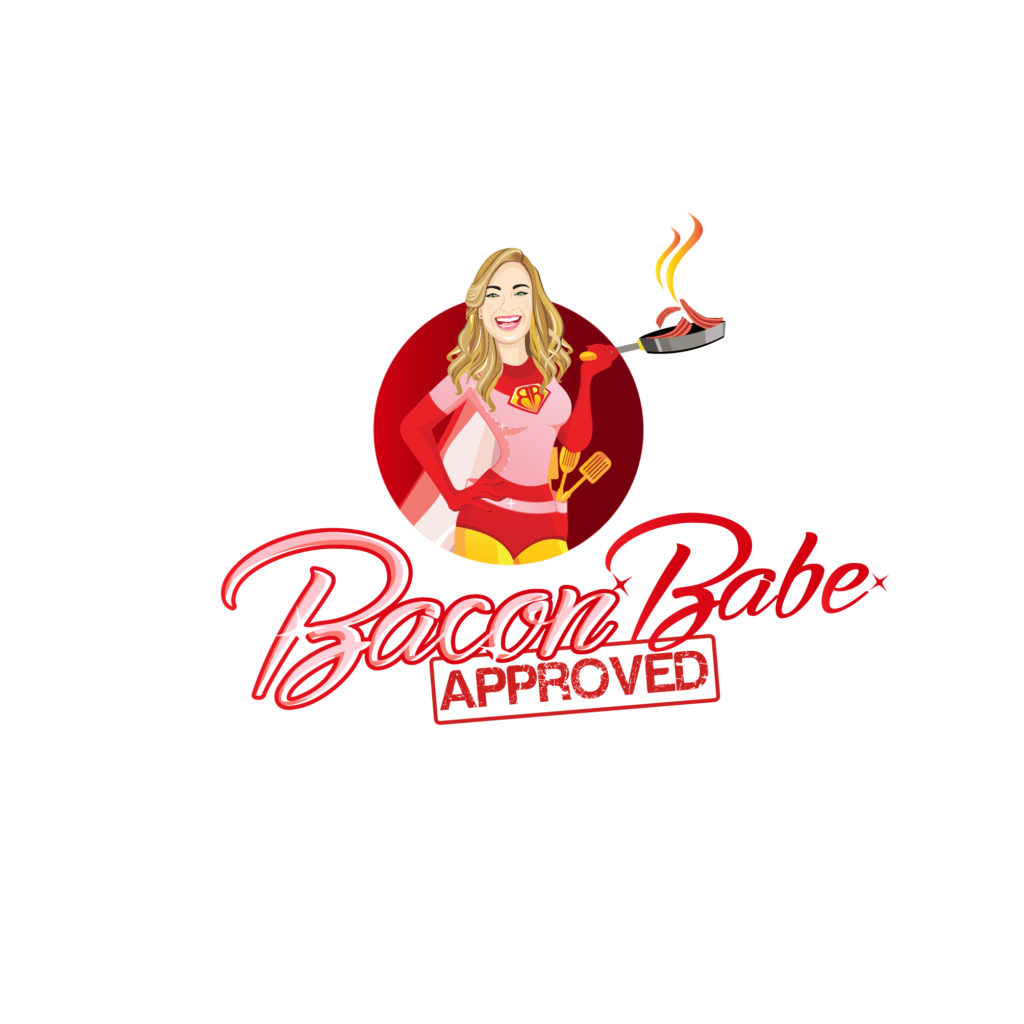 But let's not forget the best part of this recipe– it's the BACON!  All of the layers of flavor here make the recipe seem super complicated, very "chefy" and is guaranteed to impress anyone you make it for.  Remember when Howard Stern's wife described one of her recipes years ago as so delicious, she dubbed it  "Engagement Chicken?"  This is "Guarantee Bling Pork Tenderloin." I mean, just look at that tender fresh pork with those savory herbs and the perfectly trimmed, slow smoked bacon goodness on top?  Melt. In. Your. Mouth.  And GETINTOMYMOUTH.  RawtNOW.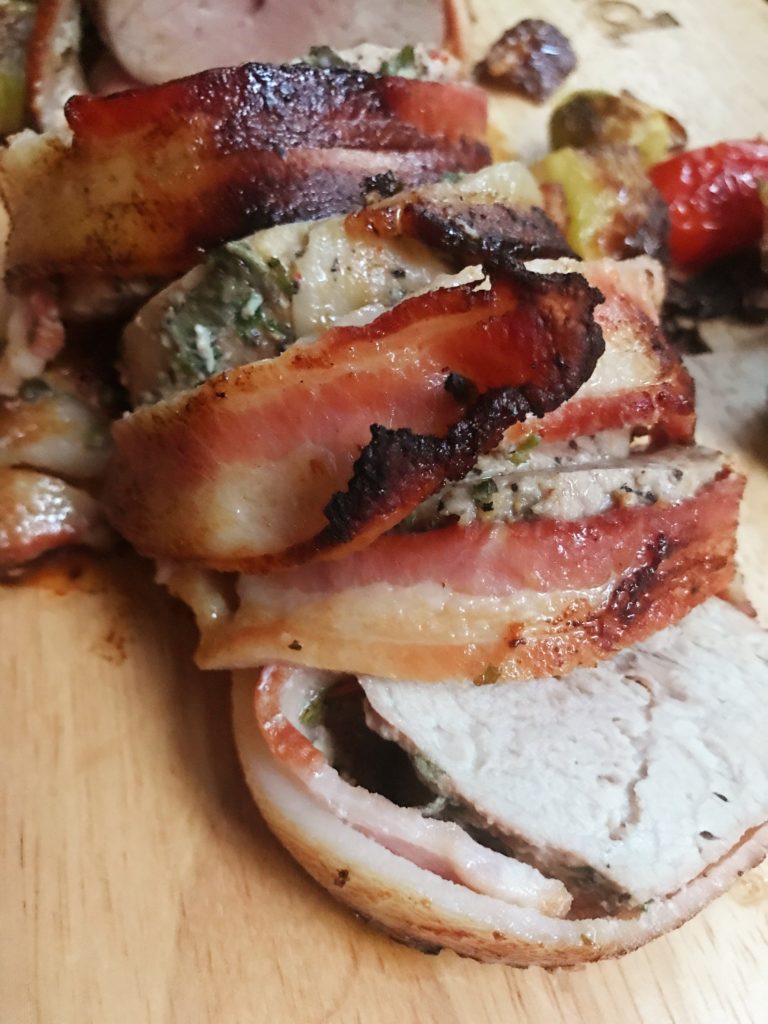 SECRET TO THE SOFTENED GARLIC BULB
One of the keys to the herbacious decadence is the softened garlic bulb, which you literally squeeze out into a bowl before adding some dijon mustard, a little honey and some fresh herbs.  All you have to do is cut off the top third of a whole garlic bulb, then place it face down in a small pan that has about an inch or so of water in it.  Cover with tin foil and bake for an hour at 375.  Here's how you do it in the video below!
The combination of the softened, herb infused garlic with the smoky bacon just makes for a show stopper of a recipe.  I prefer using Smithfield's Thick Cut bacon— it holds up well to the 2 step process of sauteing in the pan and baking in the oven.
Will ya look at that bacon?  I mean, it's a challenge for me when I do this recipe to NOT peel off all the bacon from the pork tenderloin and eat it before it gets to the table.  Hogging Bacon.  Bacon Hog.  Wait, that's redundant, right, LOL?!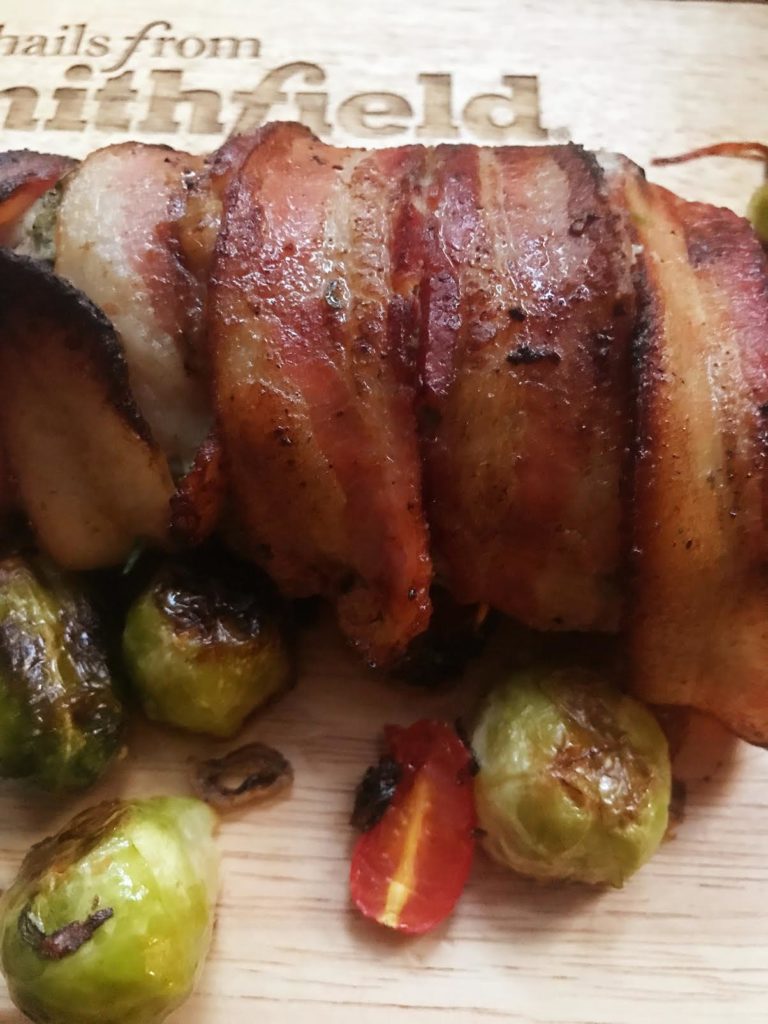 Before I leave you with this beautiful recipe, don't forget to let your pork rest.  In my experience, tenderloin works best, but a pork roast and a pork loin would also be great, it's just easier to wrap a tenderloin with the bacon with it's shape.  And you can feel good about fresh pork, because it's mean and lean, only 120 calories for every 3oz and a whopping 22 grams of protein.  You're welcome!
All this talk of bacon makes me want to — make some bacon.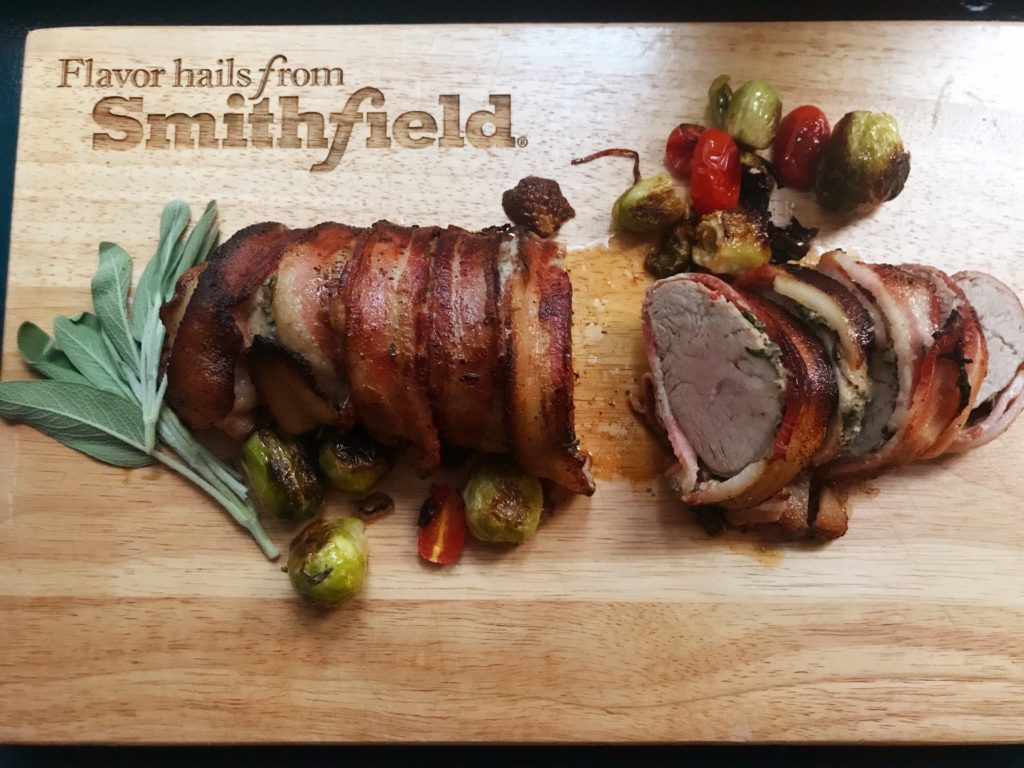 If it wasn't obvious above, this recipe is BACON BABE APPROVED!
WATCH MY VIDEO ON HOW TO MAKE THE RECIPE

*This recipe was created in partnership with Smithfield, but all thoughts and opinions are my own.  Thank you for supporting the companies that help keep Parker's Plate successful!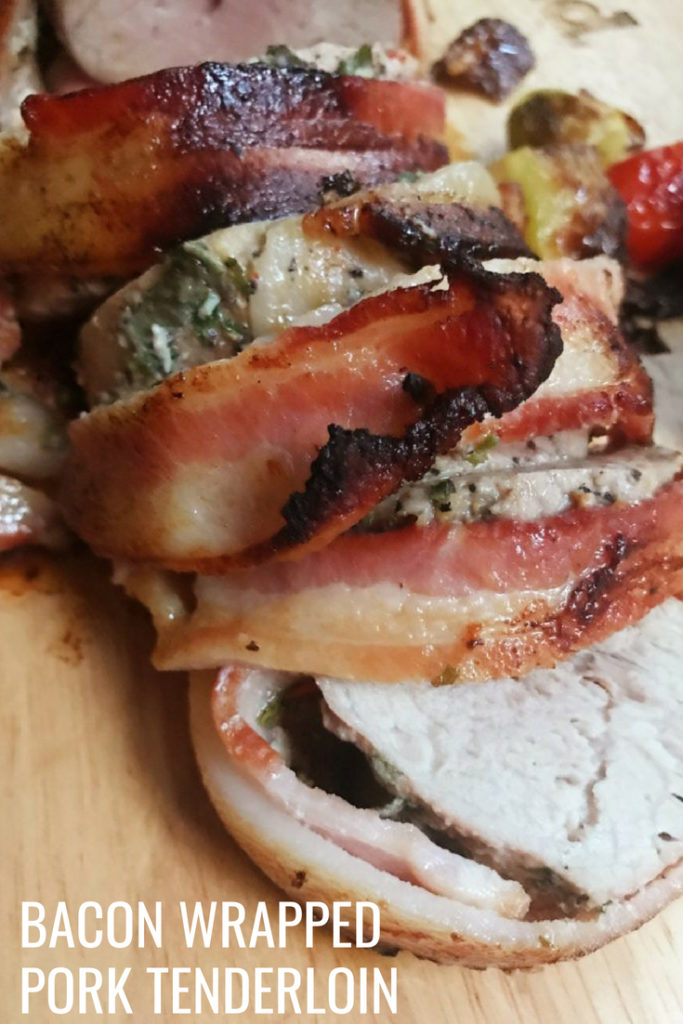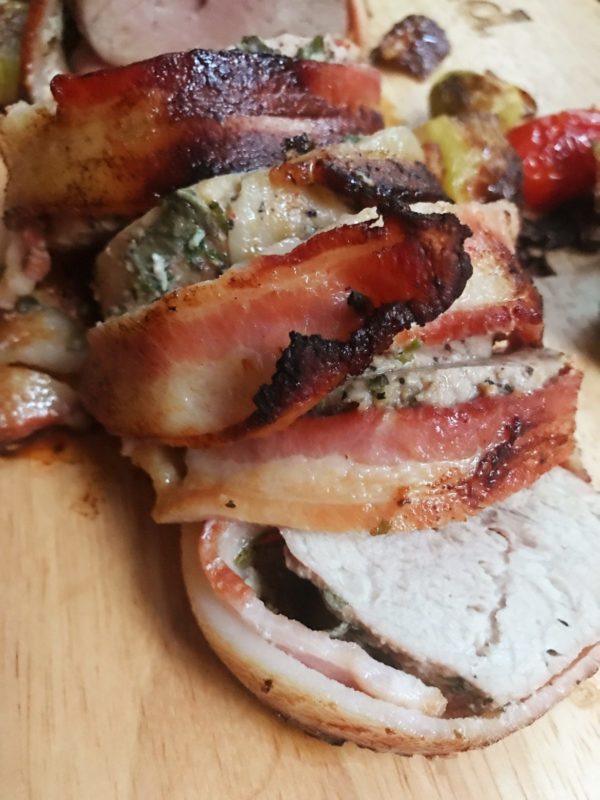 1

pork tenderloin

1 - 1.5 pounds (Smithfield of Farmer John)

8-10

slices

bacon

Smithfield Cherrywood Thick Cut Smoked Bacon
For the Herb and Garlic Rub
1

pork tenderloin

1 - 1.5 pounds (Smithfield of Farmer John)

8-10

slices

bacon

Smithfield Cherrywood Thick Cut Smoked Bacon

For the Herb and Garlic Rub
Soften garlic bulb by cutting off the top third and placing face down in a small pan in about an inch of water. Cover pan with tin foil and bake at 375 for one hour.

Squeeze the softened garlic into a small bowl. Mix dijon mustard, honey and fresh herbs and stir to combine. Spread mixture over top of pork tenderloin.

Wrap garlic and herb pork tenderloin in strips of thick cut bacon. Secure with toothpicks if necessary.

Sear bacon wrapped pork tenderloin in a hot, cast iron skillet in a Tb olive oil until slightly browned on all sides.

Using same pan (do not drain any bacon grease), put tenderloin into oven for 15-20 minutes until cooked through. Let tenderloin rest for another 10 minutes before slicing and serving.
Nutrition Facts
Bacon Wrapped Pork Tenderloin
Amount Per Serving
Calories 274
Calories from Fat 135
% Daily Value*
Total Fat 15g 23%
Cholesterol 103mg 34%
Sodium 732mg 31%
Potassium 58mg 2%
Total Carbohydrates 3g 1%
Protein 29g 58%
* Percent Daily Values are based on a 2000 calorie diet.