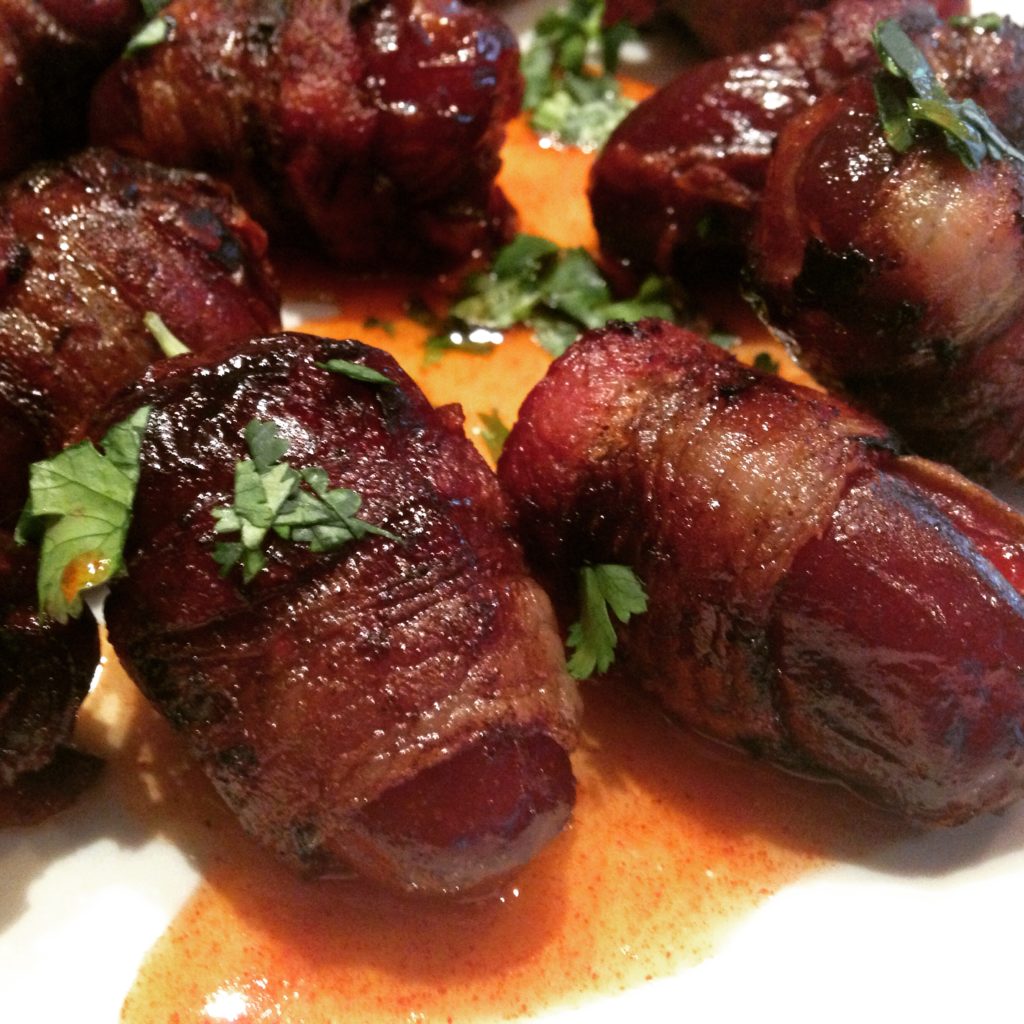 Bacon Babe here with a must make recipe:  This is pretty much the perfect bite — you've got sweet, you've got savory, you've got spicy, you've got a winner!  Once again, inspiration comes from Toro Bravo, my favorite cookbook…this would make a phenomenal gift for any of your foodie friends and family.
Anytime there's a "surprise inside," I'm a happy girl– from Cracker Jax to marcona almonds inside that juicy, savory bacon wrapped date.  Oh, and don't forget the cheese inside too.  My spin on this recipe calls for a tiny bit of Manchego cheese, which is a buttery cheese made from sheep's milk and produced in the La Mancha region of Spain, (which is also home to Don Quixote, for all you history buffs!)
The real pop of flavor comes from pimentón, which is smoked, Spanish paprika. 
When you're wrapping the dates, you can usually do use 1/2 a slice per date– but make sure you cut it on the bias and you overlap a bit or the bacon will shrink up when cooking and come undone.  I use Applewood smoked (thinner sliced) bacon for this recipe. (Smithfield is my fave!)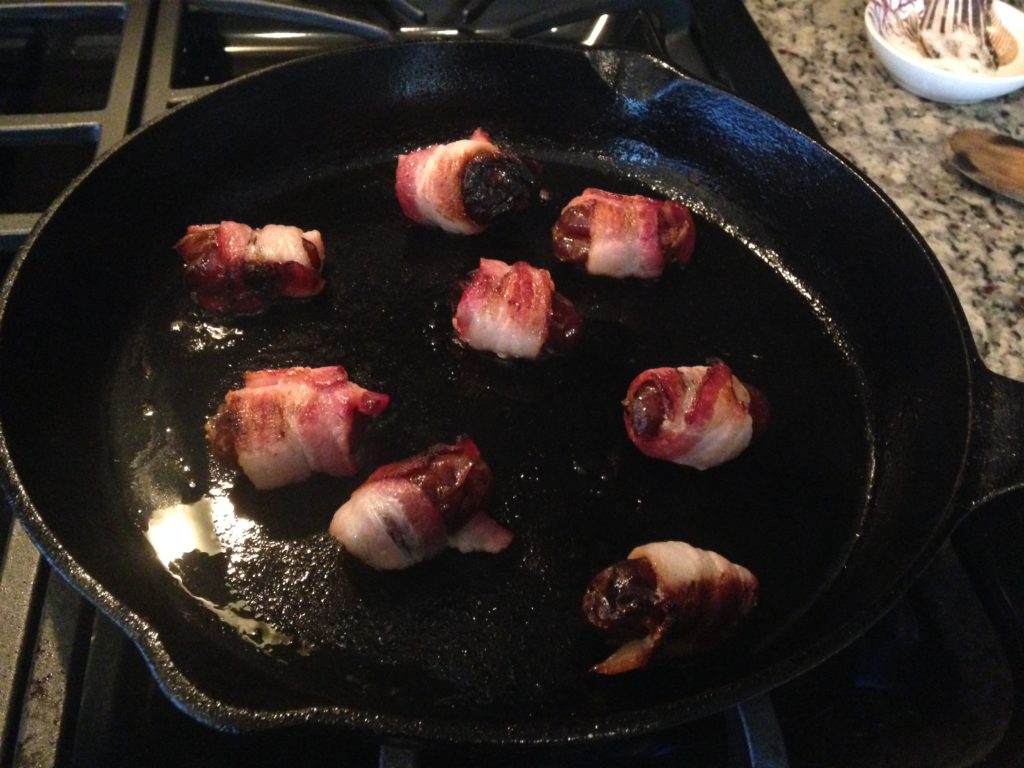 When you buy dates, make sure they're Medjool dates.  Look for ones soft to the touch.  If they're dry, they are harder and not awesome.  As soon as you open the date (and remove the pit!) they'll start drying out, so immediately stuff them, wrap them and get them into the pan!  You want to make sure the bacon is cooked through– almost to the burning point, so they're really dark and luscious!  I promise, they'll be the hit of the party.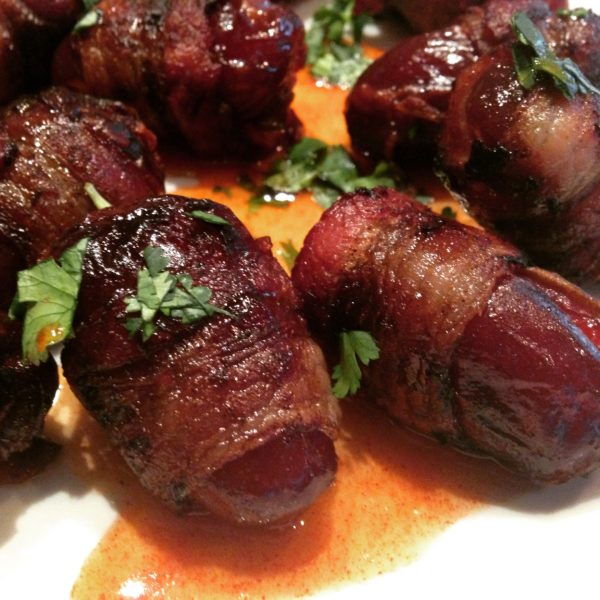 | | |
| --- | --- |
| | |
Instructions
Pit the dates and stuff each one with a Marcona almond and a 1/4 inch piece of cheese that should basically be the same size as the almond.

Whisk the honey, pimentón/paprika, lemon juice, and hot water together to incorporate and then keep this sauce warm.

Wrap each date with a half slice of bacon cut on a bias. You want enough bacon so that it slightly overlaps about a quarter inch.

Cook the bacon-wrapped dates over medium-high heat in a large cast- iron or nonstick pan, starting with the flap sides down to seal the bacon. Be careful not to crowd them. Cook them until the bacon is crisp and well browned all the way around.

Serve the dates in a pool of the honey sauce and drizzle some more on top. Garnish with chopped, fresh parsley.
Nutrition Facts
Bacon Wrapped Dates with Spiced Honey
Amount Per Serving
Calories 195 Calories from Fat 81
% Daily Value*
Total Fat 9g 14%
Saturated Fat 5g 25%
Polyunsaturated Fat 1g
Monounsaturated Fat 2g
Cholesterol 23mg 8%
Sodium 215mg 9%
Potassium 176mg 5%
Total Carbohydrates 24g 8%
Dietary Fiber 2g 8%
Sugars 22g
Protein 7g 14%
Vitamin A 4%
Vitamin C 2%
Calcium 17%
Iron 2%
* Percent Daily Values are based on a 2000 calorie diet.