Summer may look a little different for us this year. But, that doesn't mean skimping out on creating an epic at-home spread to kick off summer with the fam. Thankfully, ALDI saves the day and is my go-to grocer for all things summer (or, let's be real here, all year long!).
I love that they offer a large selection of fresh foods, including organic produce and convenient ready-to-eat food like sliced fruit, already-prepped salads and more—which makes it super easy to please all dietary preferences. From affordable and better-for-you appetizers and drinks to, it allows you to save time and money. More time for relaxing on the deck with a cocktail? Yes, please!
Speaking of, the best way to kick off any summer spread is with a drink. Your entire family can enjoy this Summer Smash, made with orange juice, sparkling soda and ice cubes.  It's the perfect summer mocktail, but I'm allllll about the bubbly. If any of the adults or parents in the family want to add some flash to the smash, I recommend adding the Belletti Sparkling Moscato Rosé—think of it like an upgraded mimosa!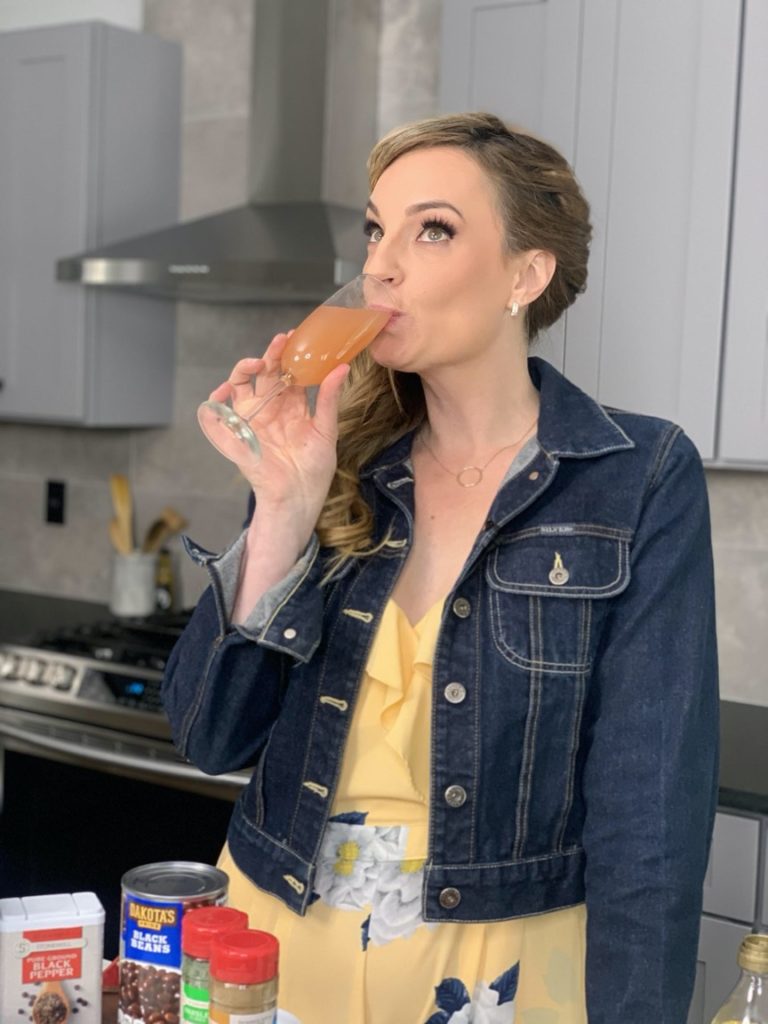 They also have many incredible, award-winning wines at ALDI stores near you. My current fave is the refreshing Giambellino Peach Bellini. ALDI works with wineries around the world to curate top-quality varieties – many under $10 – whether you're a connoisseur or a casual drinker!
Next stop on this incredible summer kickoff meal are flavorful, summer side dishes. I really hate when things go to waste. What I do, (and always suggest), is make the most of what's already in your pantry or fridge, like beans and fresh fruit. With some creative recipe planning, you can maximize your groceries and your taste buds. Again, we're all about saving time and money at Parker's Plate Headquarters!
Your family will love this Mix and Match Watermelon Salad, which makes a perfect crisp and refreshing side for warm, sunny days. What I did was add ALDI-exclusive Happy Farms Preferred Blue Cheese Crumbles and Southern Grove Chopped Walnuts for a nutty and savory twist. THIS is the kind of 'MAJA FLAVA' combo I'm all about!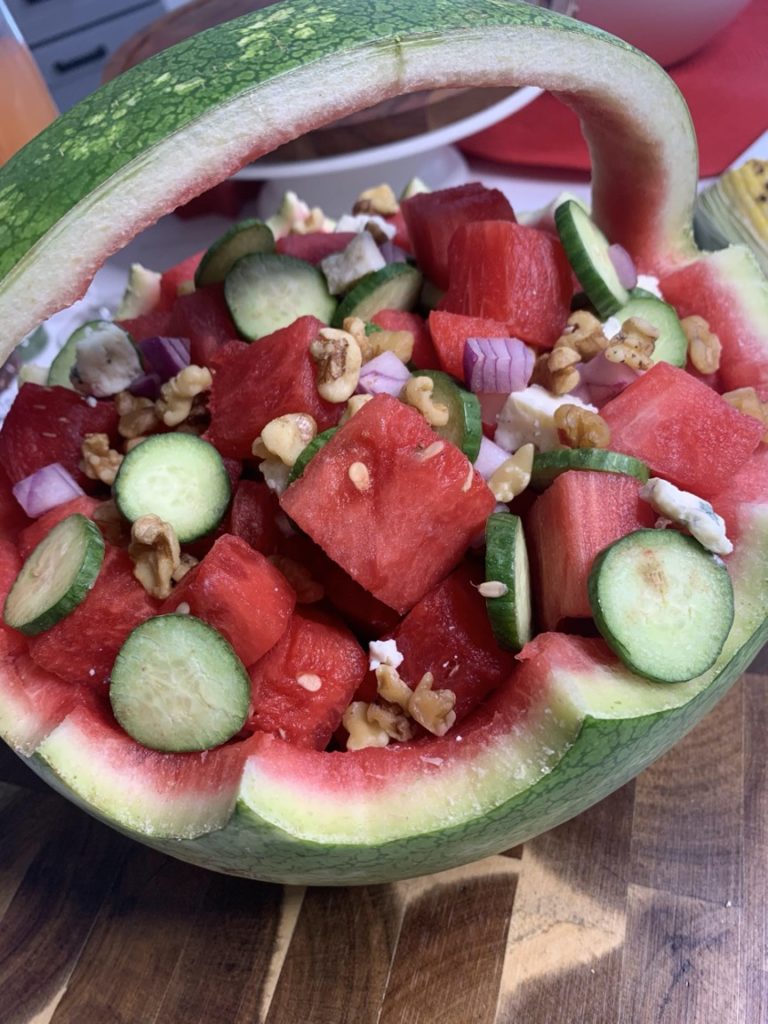 I'm currently obsessed with this Fire Roasted Corn Black Bean Salad made with sweet summer corn and lime cumin vinaigrette. I may or may not have eaten half the bowl before even serving…just sayin'!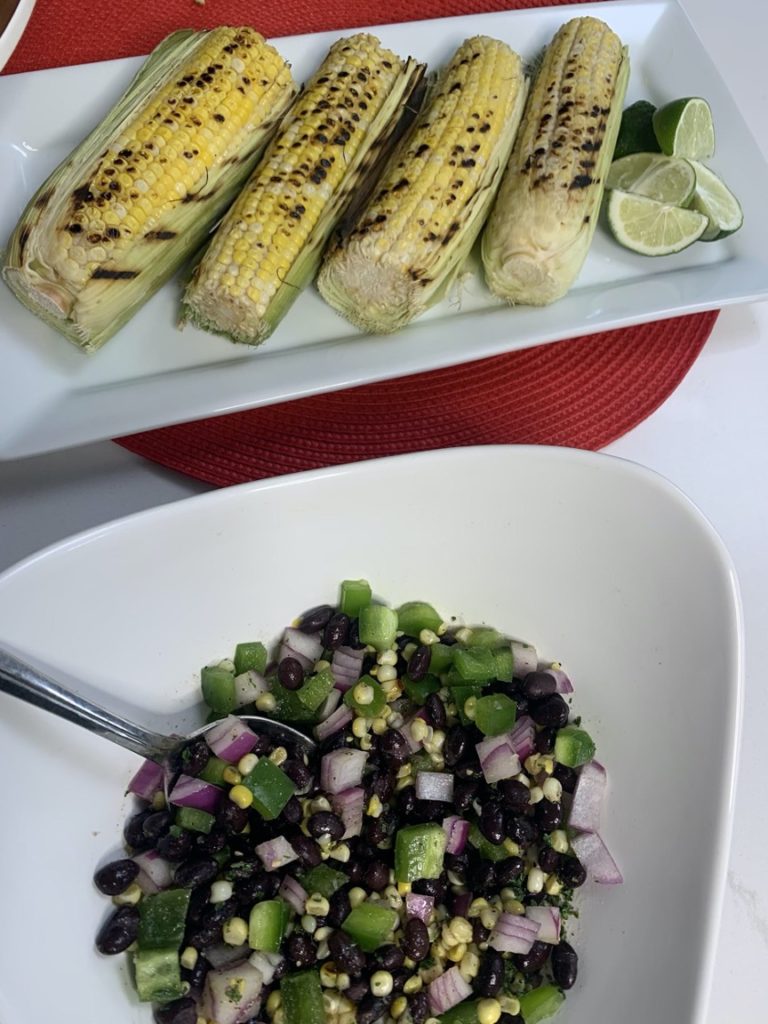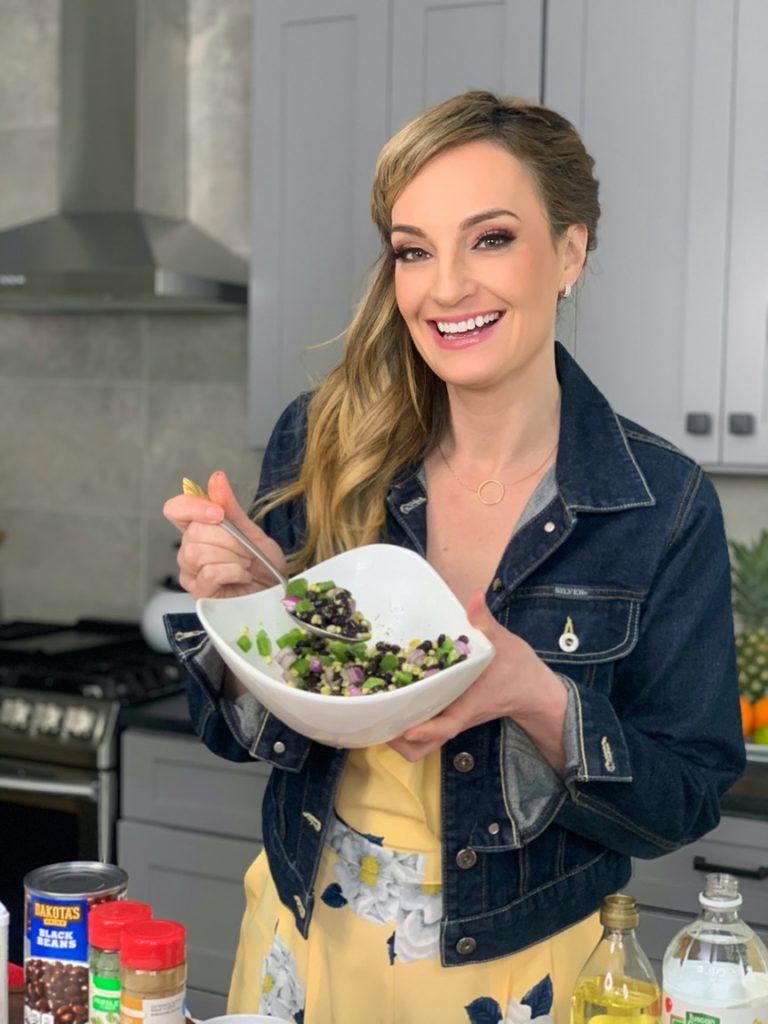 Now, what can be better for the ultimate summer feast than an Ultimate Burger Bar? It's the perfect way to get the whole family involved and please even the pickiest eaters.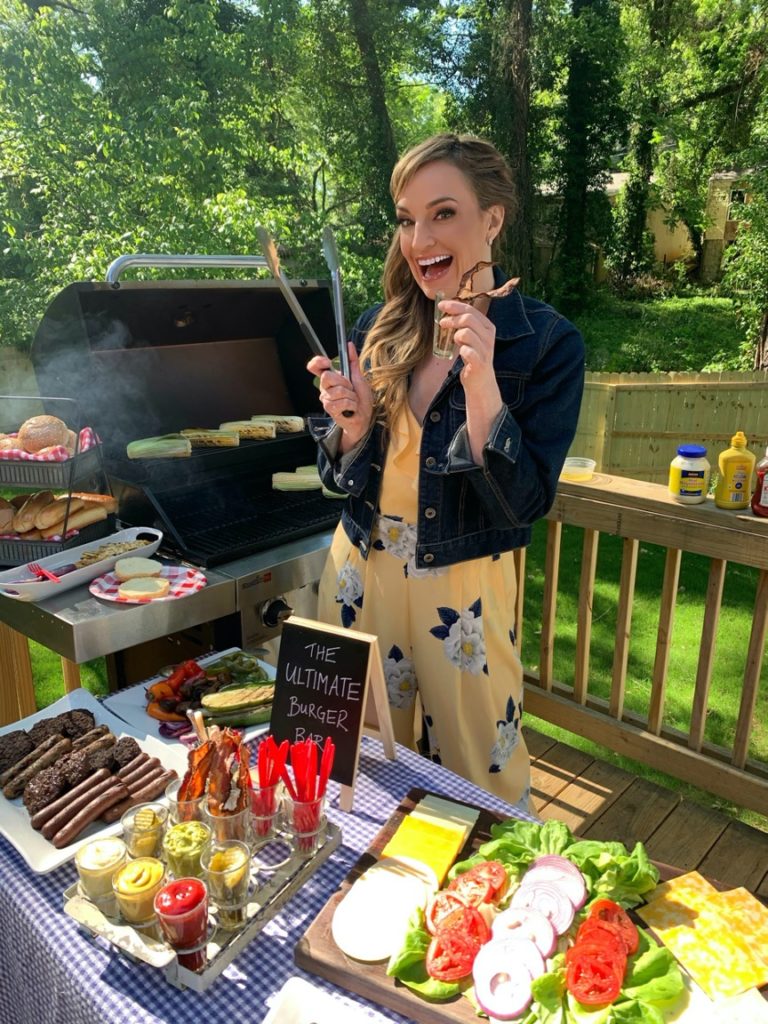 ALDI has all the elements to create a five-star burger. Tied for the #1 spot in my burger-loving heart (bacon, don't worry…you're still up there!) is the cheese. Happy Farms Deli Sliced Cheeses from ALDI are the perfect way to get that melty-goodness you're looking for. It also won the 2020 Product of the Year award!  Can't mess with #1, y'all. You can also get creative and add some grilled pineapple and charred red onion for the ultimate Hawaiian burger. The possibilities are endless!
For dessert, these decadent Backwards S'more Bars are made with brownies, marshmallows and graham crackers. You can get those nostalgic, childhood flavors of s'mores—no campfire needed!
Now, Culinary Goddess I am, but Expert Baker, I am not, (don't even get me started on the sourdough starter you guys are making on Insta!) I like to have a 'Shortcut to Delicious' option.  These Dessert Skewers are made with a selection of ALDI treats like crispy rice treats, swiss rolls, pound cake, and marshmallows.  I set up a tiered tray to layer all the treats so my people can mix and match to their heart's content!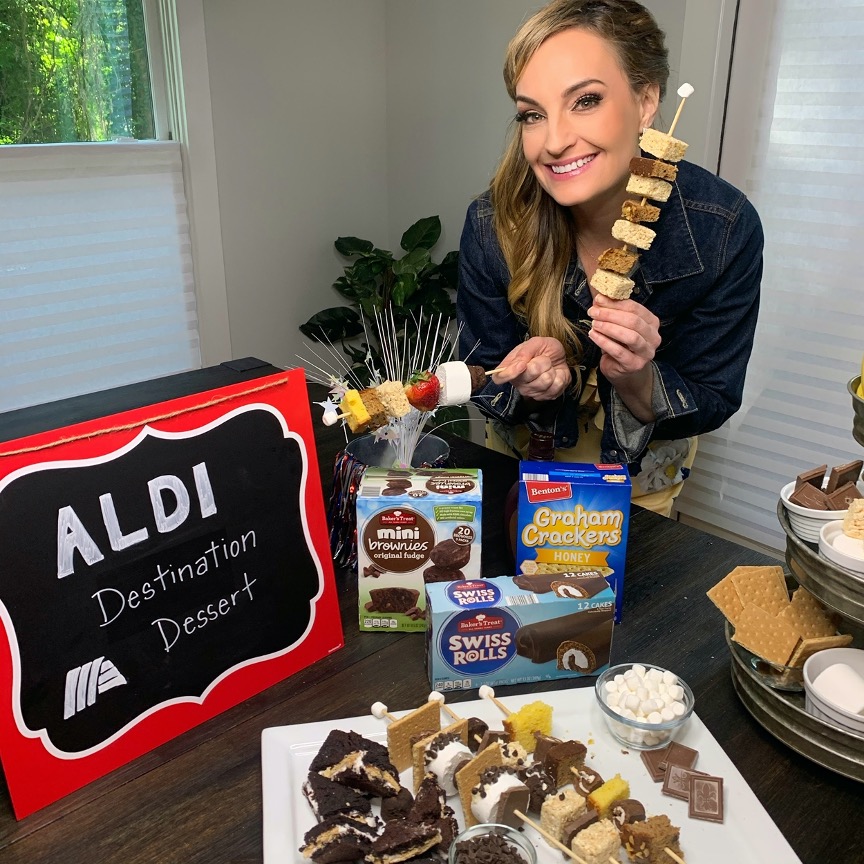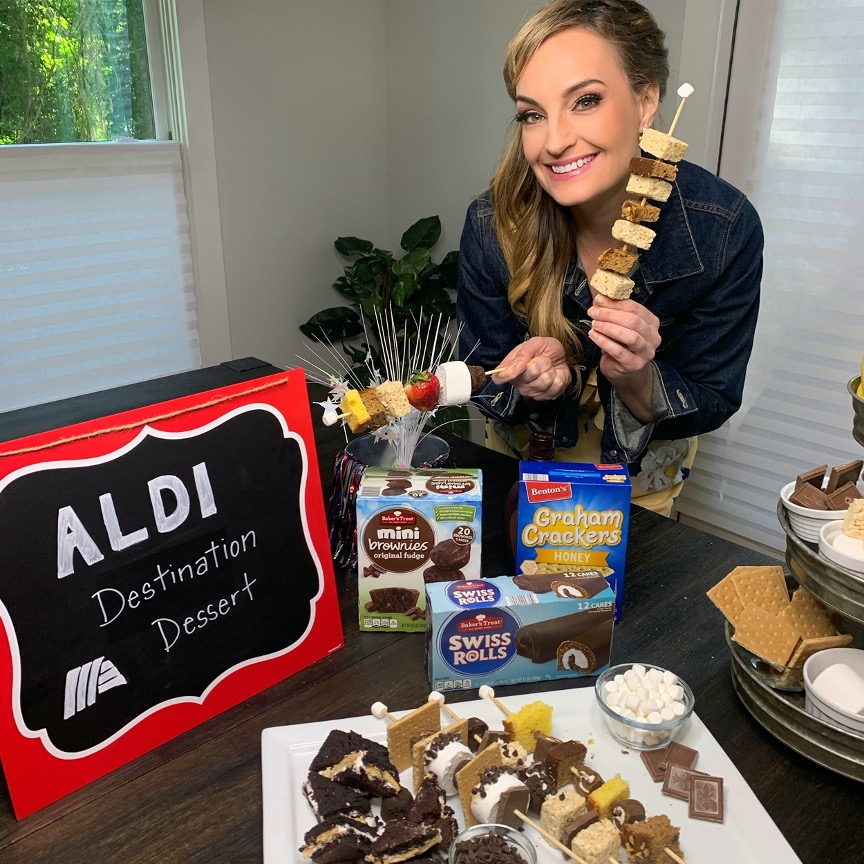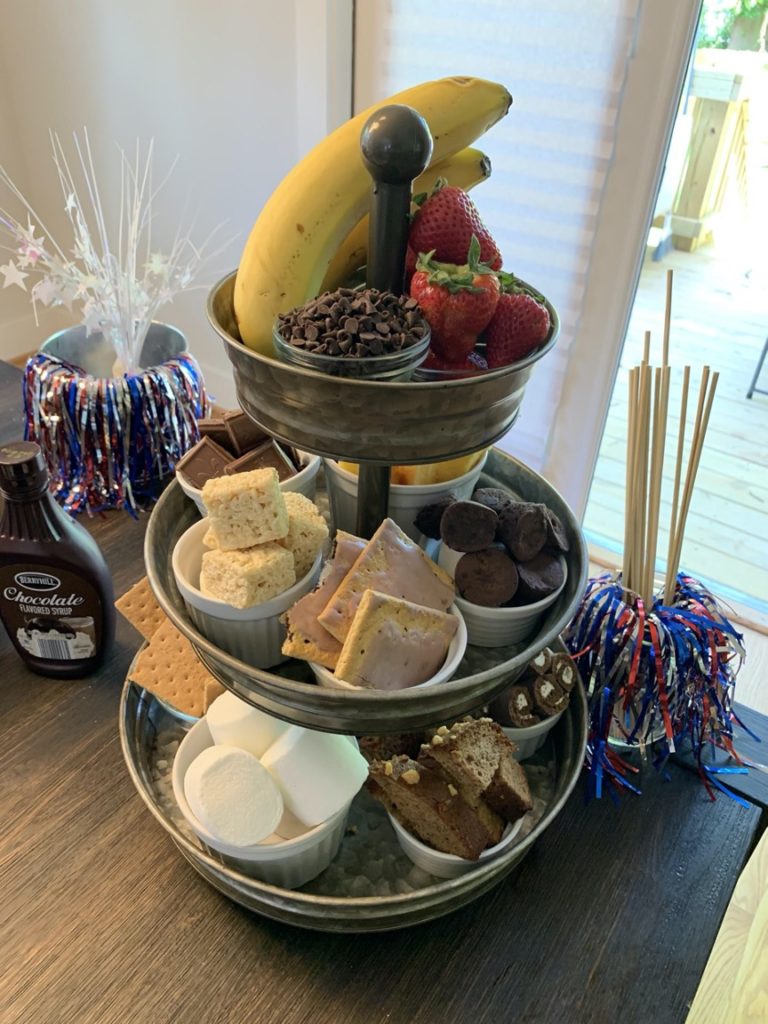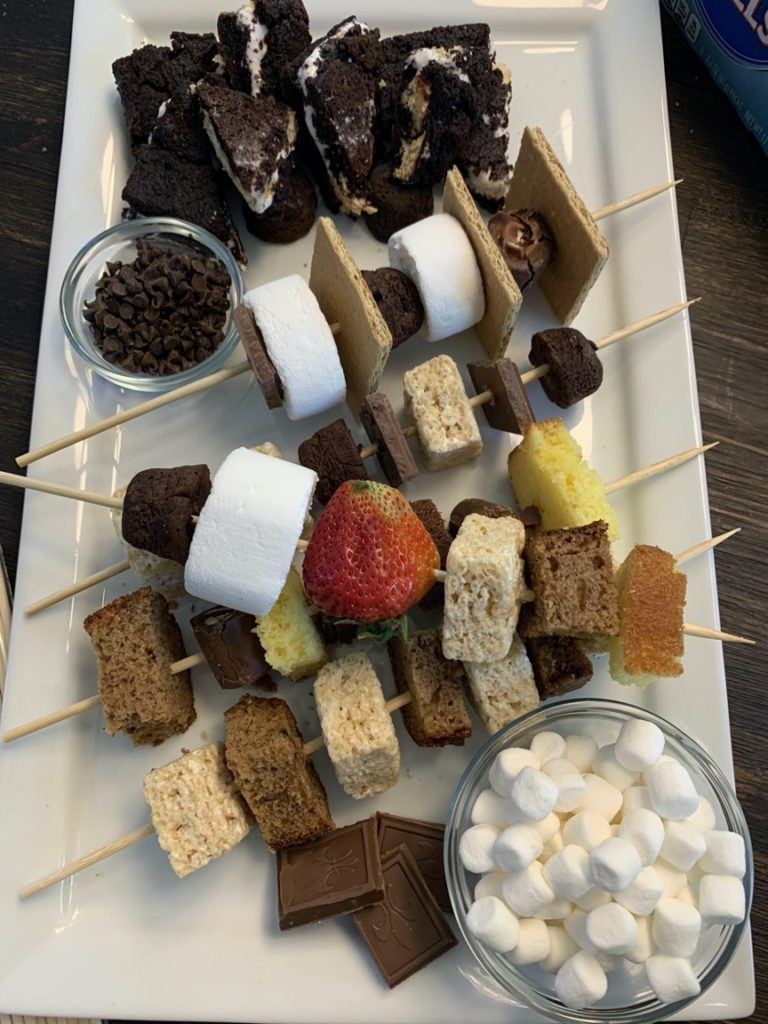 If you're not able to celebrate the kickoff to summer, or the upcoming Memorial Day holiday, as usual with your family and friends, consider hosting a virtual BBQ where you can make these same recipes. These recipes are the perfect summer comfort foods during these uncertain times, thanks to ALDI and their passion for connection.
For more information and recipe inspiration, be sure to visit ALDI.us.
This blog post was sponsored by ALDI, but all opinions are my own.