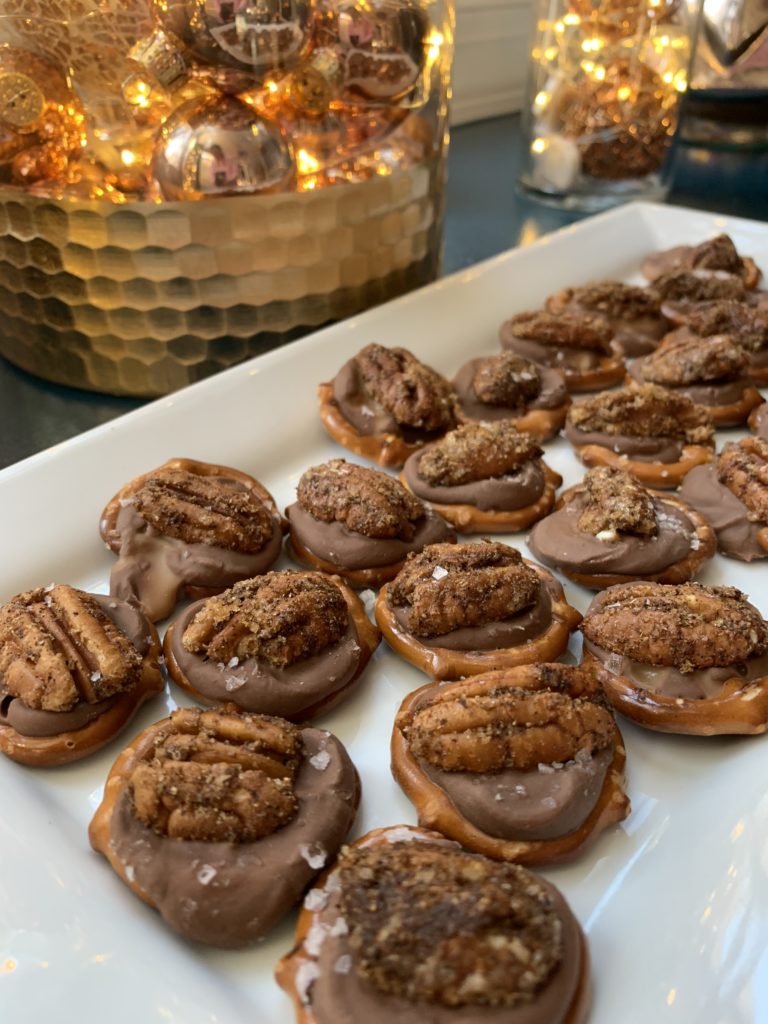 If you know me, you know I love to cook decadent meals, but I'm not much for baking.  It's such an exact science, and I'm all about the "little of this, little of that" kind of recipe making!  Now this is my kind of dessert.  OMG.  It could not be easier and all you need are 4 ingredients:  Mini Pretzels, Rolos, Pecans and Sea Salt.  I got a little fancy and did a spice mix on the pecans, but they're delicious plain as well!  I'd like to introduce you to Spiced Pecan Turtles….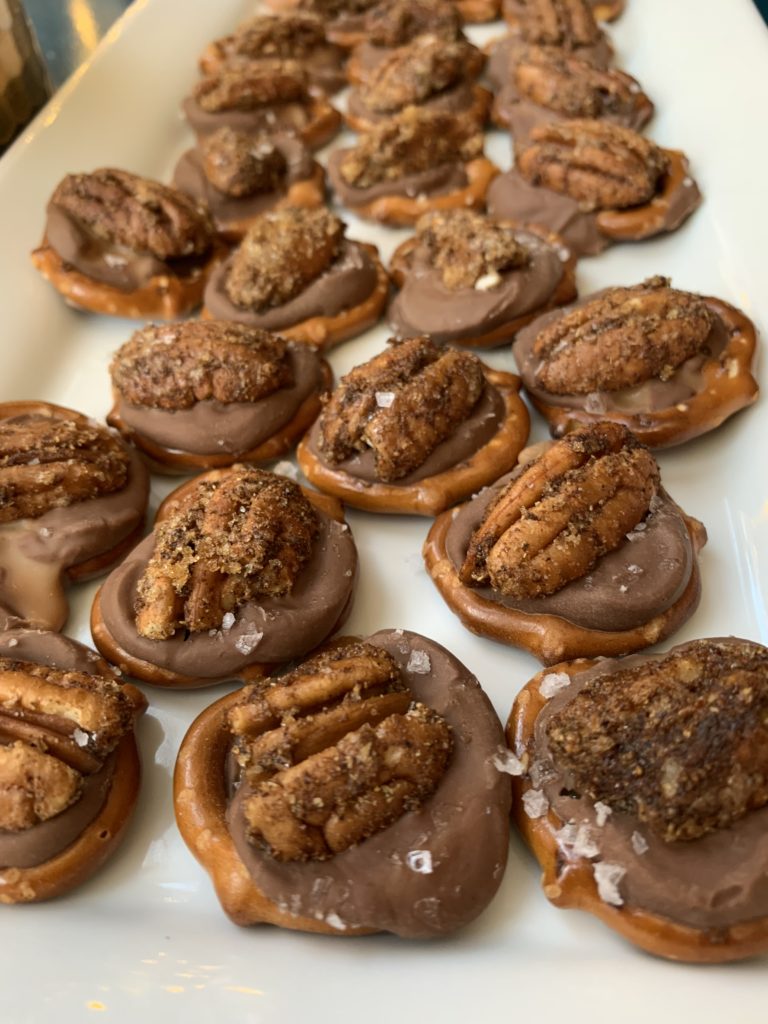 I realized on Christmas Eve that I hadn't made ANY cookies– not for JP, not for our neighbors, not for Donna our mail carrier…..and what kind of representative of Parker's Plate would I be if I didn't package up some sweets for my peeps?!  So, I was chatting with Lin, my Stepmom, who happens to be a great baker (her banana bread is INSANE which I will be posting later in January!) Lin gave me the recipe and I was blown away by how easy and how decadent these are.
All you do is put mini pretzels on a parchment paper lined baking sheet, then top with a Rolo and bake at 300 for 5 minutes!   That. Is. It.  The hardest part is unwrapping each Rolo, LOL.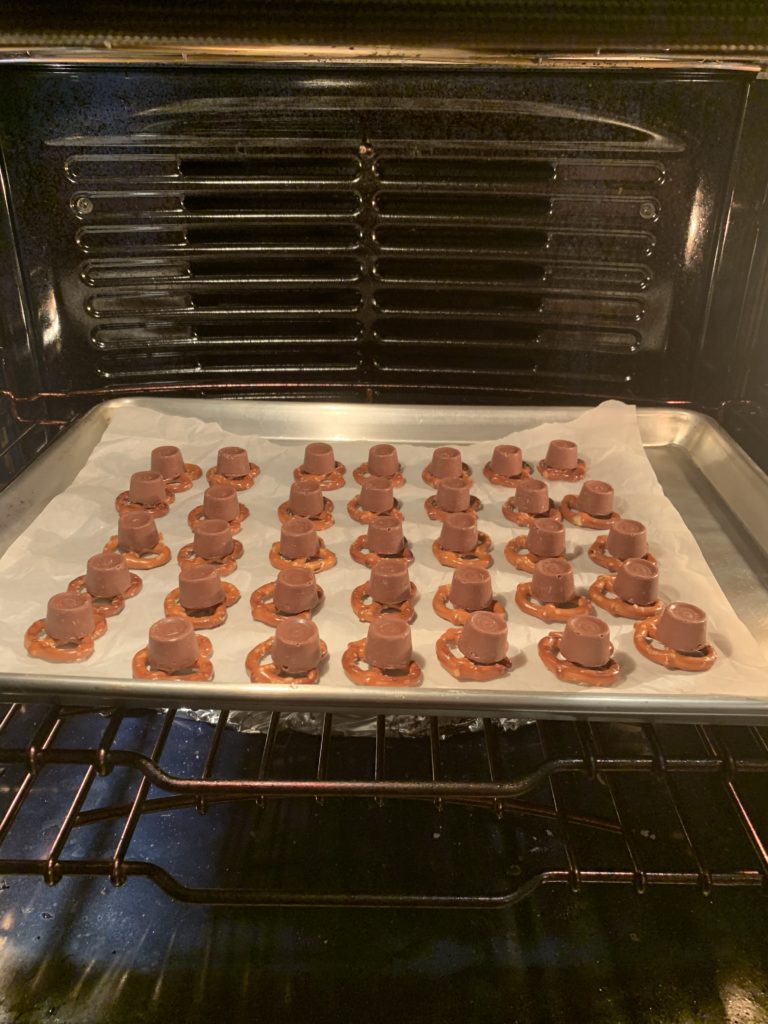 When they come out of the oven 5 minutes later, all you do is press a pecan down on the melted Rolo and sprinkle with a bit of kosher or sea salt.  Personally, I love the Maldon Sea Salt because it's thick and flaky and so yummy.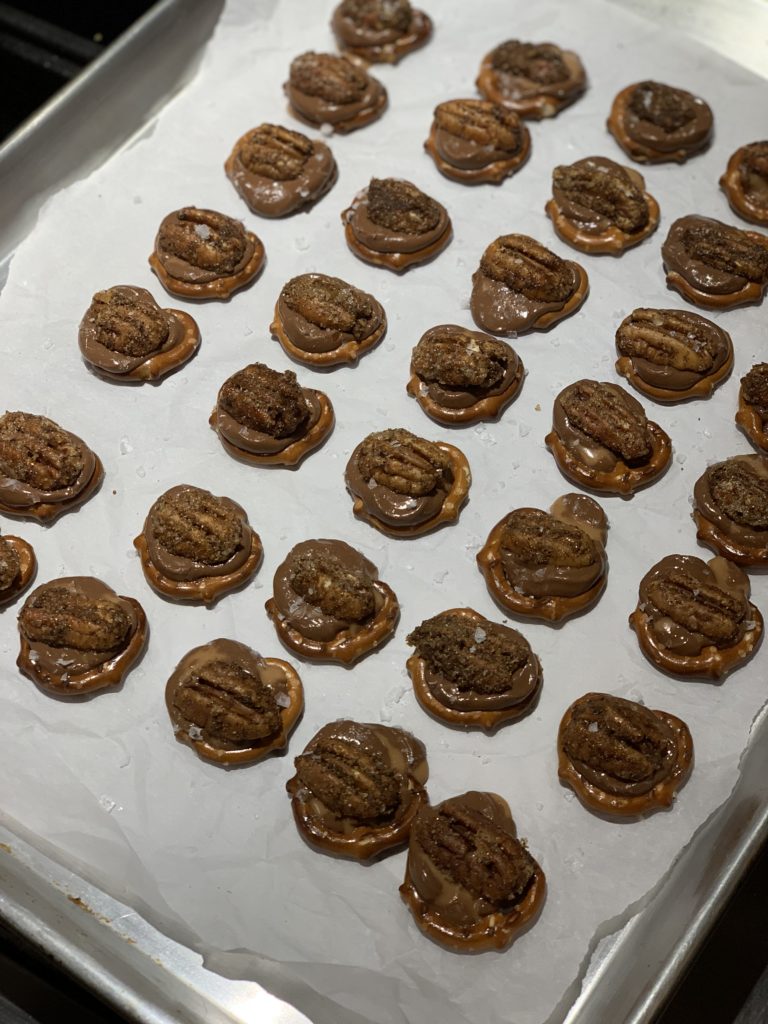 The spice mix is something I came up with on the fly— it's a combination of garam masala, a fragrant Indian spice mix that's a combination of cloves, coriander, cinnamon, cumin, chili and cardamom. To save the hassle of making it yourself, you can just buy it pre-mixed.  I had the McCormick version on hand and it was perfect.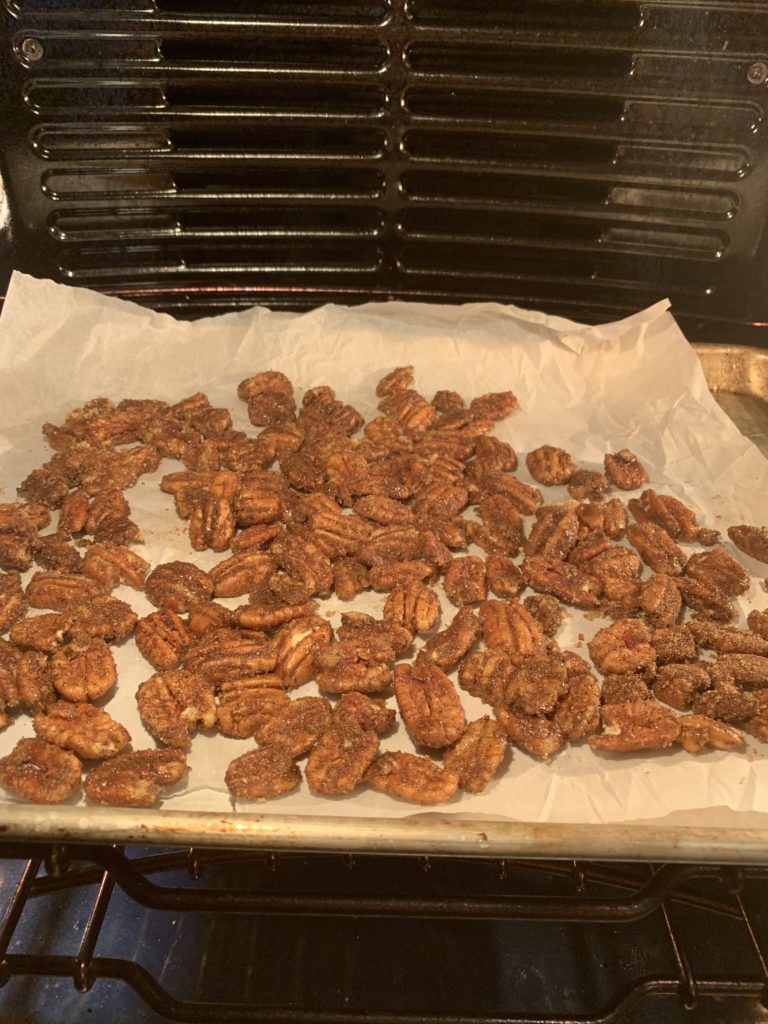 I used a combination of garam masala with brown sugar (about a 1:1 ratio) with a touch of extra cumin, cardamom, cayenne and salt.  Soaked in some salted butter, they were ah-mazing.  The savory element of the spice blend is the perfect compliment to the sweet Rolo and the crunchy pretzel.  Plus, they looked so pretty against my Christmas decorations  in our dining room!  My friend Denise inspired the gorgeous Christmas Light Displays — I used fairy lights ordered from Amazon and some extra holiday Christmas balls with some glittery decorations from the Kroger Floral Department.  I was so happy with how they turned out!  The Spiced Pecan Turtles were a huge hit with everyone who tried them.  Santa has already put in a request for next year….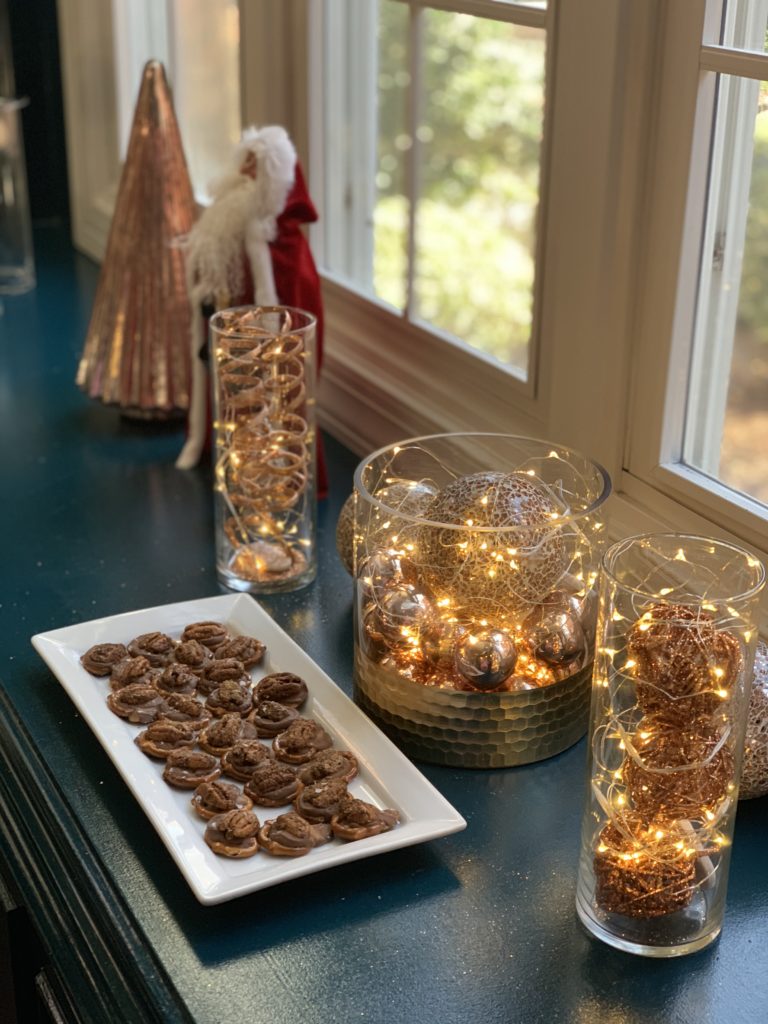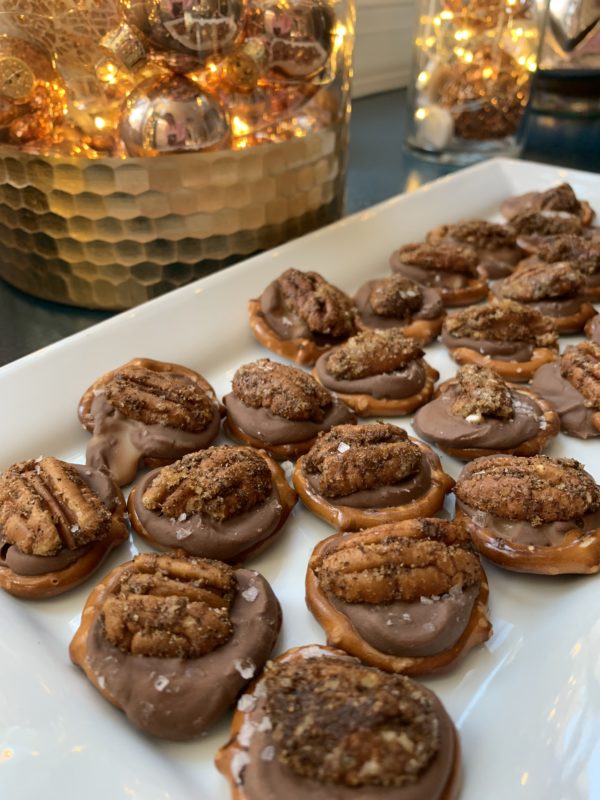 | | |
| --- | --- |
| | |
Preheat oven to 300. On a parchment paper lined baking sheet, place pretzels down with a single Rolo on each pretzel. Bake for 5 minutes and take out of oven. Press a pecan down immediately on the melted Rolo and sprinkle with sea salt.
Melt butter in microwave or stove top. Mix together the garam masala, brown sugar, cumin, cardamom, salt and cayenne. Taste and adjust with more salt or sugar depending on your preference. Soak pecans in melted butter until coated and then fold pecans into spice mixture until completely coated. Bake on a parchment lined baking sheet at 325 for 10-12 minutes, shaking pan halfway through to ensure even baking. Let cool.
Nutrition Facts
Spiced Pecan Turtles
Amount Per Serving
Calories 86
Calories from Fat 54
% Daily Value*
Total Fat 6g 9%
Polyunsaturated Fat 0.03g
Cholesterol 6mg 2%
Sodium 116mg 5%
Potassium 23mg 1%
Total Carbohydrates 7g 2%
Protein 1g 2%
* Percent Daily Values are based on a 2000 calorie diet.