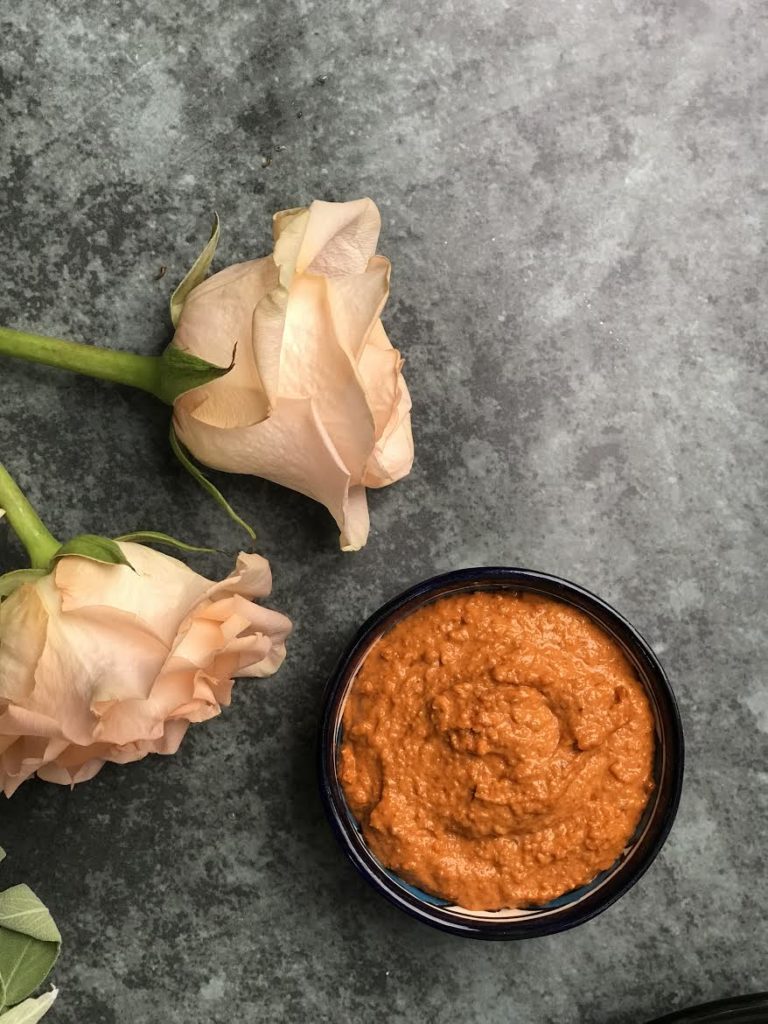 If there is one sauce you should know how to make by heart, this is it, you guys.  Romesco is everything!  I first discovered this sauce in the Toro Bravo Cookbook, by John Gorham.  He might be the chef that is my hall pass, by the way, but I digress!  In Chef Gorham's words, "Romesco is another classic emulsification, so you've got the formula: protein, acid, motion, fat." It's like a pesto made with roasted red peppers. Romesco originated from Tarragona, Catalonia, in Northeastern Spain. The fishermen there made the sauce to be eaten with fish, but you have my permission to rub that delish all over burgers, pasta and your dang Cornflakes, it's so good.  You'll need a food processor for this recipe or a really good blender, like a Ninja or a Vitamix.  The key to the perfect flavor in this recipe?  Roasted peppers and paprika.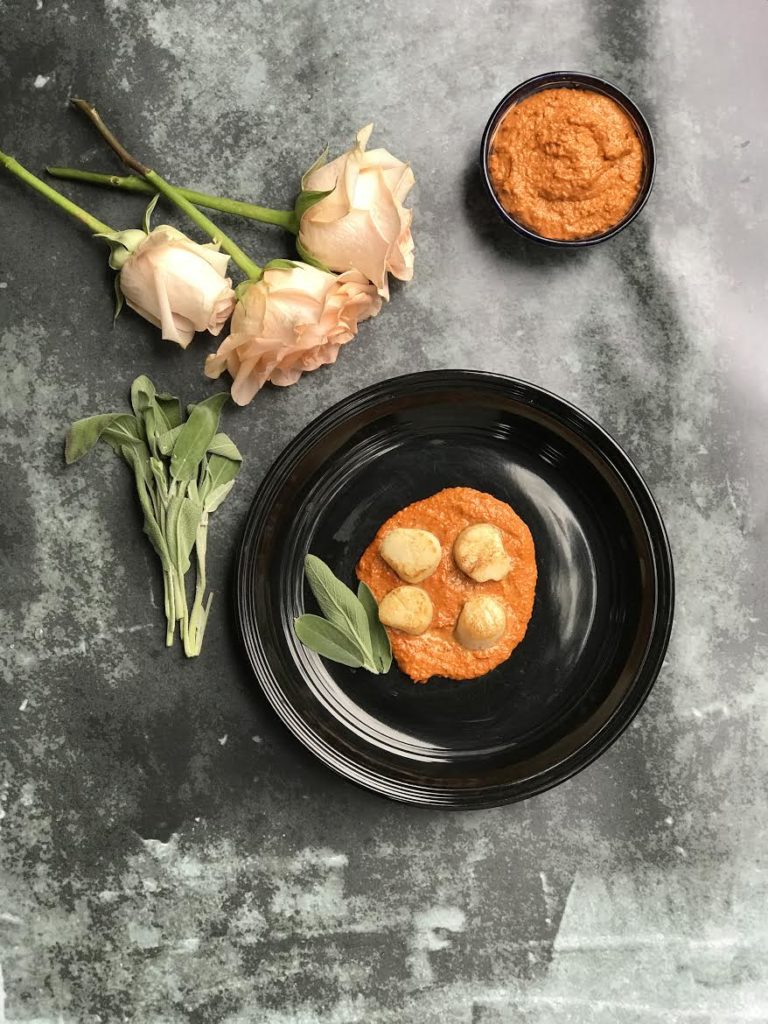 Now when I say roasted peppers, I'm not talking about the kind you pull out of the jar!  You MUST roast your own and it's so easy.  Just drizzle whole red bell peppers with olive oil and put them under the broiler until they're blistered all over.  While they're still hot, use a paper towel and pull that crackled black skin off.  Then cut them open, pull out the seeds and they're ready to go!
The original recipe calls for poaching almonds, but I've found that roasted, lightly salted almonds do just fine, or the fancier Marcona almonds which you'll usually find by the gourmet cheeses in your local grocery store.  Gorham's recipe also lists a combo of paprika and pimenton, which is the Spanish version of paprika, usually of the 'smoked' variety.  I've done a combination of smoked and hot paprika, regular paprika and smoked paprika, and it's amazing with any paprika combination. My favorite is probably hot and smoked together.  It gives it a really nice kick and then the smokiness settles into your palate beautifully. Pair with a nice Pinot Noir or Garnache wine and you will be in foodie heaven.
My go-to protein to serve with romesco is scallops.  In this recipe, for spicy red curry shrimp and scallops, I give pretty solid directions on how to cook jumbo scallops. Remember, the key is to LEAVE THEM IN THE PAN and don't move them around so they get a gorgeous sear.  Again, the beautiful thing about romesco is that you can literally serve it with anything.  The scallops pictured here were tiny guys (thanks, Instacart shopper, LOL!) but they were still scrumptious.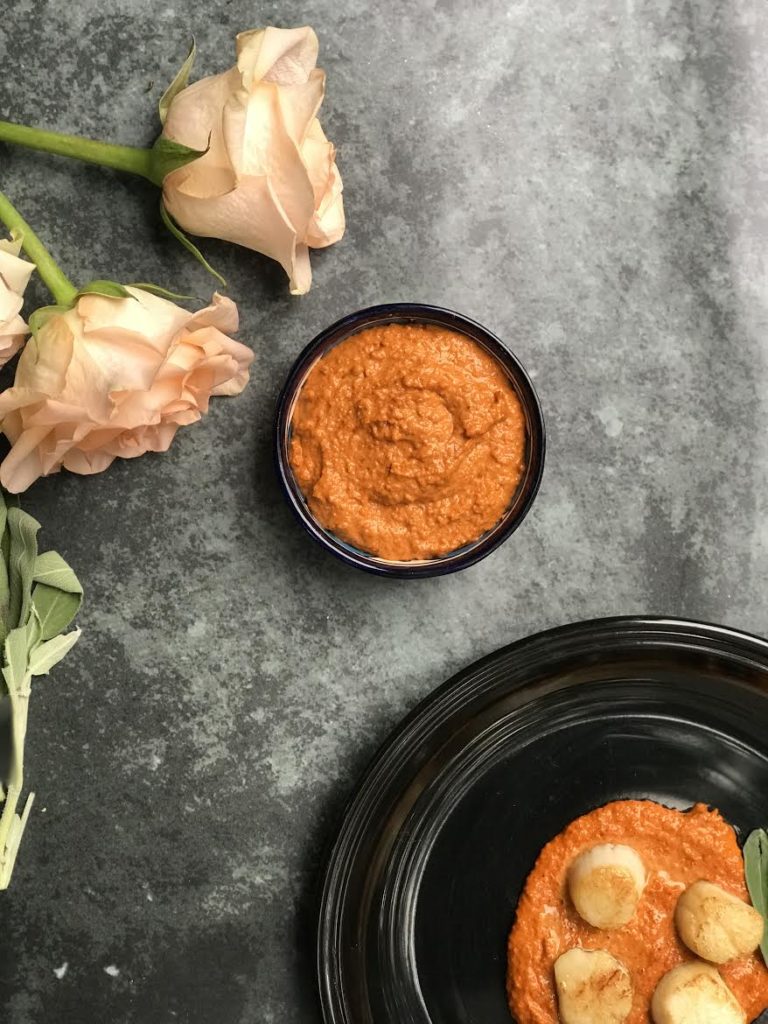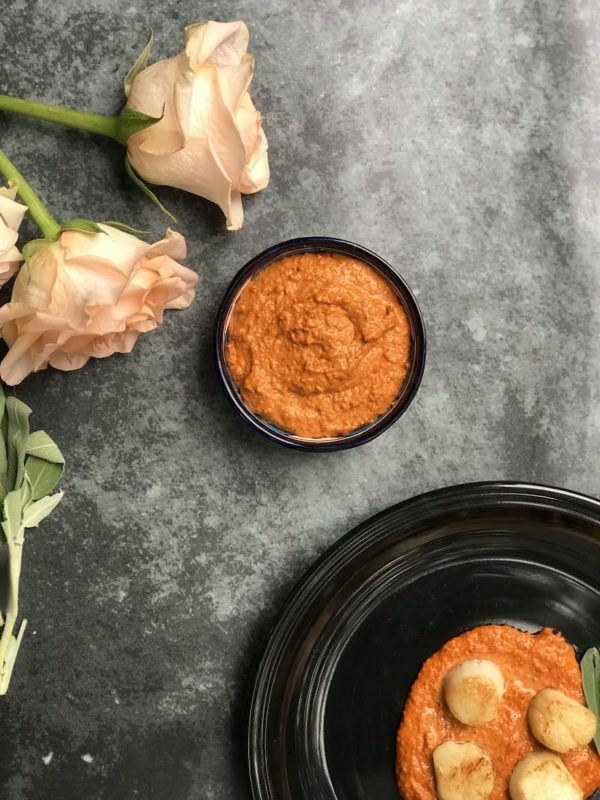 | | |
| --- | --- |
| | |
In a food processor with the blade set in place, add the roasted peppers, almonds, paprika, smoked paprika, garlic, sherry vinegar and pulse for 30 seconds.

Add egg yolk and pulse again for 10 seconds.

Turn the food processor on and slowly drizzle the oil in a slow, steady stream. As the food processor runs, the Romesco emulsifies. It should take about a minute to add all of the oil slowly. (Remember, put 2 Tb of olive oil into a cup and then add enough canola oil to fill that 1 cup.)

Once the oil has been added, blend for an additional 30 seconds. Add kosher salt and pepper to taste, blend and serve. Do not freeze the Romesco or it will break. It keeps for 3-4 days in the fridge.
Nutrition Facts
Romesco Sauce
Amount Per Serving
Calories 439
Calories from Fat 414
% Daily Value*
Total Fat 46g 71%
Cholesterol 70mg 23%
Sodium 93mg 4%
Potassium 240mg 7%
Total Carbohydrates 10g 3%
Protein 3g 6%
* Percent Daily Values are based on a 2000 calorie diet.