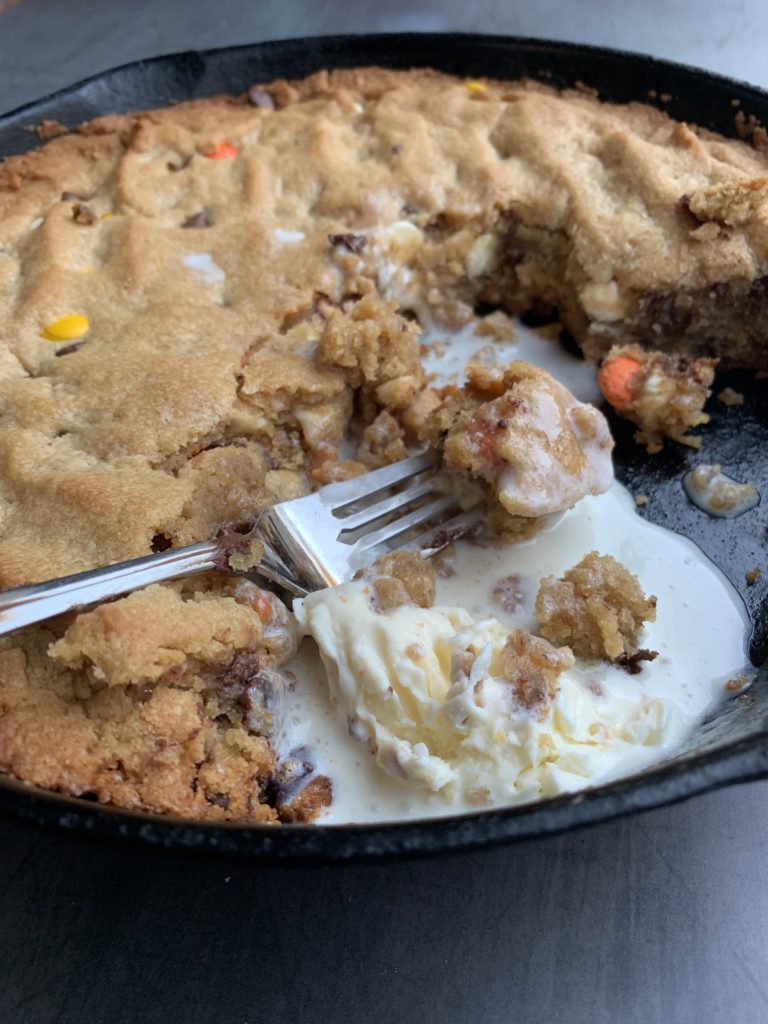 Blondes may not actually have more fun, but damn do they taste good in a skillet.  With peanut butter.  And toffee bits.  And Reeses Pieces.  Phone home.  Have Peanut Butter Toffee Skillet Blondie ready.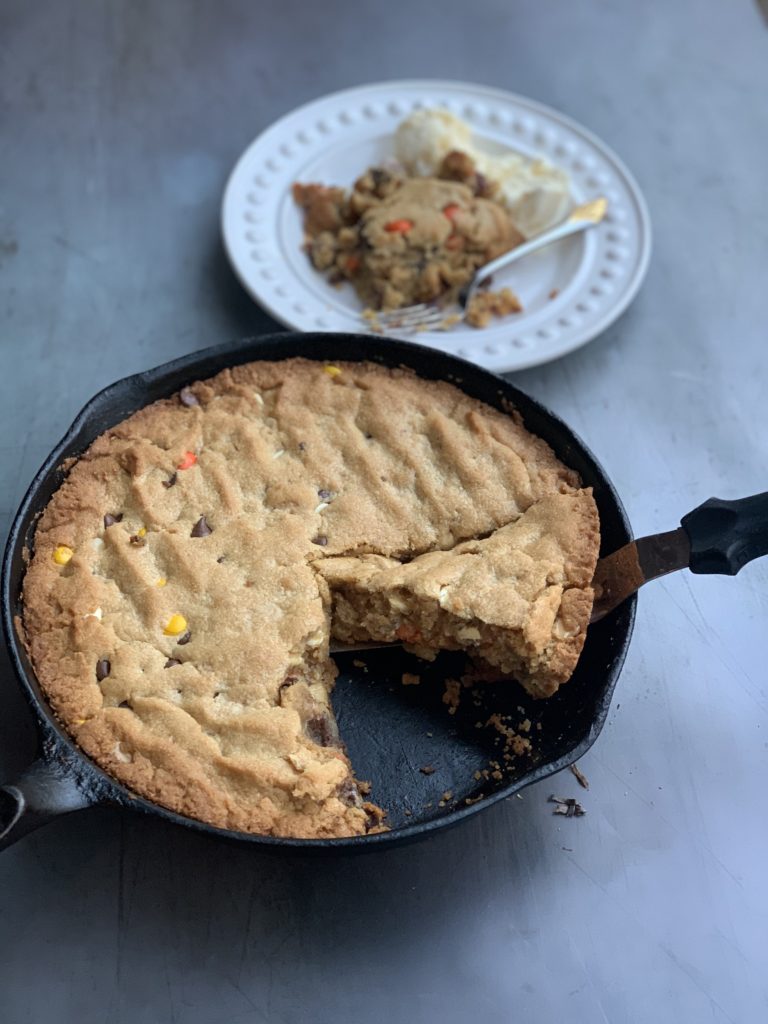 This is a recipe I "Parkerized" as I like to call it, from a pretty darn good recipe in Chrissy Tiegan's new cookbook, "Cravings: Hungry For More."   
I've made this several times now (JP is literally like 10 pounds heavier, LOL!) and I like using smooth peanut butter instead of crunchy, which which the original recipe calls for. I added in additional crunch factor in the form of, I don't know, TOFFEE PIECES, chocolate chips, white chocolate chips and Reeses Pieces.  This is winning on so many levels.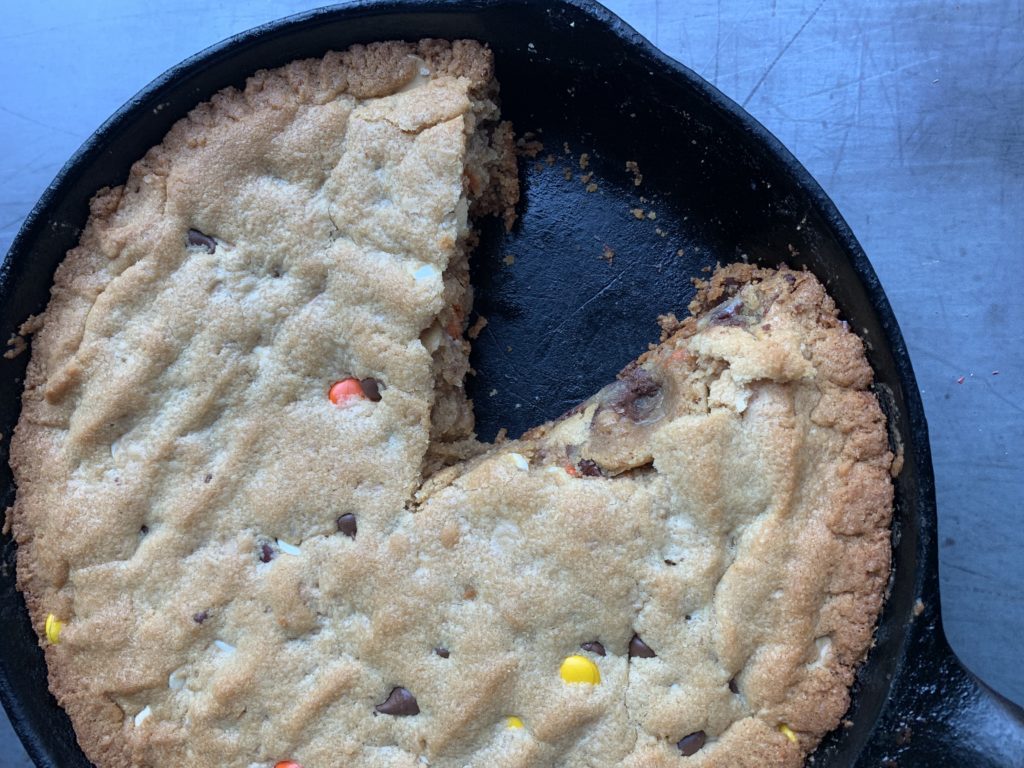 I mean, you guys.  Look at the layers of morsels and all that gooey delish. It's enough to make someone veer waaaaaaay off course from her 'no sugar, no carb' diet and maybe throw back some chewy, melty blondie right over the kitchen sink.  It might have happened to someone I know.  Just saying.
The skillet is the other thing that's just so damn great about this recipe.  The presentation is so. freaking. good.  Almost as good as the taste of this freakishly good dessert.
Did I mention it's National Blonde Brownie Day?
Talk about burying the lead.  You'll need to bury your stash of blondie once anyone in your house tastes this thing.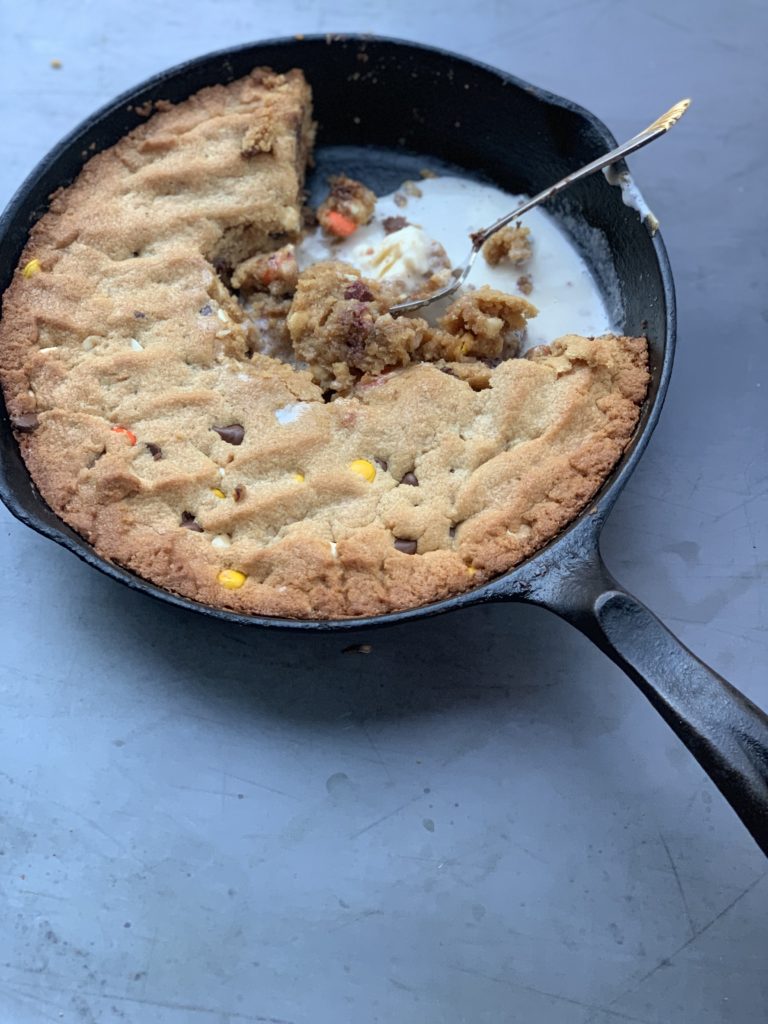 Just try NOT to add some vanilla ice cream to that hot skillet and let it melt all over your blondie.  Now that just sounds downright dirty.  Dirty delicious.  New tag line for Parker's Plate: DIRTY DELICIOUS.  Mmmmhhhhhmmmmm.
I think the Blondie has obviously, gone straight to my head.  Speaking of which, it's also inspiring me to go back to blonde.  Hair color, not brownie.  I digress.
Just get on in there and taste the magic skillet of yum.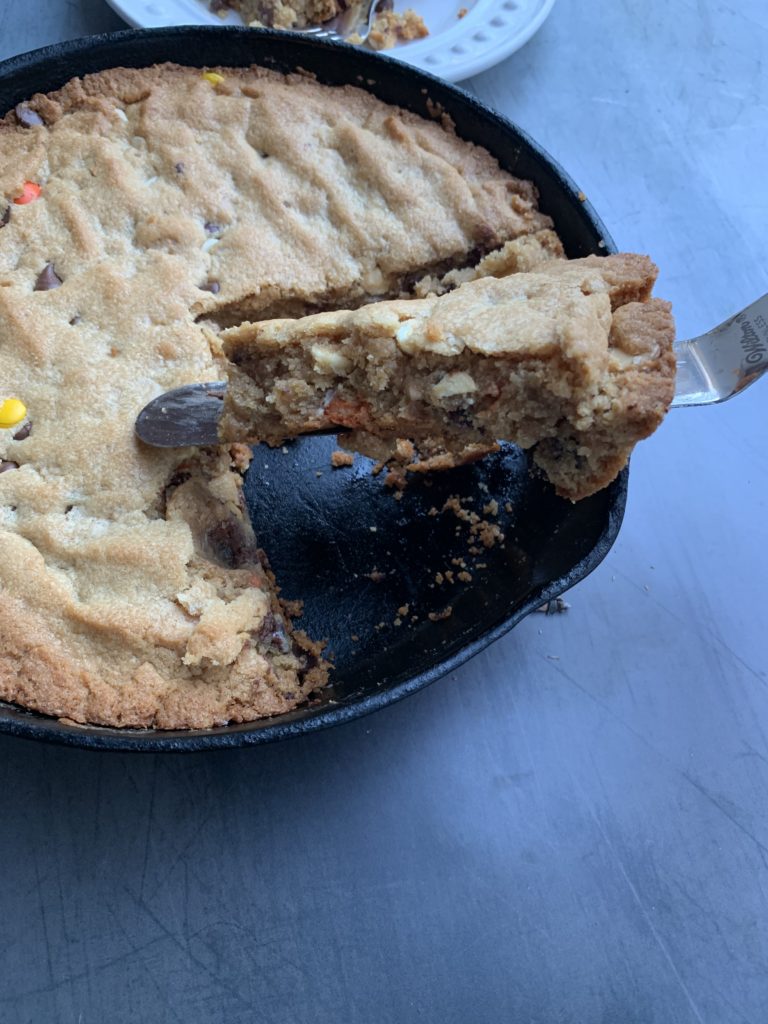 Dirty Delicious.  I dare ya.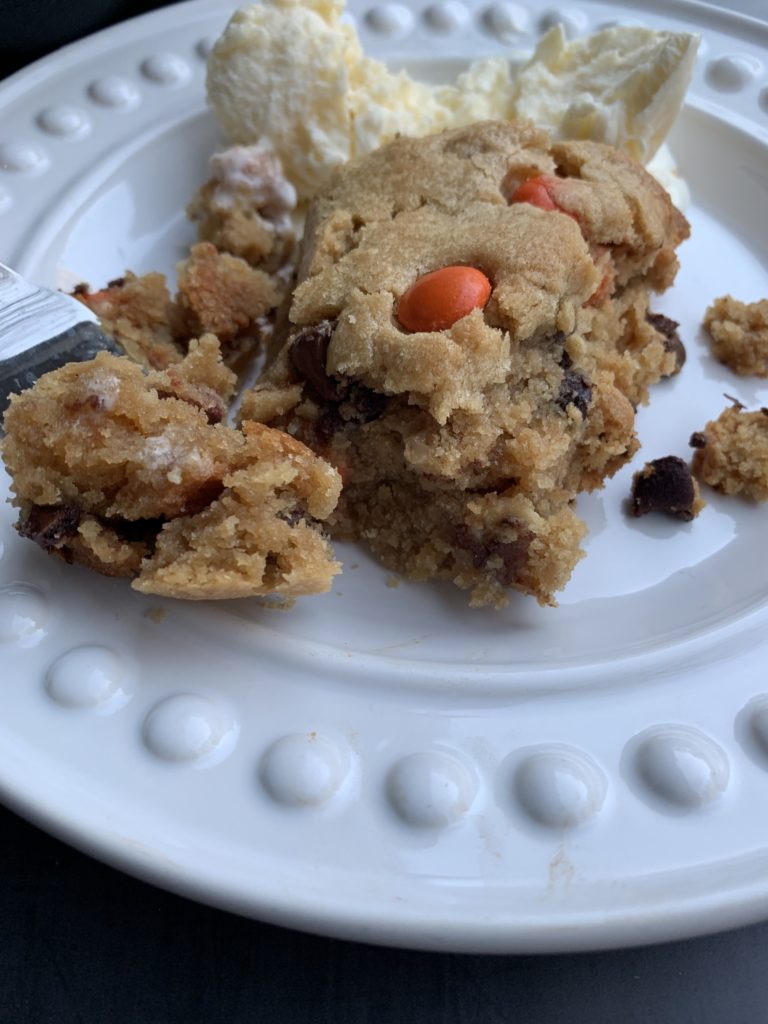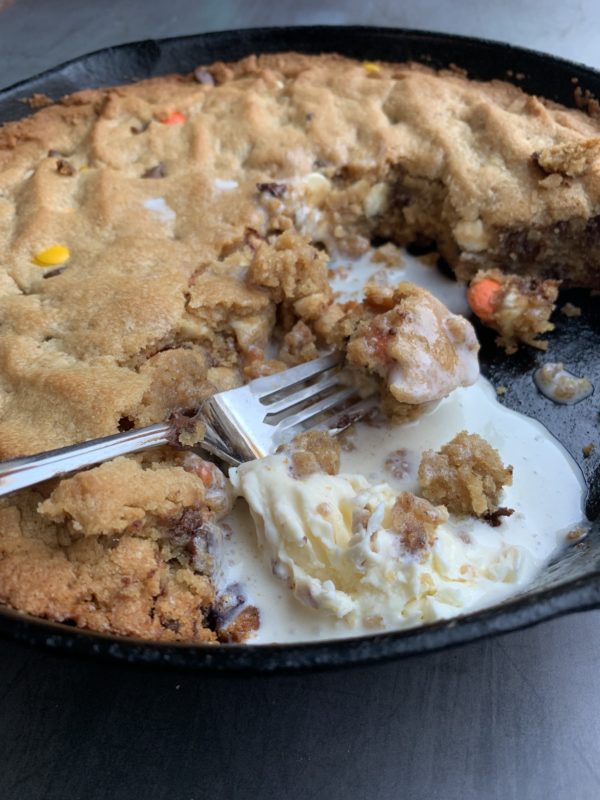 | | |
| --- | --- |
| | |
Preheat oven to 350. Slather a heaping glob of softened butter all over a 10 inch cast iron skillet.

In the bowl of a stand mixer with your paddle attachment, beat together the butter, peanut butter, brown sugar and granulated sugar until creamy, about 2 minutes. Scrape down the sides of he bowl. Add vanilla then add eggs in, one at a time.

In a small bowl, whisk together the flour, salt and baking powder. Add the flour mixture and beat until combined. Don't over mix it! Then add in the chips, toffee and Reeses Pieces until evenly spread through the batter.

Spoon the batter into the skillet and bake until the outside is golden but the center is soft and gooey, 35-40 minutes. After making this recipe several times, I take it out after 35 minutes for best results. It may seem a bit underdone, but it continues to set up and firm while in the skillet. Cool the pan slightly and cut into wedges. Serve with ice cream, or just add it into the skillet and mix it up that delicious magic.
Nutrition Facts
Peanut Butter Toffee Skillet Blondies
Amount Per Serving
Calories 466
Calories from Fat 216
% Daily Value*
Total Fat 24g 37%
Cholesterol 54mg 18%
Sodium 329mg 14%
Potassium 115mg 3%
Total Carbohydrates 58g 19%
Protein 6g 12%
* Percent Daily Values are based on a 2000 calorie diet.