This past week, I was in Puerta Vallarta, Mexico celebrating my little brother's 40th birthday.  He booked a group of 22 people into a gorgeous beach front villa called Casa Tortuga.  I got there the evening before the whole crew showed up, so I had a chance to meet the owner of the casa as well as the 2 Chefs who were hired to keep us full of fresh and delicious comida.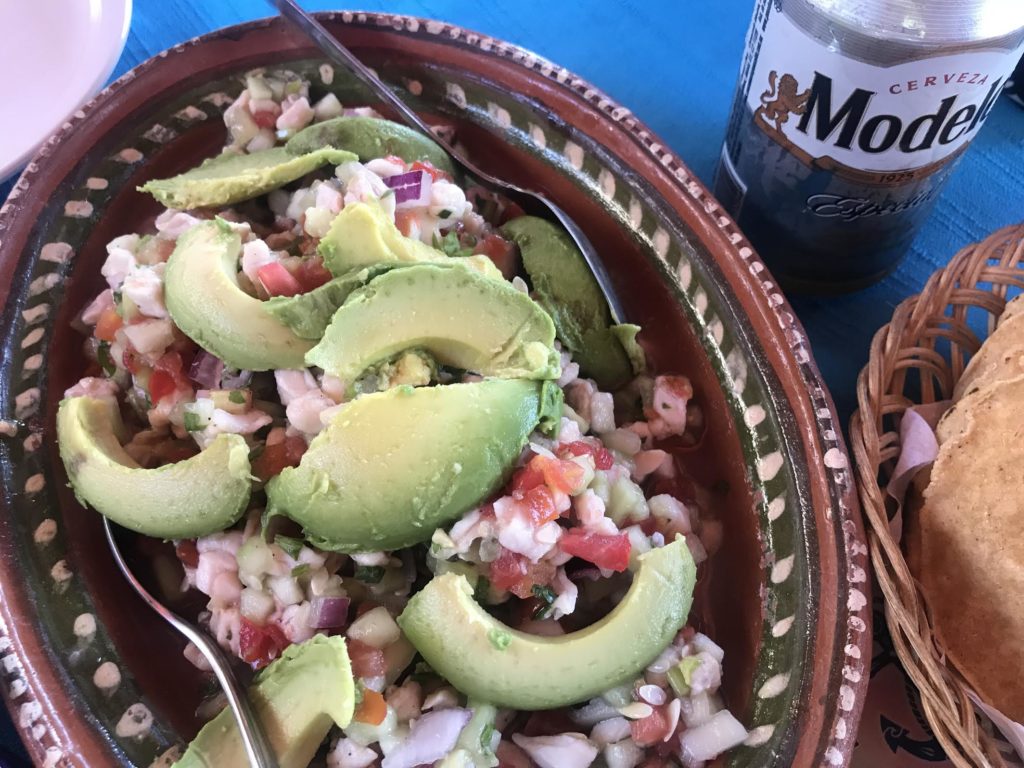 I headed into town with Chef Eli and Chef Jonathan to buy groceries (and so I could practice my pretty darn good conversational Spanish!)  On the drive back to the casa, I asked if we could stop for some lunch.  At this tiny sidewalk cafe, I ate the best Mexican ceviche of my entire life.  And then Chef Eli said, "Yo tengo la receta," which translates to "I have the recipe."  That, my friends, is Mexican Gold!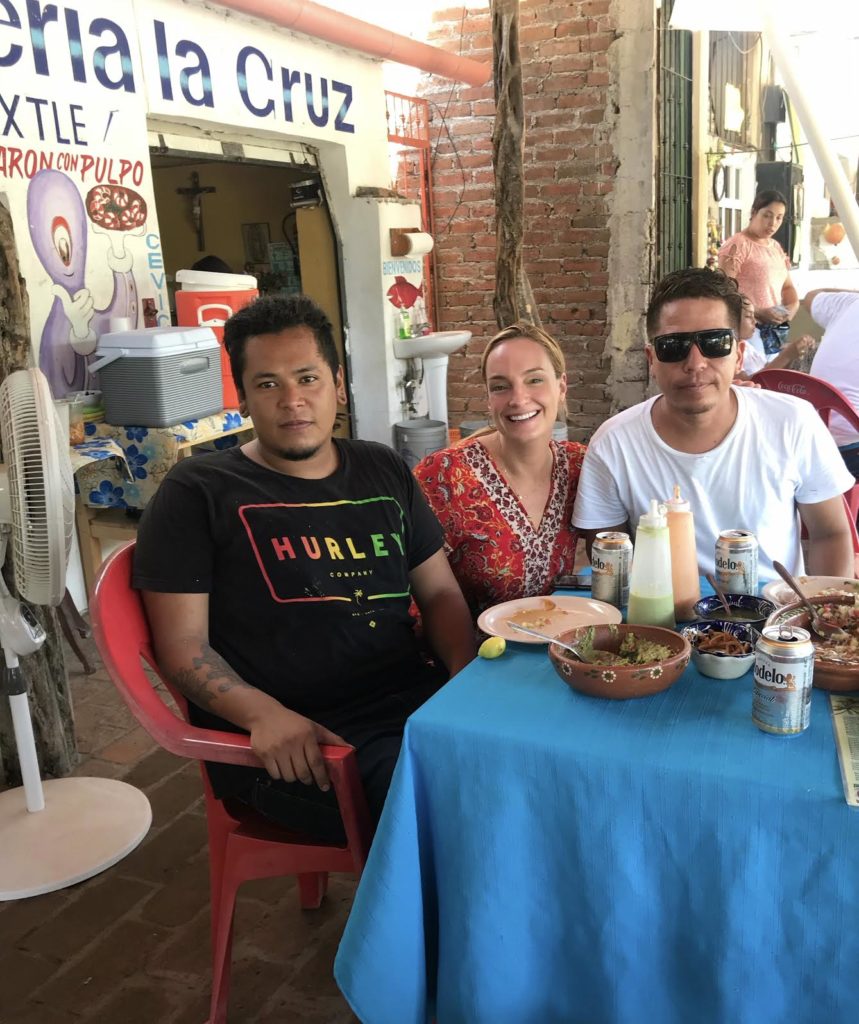 You guys, I don't even like beer.  But this day was so hot and the ceviche was so freaking good, I drank a Modelo that tasted better than any beer I've ever tasted.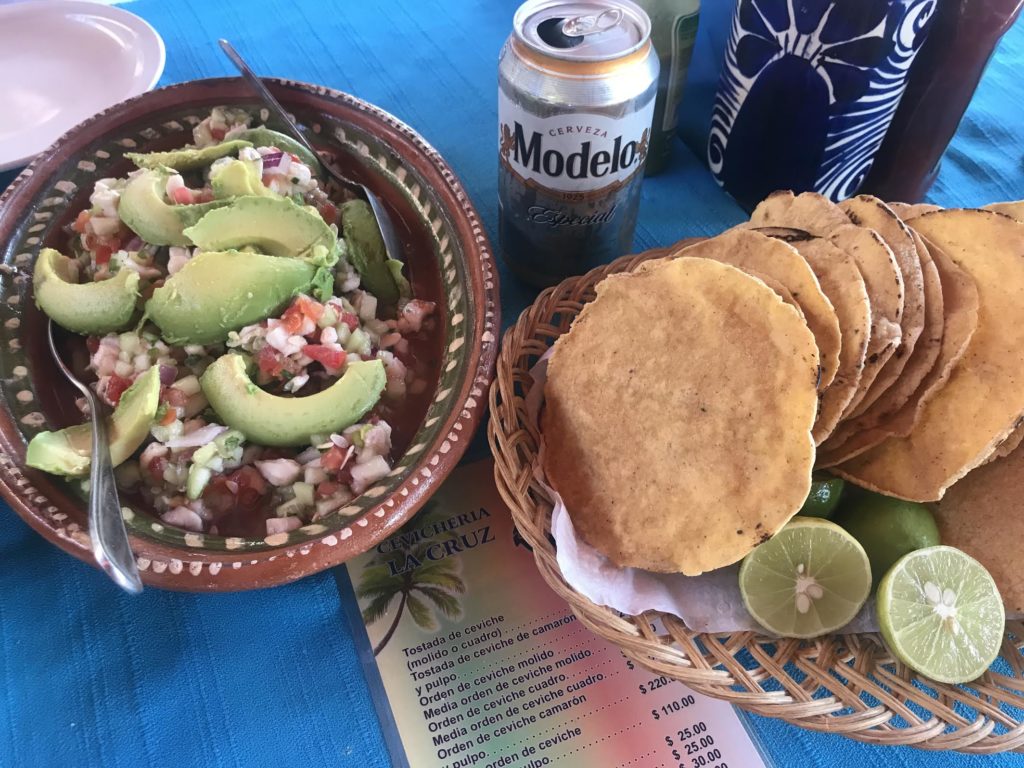 Chef Eli explained that there are 2 types of ceviche popular in Mexico.  Classic Mexican ceviche is with white fish (like Snapper, Mahi Mahi or Cochito Bota, also known as Triggerfish), diced tomatoes, serrano pepper and red onion, and of course, lime juice.  Peruvian ceviche, another popular version, is made with corn instead of tomatoes.  In some research, Peruvian ceviche is also often made with sweet potatoes.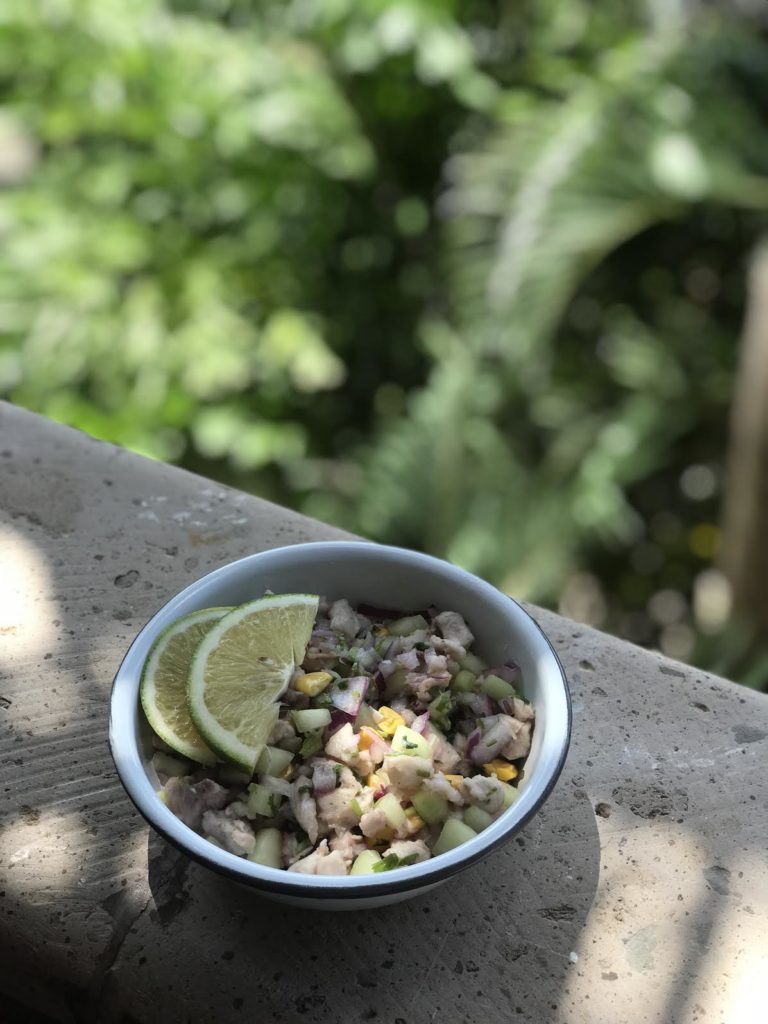 Depending on your preference, you can marinate the fish so it's rare, medium rare and so on.  These talented Mexican Chefs suggested only 30 minutes, which would make it rare and more on the sushi side of ceviche.  I found this helpful link for Ceviche "Cooking" Times from Cook's Illustrated.  The key is making sure that the lime juice is covering the fish completely so ensure the cook is being "cooked" evenly.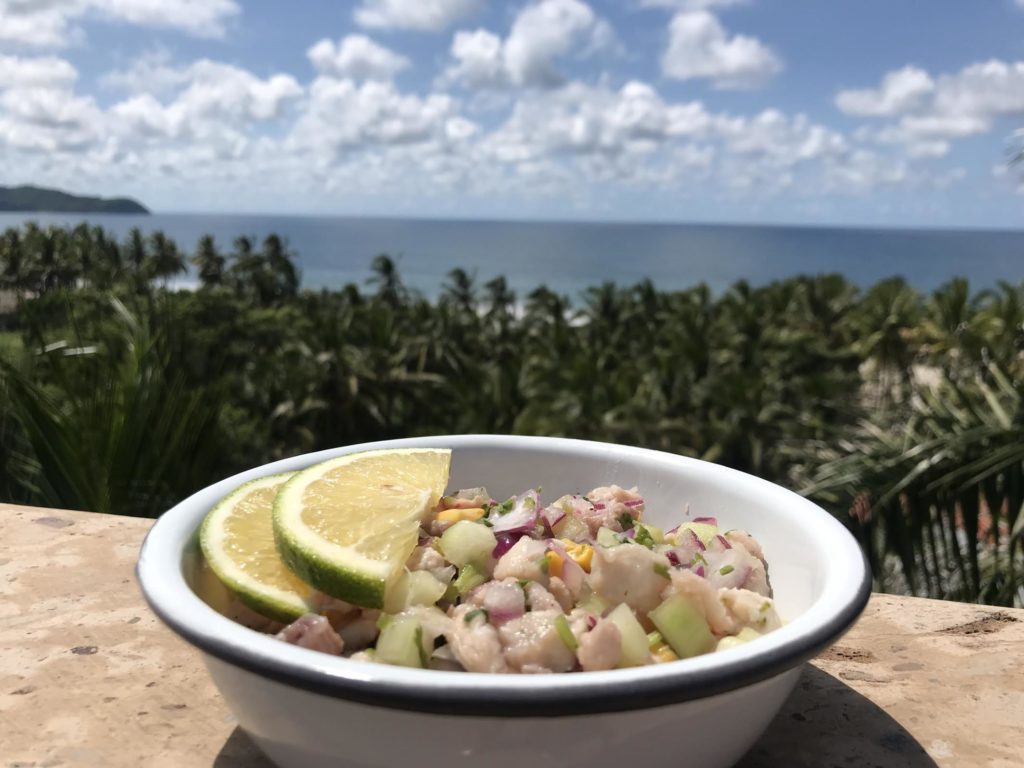 Chef Eli and Jonathan made the most delicious ceviche with corn (not tomatoes) and I had to snap a pic with the gorgeous view from the casa!  Pretty sure everything tastes more scrumptious with a view like this…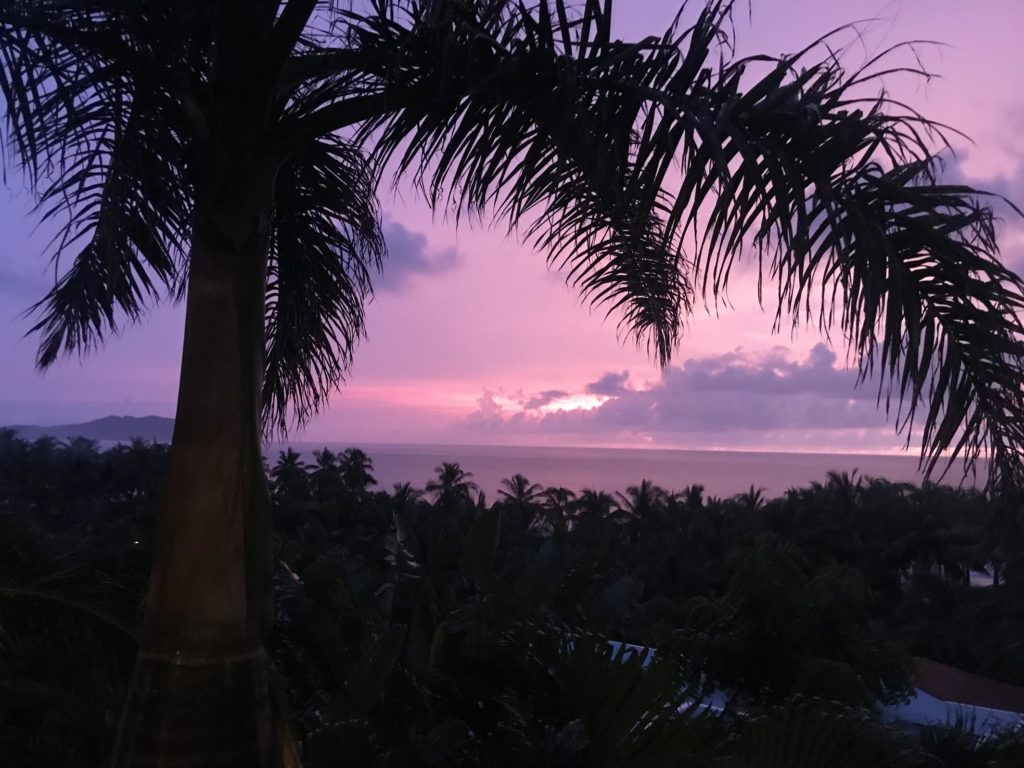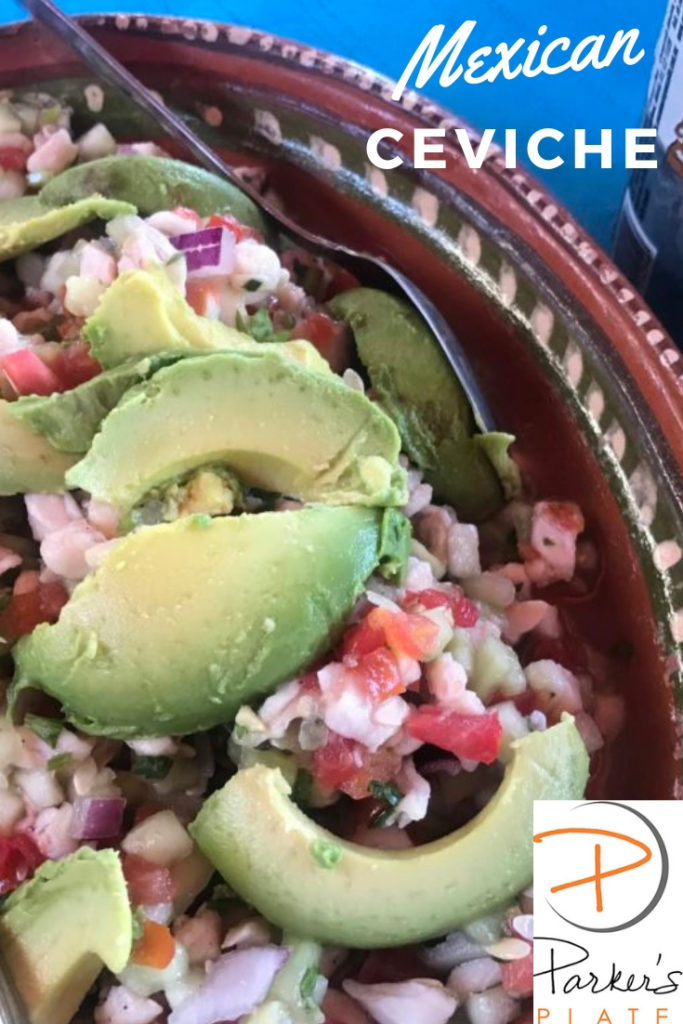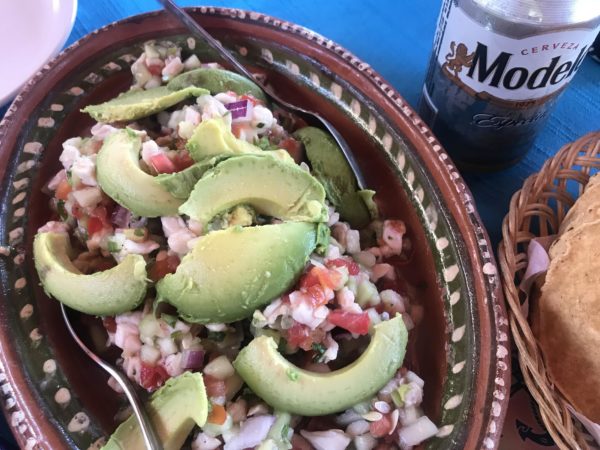 | | |
| --- | --- |
| | |
In a large stainless steel or glass bowl, combine the fish, lime juice and onion. The fish should float freely in the juice and be submerged. Cover and refrigerate until the fish is as "done" as you like. 30 minutes for rare, an hour for medium rare.

Drain the fish and add the rest of the ingredients. Salt and pepper to taste. Garnish with avocado.
Nutrition Facts
Mexican Ceviche
Amount Per Serving
Calories 294
Calories from Fat 162
% Daily Value*
Total Fat 18g 28%
Monounsaturated Fat 0.04g
Cholesterol 60mg 20%
Sodium 683mg 28%
Potassium 376mg 11%
Total Carbohydrates 15g 5%
Protein 21g 42%
* Percent Daily Values are based on a 2000 calorie diet.