Summer's last blast is already here and we haven't fired up the grill even once!  That's 100% due to the immense amount of time it's taken to get our deck rebuild approved (annoying!) so I've had to improvise on some of my favorite grilled dishes.  There's nothing quite like an authentic Mexican Street Corn to add majah WOW factor to any meal.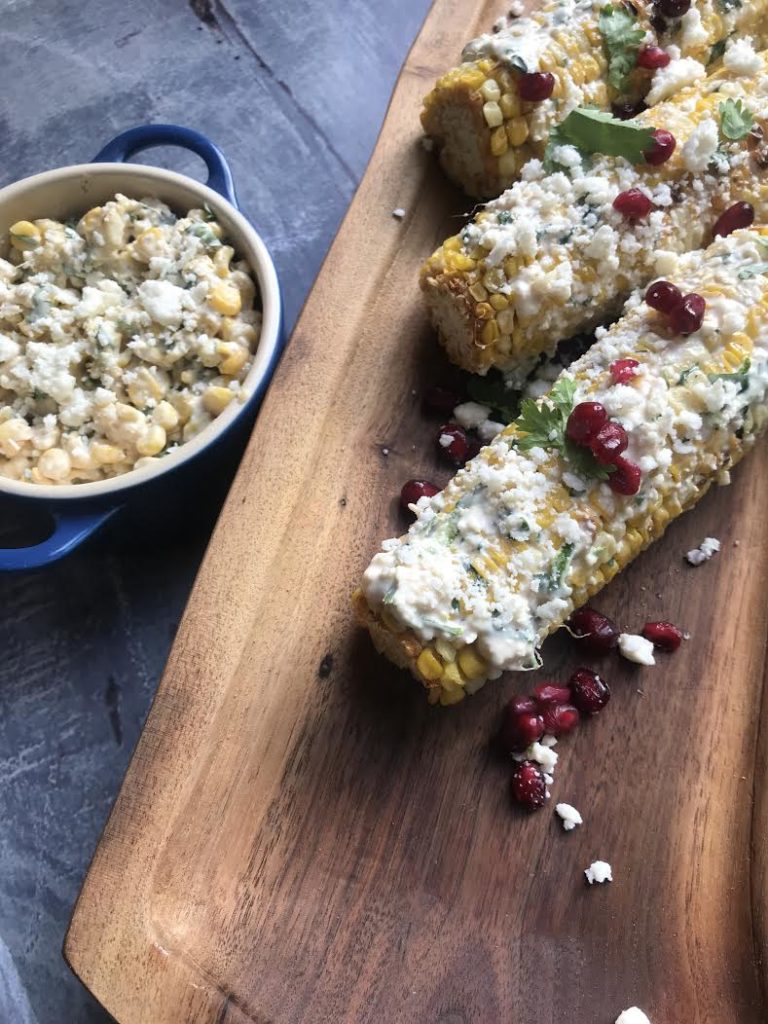 Top with some fresh pomegranate arils and you've got a pop of color AND flavor. You're welcome!  I serve this with tacos, steak, take the leftovers and make a dang corn casserole!  The magic of this is in the mixture of crema (think Mexican creme fraiche) mayo, cotija cheese, lime and garlic.  It's a great side dish for Labor Day, if you're planning on entertaining or hitting up a friend's place for a BBQ.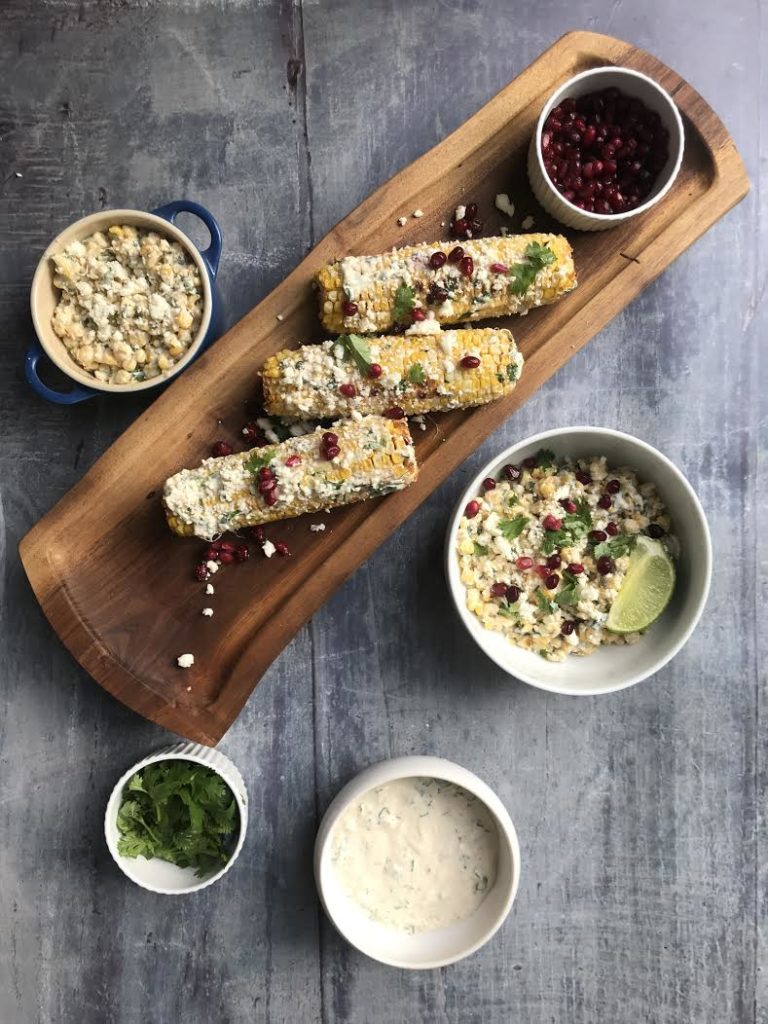 Normally, I would shuck full cobs of corn, brush them in olive oil and throw them on the grill so they get nice and charred without overcooking.  Unfortunately, I got lazy, picked up the pre-shucked cobs and they don't look quite as pretty — the kernels don't look as plump as they normally do.  When I spent summers on Long Beach Island as a kid, my brother and I had to shuck corn for the dinner parties my family had– and I hated it.  HATED. IT.  Then, I'd forget all about the chore when I would sink my teeth into that sweet, crunchy, buttery corn.
Without a grill, it's easy to create the same effect by baking at 450 for about 20 minutes.  Most "oven roasted" corn recipes call for the corn to be wrapped in foil, but then you don't get that "charred effect."  I highly recommend roasting without foil, just make sure you add olive oil to the roasting pan and turn them in the oven half way through.
I'm a massive fan of sweet and savory together, and the bite of sweet corn slathered with the cheesy, creamy, slightly salty spread of flavor is pretty sublime.  The lime and cilantro add a beautiful pop of fresh and then I like to top with MORE cheese!  Crumbled queso fresco is like the Mexican love child of feta and goat cheese.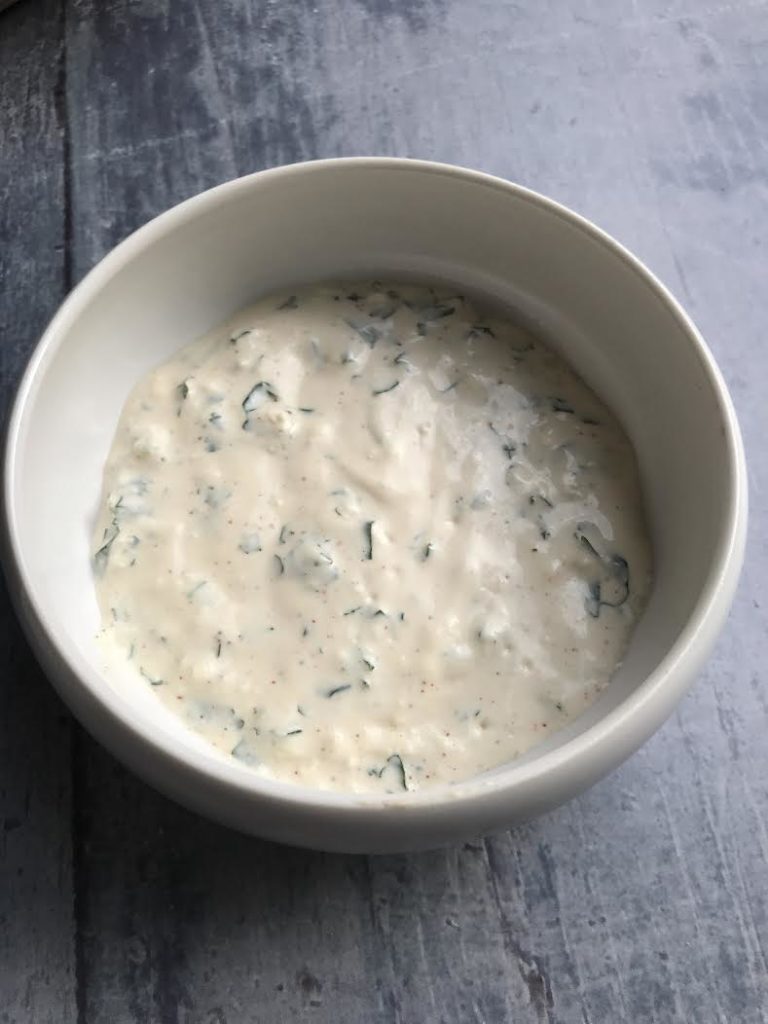 If you're not crazy about the whole process of eating the corn off the cob, just cut it off after you've roasted it, then add as much sauce to achieve the consistency you prefer.  It's fantastic added into a quesadilla the next day…or drizzled over nachos.  Now I'm getting inspired for #tacotuesday!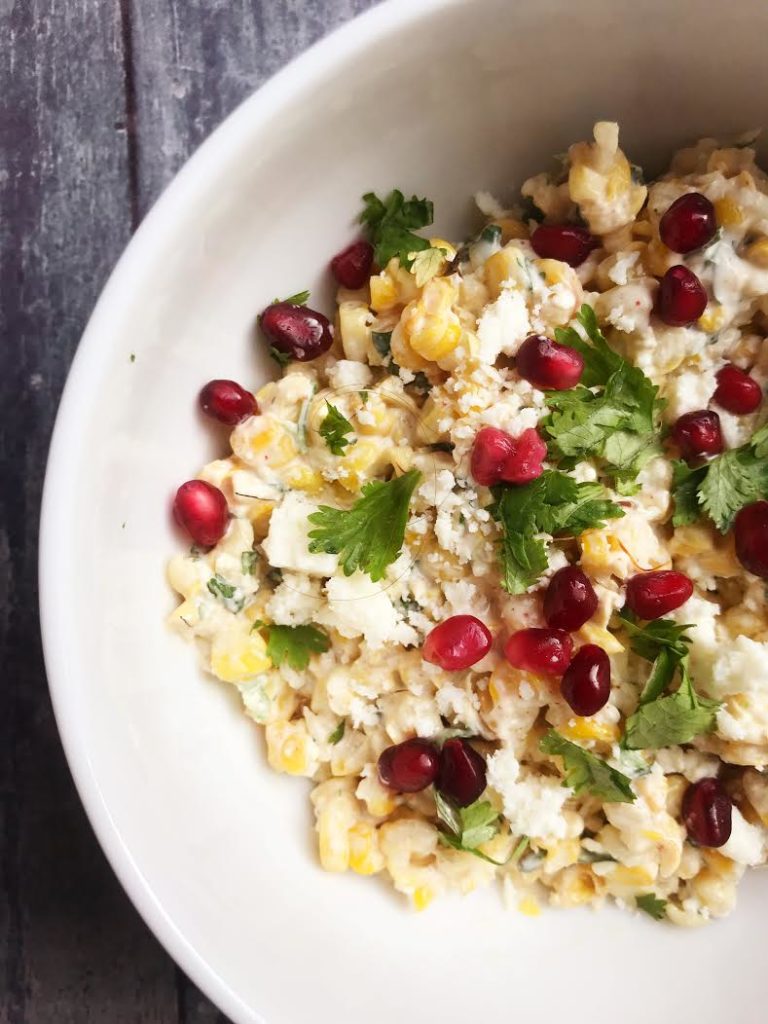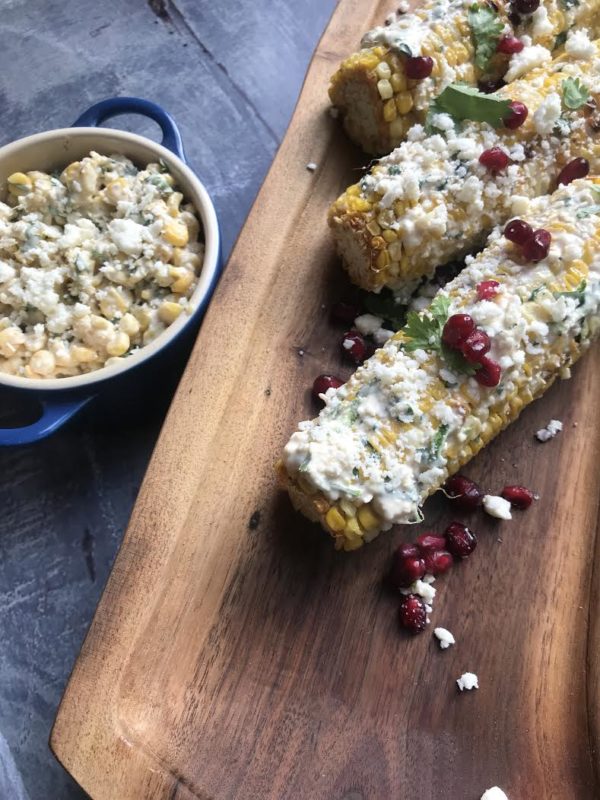 | | |
| --- | --- |
| | |
Preheat oven to 450 or gas grill to 400.

Drizzle olive oil on corn cobs and roast/grill for about 20 minutes until lightly charred and tender.

Make sauce by combining crema, mayonnaise, Cotija, lime zest, lime juice, cilantro, chipotle chili powder and minced fresh garlic. The cotija and crema are both salty, so wait to add additional salt until you taste it.

Spoon or brush on creamy cheese mixture and top with pomegranate arils and Queso Fresco.