I like to consider EVERY MONTH National Peanut Month, but to celebrate Georgia's most famous legume, I partnered with the Georgia Peanut Commission to do my favorite thing:  Make scrumptious recipe videos and, well, taste test.  Just give me a jar of peanut butter and I'm a happy girl– it's what I consider breakfast most days!
Eating a nutritious breakfast packed with peanut powered protein really sets the tone for the day and can even help with weight loss by keeping your blood sugar stable and fueling your metabolism.  This super easy breakfast idea will keep you fuller longer– plus they can be prepped ahead of time — and they taste amazing!  Hello, Peanut Butter Cranberry Energy Bites!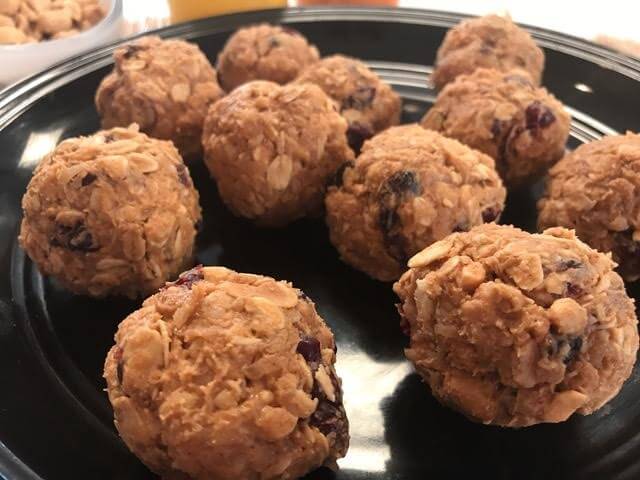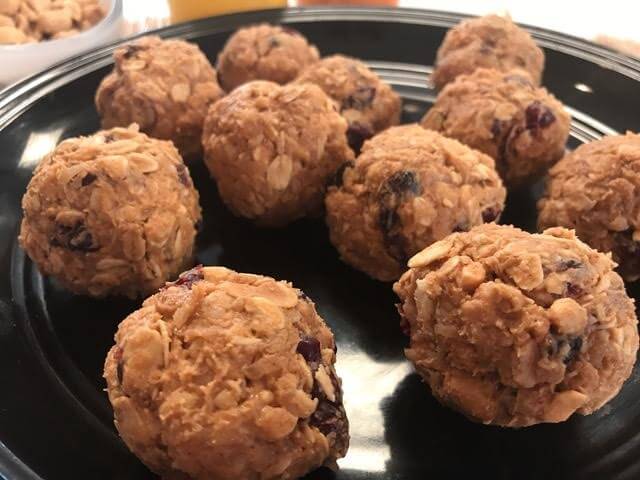 These are no bake, no hassle, prep ahead delish!  And, you can feel even better about your peanut inspired breakfast because it's loaded with protein and potassium which lowers your risk of blood pressure and heart disease. For more great recipes and information, check out the Georgia Peanut Commission's website.  Click the video below for the yummy recipe!
*This post was sponsored by the Georgia Peanut Commission
Peanut Butter Cranberry Energy Bites
Perfect energy bite for breakfast, snack or on-the-go!
---
Ingredients
1 cup old fashioned oats
1/2 cup peanuts roughly chopped
1/3 shredded unsweetened coconut
1/3 dried cranberries (or dried fruit of your choice)
1/4 teaspoon ground cinnamon
3/4 cup peanut butter
1/4 honey
Instructions
In a large mixing bowl mix together the dry ingredients: oat, peanuts, coconut, cranberries, and cinnamon.
Add the peanut butter and honey and fold the ingredients together.
Put wax paper on a baking sheet.
Using a cookie scoop or Tablespoon shape each energy bite and roll with your hands and place on the baking sheet.
Refrigerate the energy bites for a couple hours to help them harden.