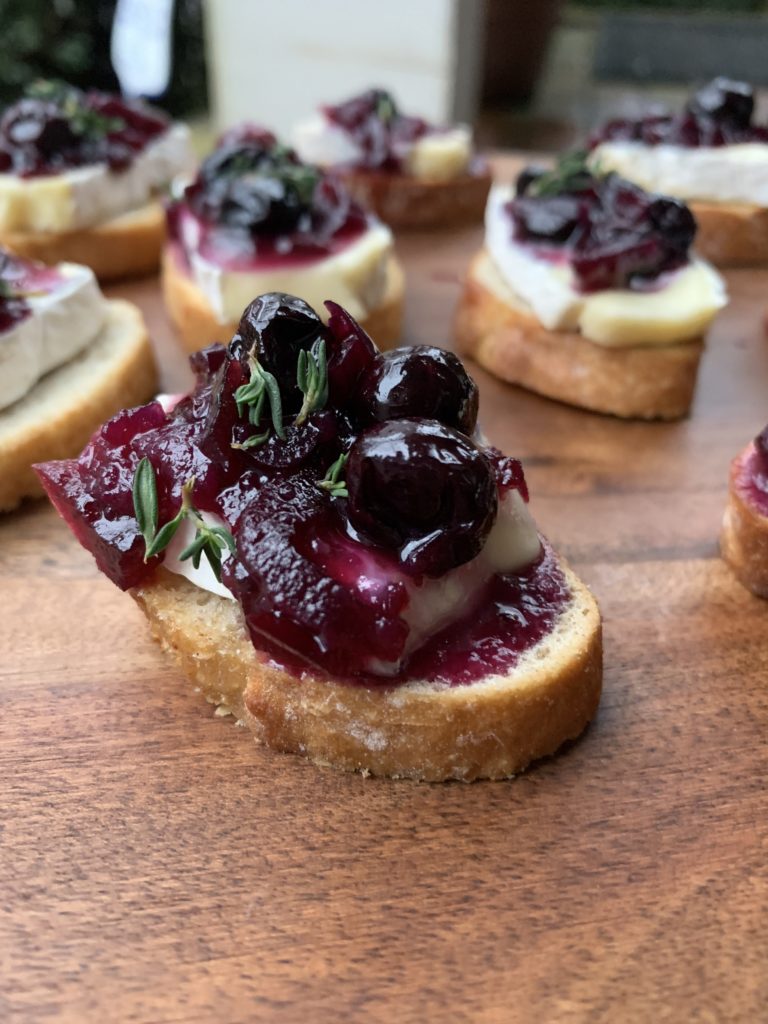 This is one of those perfect bites from a flavor and texture standpoint.  Crunchy crostini, creamy brie, savory and sweet combo with the blueberry compote and a pop of fresh thyme.  That's what we call a "GETINMYMOUTHRAWTNOW" kinda appetizer over here at Parker's Plate Headquarters!
I recently partnered with Fruits from Chile, to showcase the amazing opportunity to have America's out of season fruits like cherries and blueberries, available for us to enjoy, thanks to the Chilean climate and their high agricultural standards.  It's pretty much a win, win, having all of our favorite summer fruits ripe for the eating in wintertime.  Because, lets admit it.  The frozen variety just isn't the same.
When I was a little girl, my Grandmom made the most divine blueberry crisp — and in full disclosure, it was about the only signature recipe she lay claim to, LOL.  She'd admit it herself that she had limited talent in the kitchen!  But, OMG, that crisp.  (Stay tuned for that recipe on the blog soon!)  Beyond her mad blueberry skills, Grandmom also had cereal bowls with a blueberry drawing on the inside, so it was always our challenge to eat enough till you could see the blueberries at the bottom of the bowl.  Well, trust me, you won't need any extra motivation to get to the bottom of these blueberries!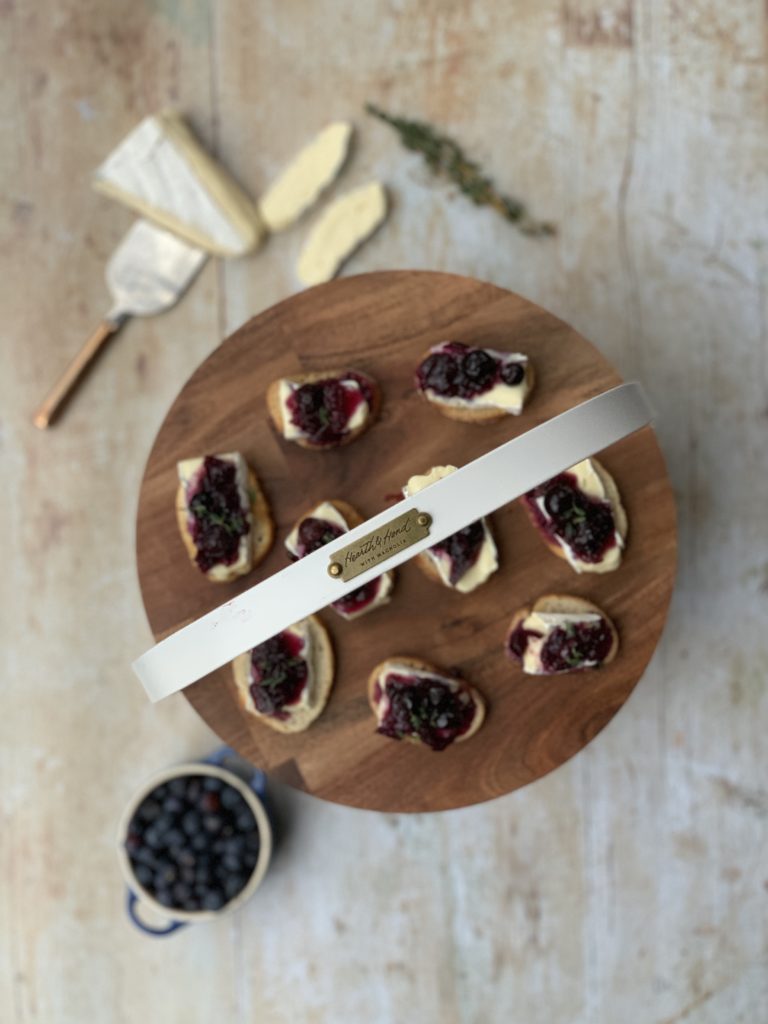 What makes this recipe so sublime is the combination of sweet and savory.  Those ripe, juicy blueberries are combined with caramelized onions for a savory finish.  I'm sort of curious how a sweet/savory pie might be with this mix.  Almost like a mincemeat pie with blueberries.  Hmmmmm……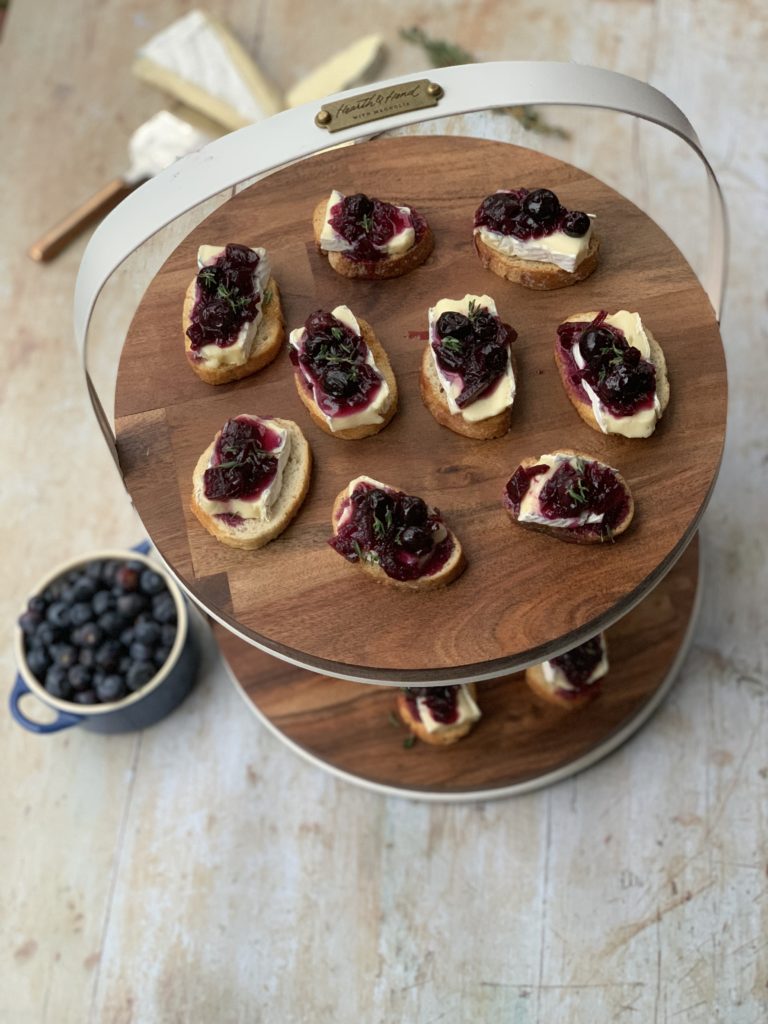 How cute is this double platter, by the way?  It's the Joanna Gaines Magnolia brand, "Hearth & Hand."  They sell them at Target, but you can also find some products on Amazon too.  Be sure to also check out the Fruits from Chile website for incredible recipes!
*This recipe was sponsored by Chilean Fruit, but all opinions are my own.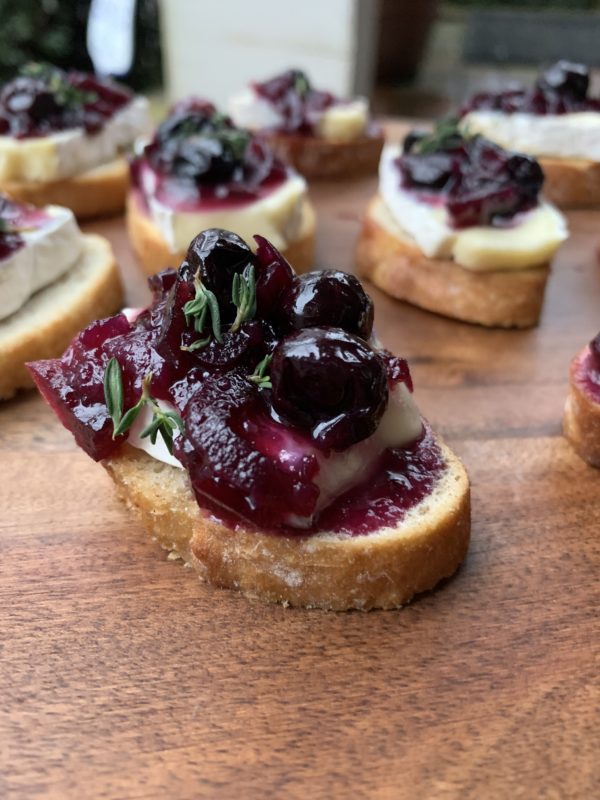 | | |
| --- | --- |
| | |
Saute onion in olive oil and butter on low/med heat until softened and beginning to caramelize, about 20 minutes. Add a splash of red wine and crank up heat to cook down alcohol. Keep stirring for 3-5 minutes until wine reduces.

Add blueberries, sugar, red wine vinegar and cider and cook down until juice dissolves, about 15 minutes. Let mixture cool to room temperature.

To assemble: Arrange crostinis/baguette slices on a platter. Top with a slice of brie and a spoonful of blueberry compote. Garnish with fresh thyme. Serve at room temperature.
Nutrition Facts
Blueberry Compote and Brie Crostinis
Amount Per Serving
Calories 275
Calories from Fat 63
% Daily Value*
Total Fat 7g 11%
Cholesterol 14mg 5%
Sodium 475mg 20%
Potassium 102mg 3%
Total Carbohydrates 44g 15%
Protein 9g 18%
* Percent Daily Values are based on a 2000 calorie diet.