Some of the best recipes are the ones you discover with friends, and this one brings me back to 2008 when I was having a "dinner and wine night in" with my girlfriend Corinna.  She suggested trying out a Rachael Ray recipe for Florentine Meatballs and it was a huge success.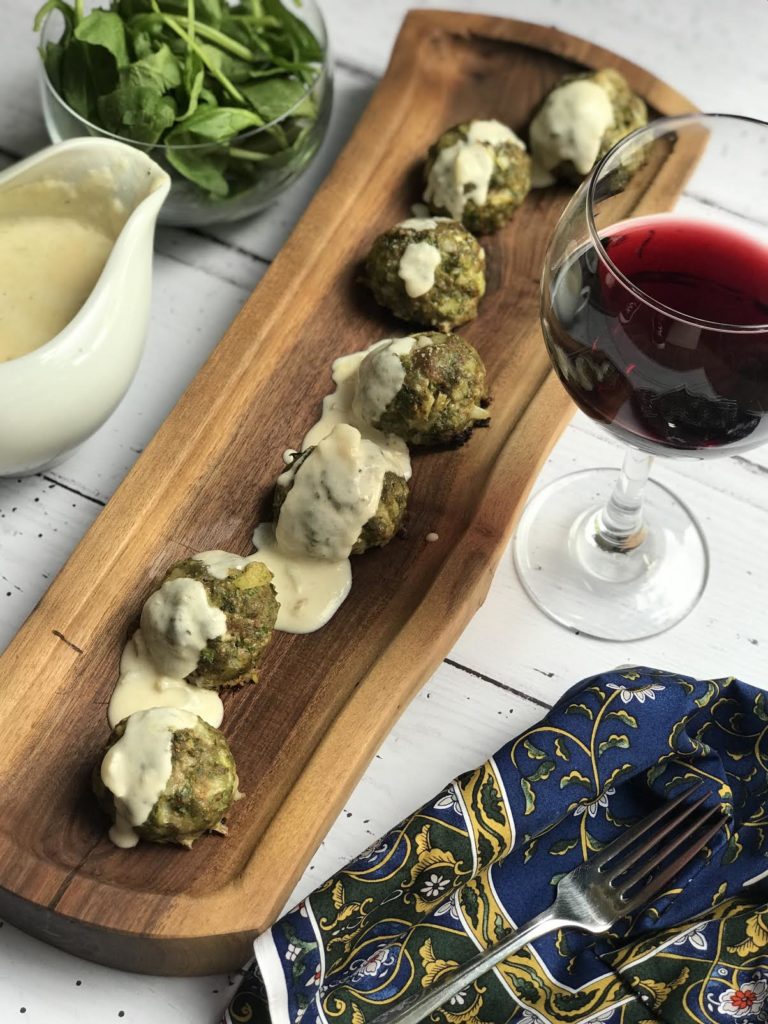 The star of the dish was a thick cheese sauce, seasoned with a touch of grated nutmeg.  By the end of the meal, we were sopping up that sauce with hunks of thick bread and opening up another bottle of wine.  The recipe stayed in my regular rotation for years until I cut out gluten and most high carb dishes.  Well, it's back folks!  And now with some simple substitutions, you can can enjoy it without a carb coma.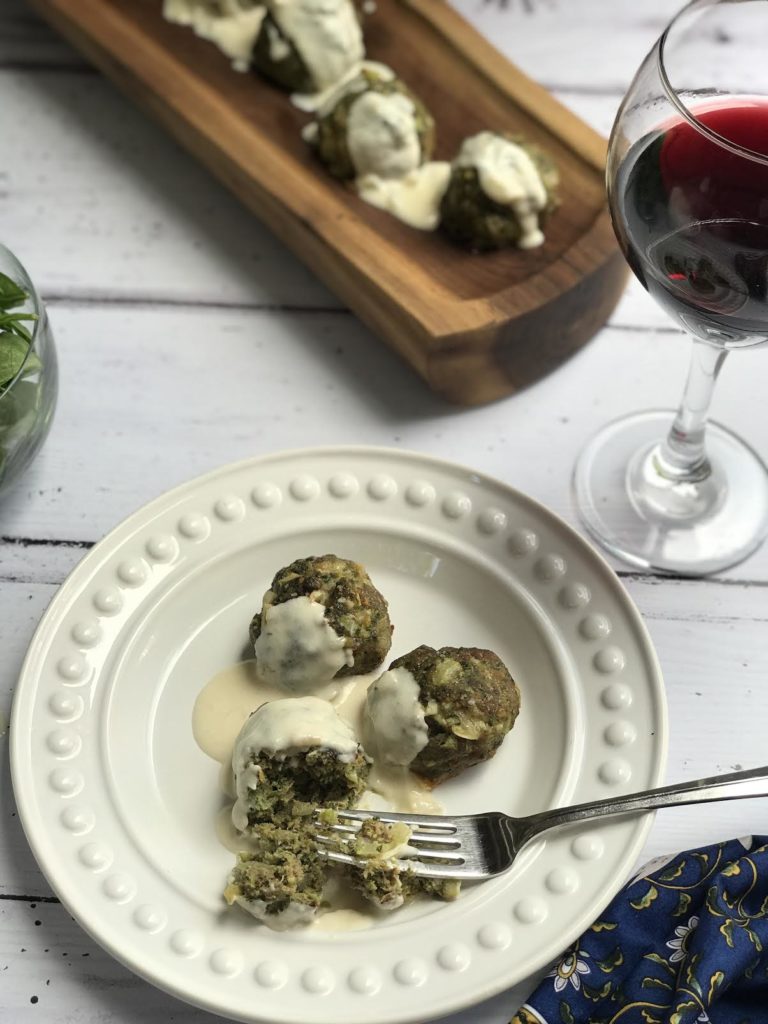 The original recipe calls for frozen spinach and breadcrumbs in the meatball batter.  I used fresh spinach and instead of breadcrumbs, used salted, shelled pistachios.  What a win for the skinny nut!  A few pulses in the food processor and you get that nutty taste with just enough texture to mimic panko (that thicker type of breadcrumb that's become more popular).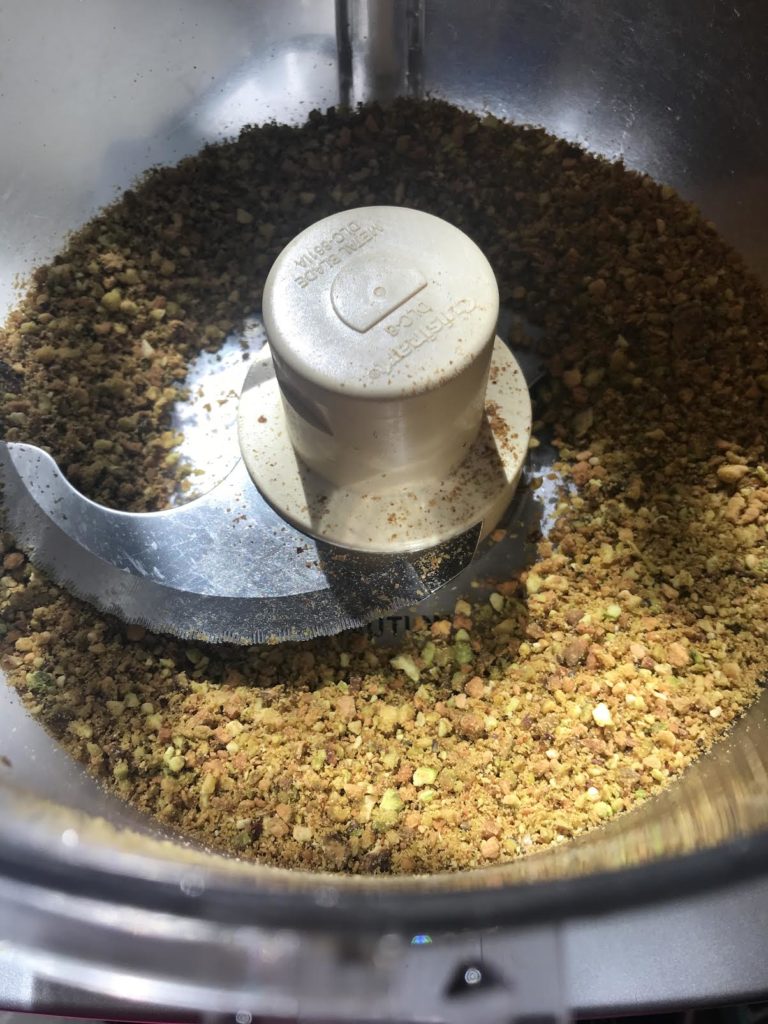 Personally, I thought it was a big pain to have to defrost and then drain a box of frozen spinach, so I used the food processor again to pulverize the fresh spinach into tiny pieces so it would be the same texture as the frozen variety.  The meatballs take on a greenish hue, and you can see all those specs of spinach delish!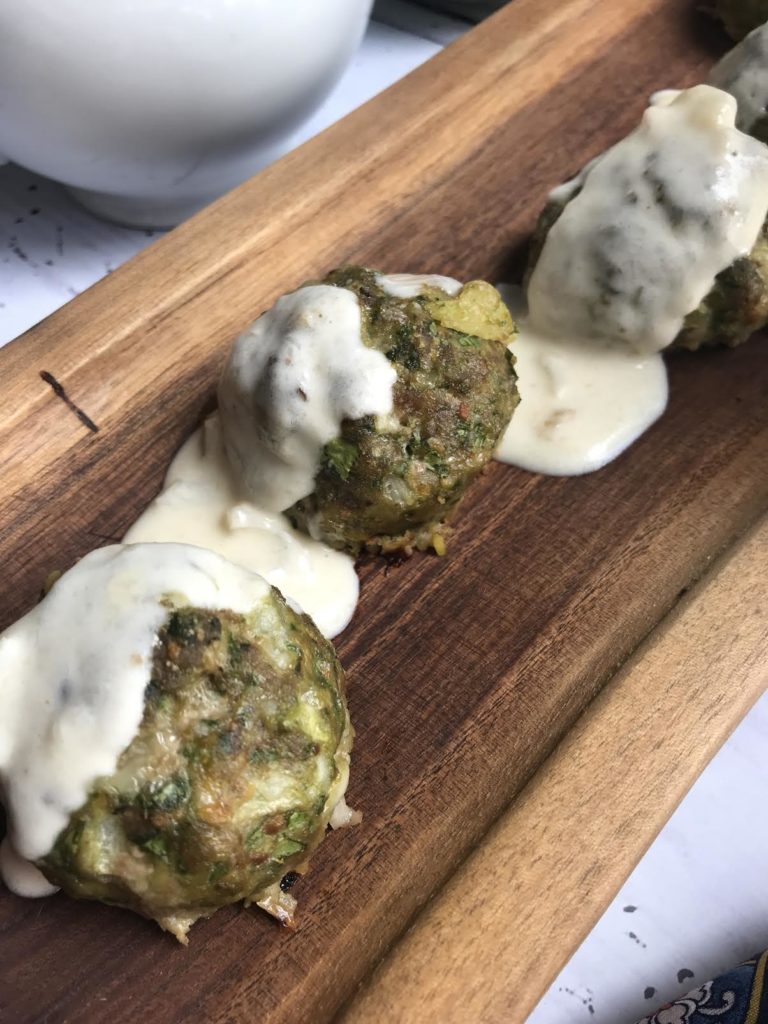 Now that I've become more familiar with sauces that don't have flour, I've come to realize how unnecessary adding a thickener is to most white sauces.  The process of making a roux with flour and butter and milk is still classic culinary form, but in my opinion, unnecessary when you use heavy cream and cheese.  The cream thickens up on its own– then add that cheesy goodness into the mix and it's a showstopper.  It also doesn't create that "pasty" consistency that flour based sauces get sometimes.
These are great for a make ahead meal– you can easily freeze them and thaw them out, or add them into a crockpot full of chili.  You can also switch it up and use ground chicken, ground beef, bison, whatever you're into.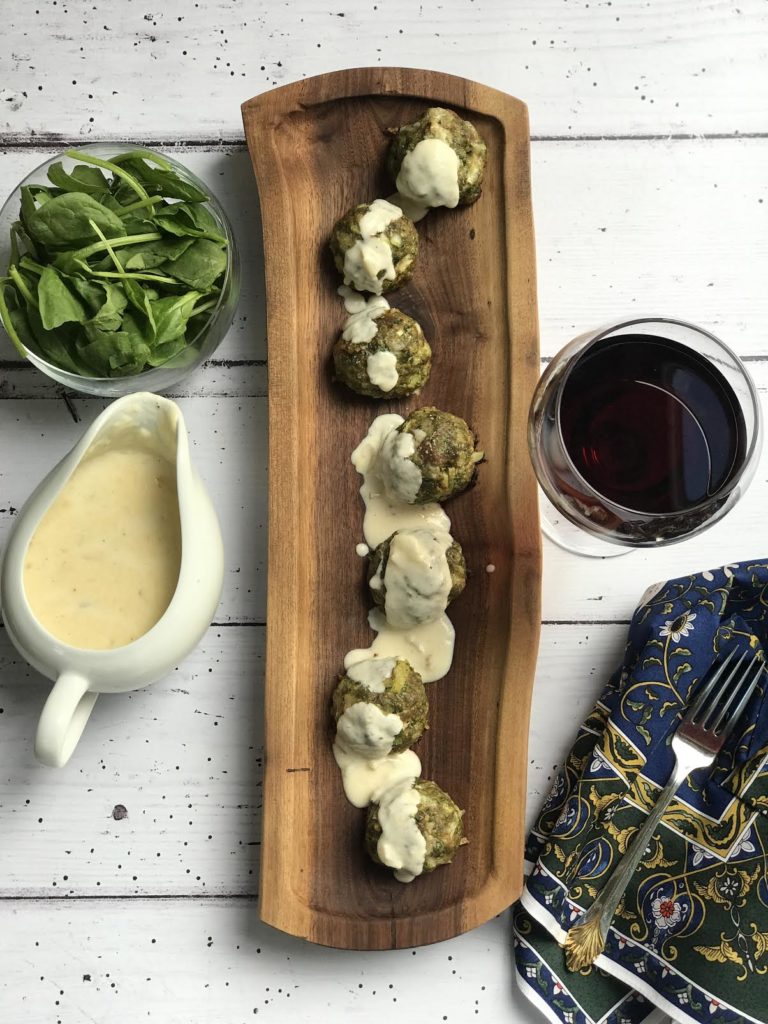 I think Rachael Ray herself would say, "YUM-O!" So open up a bottle of red and enjoy…Oh, and don't freak out when you see the total fat and calories of this dish– the nutrition info calculator is taking into account ALL of the cheese sauce.  Or, maybe you WILL eat all of the cheese sauce.  I usually do ( :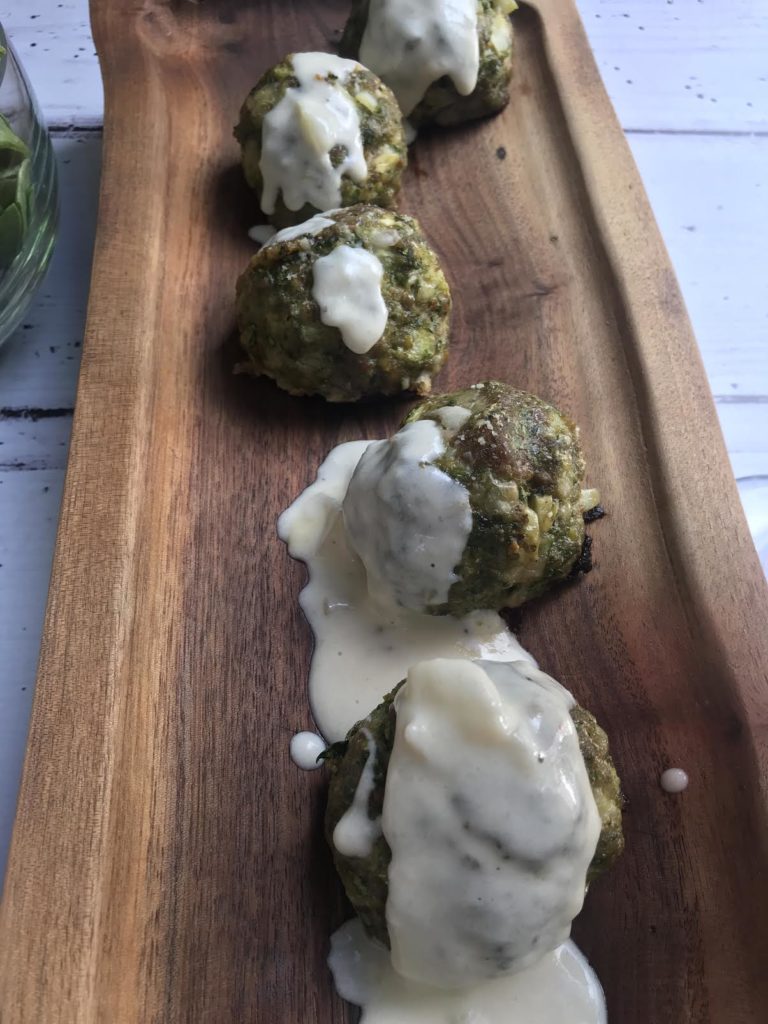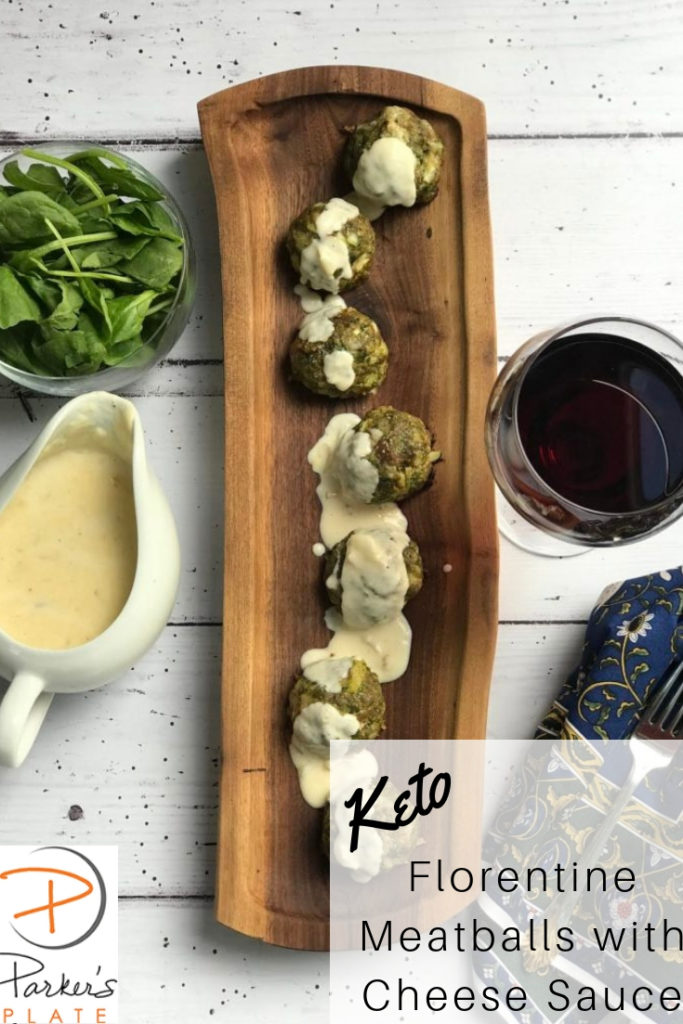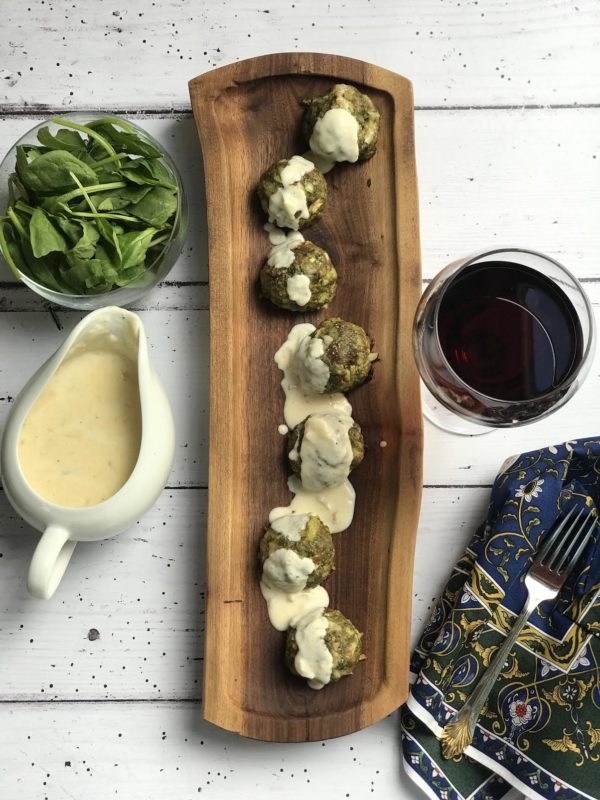 Preheat oven to 400. Place turkey in a bowl and make a well in the middle of it. Add the spinach, all but 3 tablespoons of the onion, garlic, 1 large egg, 1/4 cup heavy cream, ground pistachios, grated Parmesan and a pinch of kosher salt and pepper. Mix well. Form into 12 large balls and drizzle with extra-virgin olive oil. Arrange on a nonstick cookie sheet and roast for 30 minutes, or until cooked through.
While meatballs are in the oven, heat a small sauce pot over medium heat. Add a drizzle of extra-virgin olive oil and 2 tablespoons butter. Melt butter, add remaining finely chopped onion and cook 2 minutes then add 1 1/2 cups cream. Bring to a bubbly simmer and let cream thicken for about 4 minutes. Add 1 cup stock. Bring liquid up to a boil then stir in shredded Italian cheeses. Season the sauce with salt, pepper and nutmeg, turn heat to lowest setting until meatballs are done cooking. Top meatballs with sauce and enjoy.
Nutrition Facts
Keto Florentine Meatballs with Cheese Sauce
Amount Per Serving
Calories 907
Calories from Fat 693
% Daily Value*
Total Fat 77g 118%
Cholesterol 290mg 97%
Sodium 914mg 38%
Potassium 470mg 13%
Total Carbohydrates 13g 4%
Protein 48g 96%
* Percent Daily Values are based on a 2000 calorie diet.