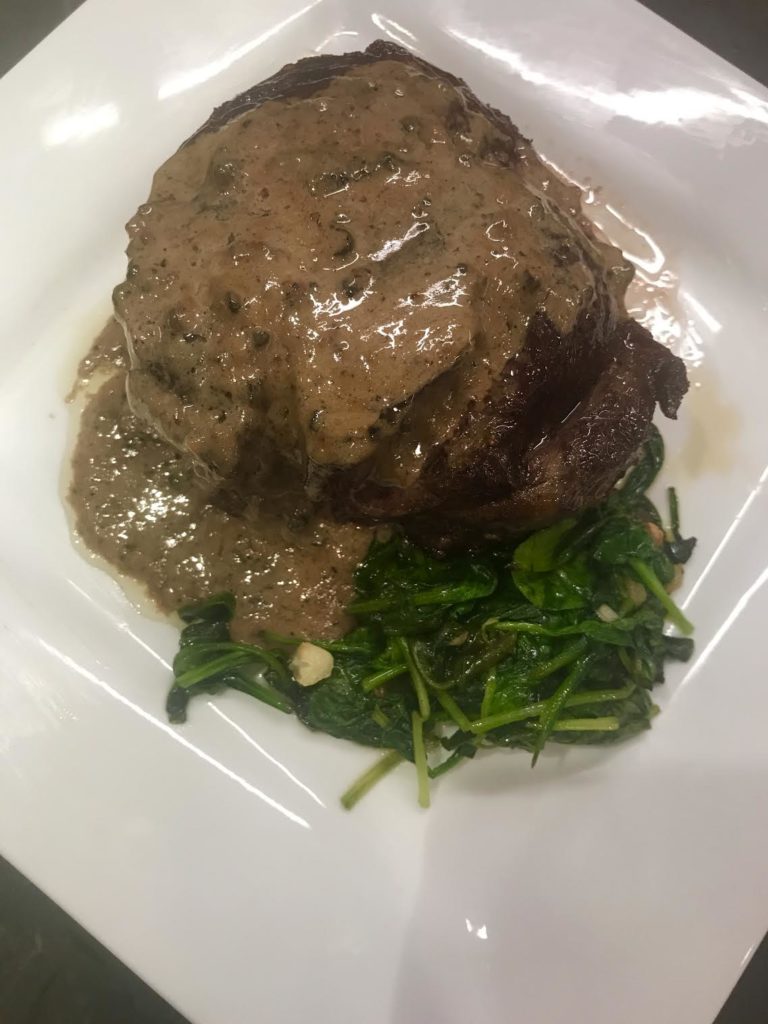 JP and I usually get either rib eyes or filets when it comes to steak night, but this week, Costco had "Rib Eye Cap Steaks" on sale and we had never heard of them.  Then, I did a little research and holy freaking wow.  These cap steaks combine the flavor of rib eyes with that melt in your mouth texture and tenderness of filet mignon.  My now tried and true method for cooking thicker steaks when you don't have access to a grill is to do the reverse sear.  Cooking the steak in the oven FIRST, then searing those bad boys in a buttery skillet till they caramelize on both sides.  You get a perfectly cooked mid-rare steak with an outstanding exterior sear.  I actually demo'd this technique recently on a show in San Francisco– click here for that video!  But the real show stopper is this peppercorn sauce…
With steaks of this caliber, you really don't need a sauce, but when you taste this sauce, you're gonna need it in your recipe rotation from now until eternity.  Just sayin'.  It's that good.  I had to yell at my man for eating the peppercorn sauce while the steaks were resting because it really is only enough for 2 people– well, 2 people with big appetites for a whole lot of GETINMYMOUTHRAWT now kinda good.
A couple tips– make sure you use actual Marsala wine– not that crap you find in the vinegar section of the grocery store called, "Marsala Cooking Wine."  You need the real deal— look for it in the wine section of the grocery store or liquor store near the Sherry and the Port.
Let the steaks rest– these were so dang thick I actually had to bake them off for longer than 15 minutes, but that's usually a good time frame for regular rib eyes or filets if you don't find Cap Steaks.  The best part is that perfect bite of tender, flavorful steak with creamy, peppercorn sauce perfection!
Pretty sure boyfriend already ate up the leftovers….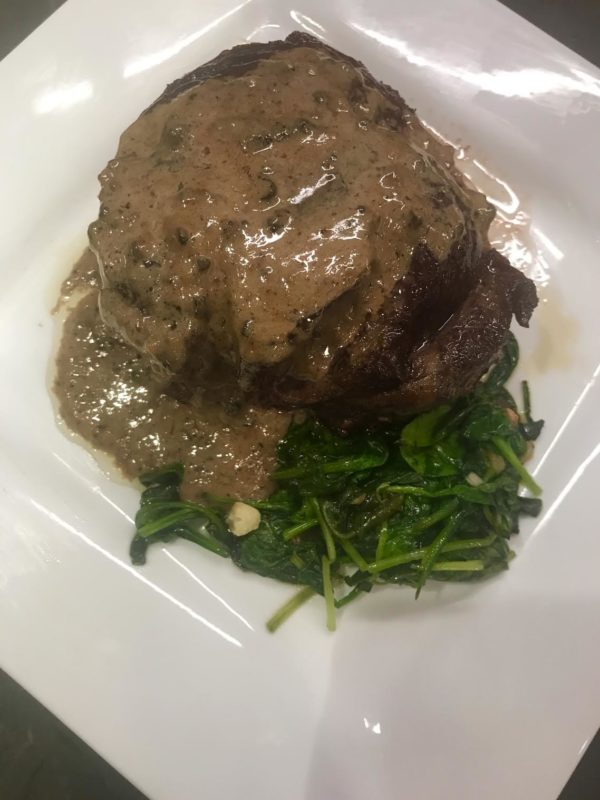 | | |
| --- | --- |
| | |
Bake unseasoned steaks for 15 minutes on a sheet pan drizzled with some olive oil.

Remove steaks, sprinkle kosher salt on both sides and let steaks rest while you add butter and olive oil to a large cast iron skillet on medium high.

When butter begins to bubble, add steaks to the skillet and cook for 3-4 minutes per side. Remove steaks from skillet and let rest again, tented with foil.

Don't clean skillet out--add Marsala wine and scrape up any browned bits from the steak. Let reduce by half, about 2 minutes.

Add broth and reduce by half again, about 4 minutes.

Add peppercorns and cream and bring to a bubbling simmer to thicken.

Reduce heat and taste to see if you need more kosher salt.

Spoon sauce onto steak and serve immediately.
Nutrition Facts
Steak with Peppercorn Sauce
Amount Per Serving
Calories 541
Calories from Fat 468
% Daily Value*
Total Fat 52g 80%
Cholesterol 155mg 52%
Sodium 795mg 33%
Potassium 77mg 2%
Total Carbohydrates 8g 3%
Protein 2g 4%
* Percent Daily Values are based on a 2000 calorie diet.